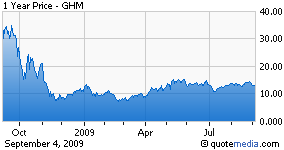 Graham Corporation (NYSEMKT:GHM) sells and produces vacuum and heat transfer equipment worldwide. These items are used in a variety of refining and manufacturing processes. GHM truly caters to the global market, with 41% of its sales coming from Asia. Unless you haven't been paying attention to (or simply don't care about) the financial news, you're probably aware that we're in a bit of a global slow down, which isn't necessarily positive for GHM. While their fiscal first quarter this year (their fiscal year ends 31-Mar) showed an approximate 27% dip in sales yoy ($27.6 million dropping to $20.1 million), GHM was able to maintain operating and net margins of 25.0% and 17.5%, respectively. These margins were achieved during a period where even they acknowledge business has been slack . . . imagine what will happen after the downturn recedes.
It is currently priced around $13 after falling from over $50 as recently as 13 months ago. GHM has approximately $4.50 cash per share and minimal long term debt. While earnings may still undergo contraction in the near term, I believe that once we get out of this funk, GHM will perform quite nicely. This is definitely one company that I will keep on my watch list.
Possible Negatives:
GHM produces a lot of equipment used in oil refining and if the economy stays down for a long time, oil consumption will not grow that rapidly.
The current push for alternative energy may adversely affect their customer base.
Their order backlog has dropped to ~$37 million from a high of ~$75.7 million.
GHM is a microcap stock and the short-term price may be subject to "trading fluctuations".
Disclosure: As of today, I have no position in GHM. Please collect your own data and come to your own conclusions.