Back in June 2012, I wrote an article on Healthcare Trust of America's (NYSE:HTA) listing on the New York Stock Exchange. As I explained then, HTA was a non-traded REIT that was entering a new world of liquidity and by entering the "big leagues" HTA was accessing "targeted full-cycle liquidity" by unlocking shares in the Scottsdale-based healthcare REIT (opening price was $10.10 a share). For reasons cited in my original article, I really liked the HTA platform, and because of the company's "pure play" medical office building (or MOB) focus, I began to actively research the company.
On Aug. 28 I wrote a second article on HTA. Like many non-traded REITs, HTA was trading below the opening price and I began recommending the shares that were trading at $9.15. Then, as suspected, HTA began to climb I wrote a series of articles (Feb. 13, 2013, April 22, 2012, and May 9, 2013), and it became clear that Mr. Market was warming up to the HTA model. Although Mr. Market was becoming attracted to HTA, beginning in late May he decided that REITs weren't in fashion. As REIT investors have experienced over the past few weeks, all REITs have been subject to Mr. Market's "taper tantrum" -- and that has given investors an opportunity to find some real gems.
HTA is trading at $10.58 a share, just $0.48 above the IPO price of $10.10 (Day 1 close was $9.92). Here is a snapshot of HTA's trading history:
Click to enlarge images.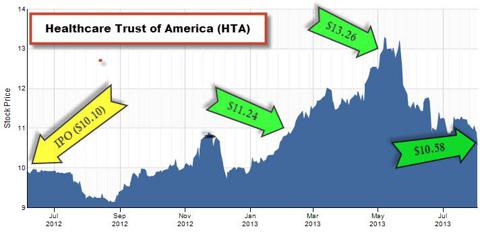 Last week, most REITs traded down and the healthcare REITs averaged a sell-off of around -5.7%. Omega Healthcare Investors (NYSE:OHI) led the way with a discount of -9.42% (see my article here), and HTA moved back last week another -4.25%.


This Healthcare REIT Has Plenty of SALSA
In my monthly newsletter "The Intelligent REIT Investor," HTA is included in my SALSA portfolio. In that "spicy" REIT portfolio I look for companies that demonstrate sound dividend policy, but also enjoy above average capital (share) appreciation. Accordingly, HTA has performed well, even after Mr. Market's "taper tantrum" (total return year over year of 20.5%).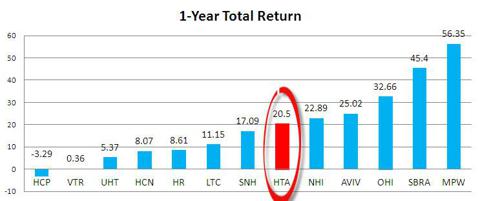 With a market capitalization of around $2.392 billion, HTA is still recognized as a smaller REIT. However, I believe that because of the "pure play" focus, the "pure play" medical office building REIT can compete and -- more importantly -- outperform the larger diversified REITs like Ventas, Inc. (NYSE:VTR), HCP, Inc. (NYSE:HCP), and Health Care REIT (HCN).

HTA announced second-quarter (2013) results last week and the news confirmed my portfolio pick (SALSA). The company reported normalized FFO of $0.16 per diluted share, or $35.7 million, for Q2 2013 (compared to $0.16 per diluted share for Q2 2012). FFO was $0.19 per diluted share ($43.6 million) for Q2 2013 (compared to $0.05 per diluted share for Q2 2012). HTA's rental income increased 3.0% to $76.6 million for Q2 2013 compared to $74.4 million for Q2 2012. This increase in rental income was primarily driven by $174.9 million of completed acquisitions since June 30, 2012. Net operating income (or NOI) was $55.0 million for Q2 2013, compared to $51.5 million for Q2 2012.
As of Q2 2013, HTA had total assets of $2.6 billion, cash and cash equivalents of $120.9 million, and $650.0 million available on its unsecured revolving credit facility. The leverage ratio of total debt to total capitalization was 30.3% and the company had 32.2% in secured debt. The occupancy rate of HTA's portfolio, including month-to-month leases and leases that have been executed but which have not yet commenced, was 91.3% by GLA -- the highest in HTA's history.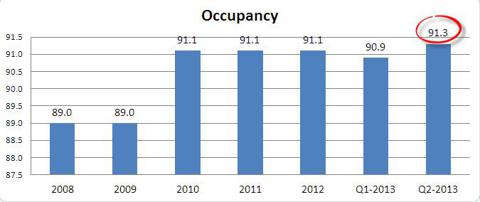 HTA has 42% investment grade rated tenants (as of Q2 2013), and approximately 58% of HTA's annualized base rent is derived from tenants that have a credit rating from a nationally recognized rating agency. Here is a snapshot of HTA's top tenants: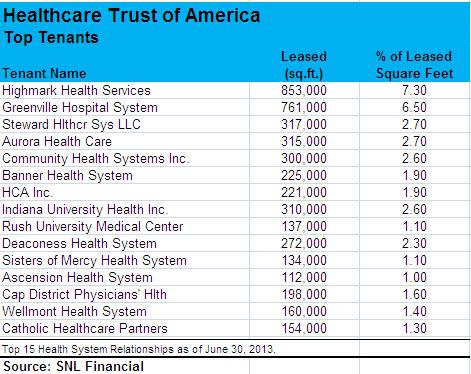 With a portfolio of approximately 12.9 million square feet (of GLA) located in 27 states, HTA has evolved into a well-balanced REIT model. Here is a snapshot of the company's diverse geographic model: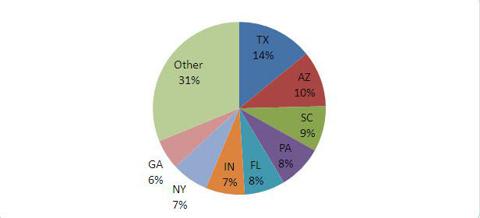 Why I Believe There Is Plenty of SALSA for HTA
HTA reported 3.4% same-store growth driven by a combination of annual rent bumps, 85% tenant retention, savings from the internal management platform, and other operating expense savings. Due to leasing momentum, HTA increased occupancy by 40bps this quarter, ending at 91.3%.
Also, HTA reported accretive acquisitions of $151.2 million in year-to-date acquisitions, including two transactions that closed in July. These are high-quality MOBs that help expand the platform and improve the quality of the portfolio. HTA's total liquidity is over $770 million, including $120 million of cash and an unused $650 million credit facility. The company's strong balance sheet (with leverage of 30.3% and total liquidity of over $770 million including cash of $120 million) is absolutely essential to continue to grow the platform.
HTA's trading volume has steadily increased since its listing in June 2012. Part of this is the result of the company's phased-in liquidity program, which has steadily increased the number of freely floating shares -- currently ~$1.9 billion in value, or ~3/4 of its shares. Periodic spikes in volume have resulted from HTA being added to various equity indexes -- such as the MSCI US REIT Index (MSCI) in December 2012, with a subsequent increase in weighting in March 2013 and another increase expected in August 2013, and the Russell 1000 in late June 2013.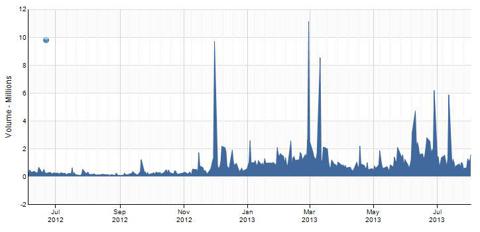 HTA is now trading at fair valuation (P/FFO is 16.2x) and now that the shares have dropped off significantly since the end of May (2013), investors who haven't acquired shares yet should consider doing so now. Here is a snapshot of HTA's historical P/FFO: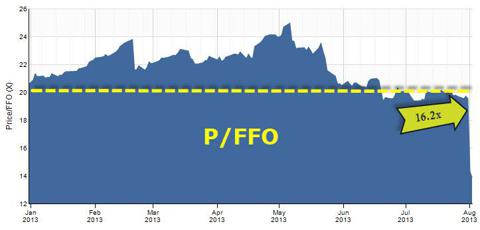 HTA's dividend yield is now 5.43%, a solid risk-adjusted yield. The company has not increased its dividend since its public listing, and I would expect to see an increase over the next six months. As evidenced by the latest earnings results, HTA is delivering solid results and I suspect that the shares will rebound over the next few months. With a current price of $10.58 a share, HTA could easily climb back to $12.75 -- a 20.5% increase -- and the stable dividend yield of 5.43% could produce a total return of almost 25%. Now you see why I think there is plenty of SALSA for HTA.

Disclosure: I have no positions in any stocks mentioned, and no plans to initiate any positions within the next 72 hours. I wrote this article myself, and it expresses my own opinions. I am not receiving compensation for it (other than from Seeking Alpha). I have no business relationship with any company whose stock is mentioned in this article.
Disclaimer: This article is intended to provide information to interested parties. As I have no knowledge of individual investor circumstances, goals, and/or portfolio concentration or diversification, readers are expected to complete their own due diligence before purchasing any stocks mentioned or recommended.