Texas Roadhouse (NASDAQ:TXRH) is a casual dining restaurant chain that currently has 405 restaurants in 48 states and three international locations. The company was founded in 1993, is based in Louisville, Kentucky, and currently has 40,000 employees. The food there is a personal favorite of mine, and it has gotten formal recognition as well. This press release discusses how Texas Roadhouse is admired by people across the country and is rising to prominence in their industry. Another one points out the chain's reputation as one of the noisiest places around, and why management considers this a flattering compliment toward their upbeat atmosphere.
Consumers are even more powerful with their dollars than they are with their votes in polls. In the past ten years, the restaurant has been continually raising revenue and net income, as portrayed by the two charts below.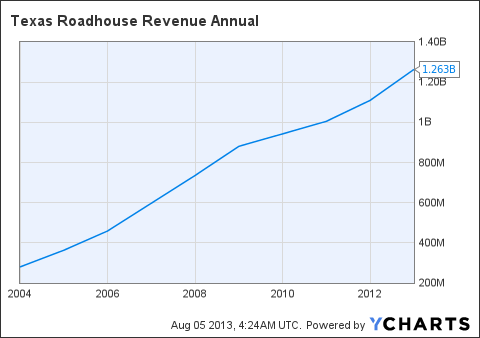 TXRH Revenue Annual data by YCharts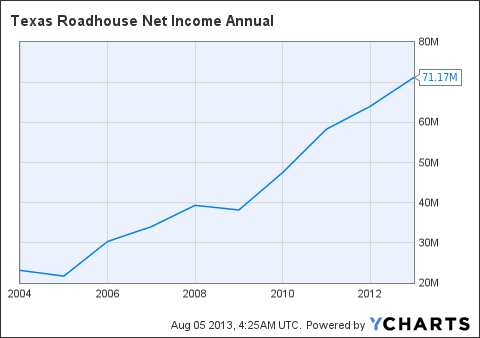 TXRH Net Income Annual data by YCharts
In their most recent 10-Q, Texas Roadhouse continued the trend with revenues, which were up 10% to $352 million. Net income for the 13 weeks ended June 25 was down 1.7% as a result of increased cost of sales. This should not be considered something to worry about, as companies do have a bad quarter every once in a while, and even net income for the 26 weeks ended June 25 increased nearly 18%. Net income for the prior quarter also increased, and that time it was by 39%. Clearly, growth in the company is not slowing and the dip in net income was just caused by a slight increase in the cost of sales, as I already stated. This increased cost was mainly a result of commodities becoming more expensive, primarily beef. As a strategy to combat increased costs, the company uses menu pricing adjustment. These adjustments have not deterred customers thus far.
The company's success in the most recent quarter has been driven by a few factors. Increased sales were a result of the opening of new restaurants, the acquisition of two franchise restaurants in December 2012, and increased unit volume. Store weeks increased from 3,962 to 4,214. Guest traffic counts increased 2.2% in the quarter and the average check per person increased by 2.3%. The company is simply operating in an efficient, effective, and high quality manner that allows them to continually attract more customers (despite raising prices) and thus bring in more revenues and profits.
Shifting our focus to future performance, I believe that Texas Roadhouse will be able to impress investors with revenues and profits that are consistently increasing. In the restaurant industry, I am not expecting any explosive growth. Just the steady 8-12% growth in both revenue and net income will be enough. The stock price will be driven higher by earnings reports that show the company is able to maintain levels of growth. Just like earnings, I do not expect any wild jumps in the stock price, but rather steady gains. This is a business built on fundamentals, and so long as they continue to stick to the basics and profit from them, the stock price will gradually gain ground. In the last 52 weeks, the stock is up 44%. With steady growth, these kinds of annual increases are not rare.
So what exactly does Texas Roadhouse need to do to ensure future growth? First off, the company needs to continue to increase its number of restaurants. Texas Roadhouse is always looking for new locations where they spot profitability. They aim for mid-sized markets in areas with local shopping centers, entertainment, middle class income levels, and decent population sizes. During the first half of 2013, 10 restaurants were opened. The company plans to open 18 more in the latter half. Also, the company must increase the profitability of each individual restaurant. They can do this by increasing margins when pricing and economic pressure allow it, as well as ensuring multiple visits from guests by providing high quality food and service. As long as Texas Roadhouse maintains its high quality reputation while increasing the number of restaurants, revenue and profits should grow as time goes on, thus driving the stock price higher.
Although there are, of course, reasons to believe the company will continue to grow and prosper, there are obstacles the company may have to face, as well. One of the risks is that the company's infrastructure (such as restaurant management systems, financial and administrative systems, and so on) will not be able to keep up with the company's expansion, and the growth will not be managed effectively. In order to grow in a correct and effective manner, Texas Roadhouse will have to continually invest in technology and staff that are capable of maintaining a strong infrastructure.
Also, the company has to maintain sales and profitability. This could be affected by a multitude of factors, the most pressing of which are weather, consumer trends, new local restaurants, economic conditions that impact disposable income, and most importantly competition. Texas Roadhouse, of course, faces competition from all restaurants, but let's take a look at two of the primary competitors, Brinker International (NYSE:EAT), the owner of Chili's and other restaurants, and Darden Restaurants (NYSE:DRI), which owns Longhorn Steakhouse:
| | | | |
| --- | --- | --- | --- |
| | TXRH | EAT | DRI |
| Revenue | $1.33 billion | $2.85 billion | $8.55 billion |
| Net Income | $78.12 million | $163.36 million | $412.60 million |
| Gross Margin | 34% | 19% | 22% |
| Operating Margin | 9% | 9% | 8% |
As you can see, Texas Roadhouse's competitors are much larger, but if the company can maintain its high quality of food and service, profits will keep coming in that will allow the company to expand, grow, and prosper further.
Another threat is that the stock price could be adversely affected by disappointing quarterly earnings reports. These disappointments could be a result of the timing of restaurant openings, operating costs, labor availability, weather, macroeconomic conditions, increased commodity prices, negative publicity, and competition.
Another risk is the heavy expenses that the company has to deal with as a result of their ambitious growth strategy. Capital expenditures were at $45 million in 2010, $82 million in 2011, and $85 million on 2012. General and administrative costs were at $52 million, $54 million, and $71 million in 2010, 2011, and 2012, respectively. As the company spends more and more money on maintaining an adequate infrastructure and building more restaurants, they must also consistently raise revenues. There are currently no indications that the company will not be able to do this. These expenses shouldn't be looked at in a totally bad way, though. Texas Roadhouse is surely getting a significant return on their investment in terms of both capital expenditures and general and administrative costs, as well as the other costs the company builds up. This company has to spend if the company wants to grow, and the fact that they are constantly opening new restaurants is more encouraging because of the new sales than discouraging because of the new expenses.
Clearly, there are risks involved in this investment. Luckily, though, the stock is currently trading at a fair price of $25.32. Although an entry point in the range of $20-$22 would be ideal, buying such a great company at a reasonable price is surely a sound investment move. The company currently trades at 23 times earnings, has a price/book of 3.12, and a price/sales of 1.34. With great prospects for consistent, steady growth, Texas Roadhouse is currently at a price where it is likely to be a good idea to pull the trigger.
Disclosure: I have no positions in any stocks mentioned, and no plans to initiate any positions within the next 72 hours. I wrote this article myself, and it expresses my own opinions. I am not receiving compensation for it (other than from Seeking Alpha). I have no business relationship with any company whose stock is mentioned in this article.