Over a year ago, I wrote an article on CommonWealth REIT (NYSE:CWH) (here) in which I stated:
Bottom Line: I am still not enamored with this REIT or its management.
I have been very vocal about RMR and their conflict of interests, the conflict that has ultimately manifested itself in their refusal to realistically consider an offer to buy the REIT by.
A third party investor, Marcato Capital Management, worded the situation well:
We are writing to express our strong support for the consent solicitation being conducted by Corvex Management, LP ("Corvex") and Related Fund Management LLC ("Related"). Following our own analysis, we agree that the shares of CommonWealth trade at a substantial discount to the fair value of its underlying real estate assets. We further agree that this discount is due to a misalignment of incentives between REIT Management & Research ("RMR") and CommonWealth's shareholders that rewards RMR for capital allocation decisions that destroy shareholder value and have resulted in a disappointing track record of underperformance.
This is a 3% investor openly telling other investors that management needs to go. How about a third party firm, Institutional Shareholder Services ("ISS"):
"Votes FOR removal of all existing directors are warranted given that the dismal returns to shareholders over an extended period prior to the dissidents' arrival, the links between underperformance on key drivers of shareholder value and the inherent conflicts of interest in the external management structure the company maintains, and the current board's use of corporate governance provisions to entrench itself, in aggregate form a compelling case that change at the board level is necessary." (ISS Report, 13 June 2013)
To which the company replied:
The Company strongly believes that it is not appropriate for ISS to issue any report or recommendation at this time, as no valid record date has been set and the Corvex/Related activities do not constitute a valid consent solicitation. The validity of the Corvex/Related consent solicitation depends upon a court or an arbitration panel making a number of findings, including that certain of CommonWealth's bylaws are invalid and that its Board members may be removed without cause. The company is also disappointed that ISS issued this report before it is appropriate to do so because it will likely cause confusion among CommonWealth shareholders."
A look at CommonWealth versus its peers shows us what Related/Corvex has an issue with: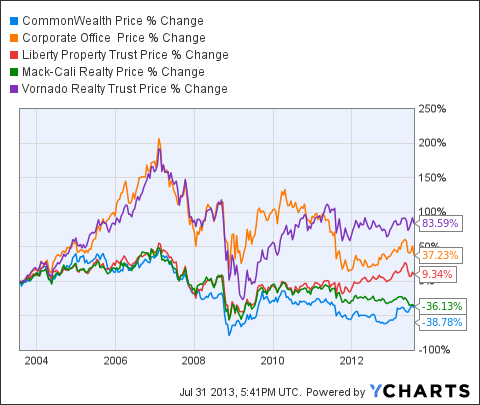 RMR is the poster child of entrenched management willing to let shareholders pay (literally and figuratively) in order for them to continue to collect fees.
Today, we are seeing something similar with BRE Properties (NYSE:BRE) as a firm called Land and Buildings has offered $60/sh for the REIT, which management has rebuffed. As Land and Buildings stated:
We are writing to express our disappointment that it appears BRE Properties senior management has not seriously considered our June offer, on behalf of a consortium that would include Land and Buildings, to purchase BRE Properties for $60 per share.

Poor capital allocation has also marred the record of BRE management. BRE ranks last among apartment REITs on Green Street Advisors' (a leading real estate research firm) "Management Value Added" metric. The Company's net asset value has declined since 2006 while the Company's properties appreciated in value.

Given a long history of inferior operating performance and of destroying shareholder value, it is unlikely the Company will merit a valuation in the public markets in line with the value of its underlying assets even if its development pipeline creates value and NOI growth meets expectations. Management
credibility lost over the course of a decade is not easily restored.
Let's look at BRE's stock performance versus peers over a 10yr period: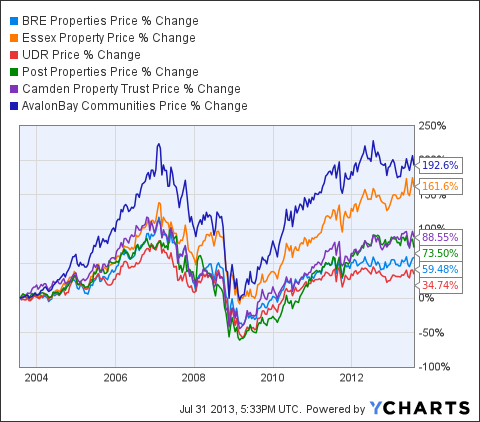 BRE has only outperformed UDR (NYSE:UDR) over the last 10 years. A look at the last five years shows the same results: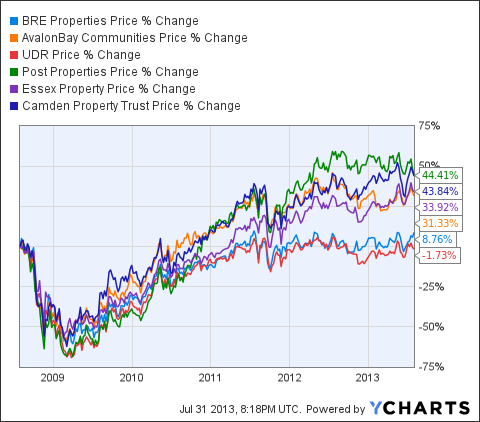 What was BRE's response to the offer (from SA's earnings transcript):
Well, I'm not going to comment on those. I said in my opening remarks that the company will consider any legitimate proposals it receives.
And when questioned on the definition of legitimate, the CEO's response:
I don't think there's any need to look at -- you can look at Webster's dictionary to determine the word, what it means.
Personally, I think the answer is defensive although the question is valid. It is of course possible that the offer could not be supported and had no insight into financing, but the question deserves an answer.
For the record, I don't view every activist letter as valid or their plan as complete. These two offers are not saying to unlock value through short-term solutions. These are, on the surface, bids for the entire companies. What we are seeing, in my opinion, is a new wave of take private transactions in the REIT space. Accordingly, when the value of the offer surpasses the value a shareholder/company can recognize independently, it has to be considered. Admittedly, the REIT sector can be a different beast as many of the REITs are managed by the families that founded them and are loathe to let them go.
Speaking specifically to BRE, if cap rates are in the 4s (or low generally), it may well be time to sell into the market. The REIT has been trying to reposition its portfolio to maximize NOI growth and property positioning, but it has not yielded results relative to peers. The owners of the REIT (its shareholders, not management) should be asking themselves why, and how long should they wait for the plan to yield results.
In the case of CommonWealth, shareholders have been asking what will be done, only to be rebuffed by those employed to manage their assets. Good assets and mediocre management traditionally equal underperformance.
Given my last article "REITs: The Writing Is On The Wall" and this article, some might think I am negative about REITs. On the contrary, I love the sector and believe there are opportunities within it. My goal in both articles is to point out the environment that we are currently in and some of the pitfalls within the sector.
Bottom Line: I believe we are seeing a trend of activism begin within the sector and underperforming REITs (those with a history of underperformance) should be on notice. As well, shareholders should be vocal in ensuring poison pills are not adopted so that they can maximize their assets in multiple ways.
Disclosure: I have no positions in any stocks mentioned, and no plans to initiate any positions within the next 72 hours. I wrote this article myself, and it expresses my own opinions. I am not receiving compensation for it (other than from Seeking Alpha). I have no business relationship with any company whose stock is mentioned in this article.
Additional disclosure: This article is for informational purposes only, it is not a recommendation to buy or sell any security and is strictly the opinion of Rubicon Associates LLC. Every investor is strongly encouraged to do their own research prior to investing.