Gilman and Pastor LLP have filed a class action lawsuit in the U.S. District Court for the District of Maryland on behalf of investors who purchased the ProShares UltraShort MSCI Emerging Markets Fund (NYSEARCA:EEV), alleging that ProShares issued "false and misleading Registration Statement, Prospectuses, and Statements of Additional Information." The complaint goes on to allege that the defendants (including ProShares and several key executives) failed to disclose that "the EEV fund is altogether defective as a securities product and as directional investment play (sic)."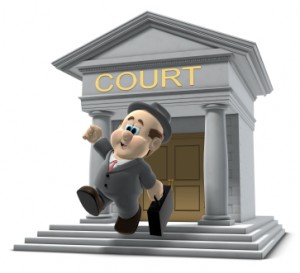 If the typographical errors in their press release don't convince you that this case is baseless, maybe the fact that evidence piece 1A appears to be a YouTube video of Jim Cramer discussing some of the issues with leveraged ETFs will (check out the Web site set up for the lawsuit to see what I'm talking about). That's no knock on Cramer (I actually find him highly entertaining) - I'm just not sure a Mad Money clip is the definitive analysis on the issue.
If this doesn't convince you that this case lacks merit, I suppose we could actually look at some of the facts.
According to the class action lawsuit press release:
As marketed by ProShares, Ultra ETFs are designed to go up when markets go up; UltraShort ETFs are designed to go up when markets go down.
According to EEV's prospectus:
There is a special form of correlation risk that derives from these Funds' use of leverage, which is that for periods greater than one day, the use of leverage tends to cause the performance of a Fund to be either greater than or less than the index performance (or the inverse of the index performance) times the stated multiple in the Fund objective.
The prospectus goes on to give three examples of how leveraged ETFs may perform during trendless, upward-trending, and downward-trending markets. This seems to me like a pretty clear acknowledgment that leveraged ETFs won't always "go up when markets go up."
Exhibit 1B
Here's a look at another indication that the parties behind this lawsuit haven't done their homework:
From the lawsuit press release:
Accordingly, the EEV Fund is supposed to deliver double the inverse return of the MSCI Index, which fell approximately 52 percent from January 2, 2008 through December 17, 2008, ostensibly creating a profit for investors who anticipated a decline in the performance of the emerging markets. In other words, the EEV Fund should have appreciated by 104 percent during this period.
From the prospectus (emphasis added by ETF Database):
Each series of ProShares is designed to seek daily investment results that, before fees and expenses, correspond to the performance of a daily benchmark such as the daily price performance, the inverse (opposite) of the daily price performance, a multiple of the daily price performance, or a multiple of the inverse (opposite) of the daily price performance, of an index or security.
I'm not quite sure how anyone who actually read the prospectus could think EEV should have returned 104% during the period in question.
A Little Balance, Please
I continue to be amazed at the lack of balance in the coverage of leveraged ETFs. The financial news media is full of reports of "flaws" in these securities, most of which simply aren't true. Leveraged ETFs do an excellent job of accomplishing their stated objectives, and because of it they are tremendously popular among sophisticated investors with high risk tolerances.
Even among less sophisticated users, leveraged ETFs, if used in connection with a rebalancing plan, can be powerful investment tools (see our Free Guide to Leveraged ETFs for a more thorough discussion of rebalancing options). And as ProShares has pointed out, compounding of returns can work for investors in trending markets (as they did during the Dow's recent eight-day winning streak).
What we have here is investors who decided not to research investment opportunities to understand how these funds actually work looking for someone to blame. And lawyers looking to make a quick buck. Put the two together and you get a frivolous lawsuit that is unfortunately going to cost the folks at ProShares a lot of time and money to defend.
Disclosure: No positions at time of writing.