A Tale of Two Phones
Nokia (NYSE:NOK) makes cell phones in every segment of the market. Right now much of the financial community that follows the company is focused on the recently released Lumia 1020, with its 41 Megapixel camera capabilities.
In contrast, after a weak performance in the feature phone segment in each of the past two quarters, most analysts have written off the company's Asha product line, which attempts to bridge the consumer gap between feature phones and smart phones. (For the purposes of this article, I refer to the Asha line as a feature phone even though Nokia selectively refers to it as a smart phone on occasion).
In this article, I argue that when the company reports 3Q13 in late October, the Asha line may upside surprise, with volumes driven especially by the recently introduced Asha 501, while overall volumes of the Lumia 1020 will prove to be mediocre, especially for the United States. I also, note, however, that the Lumia 1020 is an important phone for Nokia despite what is likely to be tepid demand. (While not discussed in this article, the Lumia 521 remains the key to cracking the US market near-term for Nokia.)
Worldwide, Feature-Phone Market Fading
As Android phones get cheaper and cheaper, the worldwide market for feature phones continues to shrink. In a separate article, I argued that Microsoft (NASDAQ:MSFT) should heavily discount the WP OS license fee at the ultra-low end of the handset market to help capture some of this share. But until and unless that happens, it appears Android will continue to soak up this transitional market share.
The rapid fade of the worldwide feature-phone market represents two problems for Nokia. First, Nokia, like most phone manufacturers, has large fixed costs associated with its factories. Therefore, even a mild shortfall in units can have a large impact on profits and cash flows. Second, specifically to Nokia, the company recently built a brand new feature phone factory in Vietnam. Although it may be possible to retool this factory eventually for the manufacture of smartphones (in fact, the company has already said it will do this), this will likely prove an expensive and time consuming process. Thus, the timing of this new factory may prove ill-conceived if the Asha line falls flat on its face.
Therefore, if feature phone volumes continue their free fall, it will prove that much harder for Nokia to reach profitability as defined by cash flow. Thus, a stronger-than-expected performance of the Asha line would buy Nokia more time to ramp its Lumia smartphones while minimizing its current cash burn.
Asha Series May Have Some Life Left
Most analysts (and I suspect most investors) have written off the Asha series not only because the feature phone market segment is fading but also because Asha volumes have recently disappointed after an initial surge three quarters ago. But there are reasons to be hopeful.
For the three weeks leading up to this article, the Asha 501 has been either first or second in GSMarena's Daily Interest poll every single day. This same site also has an overly detailed review of this (and every other GSM) phone. GSMarena rates the phone highly.
In addition to this valuable data point, Google Trends is also showing a continued steady rise in interest in this model. India appears to be the major driver of this interest, looking at the geographic breakdown. (However, I have noticed that India dominates all Nokia search terms on Google Trends -- not quite sure why).
The 501 also appears to be getting positive reviews from the local press in India.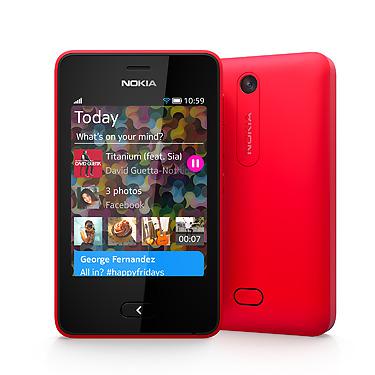 Source: Nokia
Asha 501 Has Free Facebook, Twitter and Here Maps
The real magic in the Asha 501 is that users can get access to Facebook, Twitter, and Nokia's Here Maps without paying for a data plan. There are some restrictions: for example, photos are not accessible in the free Facebook version. However, for emerging markets, these features, especially free access to Facebook, should prove to be a significant near-term driver for this phone with respect to the youth market, especially in India where Nokia's brand has taken less damage than in China.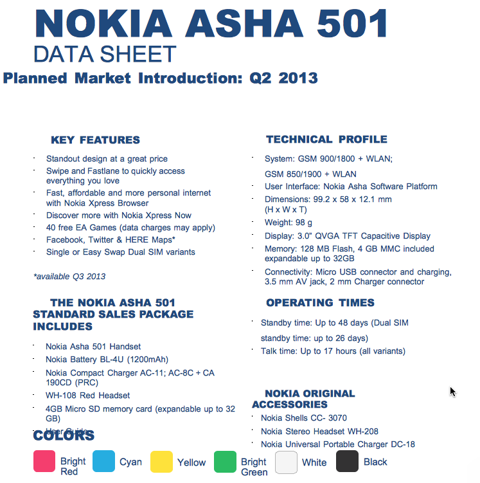 Source: Nokia
I do not understand why Nokia has chosen to limit this free Facebook feature to only one phone model initially. (But the company has stated its intention to expand this offering to other Asha phone models in the future.
I suspect that the carriers' decision to test this concept first with Nokia will be for a limited time only. No doubt these carriers want to see if they can use this strategy as a way to get kids hooked on data and then eventually up-sell them to data plans.
If this initial offering goes well, they will likely provide the same "free" Facebook app on other manufacturers' models. In addition, the carriers offering this free service retain the right to discontinue it at any time. My point here is that these novel features may provide Nokia with an intermediate-term advantage, but not likely a long-term sustainable one. Regardless, it suggests some clever thinking on Nokia's part -- something it will have to continue to do as Android moves further and further downstream.
The biggest feature missing from the Asha 501 appears to be support for the popular messenger service Whatsapp, which is strange because most of the other Asha phones support it. Reading the Indian blogs, this appears to be the biggest complaint about the phone. But judging by the overall interest in the phone, it does not appear to be a deal killer.
In addition to the Asha 501, the recently released ultra-low-end 105 may also surprise positively this quarter. Looking on Google Trends, comparing the 105 to the 501 shows a surprisingly larger interest level in the 501. However, I think this may be because most consumers interested in the Asha 105 do not own a computer, and thus cannot do a Google search on the item.
Lumia 1020: An Important (But Niche) Product
When the revolutionary Lumia 1020 was introduced in the US a few weeks ago, AT&T's early indications of sell-outs during the pre-ordering process made me think that supplies would be severely constrained, as they were for the Lumia 920 upon its introduction. But that has not been the case. These early sell-outs were only temporary, as both the AT&T website as well as most local AT&T retail stores have the phone in stock. So supply limitations do not appear to be an issue with the 1020 in the United States. In addition, I had been worried that the $300 price tag was going to be a large obstacle, but it appears that some retailers are already starting to discount the item.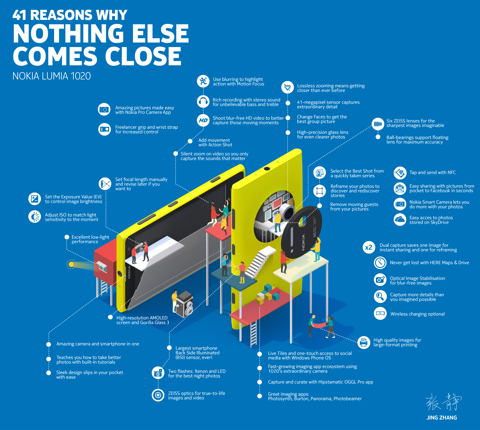 Source: Nokia
No doubt the first in line to buy this technological marvel (see the chart, above, that lists its advanced features centering around its camera) have been the Nokia die-hards. (Though I am a fan as well as an investor in the company, I have decided to wait for my Lumia 920 contract to expire). But I have been wondering whether this product could help Nokia finally crack the US market after many consecutive quarters of reporting 500K volumes on the Lumia series.
Early US Feedback: Mediocre Volumes For Expected Reasons
Though not a scientific sample by any means, I recently visited with three AT&T stores in my area - one at a high-end neighborhood, one middle-market, and one in a low-income market. I got fairly consistent feedback from the salespeople at these stores -- many consumers have been intrigued but sales have been modest. It appears that switching from one OS to another (and abandoning the apps that have already been purchased) is a difficult obstacle to overcome for most high-end buyers.
My other, early feedback on the early interest in the Lumia 1020 in the United States comes from a most unlikely source -- often ignored and ridiculed by SA readers -- the Yahoo Message Board on Nokia. While it is true that this venue is nearly useless (compared to SA) in terms of garnering legitimate investment opinions on a stock, it is nevertheless also true that many of the members of the Yahoo Message Board on Nokia (who, by the way, are mostly rabid bulls on the stock) went to visit their local AT&T retail store the day the Lumia 1020 became available to get a hands-on experience regarding the interest level in the new flagship. While there were one or two exceptions, most of those reported on the board after their visit that the salesman at the AT&T store:
tried to push them towards an Apple or Android device;
was not that familiar with the Lumia 1020 despite the big signage in the background;
suggested that switching to a new OS would prove difficult, especially with respect to the app environment
In most of these cases, the salesmen also remarked that overall interest (i.e., sales volumes) in the new device has been mediocre due to the app environment surrounding WP as well as the high price.
Lumia 1020 May Do Better in Europe
Outside the US, most places have yet to have the Lumia 1020 made available for sale. But in the months ahead when it is so, I expect volumes to be modest in China and India since there are not that many high-end customers in these frontier markets. In Japan, despite overall interest in camera technology, I also expect low volumes given the strength of the local brands (especially Sony with its upcoming Honami). In Europe, the strong Nokia brand may help drive better sales of the Lumia 1020 than in all other parts of the world. I am especially keeping an eye on Germany where the consumer may not be as financially strapped as other parts of the EU. But my overall conclusion on the Lumia 1020 is that it will not be a high volume product for Nokia.
Even a Niche Product Can Be Important
Although I do not expect volume sales of the Lumia 1020 in the US, the phone is still important to Nokia because it demonstrates their technology leadership and engineering expertise. If, in the extremely unlikely event that Microsoft is able to accelerate its software deliveries on WP, solid execution on Nokia's part will eventually be rewarded.
In addition, even if WP takes several more quarters longer to reach 10% worldwide market share (as looks increasingly likely), Nokia's ongoing execution on the high end will keep its name in the news and also in front of developers. For all these reasons, the Lumia 1020 should prove to be an important handset for the manufacturer.
Conclusion: What to Expect this Quarter
When Nokia reports 3Q13 in late October, my guess is that Asha volumes will be better than expected. But I do not think the 500 lb gorilla (Nokia's US marketshare) will be much changed unless the Lumia 521 proves to be a runaway success. I do not think Lumia 1020 volumes will drive marketshare or profit dollars for Nokia in the United States.
Overall, the Asha product line may buy Nokia some valuable time as it appears for many reasons (some outside of Nokia's control), that the ramp up in Lumia sales will more likely be a slow and steady process rather than a step function. Nokia has done some clever things by partnering with Facebook (and the carriers) on the Asha 501. Now, if we could only get it to build that Instagram app...
Disclosure: I am long NOK, AAPL. I wrote this article myself, and it expresses my own opinions. I am not receiving compensation for it (other than from Seeking Alpha). I have no business relationship with any company whose stock is mentioned in this article.