Fear continues to fester in the bond market. Following a dramatic spike higher in bond yields (and thus a plunge in bond prices) over the last three months, many bond investors have headed to the exits in order to protect against a further increase in yields in the coming months. But for investors staying the course in bonds as well as those watching for reentry points back into fixed income, exactly what can we expect from the high quality bond market going forward?
The recent rise in bond yields was certainly staggering. After falling to as low as 1.63% as recently as May 2, the 10-Year U.S. Treasury yield has added over one percentage point to reach as high as 2.74% late last week. While such a move may seem small from an absolute numerical perspective, it is substantial from a convexity standpoint. This is why we have seen a decline of over -7% on the iShares 7-10 Year U.S. Treasury (NYSEARCA:IEF) and an even more dramatic -15% plunge on the longer duration iShares 20+ Year U.S. Treasury (NYSEARCA:TLT) over this same time period. This outcome has been a most unpleasant awakening for those investors that perceived bonds to be an ultra safe place to both protect against capital loss and generate modest income, hence the magnitude of fund and ETF outflows witnessed in recent months.
So now that the initial damage is done, where can we expect bonds to go from here?
The risks remain to the downside for the bond market in the short term. Bond yields have shown signs of stabilization since late June when the one-two punch of Bernanke's post FOMC statements and the Chinese bank liquidity crunch sent 10-Year U.S. Treasury yields skyrocketing from 2.12% to 2.66% over just five trading days. Since that time, the benchmark Treasury yield has settled in a range between 2.45% and 2.75%. But as evidenced by the strong upward pressure on yields heading into Friday's jobs report, tension is clearly building to push yields further to the upside.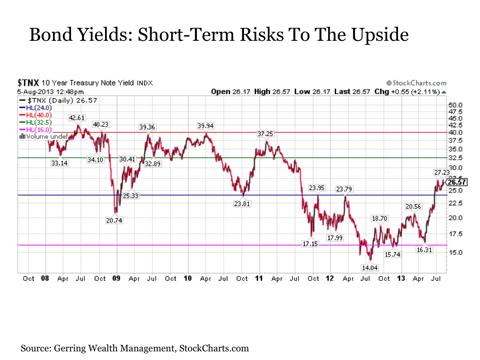 The recent spike in bond yields also caused considerable short-term technical damage. The major support level for 10-Year U.S. Treasury yields had been 2.40%. This was the level that Treasuries broke decisively below during the tumultuous summer of 2011. And it was this same 2.40% level that provided support on two separate occasions in October 2011 and March 2012 when yields tried to force their way back higher. So when yields suddenly blasted through this important support in late June 2013, it returned the bond market back to a prior trading channel between 2.40% and 4.00% as measured by the 10-Year U.S. Treasury yield that had been in place since the outbreak of the financial crisis in 2008 until the summer of 2011. Thus, the fact that Treasury yields are now at the low end of this new trading channel suggests that yields could back up further before it's all said and done, with the next key support level at 3.25% near the middle of this higher channel.
Despite these short-term pressures, the long-term thesis for bonds remains favorable. This is true for three key reasons:
1. Global economic growth remains sluggish - While the potential exists for the U.S. economy to accelerate going forward, actually realizing such projections have already proven elusive for the last several years. And with Europe already in recession and the pace of growth slowing across major parts of Asia, the headwinds for growth are likely to remain for at least the near term. Bonds tend to perform well in such weaker growth environments.
2. Reported inflation pressures remain tame - Despite the persistent prodding of the U.S. Federal Reserve along with many other global central banks to ignite increased pricing pressures, the reported inflation rate has remained stubbornly subdued. And with numerous major commodities (and the stocks that represent them) in steady decline if not free fall including agriculture (NYSEARCA:MOO), coal (NYSEARCA:KOL), natural gas (NYSEARCA:GAZ), copper (NYSE:FCX), nickel (NYSEARCA:JJN) and steel (NYSE:X), reported inflationary pressures are likely to remain in check, particularly if the pace of global growth remains soft. If anything, disinflationary if not deflationary pressures are more profound than inflationary pressures at this point. This is bullish for bonds.
3. Investors still need a safe haven - Despite its recent woes, the high quality bond market including U.S. Treasuries is still likely to be a destination of choice for global investors seeking safety during times of crisis. That is, of course, unless the crisis is being exacerbated by foreign investors selling U.S. Treasuries to raise liquidity, which is a risk in and of itself that warrants close monitoring going forward.
But what about the Fed cutting back on bond purchases? Isn't this a big problem for bonds? It is true that the U.S. Federal Reserve is poised to scale back on its asset purchase program in the months ahead. But is this expectation really the reason for the recently sharp decline in the bond market? After all, if the intent of QE is to induce investors to take on more risk, which would imply the movement of capital out of safe haven U.S. Treasuries and into more aggressive assets such as stocks (NYSEARCA:SPY), should it not be true then that capital would flow out of these same risky segments and back into Treasuries once this program is removed? And history has shown repeatedly since the outbreak of the financial crisis that Treasuries struggle under QE and thrive once QE is ended, which of course has been the exact opposite experience for stocks.
After all, Treasuries were performing great with a yield around 1.40% just prior to the launch of QE in September 2012. Thus, concerns for the bond market associated with the potential end of QE3 is overstated. And given the fact that the $45 billion in monthly U.S. Treasury purchases makes up only 0.21% of the combined $21 trillion market cap of the NYSE and the NASDAQ, it would not take much of a correction in stocks and a flight to safety in bonds to more than offset any loss in Fed demand. Frankly, investors should be far more concerned with the potential sale of bond holdings by foreign investors in Asia facing tighter liquidity conditions, which has likely played a role in the recent increase in yields and has the potential to continue applying pressure not only to the bond market but the stock market as well at least in the near term.
Thus, investors should view the recent short-term caution in the high quality bond market (NYSEARCA:BND) with an eye toward long-term opportunity. Bond yields including U.S. Treasuries may continue to back up in the short term, but the longer-term fundamental outlook remains strong. As a result, investors may be well served to monitor the high quality bond market for potentially ideal reentry points in the months ahead. This might include watching for a rise in yields toward the 3.25% support level on the 10-Year U.S. Treasury.
A decisive break in yields back below the 2.40% level on 10-Year U.S. Treasuries would also be a bullish signal to consider reestablishing positions. After all, if U.S. Treasuries can fall between -7% and -15% over the course of the few months, they can rise by just as much and just as quickly, which they did to a comparable extent on four separate occasions in late 2008, mid 2010, mid 2011 and early 2012. In the end, waiting for the right reentry point will be key. In the meantime, patience is likely warranted as bonds work to find their footing in the current environment.
Disclosure: I have no positions in any stocks mentioned, and no plans to initiate any positions within the next 72 hours. I wrote this article myself, and it expresses my own opinions. I am not receiving compensation for it (other than from Seeking Alpha). I have no business relationship with any company whose stock is mentioned in this article.
Disclaimer: This post is for information purposes only. There are risks involved with investing including loss of principal. Gerring Wealth Management (GWM) makes no explicit or implicit guarantee with respect to performance or the outcome of any investment or projections made by GWM. There is no guarantee that the goals of the strategies discussed by GWM will be met.