When a company's records are broken quarter after quarter to the upside, it's only natural to wonder just how much steam is left in its engine. After all, no investor wants to get in at the top only to experience a flat line or, even worse, a quick slide downward. OSI Systems (NASDAQ:OSIS) is a diversified electronics company designing and manufacturing specialized electronic systems and components. And, OSI is one of those companies setting new records quarter after quarter.
A key word in OSI's profile is "diversified". It operates in three segments - Security, Healthcare and Optoelectronics. Scanning and security systems are provided by the Rapiscan Systems segment. The Spacelabs Healthcare segment provides patient monitoring, diagnostic cardiology, and anesthesia delivery and ventilation systems. The Optoelectronics and Manufacturing segment itself serves a broad range of industries including aerospace and defense, medical and pharmaceutical, telecommunications, construction and security. The following charts display the revenue breakdown of the three segments for fiscal 2012 and through the third quarter of fiscal 2013: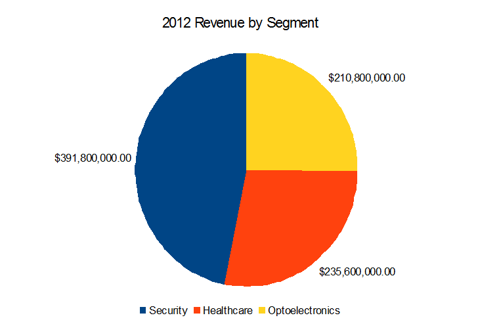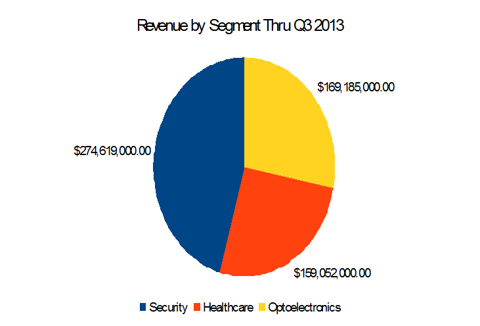 Fiscal 2013 has been a dichotomous year for OSI Systems. On one hand, the records continue to be broken. Through the third quarter of fiscal 2013, earnings increased over the previous quarter for the 15th consecutive quarter. The following chart depicts the quarterly growth for 11 of the 15 quarters (the fourth quarter of fiscal 2013 uses the midpoint of the estimate given in the third quarter press release):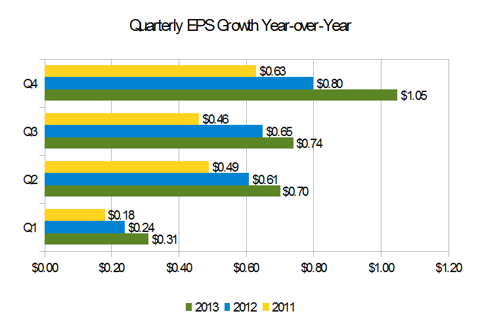 OSI's reporting year ended June 30th and its fourth quarter earnings report is scheduled for August 14th. The chart below reflects the progress and reversals in OSI's story for 2013. Even though net income and earnings per share experienced a slight hiccup in 2009, both data sets display a distinct stair-step increase since then. From 2008 to 2012, cash and cash equivalents impressively increased just as long-term debt all but disappeared. As fiscal 2013 progressed, long-term debt reappeared and the cash balance was cut almost in half. Those changes could be signaling trouble. They could be a clue to the steam left in the engine.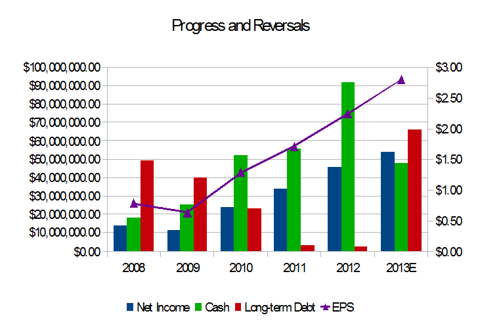 OSI's story for 2013 is consistent with other companies reliant on the healthcare industry. Computer Task Group (NASDAQ:CTG), a provider of IT and business solutions for the healthcare industry, has reported a significant decrease in hospital spending. Richardson Electronics (NASDAQ:RELL), a manufacturer and distributor of electron tubes, reported a 15% decline in revenues for fiscal 2013 (ending 6/1/13) for its segment primarily supported by the healthcare industry. Through the third quarter of fiscal 2013, OSI's operating income in its Spacelabs Healthcare segment has diminished by 15.24% to date. This setback, obviously, plays a role in the decline of cash. But, the situation is not the primary reason for the change in cash nor is the situation considered permanent. OSI is optimistic about the future of the Healthcare segment.
The true cause of the impact to the cash balance and the debt level is the $900 million turnkey screening services agreement with Mexico's tax and customs authority, Servicio de Adminitracion Tributaria ("SAT") announced on February 27, 2012. From the press release, the scope of the agreement is:
"Under the program, Rapiscan Systems will provide complete operations of inspection sites utilizing x-ray screening technology. Rapiscan will incorporate staffing, systems integration, data management, and maintenance support at these sites networked throughout Mexico, including ports of entry as well as inland checkpoints and airports, enhancing the Mexican government authorities' capability to interdict contraband, undeclared, and illegal materials."
The SAT program has impacted the volatility of OSI's cash flow. The necessity of atypical capital expenditures is described often in the fiscal 2013 quarterly earnings calls:
"This is consistent with our previous guidance that CapEx will be significantly higher than historical norms in support of our Mexico program."
Through the third quarter of fiscal 2013, capital expenditures totaled $139 million. In fiscal 2012, OSI invested $68.5 million in capital expenditures, primarily due, as well, to the turnkey screening system for Mexico. By comparison, capital expenditures in fiscal 2011 were just $13.4 million. Cash flows from operating activities in fiscal 2012 was $120.6 million. Through the third quarter of fiscal 2013, cash flows from operating activities was $57 million. OSI's capital expenditures of the $207.5 million in the past two fiscal years has been covered partly by the $177.6 million in cash flows, partly by the cash on hand and partly by the increase in long-term debt.
The status of OSI's program with Mexico's SAT reported in the 2013 third quarter press release may well be the best indicator of the power of the steam in OSI's engine:
"With our Mexico turnkey program ramping up nicely and the majority of our capital investment behind us, we expect to generate significant free cash flow over the next twelve months."
As far as an operational perspective, the program's progress was reported as the following in the earnings call:
"So we're making great progress, and by the end of the calendar year, we expect to be, if not fully, nearly fully operational."
And, regarding revenue from the program, the following was projected for the final quarter of fiscal 2013:
"So it'll be -- it will be climbing up, not necessarily the 90% or 100%, but it will be climbing up."
The Mexico SAT agreement has a six-year term. Yet, it certainly is not and cannot be the only revenue fueling OSI's engine. OSI's backlog is approximately $1 billion and includes projects for all three segments. The chart below displays the impressive growth in OSI's backlog in recent years: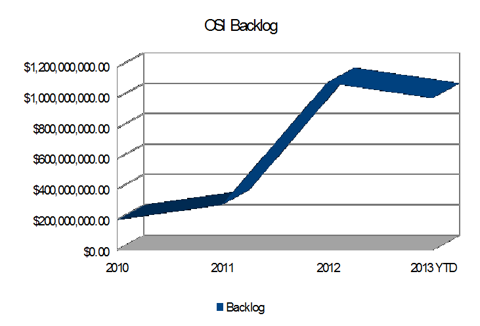 There is no question the backlog is fuel for the steam in the engine.
That is not to say there are not risks to OSI's business model. Beyond the standard risks of competitors' products, OSI relies heavily on governmental decisions. Even though terrorism has increased the demand for OSI's security and scanning products, it must still comply with governmental regulations. Likewise, revenues in the Rapiscan Systems segment are dependent on government funding.
The Healthcare segment is also influenced directly and indirectly by the government. Healthcare reform touts that it will drive efficiencies in the industry. OSI believes its products can deliver efficiency and help organizations comply with upcoming requirements. Many of OSI's medical products are regulated by the government, specifically requiring FDA approval or the approval of a comparable foreign regulatory agency. OSI is also subject to the 2.3% excise tax on medical device companies passed in 2010 and effective in 2013.
Unfortunately, any interaction with a governmental agency will typically slow down the process, whether it be approval, sales, funding or payment. With 47% of OSI's revenue derived internationally, those processes can be even lengthier. Thus, the value and strength of the backlog is important. At $1 billion, OSI's backlog is 20% greater than the expected annual revenue of fiscal 2013.
Besides timing, another risk in dealing with governmental agencies is exemplified by a recent event that tripped up OSI. The TSA (Transportation Security Administration) decided full-body scanners purchased from OSI were too "revealing" and raised privacy concerns. Dozens of scanners had already been installed at high-profile airports when the determination was made. The TSA notified OSI in November, 2012 that it must modify the scanner software by June, 2013. In January, 2013, OSI notified the TSA and acknowledged it would not meet the deadline. The TSA ended its contract and began discontinuing use of the scanners. OSI agreed to help move the scanners to other agencies, such as prisons, where privacy is less of an issue.
The TSA matter reinforces the benefit of OSI having technology and skill sets that are flexible and far-reaching. For example, OSI produces scanners for people used both in airports and for medical purposes, for luggage and container inspections used at airports, ports and borders, and for protecting property used by the military and to protect critical infrastructure. Its optical sensors also have a breadth of uses in industrial applications, medical applications, communications applications, and consumer products. Its most recent development in the Spacelabs Healthcare segment exhibits its corporate mission: "Creating solutions for a safer and healthier world". The ARKONTM anesthesia delivery system is marketed:
"ARKON puts the patient front and center - by offering clinicians optimal functionality, comfort and control - through a combination of innovative technology and ergonomics not previously available in the perioperative environment. ARKON uses advanced concepts in industrial design to improve operating room workflow and adds novel features such as an expanding work surface to enable the clinician to get closer to the patient along with signature lighting to highlight controls that are in an active state."
While OSI has never and does not intend to offer a dividend to its shareholders, that does not mean it is negligent of its shareholders. It would rather reinvest its cash in developing the business and in managing the share count. OSI does have an active stock buyback program. In the third quarter of fiscal 2013, it purchased approximately $8 million in stock. Key to the program's continuation, in April, the Board of Directors approved an additional $1 million for buybacks.
OSI's stock does trade at a higher P/E as do many stocks viewed as "growth" stocks. The current P/E ratio based on its 50-day moving average of $66.24 is 23.7. Based on the same price, its forward P/E is 19.8. The average long-term EPS growth projection of analysts is 20%. With a forward P/E in the same range, OSI appears to be fairly priced in the $65 to $70 range.
As for the risk of buying in at the top of a growth stock's trajectory, it doesn't appear long-term investors need worry that OSI's share price will flat-line or fall off a cliff.
Disclosure: I am long OSIS. I wrote this article myself, and it expresses my own opinions. I am not receiving compensation for it (other than from Seeking Alpha). I have no business relationship with any company whose stock is mentioned in this article.