Under most circumstances, if people can receive the milk for free, it is generally believed that there is little reason to buy the cow. But when it comes to U.S. Cellular (NYSE:USM) and Telephone and Data Systems (NYSE:TDS), investors can receive both. Due to the unusual corporate structure of these two companies, investors who buy shares of Telephone and Data Systems (hereafter referred to as TDS) will receive virtually equivalent exposure to U.S. Cellular (the milk), all while receiving TDS' core business (the cow) virtually for free. Although TDS' core telecom business may not appear to be an appealing asset to own, due to its legacy wireline business, we believe that at its present valuation, with a number of strategic initiatives underway to position it for growth, shares of TDS are undervalued. For the record, unless otherwise noted, financial statistics and managerial commentary will be sourced from the following:
The Numbers at a Glance
Before we delve into the fundamentals of the TDS/U.S. Cellular thesis, it is important to present the numbers that form the core of that thesis. U.S. Cellular, the nation's 5th largest wireless provider, is almost completely controlled by TDS, which owns 84% of the company's equity, and 96% of total voting rights, due to 100% ownership of TDS' Series A common stock. The table below breaks down TDS' ownership of U.S. Cellular.
TDS & U.S. Cellular
| | | | |
| --- | --- | --- | --- |
| Shares | Shares Outstanding | TDS Ownership | TDS Ownership Percentage |
| Common | 50,871,875 | 37,451,434 | 73.62% |
| Series A | 33,005,877 | 33,005,877 | 100% |
| Total | 83,877,552 | 70,457,311 | 84% |
Based on U.S. Cellular's closing price of $42.09 (as of August 5), TDS' total 84% stake is valued at $2,965,548,220. Based on TDS' own outstanding share count of 108,288,898, this means that this stake is worth a total of $27.38 per share. However, TDS closed at $28.64 on August 5. Therefore, TDS' core business is being valued at just $1.26 per share, or a grand total of less than $137 million in market capitalization. In our view, this leaves TDS' core business undervalued, particularly in light of the $245 million in pro forma EBITDA that the business is estimated to generate in 2013 (we reiterate that this figure is for TDS Telecom only, and does not include U.S. Cellular).
Furthermore, we note that TDS' balance sheet is not saddled with huge levels of debt. TDS ended Q2 2013 with $1.396887 billion in total cash & investments, and debt of $1.722541 billion. With the reiteration of its pledge to further monetize unneeded spectrum and towers at U.S. Cellular (more on this later), TDS is positioned to receive further capital to fortify its balance sheet, invest in its business, and return capital to shareholders. Alongside its Q2 2013 earnings, TDS announced a new $250 million buyback program, equivalent to 8.61% of its current market capitalization. TDS is making progress at both U.S. Cellular and its core business, and our belief that this core business is undervalued is why we believe that investors who wish for exposure to U.S. Cellular should consider shares of TDS.
U.S. Cellular: Turning the Business Around and Monetizing Assets
U.S. Cellular, the nation's 5th largest wireless carrier, is continuing to make progress in turning its business around, all while continuing to monetize the assets on its balance sheet. Total revenues at U.S Cellular declined by 10% year-over-year in Q2 2013 to $995.13 million, as the company shed 53,000 postpaid subscribers during the quarter, and 126,000 over the trailing four quarters, bringing its current postpaid subscriber base to 4.412 million. We note that these figures exclude U.S. Cellular's recent divested markets, which the company has shed due to their underperformance, selling them to Sprint (S) for $480 million in November 2012, with the transaction closing in May. This deal transferred around 10% of U.S. Cellular's subscriber base and associated spectrum to Sprint, and U.S. Cellular used the proceeds to pay a special dividend of $5.75 per share to its investors. However, with TDS owning 84% of U.S. Cellular, the majority of those proceeds simply went to TDS.
Although U.S. Cellular continued to shed postpaid subscribers during the quarter, there were signs of progress under the surface, and this turnaround will not be complete in 2013. Indeed, pro forma EBITDA for U.S. Cellular is set to fall from $881 million to $610 million in 2013 (exclusive of $40 million in EBITDA to be generated from divested markets). However, U.S. Cellular is set to narrow its pro forma EPS losses in 2014, down to 14 cents per share, versus an estimated loss of 54 cents for 2013 as a whole. And under the surface, there are signs of progress to be seen. Postpaid ARPU rose 1.32% year-over-year to $54.44 (and inched up sequentially as well), as the company's smartphone penetration rate rose to 45.5% in Q2 2013, up from 36% a year ago and 43% in Q1 2013. Consolidated ARPU rose as well, rising 53 basis points to $50.98, as U.S. Cellular's postpaid ARPU increase was enough to offset the volatility in its prepaid business, which accounts for just under 8% of the company's total subscriber base.
U.S. Cellular and TDS are not simply sitting idly by, however. The two companies are continuing to invest in U.S. Cellular's service and devices. U.S. Cellular CEO Kenneth Meyers reiterated on TDS' earnings call (the two companies consolidate their earnings calls) that LTE service will be rolled out to 87% of U.S. Cellular's subscribers by the end of 2013, and also reiterated that the iPhone will launch on the company's network by the end of the year (U.S. Cellular announced the availability of the iPhone in May). U.S. Cellular's management team further noted that both churn and postpaid losses are likely to subside once the iPhone is rolled out due to what they call "Apple's strong market share performance in the US." The introduction of the iPhone will help U.S. Cellular further accelerate its transition to LTE. In Q2 2013, the majority of the company's smartphones were LTE enabled, and as LTE service rolls out to more markets, the ratio of LTE smartphones is likely to rise further. 40% of U.S. Cellular data traffic is now on the company's LTE network, allowing the company to reduce capital expenditures as less and less investment is needed to maintain its 3G network.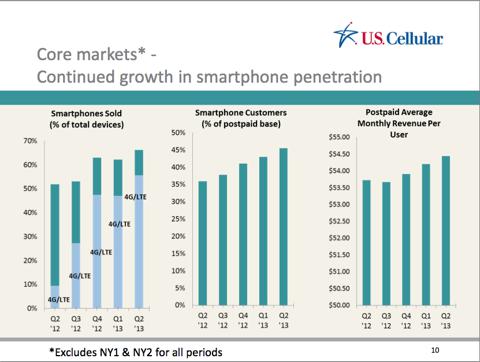 We do not expect U.S. Cellular's turnaround to be complete in 2013, or even 2014, but signs of progress, as we noted above, do exist. With the addition of the iPhone, and an expanding LTE coverage map, U.S. Cellular's losses are set to narrow in 2014, and revenues are estimated to fall 3.9% in 2014, versus an estimated drop of 9% in 2013. And even as U.S. Cellular continues to execute on its turnaround strategy, the company is continuing to monetize its assets.
On June 28, just two days before the end of Q2, U.S. Cellular announced that it had inked a deal to sell 10 MHz of spectrum to T-Mobile (TMUS) for $308 million, with the deal set to be complete before the end of 2013 (it is not reflected in either TDS' or U.S. Cellular's Q2 results). The deal will net U.S. Cellular (and by extension TDS) $212 million after cash tax payments of $96 million, giving both companies the flexibility to invest further in U.S. Cellular's business, or distributing it to the company's shareholders (mostly TDS). On its Q2 earnings call, TDS' executives outlined a 75%-25% split in deploying capital; 75% would go towards investments in the business, both organic and inorganic, and the remaining 25% would be returned to shareholders, via both buybacks and dividends (shares of TDS have a dividend yield of around 1.9% as of this writing). Management noted that such "monetization activities" are set to continue into 2014; U.S. Cellular CEO Kenneth Meyers stated on TDS' earnings call that the company is continuing to undertake efforts to sell off non-core assets, including both spectrum and wireless towers. TDS itself also pledged to continue examining new acquisitions for its core TDS Telecom business, as well as hold enough capital on its balance sheet to participate in future spectrum auctions. However, the acquisition of other companies by TDS is not the only type of M&A that needs to be considered. The takeover of U.S. Cellular is itself a possibility that needs to be examined. Amidst a flurry of deals in the domestic telecommunications sector, U.S. Cellular is now the largest standalone wireless carrier remaining, after the "Big 4" national carriers. And with the need for spectrum increasing, companies such as Dish (DISH) are finding themselves with fewer and fewer potential partners with whom to execute their wireless strategy. Although we do not usually believe in investing on the basis of takeover potential, the dynamics of the domestic telecommunications sector have changed in recent months. Previously, we have covered both Clearwire and Leap Wireless (LEAP), arguing that both companies have the potential to be acquired, and at meaningful premiums. Critics pushed back, arguing that both companies' spectrum assets were unneeded, and their balance sheets too weak to be acquired. And yet, both Leap and Clearwire were taken over, and at meaningful premiums. Notably, U.S. Cellular's own balance sheet is far stronger than that of either company; U.S. Cellular ended Q2 2013 with net debt of $261.328 million (consisting of $617.893 million in cash & investments and debt of $879.221 million). TDS' and U.S. Cellular's corporate governance issues should not present a hindrance to any acquisition, assuming that a suitable premium is offered. We note that TDS itself is majority controlled by its founding Carlson family (which holds the positions of Chairman of the Board, CEO, as well as 2 other board seats). Via a special class of TDS shares, the family holds about 52% voting control of the company. However, as the current speculation surrounding Cablevision (CVC) and its controlling Dolan family has shown, even family-controlled companies can be persuaded to consider the idea of a takeover and/or merger. We note that TDS has been the target of activist investors before: in 2008 and 2009, both Mario Gabelli's Gamco and Southeastern Asset Management, which together acquired nearly 30% of TDS, pressed the company to sell itself. Currently, Gamco and affiliated funds own 8.5% of TDS, and the situation for more activism exists, particularly if consolidation in the domestic telecommunications sector continues.
TDS Telecom: Overcoming Wireline's Decline
We turn now to TDS Telecom, TDS' core business. This division consists of three separate segments: incumbent local exchange carriers (known as ILEC), competitive local exchange carriers (known as CLEC), and hosted and managed services (known as HMS). As expected, TDS' legacy wireline business is in decline, a trend that is occurring through the telecommunications sector. Within its ILEC division, TDS lost 24,900 wireline subscribers over the past year, bringing its total wireline customer base down to 446,300. The same trend is occurring in its CLEC division, where TDS' wireline customer base declined by 26,200 to 146,800. TDS is seeing stability and/or growth in its IPTV and broadband businesses, however. Within the ILEC division, TDS' IPTV customer base rose 87.5% to 10,500 (this will be an area of continued investment for the company), and broadband connections rose by 2,200 to a total of 243,000. In the CLEC division, broadband connections slumped by 5,400 to 16,900. Broadband growth within the ILEC division was not enough to offset the decline in wireline subscribers; ILEC revenue fell 1% year-over-year to $142.473 million, and CLEC revenue fell 5% to $42.133 million. And yet, TDS Telecom's total revenue grew 7% year-over-year to $223.46 million. Where is the growth coming from? The answer lies in TDS' HMS division, where revenues surged 81% year-over-year to $41.374 million. The HMS division consists of 4 distinct business units (Vital Support Systems, OnNeck IT Services, Team Technologies, and VISI), covering a wide range of IT services, including storage, data center services, enterprise resource planning, colocation, cloud computing services, and server, security, and network management. HMS now accounts for over 18.5% of TDS Telecom's total revenue, versus less than 11% a year ago, and we expect this percentage to rise in the quarters to come as TDS continues to invest in its HMS business. We note that the HMS division, while not yet profitable on a GAAP basis, is posting positive EBITDA, which rose 66.45% year-over-year to $1.761 million. TDS Telecom Management noted the potential for "increased revenue" in the 2nd half of the year, driven by growth at Vital (via its ReliaCloud enterprise cloud computing platform) as well as its hosted application management division. Importantly, tight cost controls helped TDS Telecom grow consolidated pro forma EBITDA, as well as pretax operating income (up 2.79% and 5.24% year-over-year, respectively) to $61.631 million and $13.267 million. TDS Telecom is moving to increase penetration rates within its broadband and IPTV business, and saw continued progress in Q2 2013. The company's 10,500 IPTV customers represent a penetration rate of 12% in TDS' 11 markets with IPTV (out of around 100 total markets). TDS Telecom CFO Vicki Villacrez also noted that ARPUs for the company's IPTV business are continuing to grow, as 40% of IPTV customers are now opting to purchase TDS' highest-end television offerings. Continued network investments will bring data services to 21,000 additional households by the end of 2013.
TDS is overcoming its legacy wireline issues, and is moving quickly to diversify away from that business. In February, the company took a large step towards doing so via the takeover of Baja Broadband (based in New Mexico) for $267.5 million, which closed on August 5. Baja Broadband currently has over 70,000 video subscribers, over 55,000 broadband subscribers, and 15,000 digital voice customers. Notably, 96% of the company's network is equipped with DOCSIS 3.0, eliminating the need for TDS to make large, upfront capital expenditures to upgrade Baja's network. Underlying the Baja takeover was the company's below-average penetration rates, which will allow TDS to capture incremental revenue growth by bringing Baja's penetration rates in line with industry averages (the company generated $82.4 million in revenue during 2012, and the release announcing the closure of the deal noted that Baja Broadband has posted annual EBITDA growth of 22% over the past four years).
Baja Broadband Penetration Rates
| | | |
| --- | --- | --- |
| | Industry | Baja Broadband |
| Video | 41% | 33% |
| Broadband | 39% | 27% |
| Voice | 19% | 8% |
Baja Broadband's customer base stretches across multiple western states, including New Mexico, Arizona, Colorado, Utah, and Nevada, as well as Texas. Baja Broadband's networks pass over 212,000 households, yet the press release announcing the acquisition notes that the company holds just 145,000 total customers, leaving ample room for incremental growth. Baja Broadband is also well situated from a demographic standpoint; the states it covers have above-average rates of population growth relative to the United States, and TDS Telecom CFO Vicki Villacrez noted that the local markets Baja Broadband operates in are also above average in terms of median household income. We look forward to TDS' Q3 earnings call for an update on Baja Broadband's integration and renewed efforts to increase penetration rates and subscriber totals.
Conclusions
In our view, shares of TDS are undervalued at current levels. Due to the disparity in the pricing of U.S. Cellular and TDS shares, investors can buy TDS Telecom almost for free. In our view, TDS Telecom is addressing its wireline issues and is growing both consolidated revenue and income. TDS is investing meaningful capital into ensuring that TDS Telecom is not affected by continued declines in wireline subscribers, and in our view, we believe that such efforts will pay dividends. Combined with the continuing turnaround of U.S. Cellular, as well as the potential for further spectrum and tower divestitures, both companies are well positioned to generate further capital for long-term deployment (via dividends, buybacks, acquisitions, and organic business investment). And given the ownership structure of U.S. Cellular, virtually all proceeds from further monetization activities are likely to flow through to TDS, either through dividends or through the upside potential of having more capital to invest in the business. At present levels, we do not believe that shares of TDS reflect the full potential of U.S. Cellular, and that they certainly do not reflect the value of TDS Telecom, and we believe that shareholders should add to or initiate positions while such a value disparity continues to exist.
Disclosure: I am long TDS, USM, TMUS, DISH, CVC, S. I wrote this article myself, and it expresses my own opinions. I am not receiving compensation for it (other than from Seeking Alpha). I have no business relationship with any company whose stock is mentioned in this article.