Unfortunately, many publicly traded companies put the interests of management ahead of shareholders. These firms deliver generous executive pay packages yet never get around to returning capital to their investors. One method of finding shareholder-friendly companies is to select stocks with heavy insider positions. That way management's interests are more likely to be aligned with their investors. When the Board holds stock, they are incentivized to institute dividends and share repurchases.
Infrequently, I find stocks whose heavy insider holdings are not readily evident. These same stocks can be even more exciting when a catalyst is coming to kick-off a big capital disbursement. Then, the stars get aligned and the rest of us - the smaller investors - can jump on board for a sensational ride along with these very shareholder-friendly managements.
Sterling Financial Corporation (NASDAQ:STSA) has all three: a huge insider position; a market that has forgotten this important share concentration; and a catalyst to start rewarding shareholders. If you relied on Yahoo.com or Morningstar, you would likely miss Sterling's heavy insider holdings. Yahoo notes only a 1.7% insider position, while Morningstar reports a meager 0.4% share count. In fact, over 46% of shares are held by insiders, making for a very friendly company but I'll explain later.
The Background
Back in 2010, Sterling was on the brink of collapse as borrowers massively defaulted during the Great Recession. From 2008 to 2010, Sterling lost a staggering $1.3 billion. Shares fell to 25 cents. Through a massive recapitalization involving private equity ($730 million) and Treasury (over $300 million), this near-dead regional bank has come back bigger and stronger arguably than it has ever been. After repurchasing all the stock held by the Treasury and doing a 1:66 reverse stock split, Sterling is acquiring banks and financial assets up and down the West Coast (ironically worth the same $1.3 billion lost during the Great Recession). Sterling is reconfiguring its geographic base, dropping Montana and adding Southern and Northern California, Portland and Puguet Sound assets. Based in Spokane, Washington, this $1.7 billion market cap regional bank has $9.9 billion in assets and sells multifamily and residential mortgages, CRE, and C&I. Currently the stock has a PE of 16 and P:BV of 1.37.

Asset quality has firmed: Net charge-offs (0.29%) and nonperforming loan (1.70%) ratios have markedly improved and are in-line with their peers. Stats are becoming quite respectable: ROA 1.17%, ROE 9%, and efficiency ratio 63%. Importantly, the company continues to increase its operating income.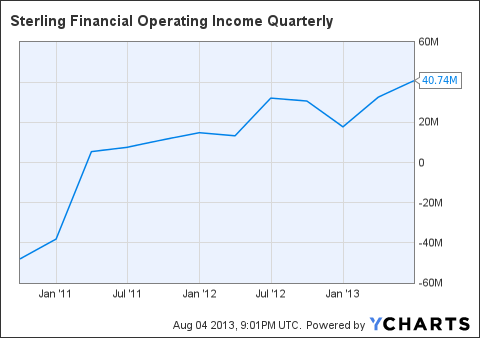 Organic lending is strong
The company is accelerating its loan production. Loan originations grew a remarkable $687 million for the most recent quarter, a 50% increase Y/Y and 34% increase Q/Q. The trend has legs: H1 2013 new loans grew by 49%. The bank is booking lots of new loans.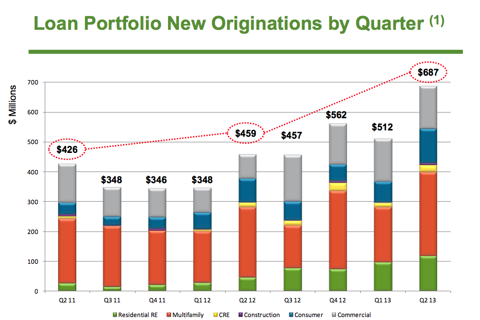 A Large Insider Position Makes For A Soon-To-Be Very Shareholder Friendly Company
As said, insiders hold over 46% of Sterling shares. Specifically, Thomas H Lee Partners and Warburg Pincus Private Equity received large share concentrations and seats on the Board in return for making bank-saving capital injections. Each firm owns 23% of the company stock. These giant positions are easy to miss because the Thomas H Lee and Warburg Pincus representatives who sit on Sterling's board do not personally own the shares.
It is this investor-friendly atmosphere that I want to draw your attention. The extraordinarily high share holder concentration suggests
- A great deal of oversight looking out for shareholder interests.
- An emphasis of capital return to shareholders via dividends, special dividends and share repurchase beyond what one would expect at the typical regional bank - or company, for that matter.
- A particular interest in seeing share price appreciation to capture the maximal reward.
- An easy move to a private equity takeover.
Already, Sterling has taken significant steps to begin returning money to shareholders. The company reinstated the dividend in 2012 and then raised it to $0.20 a quarter in 2013, giving the stock a 3% yield. Sterling handed out $0.35 in special dividends in Q4 2012 and again in Q2 2013. Over the last 12 months, Sterling has paid out $1.40 for over a 5% yield.
Are Shareholders In For A Bigger Capital Return?
It is my belief Sterling will hand out another special dividend and initiate a large buyback program later this year that will drive the stock 20% higher. As previously discussed, the Board is greatly disposed to return capital back to shareholders, in large part due to the giant holdings of Warburg Pincus and Thomas H Lee private equities. Throughout Sterling's last conference call, management reiterated their intention to return excess capital including
Sterling will likely announce a large buyback next quarter which should serve as a catalyst to send the stock higher. Up until now, Section 382 of the Internal Revenue Code has prevented Sterling from returning capital to shareholders through share repurchases because, in so doing, their hefty $290 million deferred tax asset (DTA) could become impaired. That's about to change. In August, Sterling will reach its 3-year anniversary of the recapitalization, a milestone that will allow it to use share repurchases to return capital without putting its large DTA at risk. This is very important to shareholders because Sterling intends to buy back stock once the 3-year anniversary passes and I do not think this is going to be a small repurchase program.
We are now only about a month away from the third anniversary of our recapitalization date which will mark the end of certain restrictions related to preservation of our significant deferred tax asset under Section 382 the Internal Revenue Code. In particular, this will add share repurchase capability to our capital management toolkit.
Sterling has already telegraphed its intentions. The only question that remains:
How Much Excess Capital Does Sterling Have To Return?
Sterling has room for a big share repurchase and special dividend. Per its most recent report, it's extremely well-capitalized:

Minimum regulatory capital ratios to be considered "well-capitalized" are 5%, 6%, and 10%. To put Sterling's capital ratios in perspective, Wells Fargo's (NYSE:WFC) are 9.5%, 11.8%, and 14.8%. Sterling has $1.2 billion of shareholders' equity and could easily return $250-$500 million to shareholders through dividends, special dividends, and share repurchases and still be very well-capitalized. This sum equals 15% to 25% of Sterling's market cap.
Bottom Line
In 2010, investors recapitalized Sterling. This year, Sterling is going to repay the favor and recapitalize its shareholders with a combination of generous special dividends and share repurchases that will drive the price of its shares higher.
Disclosure: I am long STSA. I wrote this article myself, and it expresses my own opinions. I am not receiving compensation for it (other than from Seeking Alpha). I have no business relationship with any company whose stock is mentioned in this article.
Additional disclosure: The opinions in this document are for informational and educational purposes only and should not be construed as a recommendation to buy or sell the stocks mentioned. Past performance of the companies discussed may not continue and the companies may not achieve the earnings growth as predicted. The information in this document is believed to be accurate, but under no circumstances should a person act upon the information contained within. We do not recommend that anyone act upon any investment information without first consulting an investment advisor as to the suitability of such investments for his specific situation.