Moody's takes a closer look at sovereign debt ratings in the light of the unprecedented expansion of most Aaa governments' balance sheets. While it does not include any changes in ratings, it does provide more insight from Moody's about potential pressures on current sovereign Aaa ratings.
Selected excerpts from Aaa Sovereign Monitor September 2009

Our categorization of Aaa sovereigns in the current crisis – differentiating between the "resistant", the "resilient" and the "vulnerable" – remains pertinent and illustrative. However, regardless of category, almost all Aaa-rated sovereigns have been hit more severely by the global downturn than we expected earlier this year.
Nevertheless, all Aaa countries now have stable outlooks, indicating that we do not expect rating downgrades over the near term, beyond our recent downgrade of Ireland (from Aaa to Aa1 with negative outlook) which had been the most "vulnerable" Aaa.
Spain, the other Aaa that we had deemed "vulnerable" as of February 2009, remains, for now, a safe distance from the Aaa-Aa demarcation line. Spain has shown itself to be more "resistant" than previously thought, mainly because its economic growth is not likely to be as low as we had anticipated. As a result, on July 25, we affirmed its Aaa rating with a stable outlook.
The two "resilient" countries, the UK and the US, are showing signs of recovery. As a result of significant debt increases, they have lost some altitude within the Aaa space, and our assumptions in terms of economic dynamism and fiscal adjustment capacity may be put to the test in the coming years. A significant flexibility in the (re-)allocation of productive resources should support a slow return to sustained growth over time. However, even a sharp – and in our view unlikely – revitalization of growth would not remove the need for fiscal adjustment. The characterization of "resilient" is predicated on our expectation that such a

policy response, while unspecific at this stage, will lead to fiscal stabilization and then consolidation once each economy has firmly emerged from the recession.

Some "resistant" Aaa countries, such as Germany or France, have been more affected by the economic downturn than we expected a year ago. But they also seem to have rebounded sooner. The strategic direction taken by the two countries differs: "fiscal consolidation through growth" for France; "consolidation, then growth" for Germany. It is too early to tell whether such contrasting strategies will bring meaningful credit risk differences. So far, these two countries have also lost a bit of altitude but we believe they are well-positioned within the Aaa space.
The following Moody's chart illustrates how much of an outlier Ireland is: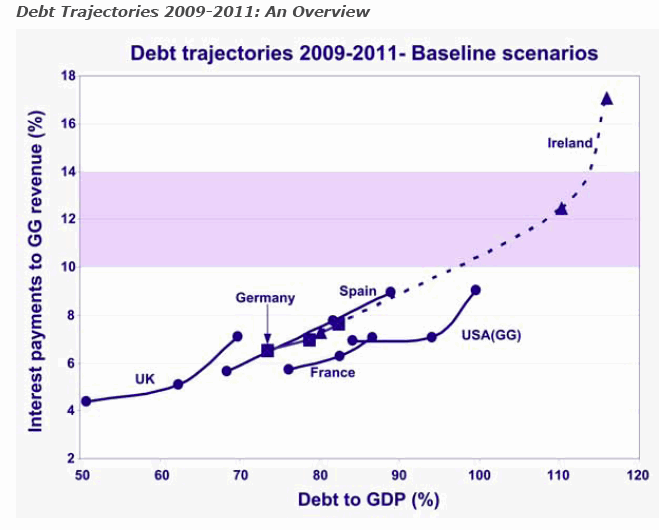 Despite the ballooning federal budget deficits and debt load, the US is the only country deemed by Moody's to have a "very high" ability to grow its way out of debt.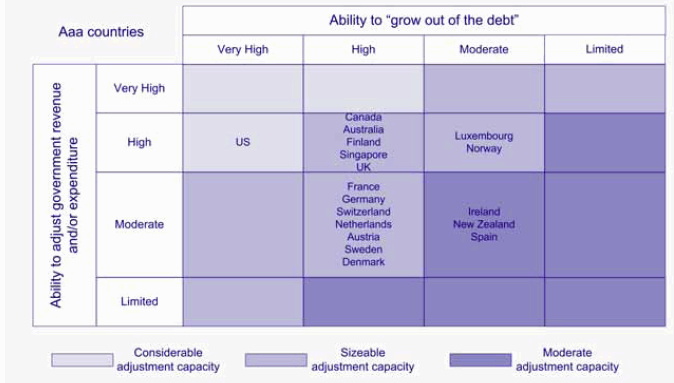 Moody's "debt triangle" shows how the US is highly rated on its ability to finance and reverse its debt, but less so on its affordability – the amount of the collected taxes that must be channeled to repay interest as a percentage of their annual revenues (interest payments/revenue).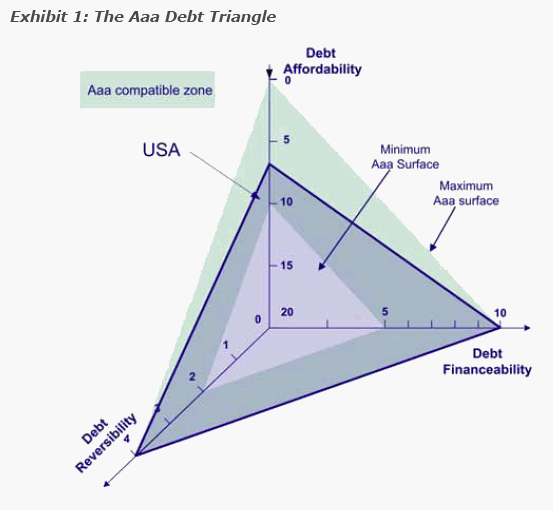 For an even deeper dive into Moody's thinking and methodology, see Why Aaa Sovereigns Get Downgraded