lntelsat S.A. (NYSE:I) (I.PA) ("Intelsat" or "the company") was founded in 1965 and operates the world's largest satellite services business (by revenue), providing a critical layer in the global communications infrastructure and is based in Luxembourg [1]. The company recently completed an IPO, raising $347 million selling 19.3 million common shares at $18 apiece. However, the deal was priced below its initially proposed range of $21 - $25 a share. Concurrent with the common stock offering, 3.45 million Series A mandatory convertible junior non-voting shares ("Series A preferred shares" or "the preferred shares") were sold [2]. According to the 2013 Q2 earnings report, management used the IPO proceeds to pay down debt, which now stands at a staggering $15.5 billion. However, with the staggering debt balance, herein lies opportunity for equity investors: an evolution of the capital structure that will make equity a higher percentage of the overall capital structure (it currently stands about 15%).
Management also indicated in Q2 conference call that the pay down of debt from IPO proceeds and a $6.7 billion restructuring of its high interest debt will result in $245 million in annual interest savings. That is significant, and represents about 9% of the total $2.7 billion equity (preferred and common) value.
Intelsat CEO Dave McGlade had this to say with respect to the Q2 results:
With the completion of our April IPO and successful debt refinancing initiatives in the first half of 2013, we're driving a positive cycle of delevering our balance sheet. Lower interest costs and reduced capital expenditures will enable increased cash flow, which in turn should allow us to further reduce debt. I'm confident Intelsat is well-positioned to create value for all of its stakeholders.
As we will discuss in further detail, the preferred shares offer investors a greater "margin of safety" coincident with participation in upside embedded in the Intelsat operating model, and evolving capital structure.
To get an idea of the current capital structure, I put together a spreadsheet with the current market value of Intelsat's equity and the book value of its debt.
Intelsat Capital Structure
August 2, 2013
# of Shares Outstanding
Price
Market Value
Common Shares [1]
102,489,261.00
$24.09
$2,468,966,297
Preferred Shares [2]
3,450,000.00
$63.92
220,524,000
Plus: Debt
15,464,117,000
Less: Cash
95,792,000
Enterprise Value
$18,057,815,297
Notes:
[1] Sum of shares held by existing shareholders (83,189,261) and shares sold in IPO (19,300,000).
[2] Mandatory convertible junior non-voting shares ("Series A Preferred" or "the preferred shares") sold concurrent with common shares. The preferred shares come with 5.75% on the value of the liquidation preference at $50/preferred share. Accordingly the preferred shares pay annual dividend of $2.875/preferred share, or 4.5% based on current $63.92 price. Each Series A preferred share will automatically convert on May 1, 2016 into between 2.2676 and 2.7778 to common shares, subject to anti-dilution adjustments. At any time prior to May 1, 2016, holders may elect to convert each Series A preferred share into common shares at the minimum conversion rate of 2.2676 common shares per Series A preferred share, subject to anti-dilution adjustments.
And an overview of the debt (as of June 30, 2013):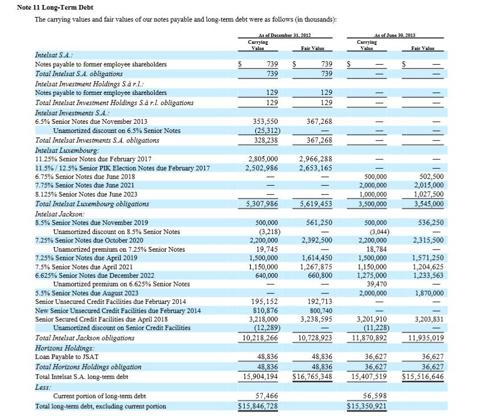 Below is the share price performance since the April IPO.
Common shares:

Preferred shares:
Business
Before we get to a valuation on Intelsat common and preferred shares, we first need to examine the industry in which Intelsat operates and competes.
According to Intelsat's S-1 filing:
We are the global leader in our sector based upon both revenues and in-service transponders. We operate more satellite capacity, have more satellite capacity under contract, serve more commercial customers and deliver services in more countries than any other commercial satellite operator. We established the commercial satellite sector over 45 years ago and today serve customers in approximately 200 countries and territories. As a result of our leading position, we work with the world's largest media, telecommunications and governmental organizations, integrating our global network with customers' communications networks and aligning our capital investments to support customers' strategic objectives.
Intelsat reports its revenues in three segments: (1) networking (global market leader, 33% share); (2) media (global market leader, 21% share); and (3) government (global market leader, 44% share of US government communications expenditures).
As evidenced by being the market share leader in each of its reportable segments, Intelsat has entrenched itself in an enviable position in an industry which is going through significant consolidation. Intelsat, at its core, is a distributor of information/content/bandwidth through its platform of 50+ satellites in orbit.
The market for Intelsat's transponder services is expected to increase between 4% and 5% compound annual growth rate ("CAGR") through 2017.
The exploding growth in bandwidth consumption, in my opinion, will continue unabatedly as more connected devices become available, and as people in developed and emerging markets consume ever increasing amounts of digital content. To me, that is one of the main theses to invest in the satellite sector: it is a more scalable model than terrestrial forms of communication.
The satellite communications business, though, is not without risks. In addition to the financial leverage causing inherent risk in the model, operational risk remains. For example, on January 31, 2013, Intelsat suffered an operational setback when one of its satellites crashed just after launch. Fortunately for Intelsat, the satellite was fully insured.
Even with insurance coverage, operational risk remains. Launching satellites into orbit and the difficulty in managing the satellites in orbit should be considered.
Now that we have an idea regarding the business and its risk, let's take a look at the valuation, and how the equity value could change over time.
Valuation
Just imagine it: if Intelsat's enterprise value doesn't budge, but the company remains steadfast in using its prodigious free cash flow producing abilities to reduce net debt, the equity value has the chance to increase in value materially (assuming enterprise value stays constant). Of all the operating models I've reviewed, Intelsat has one of the highest degrees of financial leverage and operating leverage. For every $1 increase in revenue, Intelsat only incurs about 20 cents in variable costs. The remainder is used to pay operating expenses (SG&A), service debt and invest in the business through capital expenditures.
Intelsat just completed a large capital expenditure program to build out its satellite infrastructure, as indicated in its S-1 filing. Therefore, I expect management to be able to pay down a significant amount of debt over the next five years as capital expenditures are reduced in favor of cleaning up the balance sheet, something which I believe the market is not fully pricing in to the equity.
I modeled out how much net debt could be reduced by 2017, below. If you want to see the Excel book and perform your own sensitivity analysis, I included a link to the workbook here.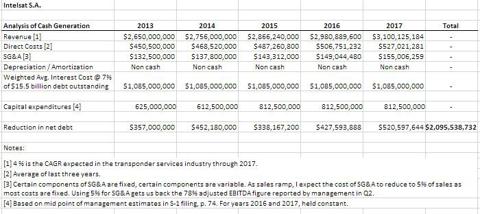 For the analysis, I used 4% revenue growth which may seem aggressive given Intelsat only grew revenue in Q2 2013 by 2% year-over-year. However, with the added capacity from the recent satellite build out, an increase in bandwidth consumption globally and considering the 4 - 5% growth rate expected by management (and supported by industry studies), 4% annual growth seems reasonable.
In addition, I used 17% for direct cost of sales based on the average of Intelsat's last three years, and backed into a 5% SG&A rate to get back to management's 78% adjusted EBITDA margin reported in Q2 2013.
Based on my analysis, I believe that the company could reduce net debt by $2 billion over the next 5 years, and materially more if the company is successful in further restructuring certain of its higher interest debt or ramps sales more than 4%.
Because of the high earnings leverage (in excess of 78%) embedded in the Intelsat model, any increase in sales will disproportionately increase the value of the equity (common and preferred). If you want to test the sensitivity of the numbers, feel free to use the link provided above which grants access to the workbook.
In my view, $2 billion net debt reduction is the base case scenario. The reduction in net debt should directly increase the value of the equity. Based on the current $2.7 billion valuation for the common and preferred shares, a $2 billion increase in equity value represents 75% upside over the next five years as the capital structure is delevered, and remaining value is attributable to the equity, all else being equal (i.e., earnings multiples in the satellite sector, etc.).
And by the way, Q2's $417 million loss should be considered an aberration since the company recorded a $367 million loss on an early extinguishment of debt and $78 million related costs in connection with the IPO. Revenues were up 2% year-over-year, and the company recorded $509.4 million in adjusted EBITDA, roughly 78% of revenue.
Needless to say, evaluating this high leverage and high margin model is interesting, and yields incredible results given slight changes to assumptions. This is a case where we see how leverage magnifies returns, in both directions. Given Intelsat's clear visibility in its revenue stream ($10.4 billion backlog as of Q2 2013), I think the risk of default is minimal. Also, there are extremely high barriers to entry in the satellite communications industry, so the risk of additional entrants is minimized. However, there are incumbent competitors in the market, including Eutelsat (OTCPK:EUTLF), JSAT (OTC:SKPJY), SES Global (OTCPK:SGBAF), Telesat, among others. I plan on doing an analysis on these satellite communications as well to figure out if they offer value in this highly scalable industry.
If 75% upside for Intelsat common shares doesn't sound like a good value, then we need to take a look at the preferred shares.
Preferred Shares
In my view, the preferred shares are a better value, as seen in a quick analysis of the present value of dividends to be received and the conversion prices (below).
Investors wary of the large financial leverage carried by Intelsat, may feel more comfortable buying the preferred shares, which by my estimate, offer a wider margin of safety than the common shares. That is because the preferred shares have liquidation preferences at $50/share and are senior to the common shares, but junior to the debt obligations.
In addition, the preferred shares will mandatorily convert on May 1, 2016 at a rate between 2.2676 and 2.7778, based on the common shares trading range in the 40 days preceding the conversion. Holders of the preferred shares can also, at any time prior to the mandatory conversion, voluntarily convert at 2.2676 common shares per preferred. The preferred shares also pay 5.75% dividends based on the $50 liquidation value, or $2.875 equating to a 4.5% dividend yield at the current $63.92 quote.
Intelsat Preferred Shares
Present Value Analysis on Preferred Shares Dividends
Discount Rate
15%
Year
2013/4
2014/5
2015/6
N
1
2
3
Preferred Dividend
$2.875
$2.875
$2.875
Discount Factor
0.870
0.756
0.658
Present Value (PV) Dividend
$2.50
$2.17
$1.89
Sum PV Dividends
$6.56
Current Preferred Price
$63.92
Minimum Conversion Rate
2.2676
Equivalent Price of Preferred to Common ex - dividend
$28.19
Less: PV of Dividends
($6.56)
Current Equivalent Price of Preferred to Common
$21.62
Current Price of Common
$24.09
Conclusion: Preferred Shares Offer Better Value
Given the cheaper price of the preferred shares relative to the common shares (about an 11% discount), the preferred shares give investors about 85% upside at current price levels.
Conclusion:
Look, I abhor financial leverage as much as the next analyst. But I love business models with operating leverage around 80%. For every dollar of revenue, Intelsat only incurs ~20 cents of variable cost. That leaves plenty of margin left to pay down its mountain of debt. In addition, Intelsat has clear visibility into its future revenue ($10.4 billion backlog as of Q2 2013) because its contracts with its customers are long-term in nature.
Equity investors who can see past the current capital structure of Intelsat and envision it 5 years down the road stand to generate potentially high risk-adjusted returns as capital structure evolves, and more of Intelsat's earnings and cash flows are attributable to the equity.
If you believe in the Intelsat story, invest in the preferred shares. They offer more safety, income and upside than the common shares.
Look for upcoming analysis on some other satellite communications players in the upcoming weeks to see who, if any, offers compelling investment opportunities.
Sources:
[1] Intelsat S-1 Filing, Amendment No. 9, p. 1
[2] Intelsat Preferred Share Prospectus
Disclosure: I have no positions in any stocks mentioned, and no plans to initiate any positions within the next 72 hours. I wrote this article myself, and it expresses my own opinions. I am not receiving compensation for it (other than from Seeking Alpha). I have no business relationship with any company whose stock is mentioned in this article.