The Deutsche Bank PowerShares DB Agriculture Fund (NYSEARCA:DBA) is based on Deutsche Bank's Liquid Commodity Index Diversified Agriculture Excess Return™ and managed by DB Commodity Services LLC.
The Index is a rules-based index composed of futures contracts on some of the most liquid and widely traded agricultural commodities. The Index is intended to reflect the performance of the agricultural sector. You cannot invest directly in the Index.
*** The above description of the DBA Fund is quoted directly from Deutsche Bank's corporate website.
Investors and traders that routinely use ETFs are probably familiar with this instrument. Those that employ options and futures strategies in commodities' assets, and speculators, certainly know and use this ETF to hedge concentrated and volatile trades they're in. I'm not big in either of those strategies, but I know and invest in commodities via stock ownership across the more popular hard and soft asset classes.
When gold, silver, iron, copper, timber, coal and steel are all in a correlated downward trend, they may be both diversified and contrarian investments, and put on fire sale prices, but I'm looking for further diversification. Occasionally this ETF provides just such characteristics, but now isn't the time.
I also want positive performance, and the agricultural & food commodities, (i.e. "the softs") are at lows and falling. Quite often food grains have a large, inverted (negative) correlation to many asset classes. Right now they are tied in a race to new lows along with the hard assets. Stocks are doing great so far in 2013, but who knows when the next correction will come? If investors don't have an allocation away from equities, bonds have increased in interest rate risk, real estate may continue working, but has also pulled back, and cash is just that. Cash is king when it comes to riskless assets and preservation of capital, but is paying savers "nada." Any return on cash held is not foreseeable.
I keep turning rocks over in a daily search to both hedge and add diversification to my investments. I also don't see anything but both of these components in the livestock, feeder grains, and grain markets, as well as other basic edibles.
DBA holds futures and options on approximately a dozen commonly consumed raw product foods that are processed and eaten worldwide. Here are the current weightings, as well as the underlying index that it attempts to track:
Base Weight Comparison » Index Weights (as of 02-Aug-2013 12:00 AM)
Contract/ Contract Expiry Date/ Index Weight %/ Base Weight % (** represents no comparison weighting in index or DBA fund).
Cattle (Feeder Cattle) 31-Oct-2013 / OCT3 / 0.93 / 4.17
Cattle (Feeder Cattle) 26-Sep-2013 / SEP3 / 3.73 / **
Cocoa 13-Dec-2013 / DEC3 / 2.52 / 11.11
Cocoa 13-Sep-2013 / SEP3 / 10.08 / **
Coffee "C" 18-Sep-2013 / SEP3 / 7.42 / 11.11
Coffee "C" 18-Dec-2013 / DEC3 / 1.85 / **
Corn 13-Dec-2013 / DEC 3 / 10.66 / 12.50
Cotton #2 / 06-Dec-2013 / DEC 3 / 3.80 / 2.78
Lean Hogs 14-Oct-2013 / OCT 3 / 9.37 / 8.33
Live Cattle 31-Oct-2013 / OCT 3 / 13.72 / 12.50
Soybeans 14-Nov-2013 / NOV 3 / 12.92 / 12.50
Sugar #11 30-Sep-2013 / OCT 3 / 12.65 / 12.50
Wheat 14-Jul-2014 / JUL 4 / 5.17 / 6.25
Wheat (Kansas Wheat) 14-Jul-2014 / JUL 4 / 5.17 / 6.25
Holdings are subject to change without notice.
DBA Fund Weights (as of 02-Aug-2013 12:00 AM)
Contract / Contract Date / Weight %
Cattle (Feeder Cattle) 31-Oct-2013 / OCT 3 / 0.93
Cattle (Feeder Cattle) 26-Sep-2013 / SEP 3 / 3.73
Cocoa 13-Sep-2013 / SEP 3 / .08
Cocoa 13-Dec-2013 / DEC 3 / 2.52
Coffee "C" 18-Sep-2013 / SEP 3 / 7.42
Coffee "C" 18-Dec-2013 / DEC 3 / 1.86
Corn 13-Dec-2013 / DEC 3 / 10.66
Cotton #2 06-Dec-2013 / DEC 3 / 3.80
Lean Hogs 14-Oct-2013 / OCT 3 / 9.37
Live Cattle 31-Oct-2013 / OCT 3 / 13.72
Soybeans 14-Nov-2013 / NOV 3 / 12.92
Sugar #11 30-Sep-2013 / OCT 3 / 12.65
Wheat 14-Jul-2014 / JUL 4 / 5.17
Wheat (Kansas Wheat) 14-Jul-2014 / JUL 4 / 5.17
Holdings are subject to change without notice.
***Please go to https://index.db.com - Traded Index Products - Commodities - DBLCI for a thorough description of the Optimum Yield [TM] contract selection formula.
***A patent application concerning the Optimum Yield [TM] process is pending at the United States Patent and Trademark Office.
As of June 12, 2006, DBLCIX, the ticker symbol for the intra-day indicative level of the DBLCI, displays data for the OY version of the DBLCI-ER rather than the non-OY version of the DBLCI-ER. The historical DBLCI-ER data was normalized to have a level of 488.6960 on June 8, 2006, the closing level of the OY version of the DBLCI-ER as of that date.
Notice that by comparing the weighting in the two tables, DBA effectively tracks the targeted index (above) with 100% (or near) correlation, so investors know that Deutsche Bank's attempted strategy delivers accurate index correlation, what is sought from the investor. In other words, "you get exactly what you're paying for."
The weightings aside from the grains, in sugar, coffee, cotton, soybeans, and cattle and hog livestock, and are generally proportional to either the demand from consumers, or the scarcity in the supplies that can be delivered to consumers. The most consumed foodstuffs have a commensurately larger weighting in the index.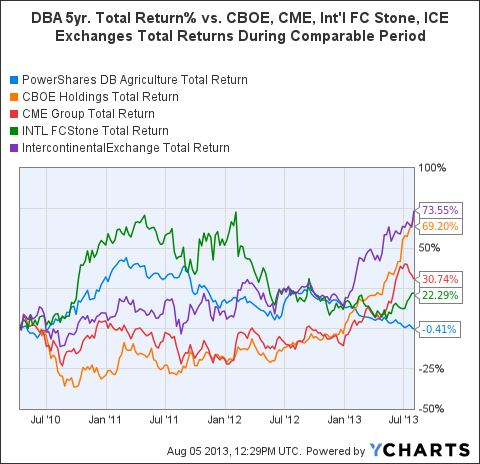 DBA Total Return Price data by YCharts
Indirect ways to invest in commodities in general and the livestock, grain, and raw food markets are through the financial market powerhouses like the Chicago Mercantile Group (NASDAQ:CME), the leader of creating and trading financial products in the commodities futures, index instruments, options, and other derivatives, as well as the owner of the Chicago Mercantile Exchange.
A close and rapidly catching up second-place is the Intercontinental Exchange (NYSE:ICE), NYSE Euronext (NYSE:NYX) [soon likely to merge with ICE]. The Chicago Board of Options Trading, once a stand-alone institution, and a big player in this segment, was merged with ICE in 2007. The Chicago Board of Options Exchange (NASDAQ:CBOE) is another company to consider for indirect commodities plays. CBOE, incidentally, just reported record earnings.
A vastly smaller player is micro-cap International F C Stone (NASDAQ:INTL). F C Stone is a micro-cap company, with a market capitalization of just $364.21M, and trades on thin volume (~35K-36K shares daily). They have a basic business model resembling somewhat to the large exchanges mentioned above.
It also has a consulting business that focuses on commodities and processors and end-food consumer goods for grocers, restaurant clientele, premium brand name manufacturers, and store brand foods. INTL also provides advisory and hedging product and services for procurement, logistics, and transport of goods to its customers and throughout distribution chain ecosystem.
Customer examples could be Archer Daniels Midland (NYSE:ADM), Dean Foods (NYSE:DF), Tyson Foods (NYSE:TSN), Whole Foods Market (WFM), and small to mid-size restaurant chains, hotels, airlines, concessionaires, confectionery producers (candy), and coffee chains.
DBA is a highly risky, speculative trading instrument. The underlying derivatives holdings, while in the most popularly consumed and demanded food products globally, are entirely held in short term contacts which roll over within any given time period at an average of 30 days to three months. Some contracts cover longer time periods. They tend to fluctuate in implied and nominal value on a daily basis, and the relevant term used, called "decay effect" is evaluated and re-priced often, in a daily attempt for "price discovery."
Investable funds held in DBA that aren't invested in futures instruments are held in short term U.S. Treasury instruments, adding a (very) minimal amount of safety. That practice is solely for risk-free capital preservation, and adds no substantial performance enhancement.
This occurs for two reasons, the first one is the covered active time period that changes from the beginning of the contracts, and throughout the duration as the expiring date gets closer daily. The other factors affecting a contract's value is any given dynamic set of factors that range from macroeconomic events, industry-specific risk elements, geopolitical risks that can vary from war, drought, government default, inclement weather conditions, flooding, a rise in international and domestic shipping and transport costs, insect epidemics, oil and fuel prices…you name it. A multitude of these, and many more factors, are watched relentlessly by everyone involved throughout the agriculture spectrum.
Two perfect examples making the current news are adding risk and worrying traders and end-product customers alike. India's government has been reducing the amount of subsidies that they pay to farmers. The government is experiencing fiscal shortfalls, as well as the recessionary trends that are damaging the nation's GDP and GNP.
Brazil is reporting that its nation's ports are congested, resulting in slowing shipments of its bountiful agriculture industry that feeds an amazing amount of the world's population. North America is witnessing the collective domestic farming populace reducing its sales of crops due to higher sales over the last several seasons. The estimated effects this reduction will have are not projected to meet the world supply demand.
Hedges on DBA can be created by several inverse and/or leveraged (double or triple) ETF selections. DB offers several ETF products to complement DBA, or to leverage short or long by 2-3x the DBA direct long position. PowerShares DB Agriculture Short ETN (NYSEARCA:ADZ), PowerShares DB Agriculture Double Short ETN (NYSEARCA:AGA), PowerShares DB, PowerShares DB Agriculture Long ETN (NYSEARCA:AGF), PowerShares DB Agriculture Double Long ETN (NYSEARCA:DAG), and PowerShares Global Agricultural Portfolio ETF (NASDAQ:PAGG). The ELEMENTS Rogers International Commodity Agriculture ETN (NYSEARCA:RJA), iShares ETF and ETN offerings and other fund and ETF sponsors are worth comparing expenses, performance, holdings, weightings, equity and bond investments, turnover, and any other characteristics within each fund.
Other ETFs that participate in the agriculture sector have substantial equity exposure. Market Vectors Agribusiness ETF (NYSEARCA:MOO), invests in stocks in addition to futures. There are several ETF and ETNs that hold more concentrated positions like just grains, or livestock only. Obviously they are less broadly diversified.
Performance of the lifelong existence of DBA since the fund's inception on January 05, 2007 through August 02, 2013 has amounted to a measly total return of just 1.7%, but trading can provide sizeable profits due to strong periods of share appreciation. Deutsche Bank charges a total expense of 1.01% for management and costs of the fund. That's reasonable for the accurate tracking it has with respect to the underlying index, although there are other ETFs that have lower expense rates. Cost-conscience investors may want to do further comparisons by researching other ETF offerings.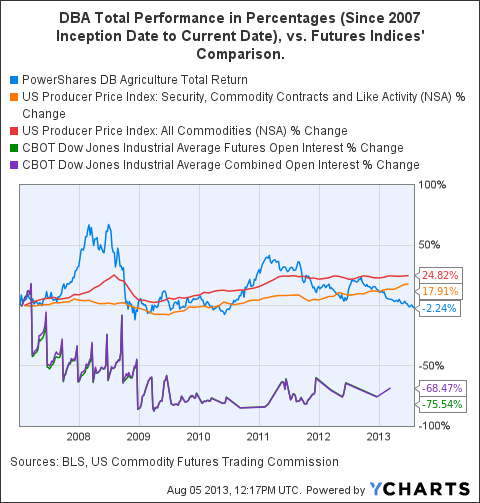 DBA Total Return Price data by YCharts
Another consideration to make is the fund's discretion to make distributions. DBA made two, in 2007 and 2008. These weren't dividends or capital gains or losses sales, but rather were treated as a "Return of Capital," and were a taxable event during the distribution years. The fund's management retains the right to make distributions again, at management's discretion. Caveat Emptor, please!
Fertilizer and nutrients companies Potash Corporation (POT), Agrium (AGU), CF Industries (NYSE:CF), as well as genetic seed designers are much less risky and more profitable plays like Mosaic (NYSE:MOS) and Syngenta (NYSE:SYT). Food and farming equipment manufacturers Deere and Company (NYSE:DE), DuPont (DD), Archer Daniels Midland are worth a look as well, as a third derivative to pure commodities.
I initially looked at DBA to consider a long position to increase diversification away from equities. I had once held a position in 2008, managing to realize a modest profit. Realize that DBA is a trading instrument. Unless an investor wishes to keep a perpetual allocation to agriproducts, profits should be taken when achieved, and that's what I did.
Looking at it now, I see the headwinds on a bunch of fronts, such as the past several bumper crops, or increased harvests of farmers. Understanding that in the grains and livestock industry, good can mean bad for investors, unlike the fortunate farmers.
However, I still want some exposure for the reasons I have outlined. My take on the current fundamentals is to invest 4-6% of my portfolio into the fund, but I will hedge the likelihood of the continuation of the relative poor performance in this space. I'm choosing to reinvest just 2% in a long DBA allocation, and offsetting that with twice that allocation into an inverse or double inverse ETF on the short side.
I'm looking for the vehicles that will allow the optimal way to do that by comparing the other negative correlation (inverse, or short) ETFs. Research into the costs and expenses, indexes that are tracked, and other factors inherent to each ETF or ETN is necessary due diligence.
These ETFs need to be monitored daily, and managed a bit more actively, as the fundamentals and macro-risk tied to agriculture can change overnight. Many traders and speculators have lost fortunes (some permanently) due to large and full-time engagement in the direct trading and speculative derivatives markets.
I'm of the current conviction that a short position will work, as it has been, so I will be ready to trade between the short and long side. If I'm wrong (and hey, it happens!), I will simply readjust the weightings accordingly. I don't know, nor can I predict with any accuracy, what may occur in the futures soft commodities. Why do I intend to invest in this asset space? I've given my main reason of diversifying out of more traditional investments, of which I own a good percentage of now.
I suspect that there already are enough negative factors that are discounted in these commodities, and most of the grains and crops are near or at low prices, or are at least low enough to offer a tactical entry point. One glance at the charts included in this report may have some readers agree. That's why I want to have a small and minimal allocation long, but hedge against a long position, as the overriding trend has a strong likelihood of continuing. Remember, the "trend is your friend!"
This is my reasoning for taking a 2:1 ratio or a 3:1 short-to-long position. Who can predict the next season's herd or crops outlook? Commodities assets outside of stock exposure to them are not intended to be long term holdings, with the exceptions being the precious metals.
Meat and grains become inedible and worthless unless the grains are stored as a reserve. Knowing that, investments representing the softs are better held for an intermediate period at best, and traded for short or intermediate periods of ~1yr. or shorter. Trades should be made upon any news that will positively or negatively change any ongoing trend(s) within the holding period. DBA is a liquid fund with over $1B in net assets, so entering and exiting positions can be executed with ease.
Keeping both eyes and ears on the trends and news that affect the "ag" industry, farmers, and crops is necessary. In order to reallocate more into a long position, hearing any bad news will be "good news for investors (that are long). Disastrous news and events such as hurricanes, monsoons, droughts or floods, livestock disease, or Egypt shutting down the Suez Canal and other similar events will, unfortunately, be bad news for farmers and consumers on some level, but will potentially threaten food harvests, supplies and distribution to industry customers and consumers.
During the August 3rd and 4th weekend, eastern Kansas, Missouri, and northern Arkansas were hit with heavy rain, with Wichita, Kansas reporting flooding and a huge hailstorm. Will that affect any crops?
What is bad news for crops can equate to "good news" for investors. (one possible positive scenario may be an "Abu-Economics" driven boost to Japan's GDP, rising consumer spending, potentially leading to increased demand for grains, pork, and beef.) I don't wish any bad intent toward the people that stand to suffer and lose from crop damage or worse, but I don't cause, nor can I prevent any change in any other "Act of God" events, nor can I prevent a "force majeure" (a French term meaning "greater," or "superior force") declaration from being announced.
As an investor, I'm an impartial participant and a neutral observer. The objective is to profit, and my invest money feeds the industry, generally (and hopefully) for the better. I try to reserve my human empathy and sentiments separated from the profit motive. We're in it to win it.
Disclaimer: Investment information contained within this article is not intended as investment advice. This content is not published with intent to promote or sell, market, distribute, or advertise any company, investments, or products mentioned. These are the writer's opinions, and material facts contained within all the related content may differ materially, is subject to change, and disseminated from multiple sources. Past returns and performance are not indicative of future performance. All investors should do individual and suitable due diligence prior to making any investment decisions as a result of any facts, information, or opinions in this article.
Disclosure: I am long CME, POT. I wrote this article myself, and it expresses my own opinions. I am not receiving compensation for it (other than from Seeking Alpha). I have no business relationship with any company whose stock is mentioned in this article.