Author's Note: AMD responded to VR Zone with the following statement: "AMD's 'Kaveri' high-performance APU remains on track and will start shipping to customers in Q4 2013, with first public availability in the desktop component channel very early in Q1 2014.

'Kaveri' features up to four 'Steamroller' x86 cores, major heterogeneous computing enhancements, and a discrete-level Graphics Core Next (GCN) implementation – AMD's first high-performance APU to offer GCN. 'Kaveri' will be initially offered in the FM2+ package for desktop PCs. Mobile

'Kaveri' products will be available later in the first half of 2014."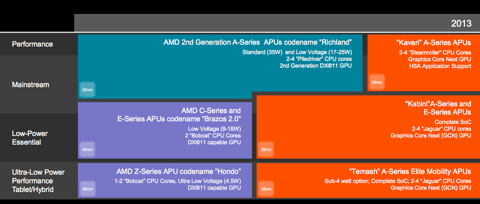 (Click to enlarge)
Recently an article was posted on VR Zone regarding delays of Advanced Micro Devices' (NASDAQ:AMD) Kaveri APU. In the article they went into great detail about implications of possible delays. These rumors were based on prior indications that they had received leaked documents. In the article they stated that AMD had not yet responded.
While working on an article regarding the New Never Settle bundle, I also asked about the Kaveri delays, expecting a "no comment" kind of response on both fronts. AMD's PR department responded and stated that "Kaveri is still on track for 2013 ..."
Kaveri
"Kaveri" is the codename for AMD's new APU that will serve as the successor to the "Richland" APU based on 28nm 'Steam Roller' and "GCN" architectures.
This is potentially a big deal because it includes both a die shrink and an architectural change. Two of AMD's largest problems when compared against rival Intel (INTC) include increased power consumption and losing in workloads that rely heavily on single threads.
Last year AMD released their "Trinity" APUs based on the "Piledriver" architecture. This year AMD released the 'Richland' APUs to compete with the new Haswell CPUs from Intel, but the Richland APUs were essentially higher clocked Trinity parts with some slight power savings -- meaning not a very large change.
The Steam Roller architecture should deliver better IPC and single threaded performance. Kaveri will also be the first x86 based HSA/hUMA part from AMD.
Both of these changes have the chance to help bridge the performance gap between AMD and Intel. Intel will likely still have the higher CPU performance, but AMD should not be at the same single threaded performance deficit they are at now.
Based on some rough estimates, top end Kaveri APUs should offer graphics performance roughly equal to the Radeon HD 7750 DDR3 version of the GPU, which will bring mainstream GPU performance on die with the CPU. These parts will also be featured in mobile platforms, although at lower TDPs and performance levels. If you read the reviews on Anandtech of the A10-5750M Richland part, you can see that it outperforms Intel's HD 4400 solution in every game in which they are compared.
To be clear, that does not mean all of these games are playable -- I am not sure if I consider AMD achieving 12 FPS to Intel's 8 FPS a victory, given that both of them would render the game 'stop-motion animation' style.
Integrated graphics teeter very closely to playability on many titles. Pushing the performance envelope further down the field could allow AMD's mobile Kaveri parts to come closer to competing with Intel's more expensive Iris Pro solution, and make newer titles playable on integrated GPUs in notebook form factors. AMD could have a nice niche market, in my opinion, if they achieve this as mobile Kaveri would have a lower TDP than the more expensive Iris Pro parts while opening up the possibility of playing many more titles.
The Importance of Kaveri
There are die hard AMD fans that are very excited over the launch of Kaveri due to both the potential performance increases on both the GPU and CPU side as well as the time elapsed since the last desktop purchase.
To not take anything away from Intel's Haswell, it was aimed at mobile applications and extending battery life by focusing on power consumption; to that end Intel completely met their goal.
"So, for the second time in a week, we're disappointed. Haswell has a lot to offer, just not to desktop enthusiasts. Intel's attention is fully in the mobile space, and we can tell."

-- Source: Tom's Hardware
Based on these reasons I do not necessarily believe that the launched of Kaveri and Haswell can be compared to predict potential sales of Kaveri.
AMD will offer a compelling product which could potentially increase sales in both desktops and laptops, and these processors will remain the largest revenue drivers for AMD in the near future.
AMD had an earnings beat in the most recent quarter, cited as being partially due to Kabini and Temash sales. Continuing this momentum during Q4 2013/Q1 2014 would be a nice victory, as some analysts doubt AMD's ability to remain profitable going into next year after console sales die down. Kaveri will also serve as the first "proof of concept" for HSA in PC applications.
Never Settle Forever
AMD was unable to provide me with any official details regarding their upcoming bundle, but AMD's Roy Taylor stated details would be released this month.
There have been various leaks thrown around the internet regarding potential bundled titles, but I am very skeptical of any sort of leak, so I take them with a grain of salt until official word is released (I,II).
For instance, one thing I find peculiar is that the new Splinter Cell title is supposedly included as a Never Settle game. I find this hard to believe since it is a featured title for AMD rival Nvidia (NVDA).
AMD has a program, Gaming Evolved, in which they work with various software developers to ensure optimizations for games at launch so games run without a hitch. Frequently these titles are featured in both the Gaming Evolved and Never Settle campaigns, so any titles that are in the Gaming Evolved program that have not yet been featured in the Never Settle program are, in my mind, the most likely candidates.
As Mr. Taylor has let VR Zone know we can expect an official announcement in August I will not speculate much into the titles except for 2: Battlefield 4 and Thief.
Both of these titles launch later in the year, but if AMD were to include download coupons with their cards, AMD's Graphics and Visual solutions could potentially see an uptick in sales between now and October's Q3 earnings announcement. I will evaluate the potential impact of the title releases after they are announced.
Conclusion
I believe Kaveri will be an important release for AMD, and the sooner it is released the better. VR Zone has leaked updated roadmaps for Intel, showing that desktop users next year can expect a 22nm refresh of the Haswell platform, similar (although I have no idea what to expect in a Haswell refresh) to AMD's Trinity to Richland refresh.
Source: VR Zone
If Kaveri launches in the back half of this year, there is potentially a nice window where AMD will be competing with Haswell/Haswell refresh for the duration of 2014 in desktops, and with Haswell mobile for 6 months prior to Broadwell release.
I originally questioned the validity of these rumors because there were other leaks (benchmarks) that pointed to a mobile engineering sample of Kaveri being used in Cosmology at Home in March of this year.
At the end of AMD's roadmap slides, it is noted that they are subject to change. If Kaveri is pushed back, ExtremeTech's Joel Hruska has a well rounded article detailing potential causes and implications. If Kaveri does slide, it could possibly send shares lower. But for the time being it is still officially a 2013 launch date, although when in 2013 is still up in the air.
Regarding the Never Settle Forever bundle, the biggest news would be if they were timed with a new GPU release, but the timing does not seem right so I consider it a remote possibility. A more likely scenario is that it includes games that are likely to be very popular. Coupons to download blockbuster titles like Battle Field 4 when it launches could potentially sway hesitant consumers into upgrading, generating an additional potential for a positive surprise in Q3.
Disclosure: I am long AMD. I wrote this article myself, and it expresses my own opinions. I am not receiving compensation for it (other than from Seeking Alpha). I have no business relationship with any company whose stock is mentioned in this article. I may initiate a long position in INTC in the next 72 hours. I actively trade my AMD position and may add to it or liquidate positions at any time.