By: Todd McDonald, Analyst
Overview
First Solar (NASDAQ:FSLR) is scheduled to report 2Q 2012 earnings after the closing bell on Tuesday, August 6. The results are typically reported between 4:05 p.m. and 4:10 p.m. EST and will be followed with a conference call at 4:30 p.m.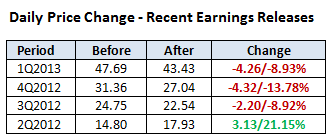 Non-GAAP Earnings Per Share (EPS): In the past 2 earnings releases, First Solar has given a Non-GAAP EPS figure that is comparable to consensus estimates. The current Street estimate is for $0.52, with a range of $0.09 to $1.31. (Source: Yahoo! Finance)
Revenues: Consensus estimates are for revenues of $721.08 mln, with a wide range of $492.52 mln to $957.33 mln.
Guidance: In the 1Q2013 release, First Solar reaffirmed its FY2013 guidance.
Adjusted Earnings Per Share Guidance (FY2013): First Solar is forecasting earnings per share for FY2013 in the range of $4.00 to $4.50. The current Street estimate is $4.14, with a range of $3.86 to $4.38.
Revenues Guidance (FY2013): Revenues are currently forecasted by the company to be between $3.8 bln to $4 bln in FY2013. The current Street estimate is for revenues of $3.83 bln, with a range of $3.38 bln to $3.96 bln.
Sympathy Plays: SolarCity (SCTY), SunPower Corp. (NASDAQ:SPWR)
Implied Volatility: Over the last 8 quarters, First Solar shares have moved an average of 9.10%. The options market is pricing in a similar reaction. Approximately 14% of First Solar's shares outstanding are held short.

Recent News
07/10: Goldman Sachs reiterated its Buy rating on First Solar, with a price target of $62, according to a post on StreetInsider.com. The firm points to the recent Intersolar event in San Francisco, which indicated that there is a strong demand for solar power in the US for residential, commercial, and utility channels.
06/24: According to a post on StreetInsider.com, JPMorgan started coverage on First Solar with an Overweight rating and a price target of $64. The firm cites First Solar's position in the sector, which is expected to have long-term growth.
06/11: First Solar announced a secondary offering of 8.5 mln shares of common stock, with the option for underwriters to purchase an additional 1.275 mln shares within 30 days. According to the press release, the firm intends to use the proceeds for general corporate purposes, including acquisitions, new projects, and strategic investments in new geographies.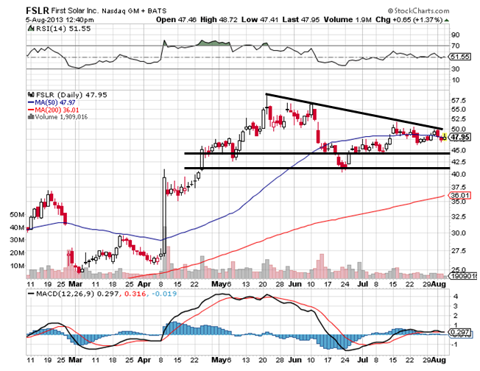 Technical Review
First Solar is up almost 54% this year, more than twice the advance in the broader market. After maintaining an overbought reading on the RSI for some time, shares have been consolidating right around the 50-day SMA. If earnings results surprise to the upside, look for initial resistance near $52, followed by $57. Conversely, if earnings disappoint, support levels to watch are $44, followed by $41, and ultimately the 200-day SMA near $36. (Chart courtesy of StockCharts.com)
Summary
First Solar has had a solid run in 2013 thanks in part to an improving US economy, supply issues (causing higher prices), improving global demand, and short covering. The firm also benefits from a leading position in the solar industry, allowing them to take advantage of longer-term growth in the sector. Recent consolidation and options premiums suggest the upcoming release has the potential to significantly move the stock. With such a wide range of analyst estimates, look for numbers near the high end of the range for earnings and revenues to push shares higher. Further, be sure to look for any changes in the company's FY2013 guidance from April's preannouncement to dictate after hours trading.
DISCLAIMER: By using this report, you acknowledge that Selerity, Inc. is in no way liable for losses or gains arising out of commentary, analysis, and or data in this report. Your investment decisions and recommendations are made entirely at your discretion. Selerity does not own securities in companies that they write about, is not an investment adviser, and the content contained herein is not an endorsement to buy or sell any securities. No content published as part of this report constitutes a recommendation that any particular investment, security, portfolio of securities, transaction or investment strategy is suitable for any specific person.
Disclosure: I have no positions in any stocks mentioned, and no plans to initiate any positions within the next 72 hours. I wrote this article myself, and it expresses my own opinions. I am not receiving compensation for it (other than from Seeking Alpha). I have no business relationship with any company whose stock is mentioned in this article.