Over the next few weeks we will be detailing some of the general ideas we like in the market right now, one of which we will touch on in today's article. We are discussing retail and our outlook for the broad sector, not just the names and niche sectors we have focused on the past two years.
Overnight, the Royal Bank of Australia lowered rates to the lowest ever in order to stimulate the economy. The move was in line with expectations and saw buyers emerge for the Australian dollar in U.S. dollar terms. More troubling for currency traders right now is the situation in India, which has only worsened in the last few days and now sees the country's currency at fresh lows. It is becoming quite obvious that the country needs reforms in order to stimulate economic activity within its borders and draw capital back in, but the world's largest democracy has become paralyzed with bureaucratic red tape over the years and is very inefficient at getting "stuff" done.
Chart of the Day
Click to enlarge images.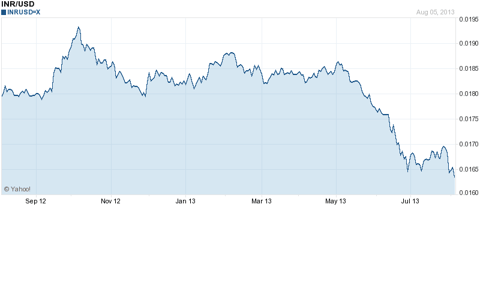 Source: Yahoo Finance.
We have economic news due out today, and it is as follows:
Trade Balance (8:30 a.m. ET): -$43.4 Billion
Asian markets finished mixed today:
All Ordinaries -- down 0.11%
Shanghai Composite -- up 0.49%
Nikkei 225 -- up 1.00%
NZSE 50 -- down 0.30%
Seoul Composite -- down 0.50%
In Europe, markets are trading mostly lower this morning:
CAC 40 -- up 0.14%
DAX -- down 0.02%
FTSE 100 -- down 0.17%
OSE -- down 0.39%
Consumer Goods
We found it a bit humorous that Bill Ackman was accusing George Soros of insider trading as it related to Herbalife (NYSE:HLF), and appears to many to now be crying foul as more and more hedge fund titans take the opposite side of his trade. Herbalife shares have continued to rally on the news that these big names in the financial space are accumulating shares, as many investors are now waiting for Ackman to have to cover his short -- which is roughly 10% of the company. It is probably safe to say that something has happened with the relationship between these two gentlemen as it became common knowledge last week that Soros had withdrawn funds from Ackman's hedge fund. Obviously, feelings are hurt here, but it seems unlikely that Soros will face insider trading charges.
Retail
Ackman has also been wrong on his J.C. Penney (NYSE:JCP) trade, and the results there are pretty disastrous. The stock caught our eye yesterday as it traded lower on the session and came quite close to hitting its 52-week low. The company faces a lot of headwinds and is a name we have been bearish on for some time. We have been bullish on names, as it pertains to apparel retailers, such as Gap (NYSE:GPS), which has been a strong performer over the past two years as it underwent an overhaul and put together a few good seasons.
We did a good job picking winners and losers as it pertained to these two names. However, now we want to move into a more general state of investing via the sector ETFs. No need to try and pick one or two names and hope they pan out -- just buy the basket and ride the trend higher.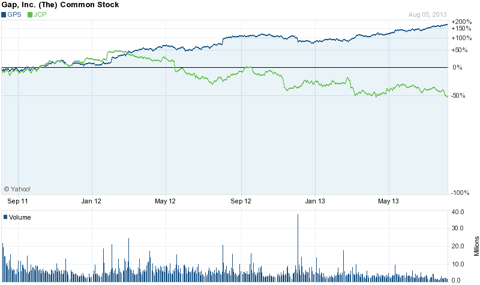 Source: Yahoo Finance.
It is our belief after some research into the matter that retail is now the sector to be in. Not just in the retail names that focus on home decor, but the entire sector, as we think all ships will rise with the coming rising tide. Rather than trying to pick winners and losers as we have done in the past, we think readers would be best served by buying a diversified retail ETF. Yes, the indices are at 52-week highs, but we believe that they will go higher and can be stronger performers than many now believe, if the economy continues to pick up steam and consumers' discretionary spending is able to continue growing. This is a trend readers should be watching right now.
Biotechnology
Arena Pharmaceuticals (NASDAQ:ARNA) is seeing shares gain a bit of momentum after the company announced their most recent quarterly results last week, and investors are beginning to get newsletter writers and other financial media content providers writing about the company. The sales numbers for Belviq were disappointing, but it is estimated that a majority of those currently getting subscriptions filled are doing so under a program to test out the weight-loss drug. Our view has been that sales would ramp up slowly, and that appears to be the trajectory path that we will see. But, for bulls, more important is the new study that the company announced with their partner, Eisai. The two partners will conduct a 12-week study in which they will combine their drug Belviq with phentermine. The combination is believed to lead to higher efficacy and could give the company a multibillion-dollar drug should the combination work, according to the bulls.
Arena is bouncing off of lows and moving higher; however, shares need to break above the resistance at $7.50/share in order to see this reaching more familiar territory. The new 12-week study should be key for the long-term success at the company, and the results will be watched closely by market participants.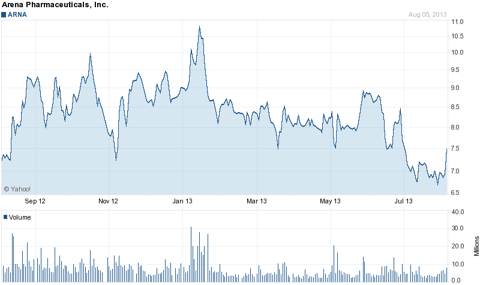 Source: Yahoo Finance.
Another strong mover yesterday was Dendreon (NASDAQ:DNDN), which saw shares rise $0.63 (13.70%) to close at $5.23/share on volume of 11.1 million shares. The move was made on no news, but the company will be reporting earnings on Aug. 8 -- and as readers know, this can be highlight volatile around earnings season. We would also point out that the volatility has been caused by Dendreon's inability to successfully deliver on its results on a consistent basis, with even the new CEO having some disappointments. Watch for the volatility to remain high on this one through earnings.
Disclosure: I have no positions in any stocks mentioned, and no plans to initiate any positions within the next 72 hours. I wrote this article myself, and it expresses my own opinions. I am not receiving compensation for it (other than from Seeking Alpha). I have no business relationship with any company whose stock is mentioned in this article.