Knowing when to get in and out of a stock is critical to being a successful investor. This is especially true in the volatile alternative energy sector. We calculate a fair value range for each of the +/-250 alternative energy stocks that we track, so that investors can better understand a stock's relative value. Comparing the current stock price to the fair value range helps determine whether a stock is considered overvalued, undervalued, or at fair value.
Which stocks are good prospects for the future, and where should investors proceed with caution? This article looks at three stocks that we consider overvalued, and two ranked as undervalued.
Overvalued Alternative Energy Stocks
ABB Ltd (NYSE:ABB)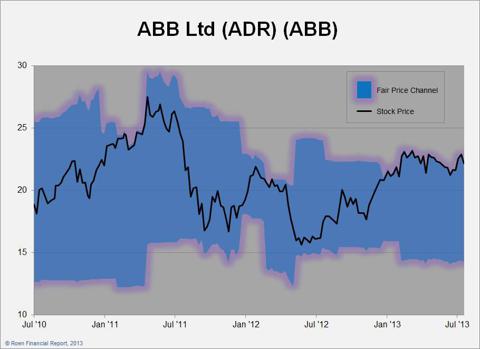 ABB is a large Swiss-based company in the business of automating power, which makes it a key player in development of the smart grid. Though its stock has gained 20% since July 2010, there have been wide price fluctuations between then and now. For example, after July 2011 (when the ABB was considered above fair value to overvalued for four months), the stock dropped 39% over the next 3 months. Conversely, when ABB reached undervalued levels in both the second half of 2011, and thru spring of 2012, investors would have done well to buy it when it was trading in the $16 - $17/share range. Since the beginning of 2013, the stock has jumped back into the overvalued range, so holders of the stock may want to reconsider their position.
Tetra Tech, Inc. (NASDAQ:TTEK)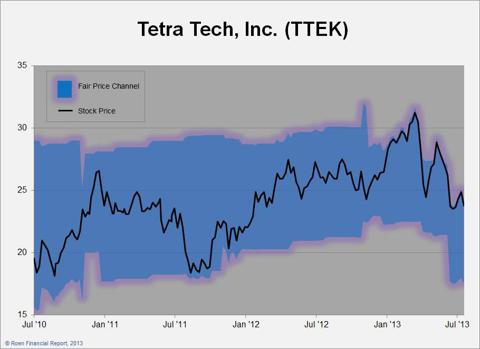 Tetra Tech has gained over 20% since July 2010, but as with ABB, has not had straight-line increases. This environmental services company has solid sales and profitable earnings, but has been considered overvalued since the beginning of 2013. Its price has oscillated down ever since. Because its earnings per share [EPS] dropped in the most recent quarter, it remains at the top of its fair price range. I would still be cautious with this stock until it drops into the $15-$17 price level.
Google, Inc. (NASDAQ:GOOG)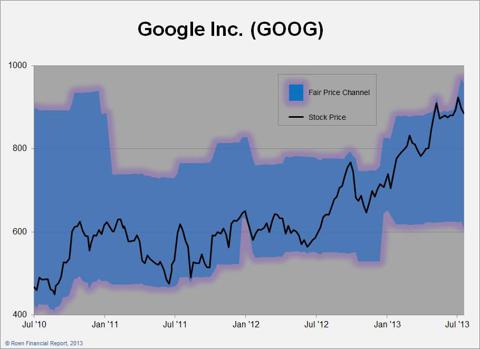 Many do not consider Google an alternative energy company, and surely, it is not at the core of Google's business. Having said that, Google understands that its whole company is based on the use of electricity, and as a result, Google has taken a proactive approach to integrating clean energy in its electric consumption portfolio (for example, Google's wind investments are up to $1 billion).
There is no doubt that Google's stock price chart has been impressive. Despite continued stock price increases, as recently as a year ago we calculated that Google was still trading at reasonable value levels. Since then, however, Google has been inching toward the top of its fair value range. I would not be surprised if the stock price gives back some of its gains over medium term.
Undervalued Alternative Energy Stocks
IXYS Corp (NASDAQ:IXYS)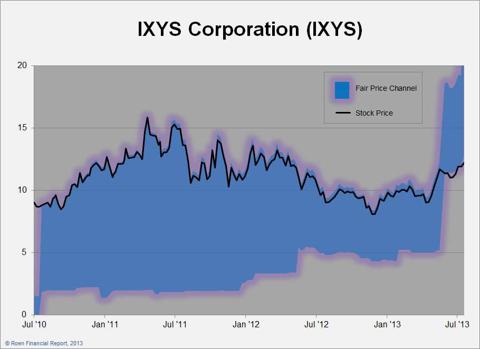 IXYS is a Silicon Valley-based company that manufactures products that efficiently convert power into useable electricity. Its stock was considered overvalued until recently, but due to shifts in EPS estimates, EPS averages, price earnings [PE] averages and PE ranges, its fair value assignment improved. This put IXYS at the bottom of its fair value channel, which prompted us to add IXYS as a Paradigm Portfolio stock. We think it is likely that its price will appreciate from here.
Quanta Services, Inc. (NYSE:PWR)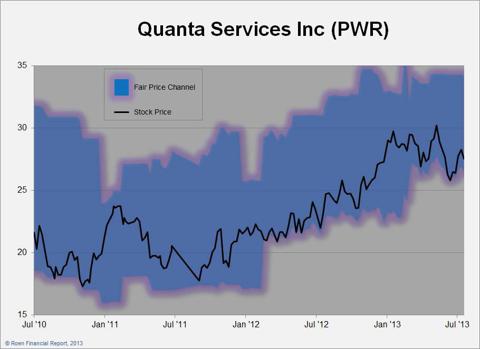 Quanta Services is a major Texas-based specialty energy contractor in the smart grid sector. Its stock graph has saw-toothed up nicely since September 2011, on growing sales and earnings reports (as an aside, the stock has doubled in price since 2009 and is worth 10 times what it was trading at in 2002). This stock has strong price momentum, but still remains near the bottom of its fair price channel. We believe the stock price could easily move up 25% from current levels.
Summary
We believe the adoption of energy alternatives is a growing trend that is here to stay. Though the stock market rarely acts rationally over the short term, long-term investors who pick stocks wisely have a greater chance of making profits. Skill in knowing when to get in and out of a stock will greatly benefit the savvy investor.
Disclosure: I am long GOOG. I wrote this article myself, and it expresses my own opinions. I am not receiving compensation for it. I have no business relationship with any company whose stock is mentioned in this article.