We have been discussing the strength in the US Dollar Index a lot lately, but the weakness in the commodity currencies, think Australia and Canada, has been quite concerning. Last night/early this morning the Royal Bank of Australia lowered rates as expected, by the amount expected which has created a move higher today. That move might very well be short lived if these all-time low rates do not have the desired effect to spark the economy which is lagging as commodity demand has fallen. If one were of the belief that China was sure to turn around, playing the Australian Dollar would be the way to go.
Chart of the Day: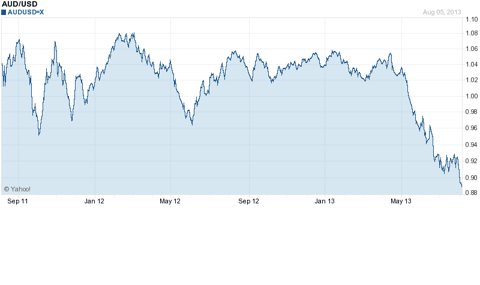 Source: Yahoo Finance
Commodity prices this morning are as follows:
Gold: $1287.70/ounce, down by $14.70/ounce
Silver: $19.58/ounce, down by $0.14/ounce
Oil: $106.33/barrel, down by $0.23/barrel
RBOB Gas: $2.9169/gallon, down by $0.0337/gallon
Natural Gas: $3.336/MMbtu, up by $0.017/MMbtu
Copper: $3.1945/pound, up by $0.0265/pound
Platinum: $1429.10/ounce, down by $19.00/ounce
Oil & Natural Gas
After the market closed yesterday PDC Energy (PDCE) announced a secondary of 3.75 million shares with Bank of America Merrill Lynch spearheading the deal. In four hours and forty-five minutes the entire secondary had been sold and increased in size to 4.5 million shares which generated gross proceeds of $243 million. Before commissions and other costs our math indicates that $54/share was the selling price and that was a bit over $3/share below yesterday's closing price of $57.30/share (but to be fair the shares did rise $2.07/share in yesterday's session before the deal, for what it is worth). Shares are indicated lower this morning, but we view the sale as bullish as we see the newly raised capital getting used to strengthen the company's financial position and enabling them to speed up the development of their marquee assets. The first press release announcing the secondary can be found here with the second one announcing the closing and upsizing of the secondary available here.
Just as PDC was breaking out the company did a secondary. It halts forward progress, but we believe that it will be short lived. Buying on this pullback appears correct, and the chart seems to agree.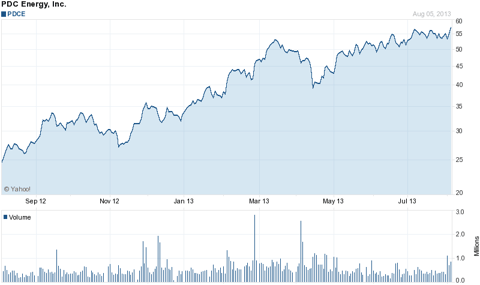 Source: Yahoo Finance
While on the topic of names in the Utica, we think it is important to point out to readers that Rex Energy (REXX), a stock we have mentioned from time to time here, crossed over the $20/share threshold in trading yesterday. As we have previously mentioned, we think that the company's success thus far in the Utica demonstrates the success that lies ahead for the company and should lead to continued gains in the stock over the next few years. Couple that with the company's Marcellus Shale holdings and we think that the company can be one of the names which successfully grows their dry natural gas production while maintaining margins specific to that production. The one thing we would like to see the company do is to add to acreage around their current Utica holdings, either by outright buying the acreage or forming a joint venture as it would enable them to drill longer laterals and drive down drilling costs.
Rex Energy is continuing to break out, and so long as their success in the Utica continues we think the stock continues higher. We are looking (hoping really) for the company to add acreage in order to realize better efficiencies.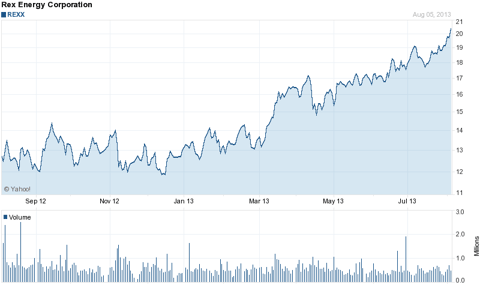 Source: Yahoo Finance
Leon Cooperman started the most recent rally in SandRidge Energy (SD) shares when he named them as one of his best ideas over the next 12 months. That rally has remained remarkably strong and the stock has not sold off as we had expected it would. A few things have buoyed shares with the most important being WTI Crude prices rising and closing the gap with Brent Crude prices. The company will report their second quarter earnings after the close today and many will be paying close attention to the results. Of importance will be the company's performance in the Miss Lime play and the ratio of oil and liquids to natural gas production from new wells as well as their aging wells. We think there are better names out there to play, however SandRidge has two important things working in its favor. First is that it is a deleveraging story and second is that the company is growing production. Those two things usually lead to long-term success, but much hinges on the company's ability to deliver on their promises and estimates of oil and NGL production.
Precious Metals
Gold is trading lower again in early morning trading and the more we look at the situation the more perplexing it becomes. What does seem to be taking place here is that the market is making a shift to revalue gold as an insurance policy once again and not necessarily as an asset class which can be invested in for capital gains that either meet or exceed those of market benchmarks. It will probably take another correction or two to change this sentiment right now and as such we would be cautious of adding capital, or having a large portion of one's portfolio allocated, towards holdings of the SPDR Gold Shares (GLD) or even a name like Silver Wheaton (SLW) at this time. Purchasing physical precious metals is a safer bet, but out of all of the precious metals we like the white metals better (silver and platinum) as they will see demand pick up as the economy does.
Disclosure: I have no positions in any stocks mentioned, and no plans to initiate any positions within the next 72 hours. I wrote this article myself, and it expresses my own opinions. I am not receiving compensation for it (other than from Seeking Alpha). I have no business relationship with any company whose stock is mentioned in this article.