We have been participants and observers of the online finance space for a period of time now. As part of that we regularly examine our view of the competitive landscape. We have decided to share some of our views on where the very broad industry may be headed. This isn't company specific – very much the high-level perspective.
Where We Are Today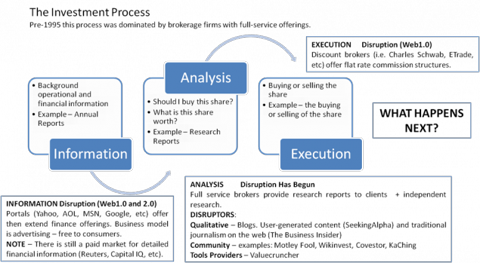 We view the online finance space in three broad areas:
Information

Analysis

Execution
Pre-1995, this whole area was dominated by brokerage firms with full-service offerings. They had the information, did the analysis and the executed the trades. Since 1995 that has changed pretty significantly.
Information – background operational and financial information. The main players in this space are now the large finance portals (Yahoo (YHOO), AOL (NYSE:TWX), MSN (NASDAQ:MSFT), Google (NASDAQ:GOOG), etc). They built and extended these offerings in the Web 1.0 and 2.0 days. The business model is primarily advertising – free to consumers. It should also be noted that there is still a paid market for detailed and timely financial information (Reuters, Bloomberg, Capital IQ, etc).
Analysis – what does the information mean? Should I buy a particular stock? What is this stock worth? Full-service brokers still compile research notes and reports for clients – but this space has begun to be disrupted. This disruption is coming from a number of areas:
Qualitative – primarily finance blogs. These take two main forms: user-generated content aggregators (i.e. Seeking Alpha) and traditional journalism on the web (i.e. The Business Insider).
Community Sites – where retail investors look to communities of investors for advice on where to invest. Examples: The Motley Fool, Wikinvest, Covestor, KaChing, etc.
Niche Tool Providers – primarily quantitative-based tools. For example Valuecruncher.
Execution – the actual buying and selling of stocks. The discount brokers have come to dominate this space (i.e. Charles Schwab (NYSE:SCHW), E*Trade (NASDAQ:ETFC), etc). They disrupted full-service brokers with simple flat-rate commission structures starting in the Web 1.0 days.
That is a high-level view of where we are today. What might happen next?
We completed a scenario planning exercise based on the frameworks developed by people like Peter Schwartz.
We started with an analysis of trends and uncertainties. A trend is something that we feel certain is occurring. An uncertainty is something that could still go either way.
Trends
Execution becomes a commodity – executing trades will continue as a low-cost business. There will be some geographic-based regulatory moats – but no ability to generate abnormal returns. Other parties could enter this market (i.e. portals).
Death of traditional equity research – the current model is too expensive and producing research reports that are complex and hard for retail investors to consume. Traditional equity research will head the way of newspapers. Equity research is important but the delivery methods must change. There will be a space at the top-end for high-quality research (that clients will pay for) but only a niche.
Investor knowledge continues to improve – the level of general investor knowledge continues to improve but there still remains a significant gap between the average retail investor and the corporate finance professional.
Financial blogs continue to be influential – high-quality analysis continues from blogs. There are two broad models – aggregating content (i.e. Seeking Alpha) and traditional journalism on the web (i.e. The Business Insider).
Uncertainties
Individual vs. Collaborative – how will retail investors choose to research investment decisions? Individual analysis – retail investors (with improving education) complete their own analysis on where to invest – both qualitative and quantitative.

Collaborative – retail investors look to communities of investors for advice on where to invest – track record is vital.
Free vs. Paid – financial information has proven to be an isolated area online where paid models have worked (i.e. WSJ). Moving forward – will retail investors be prepared to pay for financial information or will free win out?
We then construct a basic scenario matrix. These scenarios are not meant to reflect concrete versions of possible future states but rather to illustrate the potential impact of the identified trends and uncertainties.
There will be components of all of the scenarios in the future – this analysis is intended to emphasize trends and uncertainties. We look at the winners in each scenario and where the portals come out.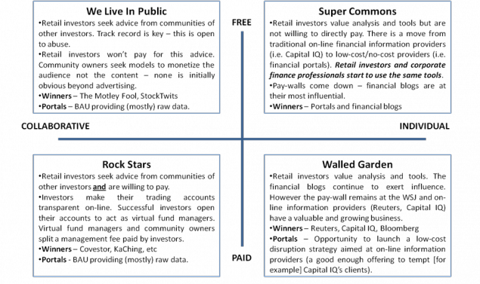 Scenarios

Implications

Discount Brokers – Challenged across all scenarios.

Must follow a low-cost strategy and only add services if that will increase trades (and commissions).
Financial Blogs – Winners across all scenarios (a role to play in all scenarios). Two distinct approaches – aggregating content VS traditional journalism on the web. We would expect one to come to the forefront (our bet would be on aggregating content – but it is too early to say).
Community Sites – Winners in the "We Live In Public" and "Rock Stars" scenarios. Significant opportunity if community is the way that people choose to make investment decisions. A business model has proven to be a challenge to date for players like the Motley Fool ("We Live In Public" scenario). It is more obvious if investors will pay to be part of the community ("Rock Stars" scenario) – this is currently unproven however.
Paid Finance Services – Business as usual in the "Walled Garden" scenario and challenged across all other scenarios. Even in the "Walled Garden" scenario there is the potential for the paid financial services to be disrupted (low-cost disruption) by the portals offering extended services (i.e. Google Domestic Trends). Currently users of paid services also use the free portal services (Yahoo Finance and Google Finance). There are limited options to defend this. Paid services do provide the data used by the finance portals. Reuters are also moving into the free space.
Online Finance Portals – Winners across all other scenarios. In the "We Live In Public" and "Rock Stars" scenarios – it is closest to business as usual. These players are the ones with the ability to acquire or build community sites. Investors that are part of communities still require basic financial information and tools.

In the "Super Commons" and "Walled Garden" scenarios there are big opportunities. Both require adding analysis tools. Partnering with financial blogs is key. Adding analysis tools is an arms race between the different finance portals.
This is one view of the potential future. Tell us what you think.

See Valuecruncher Future of Online Finance Summary (full four-page PDF summary).

Disclosure: No positions