On July 15, 2013, Document Security Systems (NYSEMKT:DSS) and its subsidiary Bascom Research, LLC (Bascom) reached a settlement with Novell, Inc. (NASDAQ:NOVL). This confirms that DSS has now settled with three of the five defendants in the Bascom case, in BroadVision (NASDAQ:BVSN), Jive (JIVE) and now Novell.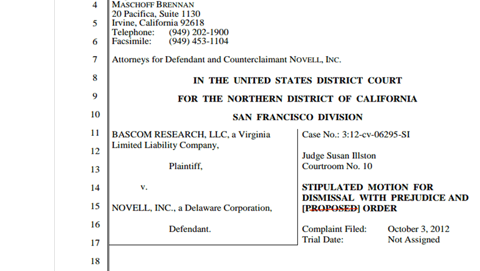 What I find quite remarkable about this settlement is that this marks the third settlement within the last four months for DSS. At this rate, DSS is now on track to have all defendants come to a settlement agreement before the Markman hearing takes place. With three companies already yielding to DSS, only two defendants of the original five are left - Facebook (NASDAQ:FB) and LinkedIn (LNKD). If for some reason DSS cannot come to a settlement with Facebook or LinkedIn, the Markman hearing is scheduled for October 2, 2013.
After my last article on DSS titled: This Patent Play Looks To Be Transforming The Entire Intellectual Property Industry, I've had many followers and investors ask me questions regarding DSS. Some investors in particular have asked, "Why hasn't DSS put out a public statement about the settlement." To those investors I would just like to pass on the information that was given to me after talking with management about this situation. They said,
"While I can confirm that a settlement has been reached with Novell (evidenced by the court's dismissal of the case), DSS management, along with input from their legal counsel, have determined that a press release announcing this settlement is something the Company is not allowed to do under the terms of the agreement. This decision to not publish any details of the settlement by the Company is based on the terms of the agreement reached with Novell and, according to legal counsel, in accordance with SEC reporting requirements for this specific event."
Unfortunately because I do not know everything about DSS (I'm working on it), I encourage all investors who have questions to not only ask me and other SA contributors, but to talk directly with the company through investor relations. Nothing is more reliable, trustworthy and powerful than hearing from the company itself.
DSS Settles with Novell
I feel that DSS's recent settlement with Novell is a huge victory for DSS and its shareholders. This shows that DSS's patents are indeed valid, being enforced and are to be reckoned with. Why else would companies such as Novell settle? Because of these recent events, I feel that Facebook and LinkedIn should have cause for concern. What will it look like to a judge and jury when they see that multiple companies have already settled with DSS meanwhile, Facebook or LinkedIn are left standing by themselves? Not so great now will it. At this stage of the game, DSS looks well positioned going forward as well as keeping its momentum going.
While we know from management that they are not allowed to talk about the recent settlement thus far, seeing as how BroadVision and Jive settled for 4%-5% in respected royalties, I wouldn't be surprised to see the same type of numbers for Novell. This is very welcoming for shareholders as DSS stands to collect millions of dollars in licensing and royalties fees, until 2021, when the Bascom patents expire.
What Are Some of DSS's Risks?
Some of the arguments against DSS have been that it's still a business that is losing money. Even though it's generating millions of dollars in revenues, it's still in the red. While this may be so, the new management of DSS has mentioned that it looks to be profitable soon. Management has stated that they are going to continue to grow DSS's revenue growth and to better control its costs in order to generate profits. Below is a chart showing the revenues and net income of the following patent companies.
* Market Cap is based on the close of Monday's prices
Looking at the chart you can see that some of the numbers are really quite staggering. As you can see, out of all the companies listed above, DSS earns the most amount of revenue while losing the least amount as well. Because of the merger between DSS and Lexington Technology Group (LTG), DSS finds itself in a unique position as it now enjoys many advantages over other IP companies. One of the biggest advantages that DSS has is an underlying revenue stream to support its IP business while other IP companies do not.
Royalties will not only bring in more revenue, but will help solidify the company going forward as it now supports its IP business. Investors know that litigation takes time and subsequently costs a lot of money as well. Just look at Vringo as an example. The Markman hearing was over a year ago, and we are now approaching the nine month anniversary in the Vringo vs Google saga. Investors are still awaiting the final ruling from the judge regarding the royalty rate that Google must pay Vringo. As you can see nothing really goes according to plan and companies must be prepared for it.
Some companies issue secondary offerings to raise capital for moments like what Vringo has experienced. DSS will most likely not have to resort to this route because they will be generating revenue from its business as well as enjoying the licensing and royalty payments from the defendants (BroadVision, Jive, Novell) who have already settled.
The Ups And Downs Of The Market
Investors all over the world have all experienced the ups and downs of the markets. So what happens when the tough times last longer than we expect? In these situations in the patent industry I like to ask myself a couple of questions.
First, does the company have a dependable business model to fall back on? This will help to offset the costs that are associated with litigation. Second, does the company have enough cash on hand to sustain itself, or will they have to issue a stock offering to raise cash? Lastly, can the company sustain itself if a case does not go its way? DSS passes all three of my tests which is why I have started a position and currently look to add more to it.
Analyst Upgrade DSS: $4.00 Price Target
On July 22, 2013, Dawson James Securities, a full-service investment firm covering the healthcare, biotechnology and technology sectors, initiated coverage of DSS putting a BUY rating on the stock with a $4.00 price target over the next 12-18 months. Robert M. Wasserman, Director of Research, issued the report. So what does Dawson James like about DSS?
The first thing it points out is the merger between DSS and LTG. This boosted DSS's intellectual property assets as well as its balance sheet. Since announcing the merger back in October 2012, Lexington has been busy settling with two of the five defendants (Jive, BroadVision) in the case covering the Bascom patents with royalties of 4% and 5%, respectfully. Once the merger was completed, the company continued its hot streak by reaching a settlement with Novell on July 15, 2013.
DSS is also continuing to grow revenue year-over-year. Dawson James expects to see revenue of $18.8 million in 2013, up from $17.1 million in 2012. It also sees DSS posting revenue of $24.2 million in 2014 which would represent an increase of around 25% from 2013 estimates due to solid growth in the plastics, packaging and printing groups. These estimates also include the licensing revenues from the two royalty settlements in BroadVision and Jive.
Upcoming Events
Conclusion
Before the merger was finalized between DSS and LTG on July 1, 2013, DSS had a market cap of around $50 million. Post merger, DSS currently has a market cap of less than 64 million. That means that Wall Street values LTG at less than 14 million. Is this fair ? I firmly believe that this is absolutely ridiculous considering that LTG brought close to $7 million in cash as well as many other assets to the merger. Deducting the cash that LTG brought, are the rest of those assets really worth just 7 million? Remember those patents that LTG brought have already helped DSS to reach three settlements with Novell, Jive and BroadVision, as well as pending litigation against Facebook and LinkedIn.
As such, I feel that the market is significantly undervaluing DSS and is not giving the company the right valuation that it deserves. Add the fact that shares were upgraded to a buy with a $4.00 price target and that represents over 175% of upside in this stock.
Investors should not forget either that part of the deal from the merger requires a minimum $5 share price for 40 trading days within a continuous 90 trading day period in order to free up the 7.1 million shares held in escrow. If shares happen to trade over $5.00 from Monday's closing price, investors would earn a whopping return of over 250%. Now who wouldn't want a return like that?
I feel this presents a golden opportunity for investors to get in, as DSS presents investors with an attractive risk-reward proposition in the IP space. Investors are always reminded that before making any investment, you should do your own proper diligence on any stock mentioned in this article. Have a great day and as always, I look forward to hearing your thoughts or questions that you might have.
Disclosure: I am long VRNG, DSS. I wrote this article myself, and it expresses my own opinions. I am not receiving compensation for it (other than from Seeking Alpha). I have no business relationship with any company whose stock is mentioned in this article.