Baidu (Nasdaq: BIDU) has become a Wall Street darling that is often mentioned on prime time market television for their explosive growth and relative dominance over Google (Nasdaq: GOOG) in China.
I myself have been a shareholder of Baidu in the past, irresistibly bullish because of their traffic growth and potential size of the Chinese internet market. Unfortunately, the more I learned about their business practices the more I question their business model, management, and reason why they have a dominant position over Google and other internet companies in China.
What convinced me to finally sell my Baidu shares and take a short position is Baidu's SEC filings that claims that their mp3 channel only gets 3.3% of their total traffic according to Alexa. This is the number they use to guide Wall Street in their annual report filed in April 2009 as part of a lengthy disclaimer warning people about their mp3 business.
To me, it looks like there are good reasons to believe that this 3.3% claim is very wrong and misleading. Multiple 3rd party measurement services point to their mp3 channel getting roughly 10 times this amount of traffic.
This is important because Baidu is getting sued for this service in what the music industry has said could escalate into billions of dollars in damages. Please do your own due diligence and draw your own conclusions.
To give you some background, Baidu's controversial mp3 search service is being accused of massive copyright fraud by most major record companies in China. They claim that Baidu assists its users in downloading, storing, and playing copyrighted mp3 music files illegally.
Despite numerous lawsuits and negative media, Baidu has continued offering this service to the millions of Chinese who constantly use the Baidu mp3 service to listen to and obtain music, which the record labels claim Baidu has no right to do.
Last year, The Register from the UK published a story about a 6-month forensic study they completed that goes into great lengths about how shady this mp3 service is. They conclude that Baidu is more than just linking to copyrighted tracks by mistake and allege that Baidu management is either hosting the tracks themselves or at the very least working closely with who is.
The study says these sites are often only available through Baidu. Baidu was the only search engine that was finding these sites. These sites were often blank with no logo, copy, or content. Baidu was the only financial benefactor. These sites rotate in and out of Baidu mp3 search results and playlists methodically to ensure that the music never gets cut off to users despite take down notices from copyright holders.
Over the weekend, The Register put out a follow-up piece that talks about how badly investors have been mislead and describes Baidu as a Pirate Bay like business that has been put next to their search engine.
Last week, China's Ministry of Culture issued notices to search engines that mandates them to clean up their act, stop linking to copyrighted content illegally, and that sites like Baidu will now be governed by this government agency. The Ministry of Culture is mandated to preserve and protect the arts, which is terrible news for Baidu who is accused of hurting artists dramatically by handing out their music without permission. The IFPI says Baidu is a big reason why music is almost worthless in China.
From Baidu's annual report filed in April 09 showing the 3.3% claim:
A portion of our traffic is generated by users of our mp3 search service. According to Alexa.com, approximately 3.3% of our traffic went to mp3.Baidu.com, our mp3 search platform, as of March 31, 2009. Should we face (as a result of the foregoing considerations or otherwise) a need or decision to substantially modify, limit, or terminate our mp3 search service, the user experience could be materially affected, and this in turn may have material adverse impact on our business.
Here are some data points and information that dispute Baidu's claim that their mp3 channel only gets 3.3% of their traffic according to SEC filings.
1) Baidu blocks full access to mp3.Baidu.com outside of China, where Alexa measures most of their traffic. Baidu management must know this.
To illustrate why Alexa is likely totally inaccurate, making Baidu's 3.3% traffic claim in their SEC filings severely distorted, you need to look no further than to Baidu's own moves in the past few years to block people from outside of China from fully using their mp3 channel.
At some point in the past few years Baidu has blocked full use of their mp3 channel outside of China most likely because they are worried about getting sued outside of China for copyright fraud. To see this in the USA simply do a general search for 'Beyonce' in their mp3 search box. You will see their mp3 system return results that are actually for their video channel, completely bypassing and eliminating their mp3 results. This mp3 exclusion process is triggered based on non-China IP addresses.
To get full access to their mp3 channel you need to be in China or access Baidu using a proxy server so Baidu thinks you are in China. Additionally, if you are able to access one of their mp3 media players that loads songs for dozens to hundreds of artists on a single web page media player, you will likely not be able to actually play or hear them outside of China, especially if the songs are copyrighted.
As a result of this move to block full access to their mp3 channel outside of China, it is very fair to say that Alexa's data severely under measures use of their mp3 channel. This is because Baidu users outside of China are blocked from using the full mp3 service and because the vast majority of the Alexa user base is outside China.
Also worth mentioning is that there are more Chinese living outside of China than there are Germans living in Germany. So, Baidu likely still has a large audience outside of China consisting of users who cannot fully use their mp3 service, which skews Alexa results dramatically.
By using Alexa data Baidu management is basically making the claim that they think the 3.3% statement is right, however it is likely very wrong, and they probably know it. This lowball traffic claim conveniently downplays the importance of their mp3 service to their business as a whole and diminishes the huge risk their mp3 business poses because of its massive traffic. Baidu relies on this traffic to drive users to all other channels resulting in huge number of ad clicks, revenue, and profit.
Below are links to some online blogs and stories about this expressed by a random group of people in late 2007 when this blocking process probably started. You will see the people discussing how Baidu mp3 was suddenly not available in the USA, Germany, etc. These reports confirm the notion that Baidu mp3 is not fully available outside of China, where Alexa happens to measure most of their traffic.
2) Comscore data shows Baidu mp3s getting around 9-10 times the traffic of what Baidu management claims in their SEC filings.
As presented by TechCrunch on September 4, 2009, Baidu mp3 received 47 million unique users in July representing 32% of total Baidu traffic according to Comscore. If you say the average mp3 unique user uses Baidu mp3 once a week then you can see Baidu doing 150-200 million user sessions in their mp3 channel every month. Think about how many ad clicks this leads to in normal non-mp3 search channels. People sit around listening to music, 250,000 illegal copyrighted tracks according to the IFPI, and then mess around with other areas in Baidu, click on ads, etc. As you can see, this data severely disputes Baidu's SEC claim of 3.3%.
According to comScore, Baidu had 145 million unique visitors in July of 2009 worldwide (with more than 95 percent of those coming from Asia), while its mp3 search engine attracted 47 million uniques, which is only 32 percent but still significant.
3) mp3.Baidu.com does more traffic than TaoBao.
ChinaRank.org.cn shows mp3.Baidu.com doing more traffic than TaoBao.com , the #1 e-commerce site in China. ChinaRank.org.cn is supported or run by several government bodies in China and is where Nielson gets their data.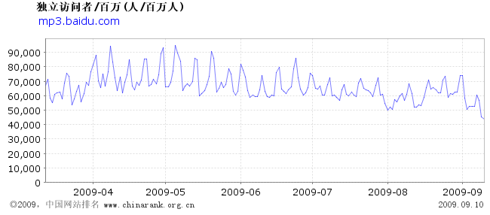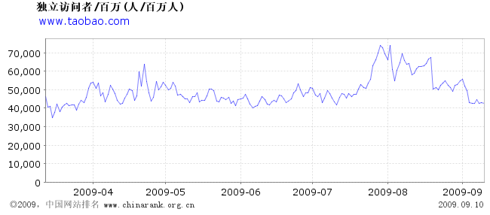 See this October 2008 Nielson press release that announced site rankings for China in October 2008 pegging TaoBao.com traffic at 39 million unique browsers a month. This press release co-announced their relationship with ChinaRank. This data allows you to peg a 'unique browsers per month' numbers to the charts linked to above on ChinaRank indicating that mp3.Baidu.com does maybe 5-15% more traffic than TaoBao, indicating a 40+ million unique browsers a month estimate for Baidu mp3. This doesn't even assume that both TaoBao and mp3.Baidu.com have grown in the past 11 months.
In many ways, this validates Comscores claim that some 47 million unique users are using mp3.Baidu.com every month when you look at the ChinaRank.org.cn traffic graphs above, the Comscore Data, and the Nielson TaoBao data in combination.
In other words, it all ads up. This combined data from multiple leading 3rd party measurement services completely discredits Baidu's Alexa SEC claim that their mp3 channel only gets 3.3% of their traffic.
4) Pali Research analyst note on Baidu.
China born Pali Research analyst Tian Hou issued a research note early Friday September 4, 2009 warning investors by saying that 80% of all Baidu searches are from music search and how the new Ministry of Culture crackdown could hurt Baidu. This number obviously crushes Baidu's claim that their mp3 channel only does 3.3% of their traffic according to their SEC filings.
Her knowledge of China is impressive compared to most analysts who cover Baidu as she was born in China, owned a business in China, has worked for the Chinese government, and consults companies in China. Maybe she knows something that many USA born analysts who cover Baidu don't.
5) 2005 Chinese government study of internet users says mp3 is the foundation of Baidu's fast growth. Over 50% of users search for music.
This official 2005 CNNIC Chinese government report that studied internet users in China attributes Baidu's success to their mp3 business. According to this report, over 50% of Baidu users search for music, a significantly higher percentage than other search engines in China. Page 16 of this report shows mp3 search being almost as popular as web page search on Baidu. Page 32 concludes that "mp3 search is the primary boosting factor for Baidu's high growth".
This data actually makes the 80% claim by Pali Research last week look reasonable. Just think about the hyper activity of Chinese youth and other mp3 users listening to dozens or hundreds of songs in one sitting versus the average search engine user who is likely on the site for a much shorter period of time.
Baidu mp3 is likely a channel where users go and 'sit' while they listen to tons of music. During this sitting process they likely tend to navigate into other Baidu areas where they click on massive numbers of ads, which is a significant driver of revenue and earnings.
6) Baidu IPO prospectus.
In 2005, Baidu's own IPO prospectus stated that 22% of their traffic is to their mp3 channel, again quoting Alexa. This was before they blocked full use of their mp3 channel outside of China. So, what's the real chance that traffic to their mp3 channel has dropped to 3.3%? Not likely.
7) China Market Research Group says Baidu mp3 is 20-30% of total traffic.
In May 2009, PC Magazine wrote about Baidu's mp3 service and stated that
Baidu's music search has come under attack from Chinese and foreign music industry groups for copyright infringement, but it has also been a crucial draw for users. The service accounts for 20 percent to 30 percent of searches on Baidu, according to consumer surveys by Shanghai-based China Market Research Group.
Again, this severely contradicts Baidu's 3.3% claim in SEC filings.
8) Baidu talk is shady.
Baidu does a lot of talking on conference calls and in SEC filings down playing their mp3 business by saying how small of a revenue contributor their mp3 channel is and how little traffic their mp3 channel receives. If this were true then why would they take on the copyright lawsuit risks, heat from media, being fingered in a 6-month forensic study for copyright fraud, risking investor money, etc. when they could just pull the plug on the disputed aspects of this service and it would supposedly have very little business impact?
I think their mp3 business must be a much more important part of their business than they are letting on otherwise they would just simply let it go and be relatively unaffected.
Baidu's defense that they are an unknowing search engine that cannot help what their robots index and algorithm return in mp3 search results is also ridiculous. This has been their defense for years if you comb through conference call transcripts and SEC filings. They basically acknowledge that copyrighted tracks are on Baidu mp3 but they say they can't help it and don't want to police the internet.
To prove their defense is garbage, all you need to do is look at how they organize playlists of copyrighted music based on Top American and European Artists, all of Michael Jackson's Best Music, Top 100 Songs, Top 500 Songs, etc. etc. It would take little effort to delete these tracks and pages of copyrighted music. Baidu is actually an expert on censoring info on their site via order of the Chinese government to remove sensitive info like 'Tienanmen Square'. To say they can't find and block 'Thriller' or other songs is ridiculous. I thought they were a search engine - RIGHT?
I publicly dare Baidu management to allow the 20+ Wall Street analysts who cover Baidu to pick a consulting company to enter Baidu offices and measure their mp3 traffic and put it out in a press release. Wall Street needs clarity about how much traffic their mp3 service really does as there are too many organizations crying fraud, the lawsuit risks are big, plus it appears that they are misleading investors in SEC filings.
Disclosure: The author is currently short Baidu shares and has no relationship with Google or the music industry.