Brooks Automation (BRKS) is a small semiconductor capital (semicap) equipment company supplying vacuuming and automation systems to OEM's and semiconductor manufacturers. Semiconductor fabs are multibillion dollar factories where silicon chips for electronic products are made. These factories use sophisticated equipment which is made by a handful of suppliers such as Applied Materials (AMAT), Tokyo Electron etc. BRKS has been operating in a small niche segment for many years. The company has started to expand into life sciences businesses by supplying sampling equipment. The semicap industry is prone to periodic ups and downs, as the semi industry faces peaks and troughs due to intermittent phases of oversupply and undersupply. BRKS wants to reduce its complete dependence on the vagaries of the semi industry by targeting to get 20% of its revenues from the more stable life sciences segment. The company has strengthened its product offering by acquiring a couple of small companies in this segment recently. I think that BRKS is a good stock to buy at the current stock price, given that the semicap industry is slowly getting out of a cyclical downturn and the BRKS stock is cheap with a high dividend yield.
What does Brooks Automation do
Brooks Automation is a global provider of automation, vacuum and instrumentation solutions for semiconductor manufacturing, technology device manufacturing and life sciences. BRKS is divided into 3 main segments - Brooks Product Solutions, Brooks Global Services and Brooks Life Science Systems. The Brooks Product Solutions segment provides a range of products such as atmospheric and vacuum tool automation systems, atmospheric and vacuum robots, thermal management and vacuum measurement solutions; while Brooks Global Services segment provides an on and off site repair, diagnostic and installation services. The Brooks Life Science Systems segment provides automated sample management systems to pharmaceutical companies and biotechnology companies.
Why we like BRKS
1. Expansion of Life Science Business - BRKS is trying hard to expand its Life Sciences business as its semiconductor segment has remained more or less stagnant in the last decade. Though the company's last quarter performance was not great, this seems a good expansion prospect for BRKS given the secular growth in the pharm and biotech sampling sector. The company has bought some small companies to expand its customer base and technology as well.
So, we - obviously we are not pleased with the revenue line or the profitability of the business. But as I mentioned in my comments, we are absolutely committed to the market, committed to the products that we've developed to address the biological side of the business.

We think we have the right products in place and we are winning the business as available. So, we have very high market share, the things that we know about now we're able to bring home. The spending from a percentage standpoint is very high and it'll be resolved as we get the revenue up.

Source - Seeking Alpha
2. Smartphone and Tablet growth - We think that Brooks Automation is at the cyclical trough and its prospects should improve with increase in semi equipment spending. The global electronics industry is going through a boom phase with tablet and smartphones growing rapidly. This has increased the need for semiconductor chips and is boosting the prospects of semicap companies such as BRKS.
3. Potential Acquisition Target - Competitive dynamics in the semiconductor industry are improving with the Tier 2 players like Varian and Novellus being gobbled up by the Tier 1 players. The semicap industry is seeing consolidation, as slow growth makes the bigger companies expand through acquisitions. BRKS is cheap on almost all valuation metrics and its total enterprise value of ~$500 million is ideal for a big company such as Applied Materials which can expand its product offering to semiconductor companies.
4. 3% plus Dividend Yield - Brooks Automation has started giving out dividends since the last three years. Like other semicap stocks, BRKS has started returning money to shareholders through dividends. The company has given 32c in annual dividend which works out to a healthy 3.2% dividend yield at the current stock price. The payout ratio at 18% remains quite low and I think that the company should increase it in the future.
5. Good Revenue and Bookings growth as semicap industry comes out of a cyclical trough - BRKS automation is showing good revenue and bookings growth as the semicap industry starts to come out of a cyclical trough. The company's revenues grew by almost 20% in the last quarter and gross margins also improved to 32.1%. Bookings kept up pace increasing by 30% from the same quarter last year.
6. 450 mm wafer opportunity - The semiconductor industry currently produces most of its chips by processing 300 mm wafers. Intel (INTC) is starting to build its first 450 mm wafer in Arizona and it is expected that the industry will migrate to 450 mm wafers in the next 3-4 years. The complexity and sophistication of the equipment required for 450 mm wafers will be much higher giving BRKS a good opportunity to increase its per unit revenues.
7. Strong Balance Sheet and Cash Flows - BRKS business model is quite attractive with low capital spending and decent free cash flows. The company has almost $148 million of net cash on its balance sheet and generated over $10 million in free cash flows this quarter. The company's ROA and ROE metrics remain in the high double digits.
Brooks Automation Risks
1. Losses in 2008 and 2009 - BRKS made huge losses in 2008 and 2009 in the aftermath of the Lehman crisis. The company's revenue crashed by almost 60% during FY 2009 leading to huge losses as the company's cost base is largely fixed in nature. The company has recovered well since that time and has regained its former revenue and profit trajectory. However, the company does remain susceptible to any major disruptions in the global economic environment.
2. Life Sciences Division is not doing too well - The company's growth hinges on expanding its Life Sciences division which it started in 2011. The company's revenues of just $9 million from this segment in the last quarter were disappointing. BRKS has historically been strong in the technology market and does not have much experience in the Life Sciences market. If the company continues to lose money in this division, then it might have to shutter down its only big growth opportunity.
3. Stagnant growth - BRKS revenue growth has mostly stagnated in the $500-600 million range over the last 10 years. The revenues have also shown sharp fluctuations due to the semiconductor cycles. Investors typically give a low multiple to a stock which shows greater volatility, than to a stock with a lower volatility. The company has good niche in the automation and vacuum segment but it has not been able to expand into other areas till now.
Stock has moved in a Low Price Band
BRKS has been listed on the US stock markets for almost 20 years now. The company saw its stock price peak during the technology boom during 2000, with its stock price soaring to above $80. The company has traded in a low band in the last 5 years moving in range between ~$3-14. The company is currently trading at ~$9, which is 10% below its 52 market high.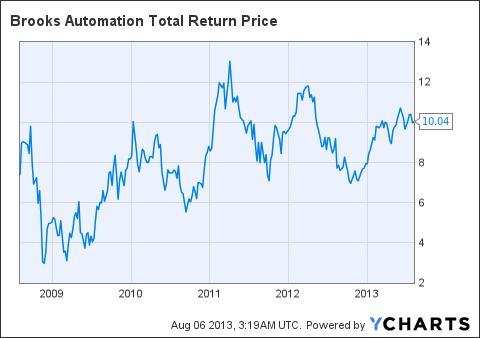 BRKS Total Return Price data by YCharts
Cheap Valuation
Brooks Automation is not expensive with a P/B of just 1.1x and P/S at 1.4x, which is a sharp discount to the industry average. The stock has not performed as well as its other semicap industry peers, which have been rising sharply. The company has nearly $148 million in net cash on its balance sheet which gives the stock a total enterprise value of just ~$500 million. The company is trading a cheap trailing P/E of just ~5x.
Summary
Brooks Automation is a decently good stock operating in an industry with high competitive barriers. The stock is cheap with a dividend yield of 3.2% and P/B of 1.1x. The company has seen its stock price recover after a sharp fall in the aftermath of the Lehman crisis. BRKS is trying to expand its business by acquiring companies in the Life Sciences segment. The company is cheap with a an enterprise value of just $500 million and can be a good acquisition target for one of the bigger semicap names such as Lam Research (LAM), KLAC (KLAC) or Applied Materials. The company has good operating model with low capital requirements and good cash flow generation. I remain positively biased towards the stock given its good dividend yield, cheap valuation and possible acquisition at a premium by a bigger company.
Disclosure: I have no positions in any stocks mentioned, and no plans to initiate any positions within the next 72 hours. I wrote this article myself, and it expresses my own opinions. I am not receiving compensation for it (other than from Seeking Alpha). I have no business relationship with any company whose stock is mentioned in this article.