The stock and bond markets took a hit in June after investors became rattled about the prospects for the Federal Reserve to begin "tapering." The stock market has already recovered the losses from the June sell-off and some parts of the bond market, such as the high-yield sector have also rebounded. There are a number of stocks that make sense to consider buying now either because of fundamental undervaluation or because certain investments can still perform even if the Federal Reserve decides to taper in September.
There still seems to be a bit of disagreement as to what tapering could mean and when it might start. However, it seems that tapering might be more of a paper tiger, and that investors might be smart to pick up assets that are cheap due to a pullback. There is good reason to believe that interest rates may have topped out for a while and therefore have little chance of a big move higher. If the Federal Reserve decides to taper, this could mean that it will simply reduce the amount of bonds it has been buying every month, rather than doing anything to support a rate increase. A recent Bloomberg article notes that "Bond King" Bill Gross believes that the Federal Reserve won't tighten until 2016. Ben Bernanke has already described the recent hike in interest rates as "unwelcome" and that should be a fairly major clue that the Federal Reserve is going to keep rates at very low levels. The Bloomberg article states:
Bernanke told the Senate Banking Committee last week that tighter
financial conditions as a result of rising yields over the past two
months are "unwelcome."
Furthermore, the economy already has a lot to digest with the higher rates in auto loans and mortgages. The housing and auto industry have been adding strength to the economy in recent months, but a move in the 10-Year Treasury Bond from about 2% to a recent 2.6%, is likely to slow down two of the strongest sectors of the U.S. economy in the second half of the year. This is another reason why the Federal Reserve is unlikely to raise rates in the near future. Bernanke has already said he will only change policy if it is warranted by economic strength, so if the economy weakens, there may be no tapering. Some top investors like billionaire Jeffrey Gundlach of DoubleLine Capital now suggest that rates are likely to ease from recent highs and that investors should buy bonds. A recent Marketwatch article states:
Going forward, however, yields are likely to start falling. And that means the place to make money in the next few months is "everybody's most hated asset class: long-term government bonds," Gundlach said. "There's really no inflation, no sign of inflation."
Whether or not you agree with Mr. Gundlach, it does make sense to believe that Ben Bernanke is unlikely to let interest rates rise significantly more and snuff out the small level of growth we are seeing in the U.S. economy. I am not counting on rates to fall, but there is plenty of reason to believe that rates are not likely to jump further, and this includes another weak jobs report. The recent sell-off in certain high-yielding stocks and the fear over-tapering (which might be nothing more than a slightly reduced amount of bond buying), seems a lot like the fears the markets experienced over the credit downgrade of U.S. about two years ago or the more recent fears over the "Fiscal Cliff." These fears make great headlines and all of these sparked a market pullback, but in the end, these were just great buying opportunities. With this in mind, here are a few high-yield picks that investors should consider buying now:
Helios High Yield Fund, Inc. (HHY) is a closed-end fund or "CEF" that invests in high-yield bonds. This fund is managed by Brookfield Investment Management, which is a leading global investment firm with over $175 billion in assets under management and over 100 years of experience in the industry. Since the Helios High Yield Fund has an outstanding yield and a shorter-than-average duration, it appears to be offering investors a significant buying opportunity. Here is a closer look at why this fund appears poised to rebound and continue offering shareholders monthly dividends that are well above average:
Based on net asset value and the dividend yield, this fund is currently very undervalued as it has yet to rebound from the bond market sell-off. This fund pays a monthly dividend of 7.5 cents per share, and this provides a yield of 9.62%. Historically, this fund trades very close to net asset value or "NAV," which, as of August 5, is $10.38 per share. With the current share price at around $9.45, this fund now trades at a discount of more than 9% to NAV, which represents a real bargain. With high-yield bond ETFs leading the rebound in this sector, it should not be long before closed-end bond funds follow up with a "catch-up" rally. That means this fund could be heading back to net asset value, which could give investors who buy now, capital gains of over 9% while collecting an outstanding monthly dividend.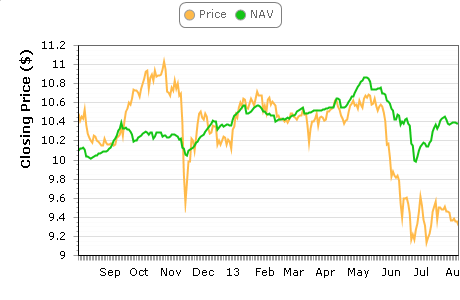 As the chart above shows, it is easy to see a historically wide divergence between the share price and the net asset value. The net asset value (as indicated by the green trend line) has been on the rebound, yet the share price (as indicated by the orange trend line), is still at bargain levels and at a historically wide discount to the net asset value. This appears to mean that investors have yet to realize the significant undervaluation that now exists. It's worth noting that the chart also shows the last time that this fund went significantly below NAV (in November, 2012), it only took a couple of weeks before the share price rebounded and traded for a premium to NAV. With a high yield, minimal duration risk and a history of trading near NAV, this fund could be poised for another significant rebound in the coming weeks.
One potential downside when investing in bonds is duration risk.
Investors who own long-term bonds that mature in 20 or 30 years could be significantly impacted in a rising rate environment. One big reason why high-yield or junk bonds have rebounded from the recent sell-off is because these types of bonds tend to be around 6 years in duration. However, the average duration for the Helios High Yield Fund is just 4.39 years, which means duration risk is very low and way below average.
Another downside risk is that some closed-end funds pay a monthly dividend that is also a partial return of capital, and that could mean the dividend is not sustainable. However, this fund is paying even less than what it earns and none of the monthly payout is based on return of capital, so that is not a risk factor with this fund. According to recent data from CEF Connect, this fund is earning nearly 7.7 cents per share on a monthly basis which means the monthly payout of 7.5 cents per share is conservative and it appears sustainable.
The Helios High Yield Fund has a history of providing significant returns to investors, which is one more reason to consider the current pullback as a buying opportunity. This fund has returned 12.11% annually for the past 3 years, 12.57% annually over the past 5 years and 9.35% annually for the past 10 years. With this solid track record, a monthly payout that yields a generous 9.62% and with the shares trading below net asset value, this is an ideal buy for investors seeking high levels of income and significant rebound potential in the share price.
The potential downside risks for investors in high yield or "junk bond" funds include the risks of a recession (which seems unlikely now), as well as liquidity and duration risks. However, investors who have accepted these potential risks have done very well in recent years as evidenced by the returns mentioned above. Furthermore, the duration risks for this fund are limited since the average duration is just over 4 years.
Investors who buy this fund soon will be eligible to receive a dividend very shortly. This fund will pay the next monthly dividend of 7.5 cents per share to shareholders of record on August 15, 2013. The ex-dividend date is August 13, 2013, and the dividend will be paid on August 30. Investors wanting to receive the next dividend payment could also help push the share price upwards as we get closer to the ex-dividend date.
Here are some key points for HHY:
Current share price: $9.45
The 52-week range is $9 to $11.04
Earnings estimates for 2013: not applicable
Earnings estimates for 2014: not applicable
Annual dividend: 90 cents per share (or 7.5 cents per month), which yields 9.62%
SPDR Barclays Capital High Yield Bond (NYSEARCA:JNK) is an exchange traded fund. Due to the average trading volume on a daily basis, this fund is a popular holding for many investors. The size of this fund and the strong trading volumes provides liquidity, which reduces risks for investors. This ETF has about 631 holdings in its portfolio, which means it is well-diversified and that also reduces risks for investors. The average maturity is about 6.82 years, and the "modified adjusted duration" or "MAD" is about 4.32 years. "MAD" is used to calculate an option-adjusted measure of a portfolio's sensitivity to changes in interest rates. This fund offers a monthly dividend of about 20 cents per share, which provides a yield of 6.2%.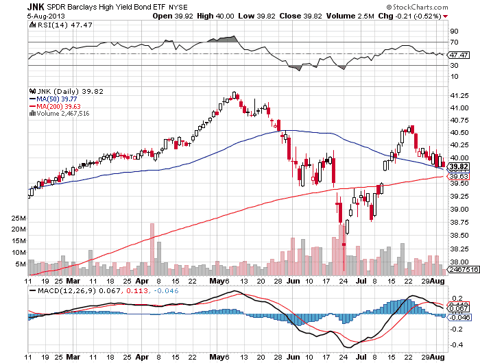 As the chart shows, this ETF dropped in the June bond market sell-off, and the share price went below both the 50-day (indicated by the red trendline) and 200-day moving average (indicated by the light-brown trendline). In the past few weeks, this ETF has rebounded back above the 50- and 200-day moving averages and even traded up to around $40.60. It now trades just slightly below the $40 level. Investors who have accumulated shares on pullbacks in the past have generally done very well. This fund appears to have limited liquidity and duration risks, however, it yields significantly less than certain closed-end funds (like the one mentioned above), so this ETF makes more sense for investors who want to keep liquidity risks to a minimum even if it yields less than some other high-yield options.
Here are some key points for JNK:
Current share price: $39.82
The 52-week range is $38.21 to $41.95
Earnings estimates for 2013: not applicable
Earnings estimates for 2014: not applicable
Annual dividend: about $2.40 or (20 cents monthly) per share, which yields 6.2%
Hatteras Financial Corp (NYSE:HTS) is a real estate investment trust "REIT," which primarily invests in mortgage securities. The mortgage REIT sector has seen a sharp decline as investors fear that Fed "tapering" will impact the prospects for this industry. A number of companies in this sector have already seen portfolio values decline since mortgage bonds and other securities have been impacted by the recent rise in rates. These companies typically use leverage and that increases downside risks. This has resulted in a sharp drop in the share price from around $27 in May, to just over $19 per share recently. This is too much volatility and risk for many income investors and that is why it would not make sense to have a major percentage of your portfolio in a mortgage REIT stock. However, a recent round of significant insider buying could be signaling that this stock is oversold and due to rebound.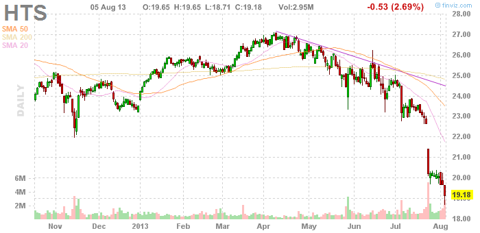 As the chart above shows, this stock has taken a beating in recent weeks. However, this might be a buying opportunity for investors to consider, as a small portion of their portfolio. Hatteras Financial invests in mortgage securities, which are issued or guaranteed by U.S Government agencies or U.S. Government-sponsored entities, like Fannie Mae or Freddie Mac. As a real estate investment trust, it is required to pay at least 90% of what it earns out to shareholders. This is one reason why it pays such a high yield, but it is also why the dividend could be cut again, if earnings decline.
A solid amount of insider buying could mean it is time to accumulate a small position in this stock for the rebound potential and generous dividend it offers. Insiders probably would not be buying now if they expected the stock to drop significantly from current levels. Here are some of the recent insider buys:
On July 31, 2013, Michael Hough (an officer) purchased 12,500 shares at $20.05, in a transaction valued at $250,624. On July, 30, 2013, Benjamin Hough (an officer) bought 12,000 shares at $20.35, in a transaction worth $244,200. On the same day, Ira Kawaller (a director), purchased 1,200 shares at $20.33 each, in a transaction worth $24,396. These insider buys total more than $500,000 in a short span of time. This is worth considering since most officers and directors already own shares and stock options and therefore would presumably only be adding to positions if the stock appeared undervalued. Based on the yield and the book value of $22.27, this stock does look cheap.
On July 17, 2013, analysts at Deutche Bank set a price target of $23.50 for Hatteras Financial shares. That would give investors who buy now a potential gain of about 20%, in addition to the generous 14% yield.
Here are some key points for HTS:
Current share price: $19.18
The 52-week range is $18.71 to $29.68
Earnings estimates for 2013: not available on Yahoo Finance
Earnings estimates for 2014: not available on Yahoo Finance
Annual dividend: $2.80 per share, which yields about 14%
Data sourced from Yahoo Finance. No guarantees or representations are made.
Disclosure: I am long HHY. I wrote this article myself, and it expresses my own opinions. I am not receiving compensation for it (other than from Seeking Alpha). I have no business relationship with any company whose stock is mentioned in this article.
Disclaimer: Hawkinvest is not a registered investment advisor and does not provide specific investment advice. The information is for informational purposes only. You should always consult a financial advisor.