By: Todd McDonald, Analyst
Overview
Green Mountain Coffee Roasters (NASDAQ:GMCR) is set to report 3Q2013 earnings on Wednesday, August 7 at 4:00 pm EST, followed by a conference call at 5:00 pm EST. Green Mountain is Vermont-based, leading provider of single-serve coffeemakers and K-cups.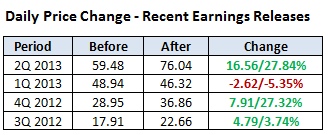 Outliers & Strategy
Non-GAAP Earnings Per Share (NYSEARCA:EPS): Green Mountain reports Non-GAAP Earnings Per Share, which is the value that will compare to estimates. The Street consensus is $0.77, with a range of $0.74 - $0.84. (Source: Yahoo! Finance) In the last earnings release, the company issued guidance for 3Q2013 Non-GAAP EPS of $0.71 - $0.78 and FY2013 Non-GAAP EPS of $3.05 - $3.15.
Revenues: Wall Street consensus sees revenues growth of 12.90%, or $981.13 mln, with a range of $956.7 mln - $999.57 mln.
Adjusted Earnings Per Share Guidance:
4Q2013: Analysts see the company reporting Non-GAAP EPS of $0.72, with a range of $0.62 - $0.77.
FY2013: For fiscal year 2013, analysts are expecting EPS of $3.18, with a range of $3.05 - $3.28.
Revenues Guidance: In the 2Q report, Green Mountain said that it sees revenues for FY2013 of $4.439 bln to $4.632 bln. The current Street estimate for FY2013 revenues is $4.35 bln, with a range of $4.28 bln to $4.41 bln.
Implied Volatility: The average absolute move over the past eight quarters has been 26.75%. Options premiums for GMCR imply an absolute move of about 13% after the 3Q2013 earnings release. Approximately 25% of outstanding shares are held short.
Sympathy Plays:
Dunkin Brands Group (NASDAQ:DNKN) - Reported EPS of $0.41 vs. $0.40 expected and revenues of $182.49 mln vs. $183.9 mln expected. Dunkin Brands shares closed marginally lower in the ensuing trading session.
Starbucks (NASDAQ:SBUX) reported EPS and revenues above consensus estimates. Starbucks shares closed higher the following session at $73.36, a 7.6% gain.
Recent News
08/05: According to a post on Barron's Blog, KeyBanc reaffirmed its Buy rating and $90 price target on Green Mountain, citing positive catalysts such as international expansion, new partnerships (specifically J.M. Smucker (SJM), and new beverage opportunities. In the same post, Barron's notes that Stifel Nicolaus reaffirmed its Sell rating and "mid-$40" fair value estimate. The firm anticipates that sales growth will slow due to increasing competition from unlicensed brands, and the potential of a peaked household penetration.
08/03: Green Mountain Coffee Roasters was highlighted in a Barron's article over the weekend. The tone of the article was cautious, with a primary focus on competition from non-licensed single-serve cup providers. While Green Mountain estimates the current market share of non-licensed firms at about 5%, with 15% possible in the next 2-3 years. However, data scanner tracking firm Nielsen Holdings estimates that the market share of these providers is already about 16%.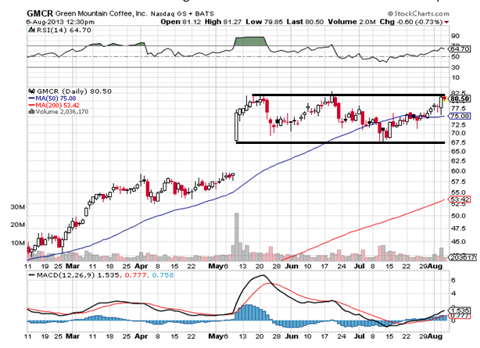 Technical Review
Green Mountain has been one of the best performing stocks of 2013, nearly doubling YTD. The RSI is approaching the overbought 70-level, suggesting that upside may be limited in the near-term. If results disappoint, initial support is at the 50-day SMA, near $75, followed by $71.50, and finally $67. However Green Mountain has regained its status as a momentum stock this year, so anything is possible. With shares near 52-week highs, it is useful to use options premiums for an upside target, which is about $91.50 in this case. (Chart courtesy of StockCharts.com)
Summary
Green Mountain has steadily been approaching its all-time highs after near-term concerns over unlicensed competition faded over the last year. The bulls point to international expansion, new products, and strategic partnerships to keep shares ascending. Given the fact that shares are up almost 100% this year, Green Mountain needs to deliver impressive results to reclaim its 52-week high. Look for results for EPS and revenues near the high end of the range of estimates, with guidance at or above the FY2013 range provided last quarter to send shares higher.
DISCLAIMER: By using this report, you acknowledge that Selerity, Inc. is in no way liable for losses or gains arising out of commentary, analysis, and or data in this report. Your investment decisions and recommendations are made entirely at your discretion. Selerity does not own securities in companies that they write about, is not an investment adviser, and the content contained herein is not an endorsement to buy or sell any securities. No content published as part of this report constitutes a recommendation that any particular investment, security, portfolio of securities, transaction or investment strategy is suitable for any specific person.
Disclosure: I have no positions in any stocks mentioned, and no plans to initiate any positions within the next 72 hours. I wrote this article myself, and it expresses my own opinions. I am not receiving compensation for it (other than from Seeking Alpha). I have no business relationship with any company whose stock is mentioned in this article.