Chesapeake Energy Corp. (NASDAQ:CHK) is an oil, NGLs, and natural gas E & P company. All its development is in the US. Its development is safe. It does not have to deal with Nigerian rebels, etc. It does not have to deal with the whims of third world governments. This is a big positive in today's oil world.
CHK is a company that started as a natural gas E & P company. When the bottom fell out of the natural gas market, it came close to going bankrupt. However, its CEO, Aubrey McClendon, waved his magic wand, and he managed to convert a nearly bankrupt natural gas developer into one of the bigger liquids developers in the lower 48 (US states).
McClendon did this by being the first (or nearly the first) to new shale oil development fields. He bought into the fields at relatively cheap prices. He had CHK do a small amount of early development. Then he sold one quarter to one third of CHK's holdings in the field to pay for the original cost of the field and much of the cost of CHK's development for its remaining two thirds of the field. This strategy worked so well that CHK has built up an inventory of roughly 15 million net acres in some of the most prolific unconventional oil fields in the US (fields that use horizontal drilling). Meanwhile CHK remains the second biggest producer of natural gas in the continental US. It owns leading positions in the Eagle Ford, Utica, Granite Wash, Cleveland, Tonkawa, Mississippi Lime, and Niobrara unconventional liquids plays and leading positions in the Haynesville/Bossier, Marcellus, and Barnett unconventional natural gas shale plays. Plus it has built up substantial marketing, compression, and oilfield services businesses through its subsidiaries Chesapeake Energy Marketing Inc., MidCon Compression LLC, and Chesapeake Oilfield Operating LLC.
The knock on it in recent years was that it had not reduced its debt enough. Analysts did not like it because it always seemed to be operating billions of dollars in the red each year. Former CEO Aubrey McClendon just could not seem to keep himself from gambling on the next new big oil and gas field. He was trying to build a major to rival Exxon Mobil (XOM) and Chevron (CVX); and nothing was going to stop him. He seemed to give short shrift to stockholders' concerns. The result was the production and reserves growth you see in the charts below on the left. However, investors also saw the stock performance you see in the below right chart.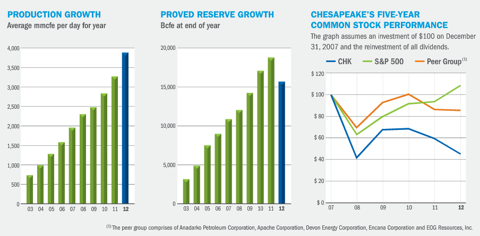 I note the proved reserves took a big hit in 2012 because of historically low natural gas prices (write downs). The natural gas did not suddenly disappear (or even get sold off hugely). Much of the "lost" proved reserves will get added back in future years as natural gas prices increase.
Eventually activist investors such as Carl Icahn and the board got tired of Aubrey McClendon's gambler's attitude. It may have taken Aubrey's attitude to save the company; but CHK has now become a company with great resources and great production. The board eventually ousted Aubrey McClendon; and it installed an investor friendly management team of high quality. This was headed by Chairman Archie Dunham formerly of ConocoPhillips (COP). This team has moved CHK steadily into a more fiscally responsible company. It has kept going with Aubrey's strategy, although now it has been emphasizing more selling of non-core assets to pay down debt. It sold nearly $12B in assets in 2012; and it did this without seriously depleting CHK's asset inventory. It has a target for $4B to $7B in asset sales for 2013. It has already completed $3.7B in asset sales thus far in 2013, so there is virtually no chance that it will not meet the low end of its goal. The low end is what it needs at a minimum to make up the difference in its spending (mostly on development) and its operating cash flow. In other words CHK is financially "safe" for 2013.
When I say financially safe, some may wonder what I mean. The chart below shows CHK's last few years of Capital Expenditures.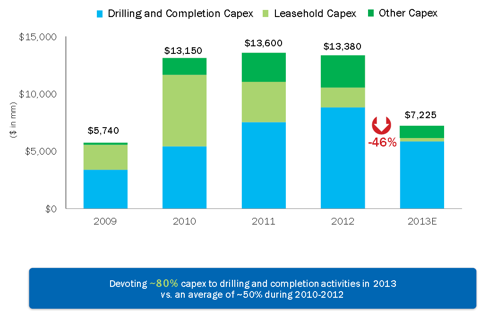 With only about $4B in operating cash flow in 2012 and a forecast of approximately $5.1B in operating cash flow in 2013, it is not reasonable to think that CHK could pay its bills by cash flow alone. However, you can see that CHK has significantly cut back on its capital expenditures for 2013. You can also see that much of the cutbacks have been in leasehold capital expenditures (purchases) and other capital expenditures. It is still drilling a huge amount.
Drilling and completion capital expenditures have been cut back too. However, the company has managed to continue development at roughly the same pace as in 2012 through increased efficiencies such as pad drilling. Investors (and analysts) can also see that roughly $5.1B in operating cash flow and $3.7B (total = $8.8B) (so far) in asset sales should easily cover the approximately $7.2B in capital expenditures forecast for CHK in 2013. When you consider that CHK may well make another $2B-$3B in asset sales in 2H 2013, CHK is in a position to substantially pay down its debt with $11B - $12B in available capital, but only $7.2B in capital expenditures. CHK will have to worry about taxes on the excess, but that is a good worry to have.
By 2014, CHK plans to have its capital expenditures equal to or less than its operating cash flow; and this is looking increasingly more like a doable goal, even to disenchanted analysts. When you consider that CHK forecasts growing its operating cash flow by about $1B+ in 2013, it is not hard to imagine that it might grow its operating cash flow by another $1B+ in 2014. This would leave it with roughly $6B+ in operating cash flow in 2014, which is not really far from its total capital expenditures budget for 2013. Consider also that CHK plans to capture even more drilling efficiency gains by greater use of pad drilling (15% - 30%). Further it reduced its average production expenses in Q2 2013 to $0.78/mcfe year over year (-20%). It reduced its general and administrative expenses to $0.25/mcfe (-36%) year over year. It is saving more on oilfield services costs such as salt water disposal, etc. On top of all of this it has about $4.7B in total liquidity as of June 30, 2013 (much of this is in undrawn revolver credit). CHK also reduced its borrowing costs with $2.3B in bond issuance in Q2 2013 at a blended rate of about 5.1%.
While CHK was doing all of this, it grew oil production by 44% year over year to 116 Mbo/d in Q2 2013. In fact at Q2 2013 end it guided higher for FY2013 total oil production of 38 - 40 million barrels (+1 million barrels over the previous estimate) for FY2013 -- a 22% to 28% increase year over year. CHK's adjusted net income per diluted share was $0.51 for Q2 2013 compared to $0.06 for Q2 2012. CHK's operating cash flow for Q2 2013 was up +53% year over year to $1.4B. CHK's adjusted EBITDA was up 77% year over year to $1.4B. CHK's liquids mix was up to 25% of total production, which is important given currently weak natural gas prices. CHK's revenues are expected to be 60% from liquids in FY2013.
Even the analysts, who have long been disenchanted with CHK, have come around. The table below compares the growth metrics analysts have given CHK and a few of its peers (data from Yahoo Finance).
| | | |
| --- | --- | --- |
| Stock | FPE | Next 5 years EPS growth estimate per annum |
| CHK | 12.49 | 55.61% |
| Continental Resources (CLR) | 13.95 | 35.48% |
| EOG Resources (EOG) | 19.06 | 18.49% |
| Whiting Petroleum (WLL) | 12.53 | 9.50% |
All of the above peer companies are well respected US unconventional oil/liquids drillers. None of CHK's peers have its huge inventory of leaseholds. Analysts don't think any of them will grow as quickly as CHK over the next 5 years. CHK is a bargain. Logically its FPE should be a minimum of 25 given its high growth rate. It still has a lot of naysayers surrounding it; but this will change as the new, more investor friendly management team works to bring out shareholder value.
Remember Carl Icahn is an activist investor in CHK. He has a habit of getting what he wants. He also has a habit of being successful. Investors should want to buy and hold this stock. It has all the hallmarks of a great long-term holding. The fact that it has so many naysayers is helping you to get it at a good price. Don't wait until everyone jumps on board. You will have missed a lot of the potential profit by then. CHK is a buy now.
The two-year chart of CHK provides some technical direction for this trade.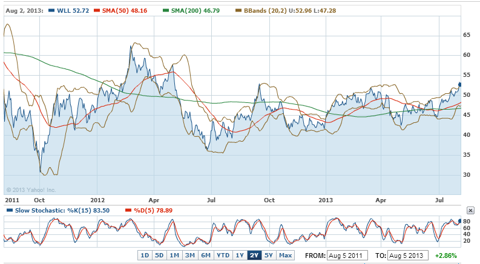 The slow stochastic sub chart shows that CHK is overbought. The main chart Bollinger Bands indicate an overbought state. The stock has been setting higher lows since June 2012. This is bullish. The 50-day SMA is above the 200-day SMA. The price line is above the 50-day SMA. Both of these facts are bullish. CHK is both fundamentally and technically a buy.
CHK's earnings were a beat and guide higher. It has momentum upward. The only caveat is that the overall market is currently overbought. It could reverse at almost any time. Investors may wish to average in. CHK should be a great stock for a long time, but investors may wish to bargain hunt. Don't forget CHK pays a non-negligible 1.4% dividend; and this may go up as soon as the end of 2013 as CHK deals effectively with its debt issues.
NOTE: Some of the above fundamental financial data is from Yahoo Finance.
Good Luck Trading.
Disclosure: I have no positions in any stocks mentioned, but may initiate a long position in CHK over the next 72 hours. I wrote this article myself, and it expresses my own opinions. I am not receiving compensation for it (other than from Seeking Alpha). I have no business relationship with any company whose stock is mentioned in this article.