Introduction
Recently, Asbury Automotive reported its Q2 2013 financial results. In Q2 2013, the company recorded a 29.4 % rise in EPS and a 19.7 % increase in net income, when compared to the prior-year quarter. With the ABG stock expected probably to rise after posting the company's respectable Q2 2013 financial results, the current stock price might be a small window of opportunity to purchase Asbury Automotive shares before the stock continues its upward ascent.
In this article, I aim to deliver a clearer picture on where Asbury indeed stands. Our argument makes a largely fundamental case for suggesting whether these days Asbury's stock is a right bet for your future profits.
Recent Updates
Asbury Automotive Group (NYSE:ABG) is a U.S. automotive retailer, operating 100 franchises for the sale and managing 80 retail auto stores in 18 metropolitan markets across 10 states. It offers new and pre-owned cars, trucks, vans and SUVs. Asbury also sells auto parts and accessories for a variety of automobiles. The company provides services such as financing, credit facilities, fleet services, estimate payment calculator, leasing services, brake service, cooling system service, lube, oil and filter change, repairs and rental services, scheduled services, and repair and maintenance services for vehicles.
The company operates 80 retail auto stores, manages 100 franchises for the sale and services 29 different brands of American, European and Asian automobiles.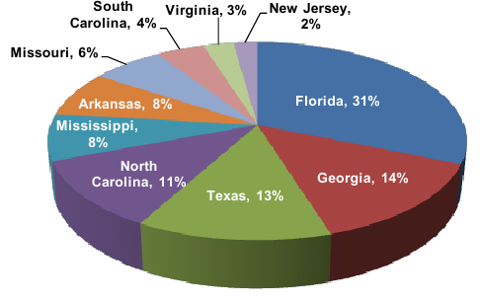 Asbury Automotive Revenue by state (Based on new vehicle revenue for year ended 12/31/12)
Auto sales continue to rise as the economy improves, meaning good news for Asbury. The U.S. automotive retail market demonstrated continued improvement in Q2 2013, with new vehicle SAAR increasing to 15.4 million in Q2 2013, versus 14.2 million in Q2 2012.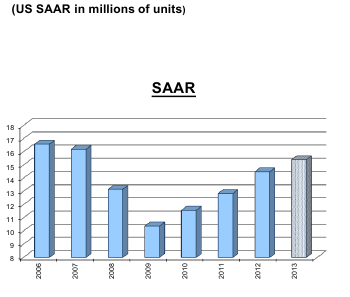 Industry experts are projecting a SAAR between 15.1 and 15.5 in 2013. Drivers of new vehicle growth are current age of the vehicle fleet; extremely attractive financing; availability of exciting new products; increasing number of licensed drivers. As the automotive market continues to recover, the company's associates experince success in maximizing sales and service opportunities while maintaining disciplined expense control.
Asbury benefited largely from improving economic environment in the first half of 2013, which allowed the company to improve consumer confidence. ABG also strengthened its availability to credit at terms favorable to consumers resulting primarily from the current low interest rate environment, gradually improving unemployment and the increasing age of the U.S. automotive fleet.
The security is still trading at a good price, as shown by a relatively low PER at 11.48x in 2013.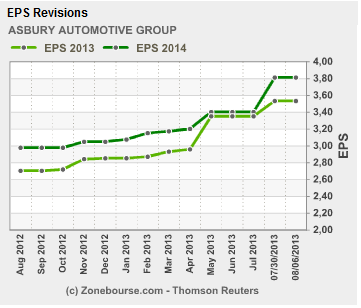 Stock Valuation Model
Before reaching any prudent conclusion, let's analyze current key statistics for Asbury Automotive. Here I'm going to use the "Stock Valuation Model" to find out whether ABG stock is a right bet for your portfolio. So let's all take a deep breath and walk step by step in order to make informed and sensible investment decision.
The stock valuation model rates stocks from 1 to 10, with 10 being the best using a system of advanced mathematics to determine a stock's expected risk and return. I am using different fundamental and technical factors in order to rank a stock.
1- Value Test
Value test determines the most current value for your dollar of investment. That allows us to suggest how much investor is getting in terms of profits, cash flows, assets, sales, etc. for the price that he or she pays. Keep in mind that ten is the most value, and one is the least.
The bars below the metric indicate which value test components the company falls when compared to the whole market. For example, if a stock has 4 bars colored for Earnings Yield, the company's earnings yield is between 60% and 80% in the market.

Based on financials from YCharts on 5 August, 2013
ABG has got an average value score (4/10); the company sits right in the middle of the market. It is a strong reason to assume that patience will allow investors to buy this stock at a better price.
2 - Fundamentals Test
Fundamentals test allow us to look at the company's business at the fundamental financial level. This type of analysis examines key ratios of a company to determine its financial health and gives us an idea of the value stock. In addition, the fundamental analysis helps investors expose positive and negative factors that potentially generate future gains and losses for the company, respectively. Let's look closely if ABG fails any of ten tests shown below.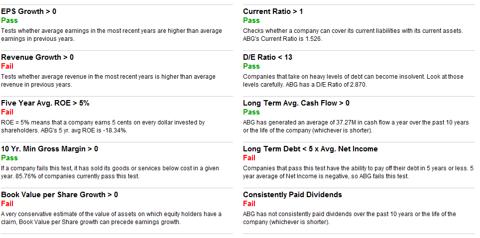 Based on financials from YCharts on 5 August, 2013
ABG currently has an average fundamental score (5/10). However, the failed test items make me suggest that there could be reasons for skepticism about the company's future.
3 - PS Valuation Method
The PS Valuation technique estimates stocks by applying a historical average of median Price to Sales Ratios to current trailing 12 months sales numbers. Investors should always check to ensure that they are comfortable with the estimated historical Price to Sales Ratio given information today before investing based on this valuation.
Many investors prefer to use sales numbers to estimate stocks since they are slightly more difficult than earnings to correct using accounting practices. This technique tends to overvalue companies (growth firms) that have historically traded at very high PS ratios, and tends to undervalue companies that historically traded at low PS ratios.
In order to help investors avoid unreasonable valuations, there is a set of maximum Price to Sales multiple at 10, even if the company historically has traded at higher values. If the intelligent investor has good reason to apply a higher multiple, they may choose to do so, but we will not publish numbers that high because they are rarely sustained.
Formula: Value = Price/Sales3yr x SalesTTM
Where:
Price/Sales3yr = 3 year historical average of annual median Price/Sales Ratios, maximum of 10
SalesTTM = The trailing twelve month sales per share
PS Method Valuation = $26.79
Based on ABG's financial data taken from Ycharts, calculation of the company's value according to PS Valuation Method makes us suggest that a current fair value for Absury stands at $26.79.
We can find out that current ABG's stock price of $50.25 is 87.5 % over its historical valuation.
Future Potential
Despite strong used vehicle growth, opportunities remain promising for Asbury Automotive.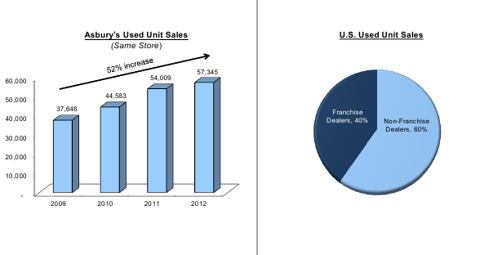 Asbury has an impressive 3-year capital allocation plan with the following main points:
- to invest in the business with capex ranging from $35-45mm annually over the next three years;
- to acquire operating assets, targeting 75% facility ownership by 2015, estimated spending $40-50mm;
- target $500-600mm revenue growth from value-added acquisitions over the next three years;
- repatriate $25mm to $30mm, or more on an opportunistic basis, per year to shareholders in an ongoing share repurchase program.
Sales are expected to increase by almost 8% in 2013.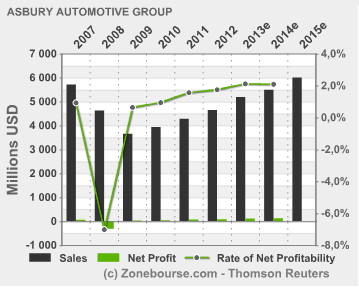 Obviously, there are reasons for analysts to boost their estimates, as this is the fourth quarter in a row that Asbury has solidly passed expectations. As the economy continues to recover and Asbury's strategic story is going forward, I'd expect the upward swing to continue.
Make or Break for Investors
While the company's Q2 2013 results look impressive, the deep financial expertise of Absury's financial performance currently makes me skeptical about considering this stock a Buy option. The results of fundamental analysis suggest the following: at a price of about $50.25 Absury's stock is considerably overvalued. Fair stock price valuation indicates that currently overvalued ABG stock has at least 88% premium over its fair value.
The economic recovery seems to be fragile, and may give Asbury a strong impulse to further changes based on consumer confidence, interest rates, unemployment levels and other macro-economic factors. However, significantly overvalued stock gives me a reason to recommend investors to be patient for a while and wait for purchasing this stock at a lower price in the future. For your note, Asbury's stock price has started to decrease since 2 August, 2013 - a good sign to start timing best buy.
ABG shareholders should hold on to ABG stock to benefit in the foresеeable future.
Bottom Line
The current month is indeed the best time to wait now to win in the future. Keep an eagle eye on the next updates and track the company's developments that cause the market to be optimistic.
Disclosure: I have no positions in any stocks mentioned, and no plans to initiate any positions within the next 72 hours. I wrote this article myself, and it expresses my own opinions. I am not receiving compensation for it (other than from Seeking Alpha). I have no business relationship with any company whose stock is mentioned in this article.