The Federal Circuit just denied the stay requested by Qualcomm (NASDAQ:QCOM), Freescale (NYSE:FSL), Spansion (SPSN), ST Micro (NYSE:STM) and ATI. The Limited Exclusion Order and the Cease and Desist orders of the International Trade Commission are now in effect, and the parties will not be allowed to import their infringing products into the US. Since this is a Limited Exclusion Order instead of a General Exclusion Order, products that are used to make end products are not subject to this order (these downstream products are still allowed in the US). However, we are starting to see the effect of companies who are losing business because of the LEO and the Cease and Desist order. Here is one article that explains the pain some customers are facing.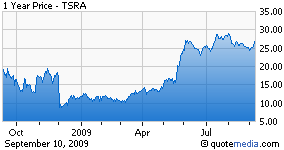 Tessera (TSRA) has just announced that they will be ringing the bell to open the NASDAQ and that they will have an Analyst Day on September 17th. Frequently companies will schedule these Analyst Days when they have some significant to tell the markets. Since this event had to have been scheduled before the Federal Circuit made a favorable ruling on the stay, I suspect they may have some more good news. They may have an announcement of new licensees for their uPILR or Ionic Cooling technologies. Or, they may have an announcement on a new licensee for their wafer level camera modules and optics IP. But what could really get the stock moving would be a settlement with one of the parties in the wireless ITC action (Qualcomm, ST Micro, Freescale, Spansion, and ATI). Now that the stay has been denied, the Cease and Desist orders and the Limited Exclusion Orders will be having major impacts on these companies. Every day that goes by without being able to ship key parts within the US is hurting revenues and alienating their customers.
I think we will get some good news on September 17th (if not before). Just how good that news will be is yet to be determined. Stay tuned and watch the stock price.
Disclosure: Long TSRA