It has been long held by many that wine in moderation may be beneficial, associated with health & well being and even longevity. While this is not universally accepted with this kind of large demand, it should, however, be relatively easy to make to a healthy financial choice.
Yet, with so many varieties , brands, places of origin, outlets,methods of distribution finding value in a "fine" wine play can be a bit of a challenge.
The concern is not so much that there aren't many companies. It is more the fact that they are usual distributing other beverages as well. Some that are solely wine firms seem to be limited in their distribution. Their breadth of brands can be narrow. This limiting distribution and brands can at times give a competitive advantage in that it may provide better control in pricing to render better margins. Yet, with such restricted top line sales, marketing in this way can constrict the total bottom line dollars right from the onset. Even with good cost management there will be a low flow to net earnings coming from these small sales.
In some cases the trading volume is small. So a buy and hold might be a strategy to use. However, this low liquidity can also become significant since some don't provide a steady income stream that would then be desirable if seeking a long term holding approach. Poor volume usual implies little demand for shares. Price appreciation would then be very dependent on rising equity retention to drive value and desire to buy them. Their growth must then also be considered as it too may be low like the industry itself.
So, where can a balance of all of this be found? Even considering all the above are there companies that are mainly in wine that may be worth a look?
Well, there are.
Among them is a little wine company that I believe is worth looking into, namely, ANDREW PELLER LIMITED(OTC:ADWPF), (ADW.A, ADW.B(NYSE:TSE)).
| | | | | | | |
| --- | --- | --- | --- | --- | --- | --- |
| Company | Ticker | Price | Market Cap | Price : Book | P/E(ttm) | Yield% Av5Yr |
| Constellation Brands Inc | STZ | $53.42 | $ 9,538.44M | 3.18 | 29.33 | 0 |
| Vina Concha y Toro S.A. | VCO | $37.75 | $ 1,365.51M | 1.6 | 23.18 | 2.14 |
| Laurent-Perrier Close on 22May13 | LPRRF.PK | $80.50 | $ 395.70M | 1.33 | 19.49 | 1.35 |
| Australian Vintage Ltd Close 14 Jun 13 | AUVGF.PK | $0.47 | $ 62.30M | 0.26 | 9.4 | 2.39 |
| Willamette Valley Vineyards, Inc. | WVVI | $4.57 | $ 22.07M | 1.25 | 16.07 | 0 |
| Andrew Peller Ltd Close 19 Jul 13 | ADWPF.PK | $13.63 | $ 181.87M | 1.55 | 18.98 | 3.81 |
Table Populated from cited data links
So why even consider this microcap wine company ?
This Canadian company is involved in the importing, production, bottling and marketing wines under numerous of brands. Noteworthy, is its production of premium red wines as well as chardonnays, rieslings, and Icewines. It makes and markets home wine making kits Winexpert and Wine Kitz through about 250 authorized retailers and franchisees and 600 retailers in the U.S., Canada, U.K.,New Zealand and Australia.
In the latest quarterly and year end report of June 5,2013 net earnings increased 13.5% - $ 14.8 M Canadian (19.9% - $15.6M Can. ex- restructuring charge which is C$1.12 per Class A Share) for fiscal 2013 ending March 31. Gross margins slightly decreased 38% from 38.7% yoy. The Ontario government's special levy of C$ 2M in 2012 and $ 1.9 in 2013 reduced sales and margin. None the less sales were up a record 4.4% ( C$ 289.1 M from 276.9M) . Cost control were in place and partially offset the margin change.
In the current retail environment, distribution, can be a challenge to producers. It can affect both their costs and profits. Wine is not an exception. With so many producers it seems to assume commodity like characteristics on sales. This together with the fact that Andrew Peller Limited also buys on international markets at higher costs, makes it somewhat more vulnerable to margin pressures. However, this company's broad distribution network provides it with stability. In addition its cost containment have resulted in higher net profit increases. (5 Yr Capital Spending growth is negative 2.45% vs industry's +2.15%)
It continues to pay dividends and on an increasing rate. In fact it has increased its dividend 5 times in 8 years. Recently, on June 5, 2013 it announced an 11% increase in common share dividend (annual dividend Class increase to C$0.400 per share from $0.360 and Class B to $0.348 from $0.314 per share). The dividend yield is 2.79% versus the industry rate of 0.76 and on 5 year rate of 3.81 versus industry average yield of 0.97. with a Payout Ratio ttm 33.94 vs the industry's 13.75.
| | | | | | | | | | | |
| --- | --- | --- | --- | --- | --- | --- | --- | --- | --- | --- |
| Growth & % Yield | Yield | 5 Yr Yield | Payout Ratio | ROEquity ttm | ROEquity 5 Yr | ROI ttm | ROI 5 Yr | EPS ttm | EPS 5 Yr Growth |   |
| Andrew Peller Limited(ADW.A TSE) | 2.79% | 3.81 | 33.94 | 11.81% | 8.38% | 7.83% | 5.21% | $0.74 | 6.20% |   |
| Industry | 0.76% | 0.92 | 13.75 | 8.21% | 8.59% | 3.98% | 3.92% | --- | 2.93% |   |
Populated from cited data links
Andrew Peller continues to grow with launches of new brand offerings. Its Peller Estate brand continues to be the top-selling wine brand in Canada. Its brands have received many international awards, including two worldwide best in class for its cabernet. Its Icewine sales are strong at airports duty free shops and in 21 countries around the world. It holds an exclusive supplier contract for next 3 years with the world's single largest duty free retailer of Icewine at Pearson Airport in Toronto. As so, sales of the company's wine brands continue to expand both domestically and on a worldwide basis.
It's easy to see why Andrew Peller Limited EPS 5 year growth rate is 6.20% vs industry 2.61%. Also very significant are its return on equity of ttm of 11.81% and 5 yr 8.38% vs the industry average of 8.21% & 5 yr 8.59%. Showing an accelerating growth rate to flat industry one.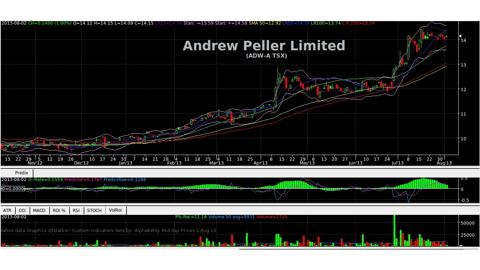 This is a very thinly traded stock and has somewhat better volume on TSE ADW.A or ADW.B. Recently, however it is starting to trade with relatively more volume on Toronto. Such low liquidity might be normally viewed as a negative. Although, it appears that with its stable history there seems to be a low propensity to sell. This situation is also resulting in a rising price although, granted at a very low volume.
Summary:
This seems to be a very unique scenario. Management has continued to act to maintain value and dividends. This may bode well for this company. There is no way to assume this will be continued. The past does not always portend future results. Getting in and out at such low volumes may be difficult. Time horizon and balance are significant here. Share dilution can never be ruled out for any company. Buying and holding cannot discount the possibility of this. Lately, its volume does seem to be gaining momentum.
With all considered and in view of its rising momentum, good growth and dividends the company is definitely worth a look.
Disclosure: I am long OTC:ADWPF. I wrote this article myself, and it expresses my own opinions. I am not receiving compensation for it (other than from Seeking Alpha). I have no business relationship with any company whose stock is mentioned in this article.
Additional disclosure: Long Andrew Peller Limited as ADW.B on TSE. This article as in all my writings and discussions are my opinions and are not intended nor should be viewed as investment advice to buy or sell anything. Seek information from your own qualified and trusted sources for such advice.