Asian and emerging market stocks have had a tough year, with many individual countries and sectors experiencing double-digit declines. Former emerging market powerhouses such as Brazil, Russia, India, and China have seen their economies decline in large part due to falling worldwide commodity prices. Even developed European markets have failed to keep pace with the breakneck speed of U.S. stocks in 2013.
However, there are still several international ETFs on my radar that have picked up momentum from their June low and appear to be poised for additional upside. These diamonds in the rough may be an excellent value opportunity for investors looking to diversify their portfolio outside of the U.S. market.
The first country that has experienced a sharp recovery rally in the last six weeks is the iShares MSCI Mexico Capped ETF (NYSEARCA:EWW). This ETF currently has $2.4 billion in just 49 stocks that trade in Mexico. The top three sectors include: consumer staples, telecommunications, and materials, which collectively make up 61% of the fund's assets. The expense ratio of EWW is just 0.50% annually.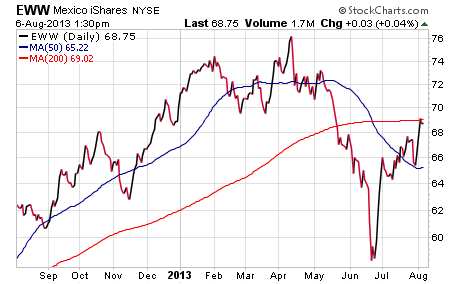 Since the June low, EWW has rallied over 17% and is poised to break out above its 200-day moving average. A follow through surge above this key long-term trend line would be a significant technical indicator of further upside. From a fundamental standpoint, Mexico is continuing to implement new social and economic reform measures that should spur investor demand in this growing nation.
It should be noted that EWW will be a more volatile position because of its concentrated focus on a single country as well as outsized positions in several large cap stocks. However, it does have the advantage of exposure to more defensive sectors and stocks that may not be present in a more diversified fund such as the SPDR S&P Emerging Latin America ETF (NYSEARCA:GML).
Another international opportunity that has flown largely under the radar this year is the Guggenheim China Small Cap ETF (NYSEARCA:HAO). This fund is comprised of 251 small-cap stocks centered in China and Hong Kong with $184 million in total assets.
For inclusion in the ETF, Guggenheim defines small capitalization companies as those with a maximum $1.5 billion market capitalization. The top three sectors include industrials, financials, and consumer discretionary stocks, which together make up 49% of the ETF's underlying portfolio. In addition, the net expense ratio for HAO is 0.75% annually.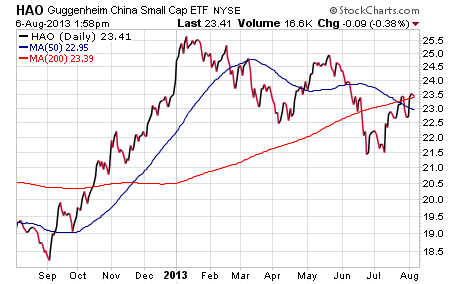 While the more broadly held and large company focused iShares China Large-Cap ETF (NYSEARCA:FXI) has fallen precipitously this year, HAO has regained its long-term trend line. Small cap stocks are an excellent way to get exposure to growing segments of the economy that are often overlooked because of their relative obscurity. Many people believe that the next phase of China's growth will be stimulated by local consumers instead of foreign exports, which are what these small cap stocks are uniquely positioned to reach. In addition, with HAO you avoid many of the mega-cap China stocks that are dominated by state-run enterprises.
Both of these ETFs offer unique advantages over their peers with excellent capital appreciation potential. However, it goes without saying that with the domestic market stretched to new highs, any hiccup in the U.S. could quickly spread overseas. That is why it is important to implement a portfolio protection strategy on new positions at these levels. That way you have defined your risk in the event that international stocks re-test their 2013 lows.
Disclosure: I have no positions in any stocks mentioned, and no plans to initiate any positions within the next 72 hours. I wrote this article myself, and it expresses my own opinions. I am not receiving compensation for it. I have no business relationship with any company whose stock is mentioned in this article.
Additional disclosure: David Fabian, Fabian Capital Management, and/or its clients may hold positions in the ETFs and mutual funds mentioned above. The commentary does not constitute individualized investment advice. The opinions offered herein are not personalized recommendations to buy, sell or hold securities.