On September 8th, Canadian gold producer, Agnico-Eagle Mines Limited (NYSE:AEM) released an update on its 2009 exploration program. The company stated that new discoveries have increased the size of the mineralized envelopes of several deposits. The company expects to increase its total gold reserves and resources by the end of this year.

Agnico-Eagle stated that new discoveries at Pinos Altos in Mexico, Meadowbank and Kittila mines, have resulted in an increase in the size of the mineralized envelopes. The $54 million exploration program begun in 2009 is currently 85% complete through July, with 190 kilometers of the planned 221 kilometers drilled. However, the company now expects to add further funds to the budget due to the encouraging results to date.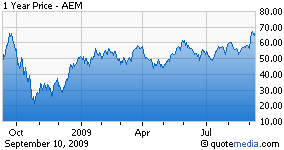 At the Cubiro zone of the Pinos Altos discovery, Agnico-Eagle notifed that drilling has totaled about 3,600 meters from 19 holes taken with a distance of 850 meters between drilled holes. Two of the 19 drill holes returned visible gold. Two drill rigs are operating in the area with the deposit still open in all directions. In the Sinter zone of the same discovery, exploration has traced a strike length of about 900 meters and a depth of 350 meters, with an estimated width between 4 and 35 meters.

Agnico-Eagle noted that the results out of the Sinter zone are proving to show better than expected grades and thicknesses (true width between 4 and 35 meters). Current results at Sinter suggest it could be a satellite low-grade open pit like Creston Mascota. The infill-drilling program at San Eligio, the zone that is part of the main Pinos Altos mine deposit, continues to show a steep dip of gold and silver mineralization.

The 2009 exploration was focused on the Kittila mining zone, with about 40% of the budget devoted to it. The 11 rigs on the site have currently drilled 56 kilometers of the planned 86 kilometers. The focus at Meadowbank was drilling adjacent to the main Portage and Goose Island gold mines. The deep drill program results reflects a potential for adding an underground operation for the Goose South gold mining zone.

We believe that Agnico-Eagle is in the process of realizing a large portion of its production potential from the Goldex, Kittila and Lapa mines. The assured growth from Pinos Altos and Meadowbank and the potential growth from Kittila should add to the company's gold reserves. Agnico-Eagle expects the increase in total gold reserves and resources at the end of this year to be higher than the gold depleted throughout the year.