1. Overview / Trading History
Inovio Pharmaceuticals (NYSEMKT:INO) has had quite a run recently. The stock initially jumped on heavy volume following two press releases dated July 8th and July 11th. The first release announced the preclinical results of its influenza DNA vaccine in a mouse study. The second reported on the peer-reviewed publication of results from two of its phase I PENNVAX-B / CELLECTRA studies. The stock charged to ~$1.50 on these reports (and in a generally frothy biotech market).
Then, on July 30, SA published an opinion piece speculating that INO might be a perfect fit for a Merck (NYSE:MRK) buyout. Surprisingly, this led to another significant share price increase on yet greater volume.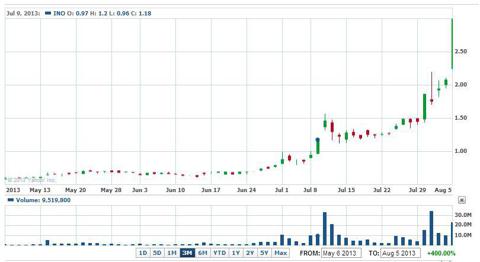 The price jump flagged it on several of my screens, and since I remembered trading it both long and short in the early 2000's, I decided to look at it a little further. Was the move warranted? Did it still have more to go or was it over-extended?
A first reference point is the long term chart: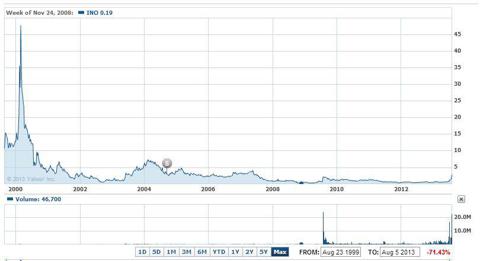 Clearly, the stock had traded much higher previously. So, given today's QE-enhanced world, why shouldn't it trade back to those levels?
But of course price is only one component of the truly relevant valuation measure - market capitalization. Market cap also takes into account the number of shares issued. And by that measure the company is trading at more that 200% of its peak valuation (one which, as we'll see, it garnered when there were high hopes for its phase II/III head and neck cancer therapy).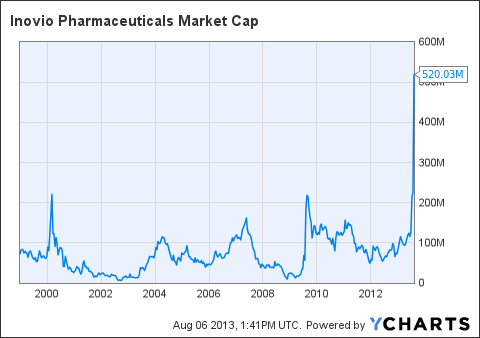 INO Market Cap data by YCharts
So the question then is: are its current prospects so much better than they've ever been? Or could there be other factors involved? More importantly, is the market right in treating an animal study and partial results from a phase I study as proof that the long term developmental programs (e.g. successful phase II and phase III trials) are as good as a done deal?
A crucial first step towards answering these questions is to study the company's operating history, in terms of corporate actions and of therapeutic development programs. Both are vital factors for any trader to appraise the value of news items such as a successful animal study or a positive phase I outcome. But there's no shortcut to doing so; it's necessary to work through some of the actual material to get a good sense of it. In the following I have tried to distill the relevant data in order to make such DD easier (and quicker) for those unfamiliar with the company.
Note however that in the process, I'm only able to reproduce small sections of interesting PR's (with my emphasis in italics and without showing ellipses for the many deletions between sections). I've tried to retain the sense of each, but readers are encouraged to follow the links and read entire releases where it's of interest to them. Moreover, to counterbalance my abbreviated historical review, I'd also recommend that people read the latest 10-K for a good overview of the programs currently under development. (It's unusual to see such clear writing in an SEC filing.)
Here's how I intend to proceed then: In section 2 I'll outline the history of the company. This will help us appraise the novelty of recent news items as well as to understand how the market cap grew to its current value. In section 3 I'll provide links and excerpts from the timelines of three representative therapy programs. These are necessary to evaluate (risk-adjust) the potential significance of one or two early stage positive news releases. In section 4 I'll suggest other possible reasons for the recent runup (exercise of dilute derivatives and daytraders). Finally I'll conclude with my investment evaluation and position.
2.0 Corporate and Stock History
To understand the company's origins and familiarize ourselves with its key technology, we refer to its earliest 10K (May 28, 1999):
Genetronics Biomedical Ltd. was incorporated in British Columbia, Canada on August 8, 1979 under the name of Concord Energy Corp. Concord Energy Corp. changed its name to United Safety Technology Inc. on February 17, 1988, to Consolidated United States Technology Inc. on January 3, 1990, and then to Genetronics Biomedical Ltd., on September 29, 1994.

Founded in 1983, Genetronics is a San Diego-based drug delivery company specializing in developing technology and hardware focused on electroporation. Electroporation is the application of brief, controlled pulses of electric fields to cells, which causes tiny pores to open in the cell membrane. Immediately after electroporation, the cell membrane is more permeable to drugs and other agents.

While widely used in the research arena, electroporation is a relatively new technology in the therapeutic arena. One of the major difficulties in many forms of drug therapy is that the pharmaceutical agent is often not able to penetrate the relatively impermeable walls of cells. The pores produced by electroporation permit entry of such agents into cells to a much greater extent than if administered without electroporation.

The Drug Delivery Division's most advanced product candidates treat solid malignant tumors such as squamous cell carcinoma, melanoma, and adenocarcinoma in the areas of application of oncology and dermatology. The Company is currently planning Phase III human clinical studies in North America for treating head and neck cancer with bleomycin and the Genetronics MedPulser(NYSE:R) system.
Next let's trace the corporate mergers, changes in focus, and equity issuances:
On Jan 26, 2005 Genetronics bought Inovio:
Genetronics Biomedical Corp. (AMEX: GEB), a late stage developer of oncology and other therapies using electroporation to deliver drugs and nucleic acids, announced today the acquisition of Oslo-based Inovio AS, a leader in patented gene delivery technology for the most efficient, nonviral method for gene transfer to skeletal muscles. Inovio's use of electroporation for gene therapy and DNA vaccines is a complement to Genetronics' existing electroporation therapy program.
Several corporate developments ensued:
It changed its name to Inovio on Apr 4, 2005. It raised $15.8M via equity and warrant funding on Dec 19, 2005. It formed an asian subsidy to raise $15.25M in equity (Sep 18, 2006) and it raised $16.2M in equity financing (May 16, 2007).
Following the failure of its Head and Neck Cancer drug (see section 3), on Oct 9, 2007 the company redirected emphasis from SECTA toward DNA vaccines and DNA delivery:
Inovio Biomedical Corporation , which is focused on the development of DNA vaccines for cancers and infectious diseases, announced today it is focusing its research and development efforts on its electroporation-mediated DNA delivery technology and DNA vaccines with the objective of further building potential downstream value to existing and prospective partners.
Next, current CEO Dr. Kim joined the company on Jul 7, 2008, when Inovio and VGX signed a merger agreement:
Inovio Biomedical Corporation , a developer of electroporation-based DNA vaccine delivery technology, and VGX Pharmaceuticals, Inc., a privately held DNA vaccine developer, announced today the signing of a definitive merger agreement, which provides for the issuance of Inovio Biomedical securities in exchange for all of the outstanding securities of VGX Pharmaceuticals.

Upon closing, Inovio Biomedical will change its name to VGX Pharmaceuticals, Inc.

[M]erging with VGX Pharmaceuticals immediately adds a broad pipeline of DNA vaccine candidates and a team of internationally-recognized scientists with strong DNA vaccine expertise, which we believe will provide the combined company with the capability to rapidly advance DNA vaccine candidates into the clinic. We are pleased to join forces with the VGX team led by Dr. J. Joseph Kim and to become closely associated with Dr. David Weiner, a VGX co-founder known around the world as a pioneer of DNA vaccines.
On Dec 8, 2008 the merger agreement was amended, and it closed on Jun 1, 2009. Inovio then announced a $30 Million Registered Direct Offering (Jul 30, 2009). On May 17, 2010 the company changed its name to Inovio Pharmaceuticals. On Jan 27, 2011 it closed a $24.3 Million Registered Offering; on Dec 1, 2011 it announced a $3.5 Million Underwritten Financing; on Jun 1, 2012 it implemented a new ATM agreement and finally, on Mar 7, 2013 it priced a $15.1 Million Offering of Common Stock and Warrants. Terms of the latter are as follows:
Inovio Pharmaceuticals, Inc. (NYSE MKT: INO) today announced that it has priced an underwritten offering of 27,377,266 shares of its common stock and warrants to purchase up to 13,688,633 shares of common stock at a combined price to the public of $0.55 per share and related warrant for gross proceeds of $15.1 million. The warrants are exercisable at an exercise price of $.7936 per share and will expire, unless exercised, on the date that is 180 days after the fifth anniversary of the date of issuance.
2.1 Corporate Summary
The company has now been working on electroporation and its application to cancer for going on 30 years. It's also been involved with over a decade's worth of studies of electroporation with DNA vaccines. In that time it has undergone several corporate transformations and issued a large quantity of stock and derivatives; accruing an accumulated deficit of $238M in the process.
3.0 Therapy Programs
There isn't space to review every developmental or collaborative project the company has undertaken, so I've chosen three of those which progressed the furthest as representatives. First is the head and neck cancer therapy which, as of yet, is the only therapy in the company's history to advance to phase III trials. Next is VGX-410/410C (mifepristone) which was so promising that the company hoped to treat both HIV and HCV with it. Lastly is the collaboration / partial ownership of the HCV program featuring Tripep/ChronTech's ChronVac-C (a DNA vaccine) delivered by INO's MedPulser.
In reading the following, please note that prior success or failure of a company's projects does not predict future results. But surveying a company's history does allow investors to gain a sense of the risks inherent in the business, even when preclinical and early clinical work looks promising. (For some reason, bullish articles often tend to gloss over this point.)
3.1 Head and Neck Cancer Therapy
The earliest relevant PR from the over 500 PR's available on the company's website is dated Mar 27, 2002. It touts the efficacy and promise of electroporation therapy in head and neck cancer therapy:
The continuing study has treated and evaluated 18 patients with newly diagnosed, previously untreated stage T1 or T2 head and neck cancer. Tumors of the oral cavity were treated with Electroporation Therapy (EPT) and were followed for four weeks, after which the treated tumors were excised surgically. The EPT treated tumor tissue was then evaluated using standard histological methods to assess the effect of electroporation on malignant tumors. Sixteen of 18 treated patients (89%) showed no signs of viable cancer cells in the surgically removed area, while the remaining two were reported with histologically positive biopsies.

"The release of this data show EPT is a novel modality that can be a first line of treatment for head and neck cancer," said Avtar Dhillon, M.D., Genetronics' President & CEO. "We expect that these results, in addition to our promising Phase II results, will assist our efforts in securing a major pharmaceutical partner in the development this unique system," said Dr. Dhillon.
Next, on Jun 26, 2002 we learn that the Phase III trial has launched:
In oncology, Genetronics has recently launched Phase III clinical trials for recurrent head and neck cancer. The company is in the process of expanding its Phase III clinical trials as it adds sites in the US and in Europe. Genetronics will also continue with its promising expanded access studies in Europe treating primary head and neck cancers that have not failed previous therapy. Genetronics is currently reviewing alternative oncology indications for possible clinical trials in the near term.
On Feb 23, 2004, in an update to its Phase III trial, we're given further indication of the therapy's great promise:
Genetronics BioMedical Corporation (AMEX: GEB) announced today that it has completed the Special Protocol Assessment review process with the FDA for two Phase III pivotal studies to evaluate the use of Genetronics' MedPulser® Electroporation Therapy System as a treatment for recurrent and second primary squamous cell carcinomas of the head and neck (SCCHN).

Paul Goldfarb, M.D., Genetronics' Consulting Medical Director, said, "Electroporation therapy could be the next generation ablation therapy for many solid tumors, because it is has the potential to be highly specific in the killing of local tumor cells while preserving adjacent healthy tissue."
This promise is further developed with a PR on Mar 1, 2004 which has the title: "Genetronics Starts European Clinical Study [...] to Advance Commercialization of the MedPulser(R)", and which includes the following:
After treating the first patient as part of this EU study at the Charité in Berlin, Germany, Dr. Thomas Plath said, "I have previously treated several patients using Genetronics' MedPulser® Electroporation System and obtained excellent results in local tumor control while leaving clean margins with healthy adjacent tissue. Electroporation therapy may offer significant benefit compared to the morbidity of surgery for treating SCCHN."

Avtar Dhillon, M.D., President and CEO of Genetronics, added, "We believe the MedPulser® Electroporation System is a promising alternative to surgery for the local control of SCCHN and for preserving organ function to enhance patient quality of life.
On Jun 7, 2004 the company has a breakthrough development when it receives Fast Track Designation for electroporation in head and neck cancer:
Genetronics Biomedical Corporation (AMEX: GEB), a leader in electroporation-enhanced delivery of drugs, DNA vaccines, and gene therapies intended to treat cancer, infectious diseases, and other medical conditions, has been granted a fast track designation by the U.S. Food and Drug Administration for its MedPulser Electroporation System clinical development program for patients with head and neck cancer.
And on Nov 9, 2005 the company builds on its momentum by announcing expanded enrollment:
We continued to expand enrollment of sites and patients in the U.S. and internationally for our two Phase III pivotal head and neck studies to evaluate our Selective Electrochemical Tumor Ablation (SECTA) therapy for treating recurrent and second primary squamous cell carcinomas. There has been a significant ramp-up in enrollment and additional site initiations in the past several months, coinciding with the transition to our internal team handling site monitoring and recruitment. We have enrolled over 100 patients to date in this trial.
The validity and promise of the company's therapy is further established by the publication of results in a scientific journal (Nov 18, 2005):
In this trial, 57% of patients had an objective response with either a partial or complete response to electroporation with bleomycin. Electroporation therapy in combination with bleomycin demonstrated a significantly (p less than 0.001) greater number of patients showing an objective response to the therapy when compared to bleomycin alone, which resulted in a 4% objective response rate with no complete responses. The authors observed that the overall 30% survival rate at one year was consistent with the overall survival rate of patients with advanced stage HNSCC. The adverse event profile of intratumour bleomycin with electroporation treatment differed greatly from systemic bleomycin and other current chemotherapeutic agents used in HNSCC, with fewer systemic side effects than other means of administering bleomycin. Little surrounding destruction of tissue, compared to surgery, and few side effects make this therapy favorable for local control of disease.

"Publishing compelling data on our Selective Electrochemical Tumor Ablation therapy in yet another respected medical journal validates the importance of this system," said Avtar Dhillon, MD, president and CEO of Inovio.
So promising are the clinical trial results to date, that on Sep 5, 2006 the company contemplates widening the scope of the therapy's application:
"Treatment of margin tissue with SECTA potentially expands the market for our product beyond those indications currently being pursued for the use of the technology as a monotherapy. We envision that in the future surgical margins could be routinely treated with SECTA, providing increased benefit to patients."
Yet despite all the buildup, the positive data and the promising PR's, on Jun 5, 2007 the company stops enrollment of Phase III trial for head and neck cancer citing safety and efficacy concerns(!):
Inovio Biomedical Corporation announced today that it will stop further patient enrollment in its two Phase III pivotal studies for squamous cell head & neck cancer using its Selective Electrochemical Tumor Ablation (SECTA) investigational therapy based on a recommendation by the trial's independent data monitoring committee (DMC). In making its recommendation, the DMC expressed concern about efficacy and serious adverse events, including higher mortality rates on the SECTA arm of the study than on the surgery arm. In the DMC's opinion, based on the totality of the issues, the SECTA arm has an unfavorable benefit-to-risk profile, relative to the surgery arm. The DMC also suggested enrollment difficulties represent a possible challenge to meeting the goals of the trial.

Dr. Paul Goldfarb, Consulting Medical Director overseeing the Phase III studies, said, "Based on the evidence of prior SECTA studies, we are surprised by the information and recommendation received from the DMC, the only body that has had access to the unblinded data. This new information was unexpected given the potential benefits of this technology.
(The company is re-organized after this clinical failure, see section 2.)
3.2.1 PICTOVIRTM/VGX-410 for HIV
On Dec 15, 2004 VGX Pharmaceuticals (which as we saw was merged into Inovio and was headed by INO's current CEO) initiated Phase I/II trials for HIV in its promising new drug PICTOVIRTM (mifepristone):
VGX Pharmaceuticals announced today that the company and the AIDS Clinical Trials Group (NASDAQ:ACTG) have initiated Phase I/II clinical trials of PICTOVIRTM (VGX-410) for the treatment of HIV infection. The company and the ACTG received the Investigative New Drug application (NYSE:IND) approval from the Food and Drug Administration (FDA) on December 1, 2004.

"This is an important milestone both for VGX Pharmaceuticals and for the treatment of HIV infection," says J. Joseph Kim, Ph.D., President and CEO of VGX Pharmaceuticals. "PICTOVIRTM represents the first drug targeting the Pre-Integration Complex Translocation (OTC:PICT) site of a cell. This could significantly reduce mutation effects of the virus. It is an orally active, small-molecule drug that provides once a day convenience."
After promising preclinical studies, on Dec 29, 2005 the company announced preliminary results from it PICTOVIRT phase I/II clinical trials:
The preliminary results indicate that:

• All 3-dose levels were safe and well tolerated.

• There was an indication of antiviral effects at the highest dose tested (225 mg).
These results were so encouraging that VGX initiated an additional phase II trial of PICTOVIRT on Jul 17, 2006:
VGX Pharmaceuticals announced today that the IRB at Georgetown University approved the initiation of an additional Phase II clinical trial for PICTOVIRTM, VGX's leading compound for the treatment of HIV infection.

In cell culture assays and in animal models, treatment of virus infected human primary cells by PICTOVIRTM at low doses resulted in a significant inhibition of viral replication of all of the laboratory-adapted and clinical primary isolates of HIV-1 virus. Additionally, in studies of PICTOVIRTM in non-human primates, the drug has been shown to effectively reduce viral load in monkeys infected with multi drug-resistant (NYSE:MDR) viruses. "PICTOVIRTM could make a significant impact for HIV treatment," said Dr. Kim.
Yet despite moving the product into phase II tests -- and despite very positive animal study data -- on Jul 7, 2008 the company announced the discontinuation of the PICTVIRTM program due to inefficacy:
VGX Pharmaceuticals, Inc. (VGX) announced today that it will terminate its internal development program of PICTOVIRTM, its drug candidate for HIV infection, to focus the Company's product development efforts on DNA-based vaccines and therapies.

The Company's decision is based on the following:

• Lack of clinically significant antiviral effects at the doses tested to date as a single therapy.
3.2.2 VGX-410C for Chronic Hepatitis C
Similarly, after very promising pre clinical and clinical studies, on Sep 26, 2005, the company advanced another variant of mifepristone (VGX-410C) into Phase II trials for the treatment of chronic hepatitis C:
"This is an important milestone both for VGX Pharmaceuticals and for the treatment of chronic HCV infection," says J. Joseph Kim, Ph.D., President and CEO of VGX Pharmaceuticals. "VGX-410C represents the first drug in a novel class of HCV IRES inhibitors under development. It is an orally active, small-molecule drug that provides once a day convenience." VGX-410C prevents HCV replication by suppressing early HCV translation, ultimately blocking the HCV replication process. As all the genotypes of HCV use the same pathway, this drug target could be effective for all HCV genotypes. "VGX-410C could make a significant impact for HCV treatment." said Dr. Kim.
On Sep 2, 2007, VGX announced the completion of patient enrollment for Phase II trial of VGX-410c, a positive development:
VGX had completed the patient enrollment stage for the lower dosage arms (150 mg & 300 mg) earlier in 2007. The Company has now completed enrollment of the last patient in the highest dosage group (600 mg).
Yet despite the previous promise, on Dec 13, 2007 VGX announced the discontinuation of VGX-410C due to inefficacy:
VGX Pharmaceuticals announced today that it has completed the multi-site, multi-dose, and double-blind Phase II study for assessing the safety and antiviral effects of VGX- 410C, its lead product candidate for treating HCV infection. The data showed that VGX- 410C did not meet the efficacy endpoint of the study.
3.3 Tripep/ChronTech collaboration for Hepatitis C DNA Vaccine
Finally we come to a program which perhaps held the most promise since the early head and neck cancer therapy. This is the ChronVac-C vaccine for Hepatitis C. The company originally announced its collaborator's (Tripep which later becomes ChronTech) plans to develop the vaccine on Jan 17, 2006, including the suggestion that the treatment represented a potential "new paradigm":
Inovio Biomedical Corporation , a late stage developer of cancer and other therapies using electroporation to deliver drugs and nucleic acids, announced today that it has signed an agreement with Swedish-based Tripep AB (The Stockholm Exchange:TPEP) to develop a therapeutic vaccine for hepatitis C virus (HCV). The vaccine will be based on Tripep's proprietary HCV antigen and delivered to infected individuals using Inovio's Medpulser DNA Delivery System. Initiation of a phase I clinical trial is expected to begin in 2006 and will be performed in Sweden.

"The ability of electroporation-delivered DNA vaccines to enhance both cell mediated and humoral immune responses may create a new paradigm for the treatment of viral hepatitis," said Avtar Dhillon, MD, Inovio's president and CEO. "While we are currently involved in four phase I studies using the MedPulser® System to deliver DNA therapeutics, this agreement with Tripep represents our first step to secure full rights to a product."
Following this debut, on Aug 28, 2006 Tripep produced additional positive data in an animal study:
Inovio Biomedical Corporation announced today that its partner, Tripep AB of Sweden, has achieved additional positive pre-clinical results showing that its ChronVac-C DNA vaccine combined with Inovio's MedPulser® DNA delivery system produced a strong immune response against hepatitis C virus (HCV) in a large animal model. Ongoing toxicity studies of ChronVac-C® delivered using Inovio's electroporation-based system revealed that the combination induces a humoral response in rabbits that is comparable to results previously observed in mice.
By Nov 27, 2007 the product had advanced far enough to treat its first subject in phase I/II study. In the process of getting there, the company also published a scientific paper in a peer-reviewed journal:
The clinical trial is designed to test Tripep's proprietary DNA vaccine, ChronVac-C(R), administered using Inovio's MedPulser(R) DNA Delivery System, in 12 subjects already infected with HCV.

"Current therapies for chronic infections caused by HCV type-1 strains are largely unsuccessful and represent a major unmet need for a therapeutic vaccine," stated a scientific paper published in the Journal of Immunology, July 2007. In this peer-reviewed article, entitled "In Vivo Electroporation Enhances the Immunogenicity of Hepatitis C Virus Nonstructural 3/4A DNA by Increased Local DNA Uptake, Protein Expression, Inflammation, and Infiltration of CD3+ T Cells," authors Gustaf Ahlen et al present their results using Inovio's electroporation platform to deliver Tripep's vaccine against HCV-1 in animal models for HCV. They conclude that the vaccine resulted in elimination of liver cells expressing the targeted hepatitis C virus proteins and that in vivo electroporation "greatly enhanced" DNA uptake (into muscle), protein expression levels, and the strength of the primed immune responses. The authors concluded that the ChronVac-C(R) vaccine against HCV can be effectively delivered using in vivo electroporation, resulting in the activation of a broad immune response that may assist a host in gaining control of a hepatitis C infection.
The next promising step in the product's development came on Jun 4, 2008 when Tripep announced that it had achieved reduced Hepatitis C viral levels in a phase I/II study:
Inovio Biomedical Corporation , a leader in enabling the development of DNA vaccines using electroporation-based DNA delivery, announced today that its partner, Tripep AB, reported preliminary results indicating a dramatic reduction in hepatitis C viral load in its ongoing phase I/II clinical study of its ChronVac-C(R) therapeutic DNA vaccine, which is delivered using Inovio's electroporation-based DNA delivery system. This result is from the first patient in the middle dose group to complete treatment against hepatitis C virus infection. Samples taken before, during and after treatment show that the viral levels in blood successively decreased by more than 95% during treatment. Inovio's electroporation delivery technology is intended to enhance the potency of DNA vaccines against cancers and infectious diseases.
Further promising data was announced on Jun 30, 2008 when we learned of increased T-cell response and reduced viral loads in a clinical study.
This was followed by more good news when on Nov 17, 2008, the company highlighted viral load reductions of up to 99.7%:
In the third and highest dose cohort of the study, two of three subjects demonstrated reductions in viral load of 93% and 99.7%. Previously reported middle dose cohort results demonstrated an 87% and 98% reduction in HCV in two of three subjects, while no anti-viral effect was observed in the low dose cohort. No safety issues have been noted to date in the trial. These data suggest a potential dose response of the vaccine and support the inclusion of three additional subjects in the high dose cohort.

Avtar Dhillon, MD, Inovio's president and CEO, stated: "We continue to be encouraged by the data flowing out of the ChronVac-C study. This promising DNA vaccine candidate, in which Inovio has an ownership position, is one of the more advanced clinical vaccine candidates in the HCV field. ChronVac-C was designed to play a role as a first-line therapy or as an adjunct to existing therapies."
On Nov 30, 2009 we learned that Tripep has completed its phase I DNA vaccine study, including the very positive development in patients who were subsequently treated by the current standard of care:
Twelve patients were treated with this combination of Tripep's ChronVac-C DNA vaccine and Inovio's proprietary electroporation technology. In the lowest (167 µg) dose group, there was no reduction in serum levels of hepatitis C virus (HCV) RNA and no immune responses lasting ≥ 1 month were detected. In the 500 µg dose group, two of three patients showed transient reductions in serum levels of HCV RNA (up to -1.5log10) and in the same two patients T-cell responses to the vaccine lasting ≥ 1 month did appear. In the 1500 µg dose group, three of six patients showed transient reductions in serum levels of HCV RNA (up to -2.4log10) and in two of these three patients there were T-cell responses to the vaccine persisting over one month.

In addition, early data from three patients given standard of care treatment since completing the clinical trial have experienced rapid reduction of the virus, possibly suggesting a role for such a vaccine in combination with existing approved therapies. Additional patients will be monitored during the coming year.
Yet despite the promise and hope for the product, on Apr 2, 2013 the companies reported disappointing results, highlighting the lack of statistically significant differences in treatment outcomes:
The study investigated the use of the ChronVac-C DNA vaccine administered with Inovio's MedPulserTM-DDS electroporation device followed by a drug regimen (ribavirin + PEG-interferon-a) in chronic HCV positive subjects. These initial results do not show a statistically significant difference so far between treatment outcomes of the vaccinated and non-vaccinated groups. The vaccinated group did display an excellent safety profile.

In this 29 patient phase II study, 17 patients were treated with two monthly vaccinations of ChronVac-C (500 ug) followed by interferon and ribavirin. In the control arm, 12 patients were treated with interferon and ribavirin alone. ChronTech has now made a first analysis 12 weeks after treatment. HCV viral load reduction or elimination is assessed by measuring HCV RNA levels. At treatment week 12, 71% of the pre-vaccinated group had less than 15 international units of HCV RNA compared to 58% in the non-vaccinated group; 65% were HCV RNA negative compared to 58% in the non-vaccinated group. There were no serious adverse events and the number of patients with moderate adverse events was statistically lower in the pre-vaccinated group than in the non-vaccinated group (p<0.05, Fishers exact test). There was no difference in mild adverse events between the groups.
3.4 Development Program Summary
The bottom line is that many potential therapy programs show promise during their development, including success in animal models, publication of positive results in peer-reviewed journals, efficacy in small clinical trials, fast-track designation, etc. Yet each of those are only incremental steps toward the ultimate goal of bringing a therapy to market. As the company itself has shown, despite early positive pre-clinical and clinical progress, it's exceedingly difficult to even get a product into phase III trials, much less through them. This doesn't mean that future programs will meet the same fate as those listed here, but it does strongly suggest that any single news release or result, particularly of early stage work, shouldn't be given undue importance.
4. Potential Dilution and Day Traders Play Thing
The corporate and therapeutical program history suggests that the stock move following two recent PR's on an animal, and a phase I study, is unwarranted. But perhaps there are other reasons why the stock might be the beneficiary of a short term spike?
How about the interests of the holders of dilutive derivatives? From the latest 10-Q we learn that not only are there 179,940,861 shares issued, but also 35,227,529 warrants and 18,493,523 options outstanding, most of which can be exercised at prices ranging from $0.43 to $1.40. A quick spike above those prices would give derivative holders an ideal opportunity to cash out. Indeed, given the volume and price action recently, it would be very surprising (to me at least) if many hadn't been exercised.
(For reference, consider that at Monday's $3.00 closing price, if all the options and warrants were exercised , the company would sport a hefty market cap of $701M.)
But recent trading most likely isn't just the result of a warrant push, the stock now has a life of its own, having become a day-trader's delight. Consider for instance, that from Jan 2, 2013 through Jul 5, 2013 the stock traded on an average volume of 1.9M shares. Since then it has traded on an average of 11.1M shares, with 4 days surpassing the 20M mark. The idea of the stock now having become a trading vehicle is corroborated by the increased activity on several message boards. In my experience, when stocks become a day-traders play toy -- divorced from any fundamentals or from the company itself -- the bottom is almost certain to fall out sooner rather than later.
5. Conclusion
As investors, our role is one of asset allocators. We have to ask ourselves: does it make sense to devote $XXXM or $XXXB of market cap to a particular company given its current state and prospects? Going long a company's stock is answering yes, going short is deciding that the capital could be better utilized elsewhere.
That said however, life in the short camp is often conflicted. On the one hand there's the hope that the company proves to be worth more than its current cap (by delivering life-enhancing products); on the other, is the idea that the odds are against it doing so, and therefore it's better (for everyone in the long run) if the capital is devoted to other projects which are more likely to succeed or which haven't been bid up to excessive levels.
Indeed, deciding to allocate assets elsewhere by shorting is the same type of decision INO made when it abandoned its SECTA therapy after its clinical trial failure in 2007 ("management has concluded that the potential return on capital invested in Inovio's DNA delivery technology is significantly greater than the potential return on its SECTA program"). So too for VGX's decision to nix certain programs after VGX-410 failed ("As a dynamic growth company, we must allocate the Company's resources to the areas with the greatest potential to succeed".)
Asset allocation is also the perspective we should keep in mind when considering the insider buying through April 2013 and the decision of major investors to participate in the March 2013 offering. Throughout that period the company had a market cap on the order of $100M. Moreover, for most of that time there was still great hope for their lead collaborative project ChronVac-C!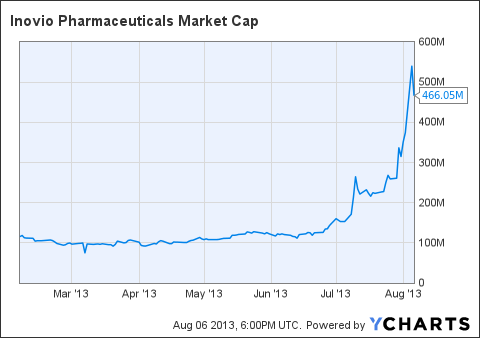 INO Market Cap data by YCharts
Four months later - after disappointing phase II results - the company's been bid up to a market cap of almost $700M fully diluted.
Given the huge runup in market cap, the fact that the stock has been taken over by day traders, and the reasons to think that even the initial move on news was overdone, leads me to conclude that the stock will fall from here. My moderate short position is consistent with this conclusion: I'm short at a fully diluted market cap of $400M+, agnostic at $200M and potentially bullish at the $100M level.
Disclosure: I am short INO. I wrote this article myself, and it expresses my own opinions. I am not receiving compensation for it (other than from Seeking Alpha). I have no business relationship with any company whose stock is mentioned in this article.