Introduction:
As someone who has been investing in Dividend Growth stocks since 1984, I will be the first one to admit that there have been times when my portfolio was worth more and a just as many times when my portfolio was worth less that it had been at some random point in time.
I think that this is just a reality of investing and is not really something that you can control. Years ago, I was a big mutual fund investor. I bought all of the "best" funds out there. Since I was not always investing more money into the funds when they were either up or down, the impact on the total value of my portfolio drove me into fits.
Lately, it seems that there are a lot of people who seem to have this notion that a portfolio is only as good as its performance against the metric of the S&P 500 index.
As a Dividend Growth Investor, I don't compare my results against the SP 500 index or any other index, for that matter. Why not? Well, when I was a mutual fund investor and had my money being managed by professional money managers, I found that there were not very many money managers that could consistently outperform the SP 500 index. It became apparent to me when I became an investor who purchased individual stocks, that I couldn't beat the SP 500 index on a consistent basis either.
There was one fund manager, Bill Miller, who ran a fund called The Legg Mason Capital Management Value Trust and from 1991 through 2005, a period of 15 straight years, Bill Miller's fund outperformed the SP 500.
It was a record that made Miller one of the most written about mutual fund manager. Money poured into his fund as investors realized the implications of his record setting returns.
But even with his success at consistently besting the SP 500 index, Miller said:
"As for the so-called streak, that's an accident of the calendar. If the year ended on different months it wouldn't be there and at some point the mathematics will hit us. We've been lucky. Well, maybe it's not 100% luck-maybe 95% luck."
To my own way of thinking and from being a guy who likes to play casino games, I learned very early in life that the reason casinos have such large and lavish properties is because the average guy or gal cannot consistently beat the casino. Oh, there are times when you get on a roll and you can't lose, it seems. But there are just as many times when it seems you just can't win.
So, for people who want to perform as well as the SP 500 I would suggest, without any cynicism that they invest in a good, low cost index fund and be done with it. That way, theoretically, while you will never perform better than the index at least you will not perform worse than the index.
What I Know:
I wish that I could say that I speak for every DG investor, but I don't. I wish that I could say that there was a definitive statement of how a DG investor operates, but there's not one. I do know how I operate as a DG investor and I've met with some relative success with this strategy of investing.
That being said, it would appear that many other DG investors have their particular shades of nuance that they each bring to the table. For me, my own criteria are pretty much cut and dried. I don't deviate from them very much or very often. My goals are part of a larger strategy and I've shared those goals in a number of articles.
What are the goals that I have as a Dividend Growth Investor? Well, a primary goal is increasing the dividend income on a regular basis.
So, I purchase companies that have a history of paying dividends, that have a history of increasing those dividends annually, and have the earnings growth to continue paying and increasing those dividends into the future. I also make it a practice to purchase shares of these companies when they are priced at a value to their intrinsic net worth.
Give you an example. I like Johnson and Johnson (NYSE:JNJ). When we bought JNJ in our portfolio we call "The Portfolio for Do It Yourselfers" and we own JNJ in our portfolio known as "The Perfect Portfolio."
When we made our purchases of JNJ for both of these portfolios, we felt that JNJ represented a value, relative to its intrinsic value at the time of the purchases. Recently, the stock has appreciated to the $90-$95 range and at these prices JNJ may or may not represent a value today.
We have earned nice dividend growth from the company and have an unrealized gain with our stock that is also a plus. But, it's the dividend income that keeps growing year over year at a 1, 3, 5, and 10 year Dividend Growth Rate that is larger than the underlying inflation rate during each of those periods.
While I don't believe in "market timing" there is a time when a particular stock represents a value and a time when it doesn't. Right now, for me, JNJ does not represent a compelling value and I am perfectly fine with continuing to own it and not adding any more money to my position, other than perhaps reinvesting the dividends.
What You Should Know:
Getting back to our original premise, have I beaten the SP 500 Index with JNJ? Until writing this article, I didn't know and I didn't really care. That wasn't the goal in the first place and it is not the goal now.
Knowing what your goal is makes all the difference in the world. Now, if beating the SP 500 index was a criteria for my investment strategy, and if JNJ has not beaten the index should I be a seller of the stock? Well, maybe, maybe not.
It's the goal of the investment strategy that makes the difference in how an investor is going to react to changing situations in the market. So, for a DG investor vs. say a growth investor, the goals are just by the nature of the strategy-are going to be different.
But as a matter of fact, over the last 12 months, JNJ has beaten the SP 500 index. Through 8/1/2013, JNJ is up 37.9% which means that JNJ outperformed the SP by 12.65%.
Using the stocks that make up The Portfolio for Do It Yourselfers, let's look at how the other companies in our portfolio have done relative to the SP 500 Index.
While 7 of our stocks have outperformed the SP 500 for 6 months and 12 months ending 8/2/2013, there were 4 companies that split beating the SP 500 and there were 9 companies that did not outperform the SP 500 for the 6 and 12 month periods.
Looking At Things From A DG Perspective: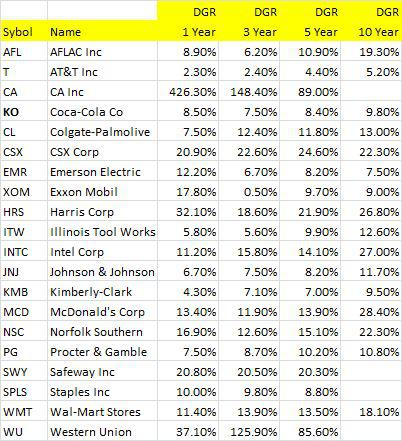 I know that every year, my income from the stocks held in this portfolio have grown by a rate that is larger than inflation. Our cost basis for each of our holdings has appreciated from the price we initially purchased these stocks. As we move forward, managing this portfolio, I also have expectations that as long as these companies meet our basic criteria as DG investors, we will continue to hold them. By the same token, if that basic criteria breaks down for a particular stock in the portfolio, we will sell it and move on to something else.
Since starting this portfolio with 100k back in 2006, our income has grown from the first year's income of $2768.38 to a projected income for 2013 of $6327.66. By the same token, the portfolio has a current value of $232,481 vs. the initial $100,000 invested almost 7 full years ago. If I am correct, that is a CAGR of 12.81%.
Anyone know how the SP 500 did during that same time period?
Disclosure: I am long CL, JNJ, KMB, KO, MCD, PG, T, WMT, XOM, AFL, EMR, HRS, INTC, ITW, CA, CSX, SWY, SPLS, NSC, WU. I wrote this article myself, and it expresses my own opinions. I am not receiving compensation for it (other than from Seeking Alpha). I have no business relationship with any company whose stock is mentioned in this article.