The 13 closed end fund (CEF) types on average were up 1.9% for the week ending 9/11/09. On an aggregate, unweighted basis, the weekly average price increase for 628 CEFs was also up 1.9%. The weighted 49 CEFs as of 9/11/09 comprising the Claymore CEF Index registered an average increase of 3.2% for the week. The S&P 500, as measured by the SPDR S&P 500 ETF (NYSEARCA:SPY), registered an increase of 2.7%.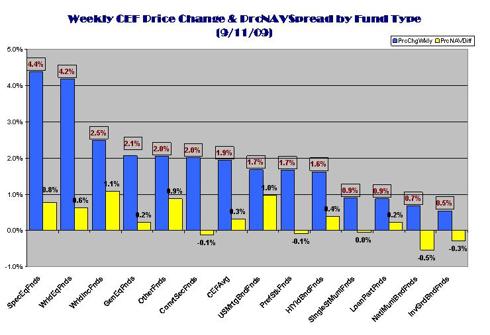 The 628 CEFs' aggregate, unweighted current distribution yield is 7.3% and is trading at a 4.4% discount (7.4% versus 4.5% the previous week, respectively). Year-to-date, CEFs on average have extended their price appreciation to 43.4%. (Click here for YTD CEF performance. The table is based on a 276 CEF sample size as all the data fields are not available for CEF universe.)
The Eqcome CEF Fear Index projected little fear on the part of CEF investors. The unweighted average price change was up 1.9% versus 0.2% for the related NAV. The CBOE Volatility Index (VIX), which typically moves inversely with the stock market, was down 4.4% as the S&P 500 (SPY) logged in an advance of 2.7%.
The S&P steadily gained throughout the week with a little give-back on Friday. The VIX dropped sharply earlier in the week hitting its 52 week low as investors abandon caution for riskier assets.
CEF Weekly Fund Type Performance: With the risk trade back on, equity-oriented CEFs' riskier sectors performed well. SpecEqFnds and WrldEqFnds were up 4.4% and 4.2%, respectively. This was against a CEF average of 1.9%. The debt-oriented fund types all registered below average price performance. Having led the positive weekly price change parade for several weeks, muni bond funds took a breather and lagged behind.
Real estate funds, a sector of SpecEqFnds, rebounded sharply from the previous week's 4.5% drubbing. Real estate funds advanced 6.3% this week. Energy oriented CEFs started the week strong but gave up ground later in the week. While they ended up 2.8% higher, it wasn't enough to recover from the 3.5% decline the previous week. In the absence of a strong market next week, a betting person might anticipate real estate stocks to give back some of this week's sharp gains.
Price/NAV Weekly Spreads: The Price/NAV spreads (PrcNAVSprd) moved in the general direction of the price movement, i.e. price changes exceeded related NAV changes and visa versa. There were a couple of notable exceptions. This included ConvtSecFnds, up 2.0% while its related NAV increased at a 0.1% greater rate. Other fund types demonstrating greater NAV advances than price included: PrefStkFnds, NatMuniBndFnds and InvGrdBndFnds.
CEF Spread Changes: Curiously, individual CEFs that demonstrated extreme changes in PrcNAVSprd were both SingleStMuniFnds. Eaton Vance California Municipal Income Trust (NYSEMKT:CEV) logged a 10% positive PrcNAVSprd; Eaton Vance Insured Pennsylvania Municipal Bond Fund (NYSEMKT:EIP) registered a negative spread of 8.9%. (A positive spread between the change in price and NAV could be viewed unfavorably subject to other metrics. This is because the stock has advanced greater than its underlying NAV. All things equal, they should move in tandem. The opposite would also be true.)
CEV has been showing a progressive increase in its monthly distribution over the past year. With California moving off the critical list it might have given investors greater confidence in California's underlying municipal bonds. CEV has just crossed over into trading at a premium. The last time that happened on a month-end basis was February of last year; it debuted there for only that month. It might be time to move on.
On the other end of the PrcNAVSprd spectrum, as well as the other side of the country, is Eaton Vance Insured Pennsylvania Municipal Bond Fund (EIP). It posted a negative spread of 8.9%. In past weeks we've seen some of the Pennsylvania muni bond funds generate large negative spreads. It appears that late in August all three debt rating agencies affirmed Pennsylvania's equivalent double "AA" credit rating.
Market News: The general market mood remains constructive. The Dow Transportation Average continues to advance gaining 2% this week. FedEx confirmed that trend in the transports by announcing better than expected earnings guidance.
Consumers appeared more upbeat as expressed by the Reuters/University of Michigan preliminary reading of consumer sentiment. The index rose to 70.2 in September, up from 65.7 in August. We will get another read of consumer confidence next week in the retail sales report on Tuesday. (Click here for next week's economic calendar.)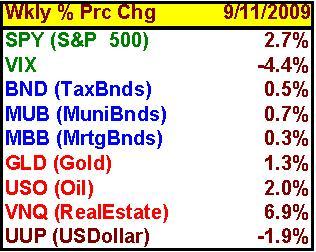 ETFs: Equity (Green), fixed income (Blue) and commodities ETFs were all up this week—a rare convergence. (Assets in exchange-traded products rose to a record of $678 billion, up 4% from the high of $653 billion reached in July, according to Barclays.)
The week's casualty was the US dollar which slid to its lowest yearly level. The dollar is a victim of diminished investor fears, the financing of a bulging US deficit, and Asian and European economies appearing to be positioned to recover more quickly than the US's.
Gold crossed over the $1,000 per ounce milestone to close at $1,004.90 on the Comex. The gold bugs are coming out of the woodwork touting that gold has broken its resistance level and is now schedule to go higher. As some of the market observers have pointed out, the potential for a reduction in future hedging by gold producers could temper the market along with a reversal of the US dollar. (Click here for ETF YTD sector performance.)
CEF Insider Trading: Insider trading is getting off to a slow start for September. A handful of trades occurred as reported for 5 day period ending September 9th.
The Horejsi Group (Lola Brown Trust 1B) renewed their buying of Denali Fund, Inc. (DNY), formerly Neuberger Berman Real Estate Income Fund prior to 10/15/07. The group acquired another 5,400 shares at an average price of $12.17 per share for a total expenditure of $65,956. This increased direct ownership to 3,064,835 shares or 73% of the 4,157,117 held by all insiders and 5% owners.
The Horejsi Group is significant player in the CEF market segment. As the story is told, having amassed a fortune as early investors in Berkshire Hathaway, the family turned its attention to the inefficient CEF market sector. The source of its initial wealth is still visible in several of its portfolios where BRK.A represents sizeable holdings (BIF, BTF & DNY).
The Horejsi Group is both advisor and major shareholders in several CEFs. Other significant holdings where it is also the investment advisor include: Boulder Growth & Income Fund (NYSE:BIF) and Boulder Total Return Fund (BTR). The group is also major shareholders of DWS RREEF Real Estate Fund II (SRO) and DWS RREEF Real Estate Fund (SRQ), two real estate CEF funds. The Group has attempted to nominate a new slate of directors for each. Class actions have been filed in both cases against SRO and SRQ for: "misrepresenting and failing to disclose material facts".
Terence J. Toth, a director of both Nuveen Floating Rate Income Opportunity Fund (NYSE:JRO) and Nuveen Senior Income Fund (NYSE:NSL) has been a steady buyer of shares in both CEFs since mid-year. Mr. Toth acquired another 1,760 shares at an average price of $8.54 per share for a current holding of 8,328 shares in JRO. He acquired an additional 1,900 shares at an average price of $5.26 in NSL for a total holding of 14,608.
Mr. Toth is a private investor since 2007 and was the former CEO and President of Northern Trust Investments, a respected financial institution. Curiously, both CEFs invest in floating rate assets. This is another incident of investors positioning themselves in floating rate assets—possibly as a hedge against future inflation. (Click here for insider summary.)


CEF Distribution Announcements This Week: Below is a table of this week's CEF distribution announcements with prospective ex-dividend dates. (The list is not intended to be all inclusive. While reasonable care was taken in its construction, please confirm its accuracy independently prior to making an investment decision based on this table.)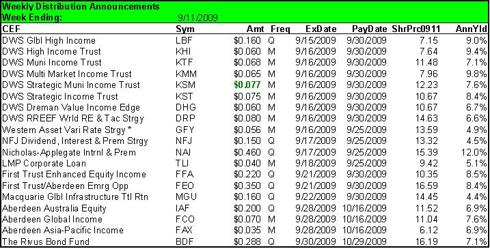 CEF Focus for the Week: Eaton Vance Insured Pennsylvania Municipal Bond Fund (EIP). EIP has a pre-tax yield of 6.5% and its share price just dipped into discount territory. The CEF is small ($55 million) and leveraged with ARPS. Its expense ratio is 1.89% versus the average for SingleStMuniFnds of 1.4%. EIP has traded less than a 1,000 shares on some days.
EIP reported its fiscal 3rd quarter and 9 months earning results in a press release on Friday. While EIP's quarterly and 9 month net investment income declined 13% and 11.1%, respectively, more importantly, its net investment income to common equity (NIICE) was up 15.4% and 1.7%, respectively. This was due to a dramatic reduction in preferred dividend distributions. The cumulative distribution to common equity during the 3 month period was $.2026 versus NIICE of $.217 per share for the quarter.
Click here for to view larger charts.
Disclosures: Long SPY, GLD, BIF, SRO