I don't know whether things are as good as they seem to be. A lot of properties are being occupied by institutional investors, not the end-user. - Scott Kranz, co-principal of Title Capital Management
After a six-year slide, which began in 2006, the U.S. residential housing market is back from the dead in a serious way. The Case-Shiller 20 City Composite Home Price Index is up over 13% for the 12 months ending in April of this year. The hottest markets are those that were beat up the most since housing prices peaked over seven years ago. Cities like Phoenix, Ariz., and Las Vegas, Nev., are both up around 22% year over year through April 2013. The increase in housing prices has helped bring down foreclosures and short sales as fewer borrowers are underwater on their mortgage. According to CNN, short sales fell 35% year over year in the first quarter of 2013.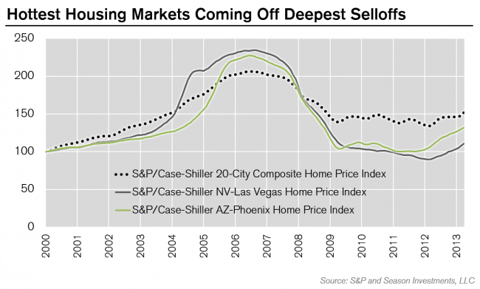 When the value of an asset is increasing rather than decreasing, investor sentiment toward that asset tends to improve. Improved sentiment in the housing sector has led to increased construction activity. The National Association of Home Builder's index rose to 52 last month, which was the first time it has reached a level greater than 50 in past seven years. A reading north of 50 indicates that more builders (XHB, ITB) believe conditions are improving rather than deteriorating in their industry. Improved sentiment by home builders means more jobs for out of work construction laborers, which is good for the economy.
Housing makes up around 15% of total GDP here in the U.S., according to the Bureau of Economic Analysis. A subset of this category is residential fixed investment ("RFI"), which includes new construction and remodeling. RFI currently accounts for around 3% of GDP compared to a historical average of a little more than 5%. If the current trend of an improving housing market continues and RFI returns to a more normalized level, we could see a significant improvement in our economy and the jobless rate here in the U.S. This is why the housing market is such an important part of the overall economy.
The question then becomes whether or not the current recovery in housing prices is sustainable. One issue some economists have with this recovery is the lack of participation by first-time home buyers. Past housing recoveries have been led by this group whereas this recovery is definitely skewed toward the institutional buyer looking to purchase and rent rather than purchase and occupy. Blackstone Group, the country's biggest real estate investor, has already invested $3.5 billion into 20,000 single family homes and it has a line of credit in place, which will allow it to invest another $2.1 billion if so desired. Another prominent private equity firm, KKR & Co. (NYSE:KKR) recently raised $500 million to invest into residential real estate. JPMorgan Chase estimates that institutional investors have pooled around $10 billion to invest into single family rental houses. These investors are going into the markets that were hit the hardest during the downturn, which is why these markets have led the recovery over the past 12 months. In Phoenix, institutional investors account for 26% of all purchases versus 16% just two years ago, and in Los Angeles 25% of all homes were purchased by absentee buyers (e.g. non owner occupants) in 2012 compared to only 11.5% back in 2005. According to the National Association of Realtors, cash buyers (investors tend to buy with cash while owner occupants rely on mortgages) now account for 32% of all residential real estate transactions nationwide.
The simple presence of institutional investor capital in the residential housing market isn't in and of itself a bad thing. The concerning issue is the lack of demand from "natural buyers." Unfortunately, these natural buyers are not participating in the current recovery to the same extent as they have in the past. The chart below shows the number of new mortgage originations (not refinanced loans) through the first quarter of this year using data from the Mortgage Bankers Association; $125 billion of new mortgages were originated in the first quarter of 2013, which is in line with the quarterly average for the past 3 years but well below the longer-term average rate. One has to go back to the mid 90s to find a comparable 3-year stretch of mortgage originations, but that doesn't even tell the whole story since these numbers aren't adjusted for inflation.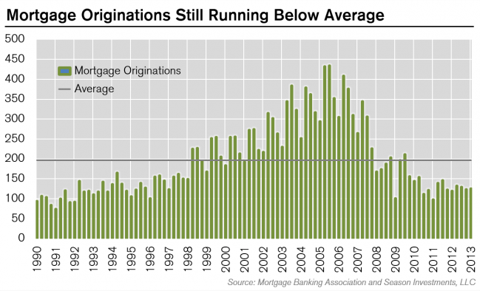 The drop off in mortgages could be due to several factors including tighter credit standards by banks (JPMorgan (JPM), Citi (C) and Bank of America (BAC)), a lack of demand from people working on reducing their debt burden rather than increasing it, or a more general shift from an ownership to a rental culture. The rate of homeowners in the U.S. continues to fall while rental rates are being pushed upward due to increased demand, according to data from the U.S. Census Bureau.
Whatever the reason may be for the lackluster participation from natural buyers, the fact remains that this housing recovery is a horse of a different color. Different isn't necessarily bad as investors may simply be leading the first wave while the first-time home buyer slowly re-enters the market as credit conditions improve. Hopefully the violent run up in interest rates over the past couple months won't derail this second wave of natural buyers. One thing is for sure, if the greed that drove money into residential real estate suddenly turns to fear (as it so often does), the tailwind of the institutional investor could easily become a massive headwind as capital is withdrawn from the market. Personally, we hope investor demand creates a virtuous circle that helps the housing market reach escape velocity but at the same time, we have to be conscious of what is driving prices and why.
Original Source: A Horse Of A Different Color
Disclosure: I have no positions in any stocks mentioned, and no plans to initiate any positions within the next 72 hours. I wrote this article myself, and it expresses my own opinions. I am not receiving compensation for it. I have no business relationship with any company whose stock is mentioned in this article.
Disclaimer: Transparency is one of the defining characteristics of our firm. This information is not to be construed as an offer to sell or the solicitation of an offer to buy any securities. It represents only the opinions of Season Investments or its principals. Any views expressed are provided for informational purposes only and should not be construed as an offer, an endorsement, or inducement to invest.