Continuing with a review of satellite communications providers, next up on the docket is ViaSat (NASDAQ:VSAT) ("ViaSat" or "the company"). To review the other articles in the series, I previously covered Intelsat (NYSE:I) and Eutelsat (OTCPK:EUTLF).
According to ViaSat's website:
ViaSat produces innovative satellite and other digital communication products that enable fast, secure, and efficient communications to any location. We bring today's new communication applications to people out of reach of terrestrial networks, in both the commercial and government sectors, with a variety of networking products and services.
Currently valued at $3 billion, ViaSat's equity is valued less than Eutelsat (around $6.1 billion), but more than Intelsat ($2.7 billion for common/preferred equity, but which also has the highest financial leverage, around $15.5 billion).
Here is ViaSat's price performance over the past couple of years, including a recent parabolic move higher.

However, ViaSat appears to be in the early innings of a significant expansion as it builds out its Ka band broadband satellite services business, creating a direct-to-consumer broadband internet service called Exede. Satellite broadband has distinct advantages, including a highly scalable model, high margins and the ability to provide access to high-speed broadband connectivity to rural consumers who likely will never be reached by cable providers given the cost to build fiber infrastructure.
In addition, ViaSat is expanding is broadband services into adjacent markets, recently announcing in-flight internet connectivity that will put the current GoGo in-flight internet capability to shame. The beauty in the in-flight internet market is that represents a low marginal cost opportunity for ViaSat, coincident with a new, ancillary and high margin stream of revenue.
I haven't seen those license agreements, but I imagine they generally follow the so-called "25% Rule of Thumb" ("the 25% Rule") which is a term of art for a heuristic used in patent infringement damages calculus. Readers should note that the 25% Rule has been basically thrown out by the US Court of Appeals for the Federal Circuit as being unscientific and "fundamentally flawed." (A friendly message to patent damages experts working on the ViaSat and SSL/Loral patent matter, the 25% Rule should likely be avoided to determine what, if any, damages should be ascribed to SSL/Loral's alleged patent infringement.)
However, the theory behind the 25% Rule is still a useful back of the envelope method to estimate license revenues attributable to ViaSat in connection with providing its in-flight internet capabilities aboard airline partners' aircraft. The 25% Rule posits that there is an equitable split between economic income derived from licensing arrangements, whereby the licensor typically commands 25% of the operating profits for allowing a licensee to use its intellectual property, leaving the remaining 75% of operating profits for the licensee who takes on the additional risks to manufacture and distribute patented devices. In my mind, I could see the revenue split being somewhere in that neighborhood as airlines look to monetize their cabins, with ViaSat's take being around 75% of the revenues generated. Then again, I could be wrong with respect to the economics of the agreements. Either way, a lot of the marketing is likely to be performed by ViaSat's various airline partners, and some portion of the installation cost borne by the airline too. ViaSat and JetBlue (NASDAQ:JBLU) recently announced an amendment to their respective contract for in-flight internet, although it doesn't provide particulars around the agreements. In my view, the in-flight internet market could provide a nice boost to incremental top line revenue with little incremental cost to ViaSat.
Finally, ViaSat has another extremely high bandwidth satellite under construction, the so-called ViaSat-2 satellite. Boeing (NYSE:BA) was selected as the manufacturer, a great strategic fit given Boeing's manufacturing prowess (forgetting for a minute the hiccups with the Dreamliner) and because it allows Boeing to install the networking equipment on its aircraft before being delivered to customers. This is beneficial because it avoids costly downtime to retrofit aircraft after they have already been delivered. The Boeing relationship also provides competitive advantage to ViaSat over other potential in-flight broadband competitors because Boeing has a vested interest to put ViaSat's equipment on board its aircraft.
If the developments in the satellite services business were not exciting enough, ViaSat also has a vibrant government business as well, providing communications services primarily to the US defense sector. As strategic defense initiatives move more remote (i.e., unmanned aircraft, etc.), ViaSat is squarely positioned to provide communications capabilities that will follow those initiatives.
Given ViaSat's robust operating model and corporate strategy, it isn't surprising ViaSat reported a fantastic quarter on August 6, 2013.
CEO Mark Dankberg commented on the FY2014 Q1 in the earnings release:
We're proud to have achieved our sixth consecutive quarter of record revenue," said Mark Dankberg, chairman and CEO of ViaSat. "Broadband satellite services are leading the way, but growth was again strong throughout the company. EBITDA surged 78% compared to this quarter last year due to the cumulative effect of Exede® subscriber and ARPU growth, continued strength in government systems despite the challenging federal spending environment, and solid performance in commercial products. Earnings are growing even while we are almost doubling R&D investments as we pursue opportunities for growth. We launched Exede VoIP, are close to bringing Exede in-flight Wi-Fi into service, and are building on our achievements in government mobile broadband. In addition, with ViaSat-2 now on the horizon, we're cultivating even more opportunities to expand global markets for satellite broadband services and technology.
Highlights in FY 2014 Q2:
ViaSat recorded its 6th straight quarterly revenue record.
Adjusted EBITDA was up 78%, year-over-year.
At quarter end, ViaSat had 550,000 Exede internet subscribers, adding 37,000 net subscribers in the quarter.
Exede broadband service average revenue per user ("ARPU") continued to expand. Blended ARPU was $50.50 in the quarter. Based on a quick, back of the envelope calculation: FY2014 Q1 $85,847,000 satellite services revenue, divided by 550,000 quarter end subscribers, divided by 3 months, equals ~$52/monthly ARPU, almost in line with ViaSat's reported monthly blended $50.50/ARPU (my calculation doesn't take into account churn during the month). Exede subscription plans run between $50 and $130/month, so there appears to be room to run for ARPU, especially as the mix of Exede sales shifts from wholesale to retail, resulting in higher ARPU.
The Exede operating model is interesting to work with given its two levers to drive revenue and profitability: subscriber counts and ARPU. To get an idea what Exede revenue might look like next quarter, I created a simple spreadsheet, which allows one to test the sensitivity of both subscriber counts and blended ARPU. It is a basic analysis, but provides some insight into the revenue leverage in the operating model. If you want to play with the inputs, click here.

ViaSat also added a VoIP telephone service option to the Exede package, costing $20/month. That should help boost ARPU, depending on adoption rate.
The tables below were gleaned from the FY2014 Q1 earnings release, found here.
Financial Results For the Quarter
| | | |
| --- | --- | --- |
| (In millions, except per share data) | Q1 FY14 | Q1 FY13 |
| Revenues | $321.1 | $241.8 |
| Adjusted EBITDA | $52.7 | $29.6 |
| Net loss2 | ($1.8) | ($14.4) |
| Diluted per share net loss2 | ($0.04) | ($0.33) |
| Non-GAAP net income (loss) 2 | $4.9 | ($7.8) |
| Non-GAAP diluted per share net income (loss)2 | $0.11 | ($0.18) |
| Fully diluted weighted average shares 3 | 45.1 | 43.2 |
| | | |
| New contract awards | $254.0 | $332.6 |
| Sales backlog4 | $778.7 | $705.2 |
Segment Results
| | | |
| --- | --- | --- |
| (In millions) | Q1 FY14 | Q1 FY13 |
| Satellite Services | | |
| New contract awards | $96.5 | $74.0 |
| Revenues | $85.8 | $59.3 |
| Adjusted EBITDA | $17.4 | $4.4 |
| | | |
| Commercial Networks | | |
| New contract awards | $66.4 | $64.7 |
| Revenues | $97.4 | $76.1 |
| Adjusted EBITDA | $11.1 | $3.7 |
| | | |
| Government Systems | | |
| New contract awards | $91.1 | $193.9 |
| Revenues | $137.9 | $106.3 |
| Adjusted EBITDA | $24.5 | $21.5 |
In my view, the satellite services segment is where a large portion of the value resides in the ViaSat model. It will be interesting to watch how ViaSat's EBITDA margins play out over time, but they appear to have significant room to run given the low incremental cost of adding and servicing new subscribers. ViaSat's adjusted EBITDA in the satellite services segment was 20% in FY2014 Q1, significantly less than the EBITDA margins in excess of 75% at Eutelsat and Intelsat. But with a 78% EBITDA growth in the satellite services business, it is apparent that margins should continue to increase at a faster pace than revenue growth. That is the power of a high degree of operating leverage (45% revenue growth led to a fourfold increase in adjusted EBITDA).
Given the significant incremental revenue for each additional subscriber and low incremental cost, EBITDA margin will almost certainly expand. A telling chart which illustrates the broadband economics described by management was presented last summer, and included here.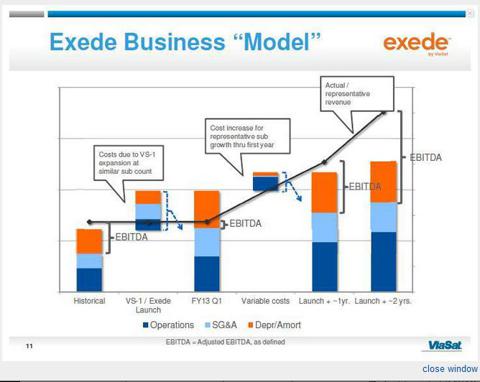 Two years after the launch (i.e., ViaSat-1 launched in October 2011), ViaSat envisioned a significant ramp in EBITDA margin as the direct variable cost of providing the Exede service remains low, meanwhile the fixed costs are spread across more subscribers. It appears that the operating model is playing out as management expected, with the aforementioned 78% surge in adjusted EBITDA in the quarter. In my mind, ViaSat is competing in a market in which there is a significant land grab for additional subscribers and penetration. Given the unit economics of the Exede service, incremental subscribers really drive intrinsic value higher.
Rather than buying newspapers, Jeff Bezos should think about buying ViaSat. It would allow Amazon (NASDAQ:AMZN) to add subscribers to its evolving ecosystem of cloud services, content subscriptions and eCommerce, providing yet another platform to add to its own disruptive retailing model (which, of course, is built on platforms). But I digress.
Government Business
Meanwhile, in the government business, ViaSat recorded revenues up 30% year-over-year, and adjusted EBITDA up 14% year-over-year. And this performance was generated during a very difficult time for contracting with the government, given the "sequestration" and other government expenditure cut backs.
However, the defense budget remains large, but will remain pressured in the view of ViaSat management. According to management, the ViaSat value proposition remains strong with respect to its relationship with its government customers even in the face of budget cuts. ViaSat continues to innovate and invest in its networking capabilities, and I understand ViaSat is rolling out networking capabilities which will allow interoperability across all devices and spectrums.
ViaSat also continues to invest in its networking capabilities for its Exede satellite services business, announcing that it expects to increase its research and development ("R&D") budget by $20 to $30 million this year to increase ViaSat's number of points-of-presence, among other initiatives. This should yield tax benefits of roughly $8 million, thereby reducing the total cash outlays of the increased R&D program.
Valuation
It's hard to ascertain a value for such a high growth, high margin business in the early stages of expansion because of all the moving parts in each of its business segments. In my mind, once satellite infrastructure is in place (ViaSat-1 and ViaSat-2), the variable cost of running the business is exceedingly low, leading to rich margins.
Therefore, the best way in my opinion to value ViaSat while in its early stages of growth is by a price to sales multiple. Based on ViaSat's last twelve months ("LTM") sales of $1.2 billion, the equity is currently trading at a 2.5 times LTM sales, or 3 times its enterprise value.
Meanwhile, Eutelsat is trading at 3.6 times sales (equity) and 5.4 times sales (enterprise value), and Intelsat 1 times sales (equity) and 6.9 times sales (enterprise value). Eutelsat and Intelsat have better margins, yes, but they are also more mature businesses, with revenue growth in the low single digits, meanwhile ViaSat grew FY2014 Q1 sales 33% company-wide year-over-year, led by its satellite services segment.
In my mind, that kind of growth warrants a premium valuation multiple. Amazon, for example, keeping in mind it operates in a wholly different industry, grew sales 22% year-over-year in its most recent quarter, and it commands LTM P/S multiples of between 1.5 and 2 times sales. Given ViaSat operates in an industry with higher margins and is growing sales faster than Amazon, in my opinion, assigning a 3.5 times LTM multiple to ViaSat's sales is reasonable (and still slightly less than the Eutelsat multiple, keeping the valuation conservative), indicating upside of 40% right now (even after the recent parabolic move in the stock price), making ViaSat worth about $4.2 billion. There is room for more growth as management executes its strategy, continues to grow sales and the earnings leverage becomes apparent in the operating model as the incremental revenue far exceeds incremental costs as more subscribers sign up for Exede.
One might expect ViaSat to grow into the 80% adjusted EBITDA margin for its satellite services, similar to its peers. However, ViaSat's model is a bit different, where Intelsat is basically a distributor of bandwidth for enterprise level customers for distribution media content (via its Ku band spectrum), ViaSat on the other hand is a more vertically integrated player by creating a direct-to-consumer broadband internet subscription model (via its Ka band spectrum). As reported in my Eutelsat column, Eutelsat has a similar direct-to-consumer satellite broadband subscription model which grew at a ~30% clip year-over-year, but represents a smaller portion of its overall business.
Given ViaSat's explosive growth, I'm comfortable with a 3.5 times LTM sales multiple placed on the business. I think it's safe to assume ViaSat has limited downside risk at its current $3 billion valuation (not counting any short-term volatility), coincident with 40% upside. It will be interesting to see the market's reaction given ViaSat's impressive quarterly report today.
That said, it's easy to imagine ViaSat becoming a $10 billion business someday, and maybe more. With its direct-to-consumer model, I can envision ViaSat packaging some sort of content subscription service to go along with the recently launched VoIP telephone service to buttress its Exede broadband service.
In my mind, it's better to think of ViaSat in terms of its total addressable market, including the adjacent markets (in-flight connectivity, content service provider, etc) and geographies that it could easily capture with its incredibly scalable operating model.
Conclusion
ViaSat is firing on all cylinders. It's really fun to watch a business that has a clearly defined strategy, and to watch it execute on that strategy. In addition, it's great to see a business that is providing a valuable service, and getting amply rewarded for it. In my view, it's a good sign that capitalism is alive and well in certain useful sectors of the economy.
The ViaSat operating model, in my opinion, is set up to deliver outsize profits going forward, given the bandwidth economics for its satellite service and expansion into new geographies/service offerings, which should lead to far richer EBITDA margins and resultant earnings and free cash flows.
ViaSat's share price has gone on quite a run since I first profiled the company in September 2012. If the market experiences a broad based decline, in my view, a name like ViaSat could get dragged down given the traditional measures of value (i.e., P/E ratio) make it look like a short candidate, but doesn't accurately ascribe a fair price relative to intrinsic value for this type of rapidly expanding and disruptive operating model.
For comparison's sake, at ViaSat's current $3 billion valuation, an investor could either buy Zillow (NASDAQ:Z) or ViaSat. Zillow was recently trading in excess of 17 times LTM sales, showing just how stretched the valuation was relative to ViaSat's more robust operating model (and more reasonable valuation). Of course, Zillow is a more readily identifiable company investors have experience with and, by all accounts, Zillow is a terrific growth story as well. However, investors infatuated with Zillow's mobile platform and evolving Software-as-a-Service ("SaaS") operating model are missing out on a far superior operating model which can be bought for the same price but with far more intrinsic value. But then that's what makes markets fun, and inefficient.
I believe ViaSat can be bought here (a starter position) and on any pullback. Relative to Eutelsat and Intelsat, in my mind ViaSat is a better investment given its more robust growth profile and significant margin expansion potential as the number of Exede subscribers ramps up, potentially allowing ViaSat to reach margin levels for its satellite services business similar to that of Eutelsat and Intelsat (adjusted EBITDA margins around 80%).
There's a lot of earnings leverage left in the ViaSat model, and I prefer it to both Intelsat and Eutelsat at the respective valuations.
Disclosure: I have no positions in any stocks mentioned, and no plans to initiate any positions within the next 72 hours. I wrote this article myself, and it expresses my own opinions. I am not receiving compensation for it (other than from Seeking Alpha). I have no business relationship with any company whose stock is mentioned in this article.
Additional disclosure: I may go long VSAT at any time.