Beverage and snack giant Pepsi (NYSE:PEP) reported strong second quarter earnings improvement. Core earnings per share increased 17% year-over-year to $1.31, easily exceeding consensus estimates. Organic revenue rose 4% year-over-year, but reported revenue increased just 2% year-over-year to $16.8 billion, still slightly ahead of consensus. Free cash flow year-to-date stands at $2.1 billion, equal to 7% of total revenues.
The headline for the second quarter at Pepsi was gross margin improvement. "Core" gross margins increased 120 basis points year-over-year, and reported gross margins improved 110 basis points year-over-year to 53%. The firm benefited from lower input costs, so the improvement mostly came from external factors rather than internal improvements.
Even though Pepsi ramped up advertising, research & development, and marketing spending during the second quarter, total SG&A declined 2% year-over-year on an absolute basis to $6 billion. Given that revenue increased 4% on an organic basis, we think the increase in advertising investments is likely having a positive impact on the top line. Yet, the meager 40 basis point improvement in core operating margins demonstrates that the increase is absorbing much of the gross margin gains.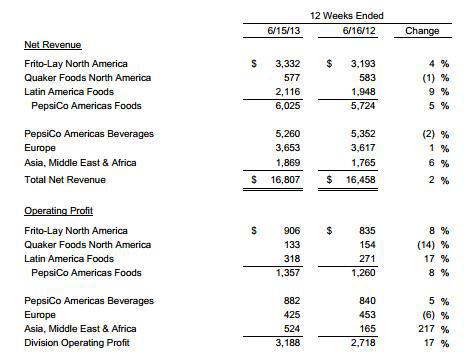 Image Source: PEP 2Q2013 Press Release
On a geographic basis, Pepsi had fairly strong revenue growth in 'Latin America Foods' as well as in 'Asia, Middle East, & Africa (food & beverage)' where the top-line grew 9% and 6%, respectively on a reported basis. Latin American volume only increased 1% year-over-year, but a 10% gain in net prices helped power robust revenue growth and stronger operating profit expansion (up 17% year-over-year).
On an organic basis, 'Asia, Middle East, & Africa' revenue jumped 14% year-over-year as the company experienced strong volume growth in both beverages and snacks. According to CEO Indra Nooyi on the firm's conference, call, the star performer was China, saying:
"China performed especially well, with organic revenue growth of 22% in beverages and 23% in snacks. We are particularly pleased with our CSD performance in China, with year-to-date volumes up 10%, significantly outpacing the category. In addition, our beverage volume grew 24% in the Philippine, 13% in the in Pakistan, 11% in India and high single-digits in Egypt and Saudi Arabia."
We're a bit surprised by the growth in China, particularly in the wake of the Yum! Brands' (NYSE:YUM) poultry scandal and other negative news that has hit the Pepsi-supplied restaurant chains particularly hard. Because of the negative publicity, we assumed Coca-Cola (NYSE:KO) would gain market share, but that clearly was not the case as volume growth at the Pepsi rival in China was flat year-over-year. It could be that the Pepsi beverage is set up for superior long-term market share in the emerging economic giant (on the basis of taste).
As for the US, 'Frito-Lay North America' performed well as the segment's revenue advanced 4% year-over-year. As for Pepsi, the firm lost volume yet again as beverage volumes in the region declined in the low-single-digits year-over-year. Pepsi is in an unfavorable position in North America. Its core market (carbonated beverages) is declining, but the firm is already in second place. Former growth driver Gatorade is now looked at as a source of sugar rather than a healthy alternative to carbonated beverages, putting the firm into decline. New product innovation will be paramount in this segment.
Looking ahead, Pepsi reiterated its core 2013 earnings per share guidance of $4.39, a 7% year-over-year increase. Operating cash flow is projected at $9 billion, with capital spending at a $3 billion run-rate, leaving shareholders with $6 billion in expected free cash flow for the year.
Valuentum's Take
Pepsi's second quarter revealed strong gross margin expansion, but it remains difficult to ascertain whether increased advertising is generating stronger (and more profitable sales). We do like the firm's diversity across beverages and snacks, but we think it faces difficult headwinds in its 'Pepsi Americas Beverage' business that could weigh on earnings expansion. All things considered, we aren't interested in adding shares of Pepsi to our Dividend Growth Newsletter portfolio at this time.
Disclosure: I have no positions in any stocks mentioned, and no plans to initiate any positions within the next 72 hours. I wrote this article myself, and it expresses my own opinions. I am not receiving compensation for it (other than from Seeking Alpha). I have no business relationship with any company whose stock is mentioned in this article.