If we're on the brink of a breakout to gold at
$9,000 an ounce as UBS claims
(source, Financial Times, requires registration after 2 free viewings) then let the party begin. By my own calculations, after halving my worst case scenario, gold could go as high as $9,414.16. Yeah, I know, make an outrageous claim and cement your fame. However, I have a logical explanation for my belief that a run up in gold is possible.
Confidence in my math on how gold could plausibly get to $9,000 is actually less important than the wait that we're in for to get to such a level. After all, the rise from $35 an ounce in 1969 to $800 an ounce in 1980 took a lot of twists and turns. I personally believe that we'd see a collapse in the price of gold and other related commodities before we move to the insane levels that I mentioned earlier.
There is one thing that is uniquely absent from this run up in gold that was present in 1969. South African gold stocks offering alluring dividend yields. Could you imagine getting paid 14% to invest in gold stocks that were at the early stages of a commodity bull market. In the table below, published in Richard Russell's Dow Theory Letter, you will see the South African gold stocks and the dividend yield that was paid out at that time (yellow column.)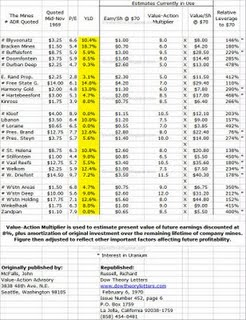 This being a blog about dividend paying stocks, I wish I could have been around to partake in the South African gold stocks that sported such attractive yields. The downside of course was that the dividends were usually paid on an annual basis. Which was fine since Richard Russell was saying that you should be accumulating the stocks almost from the very beginning of the run up in gold in 1968 and 1969. Some of my friends, I wasn't born at the time, look back fondly to those days and always say that what they remember most about investing in gold stocks at that time was the dividends in the South African golds.
If you compare the yields on gold stocks today to the 1970's you'd think we were on different planets. As an example, Barrick Gold (NYSE:ABX), a "domestic" producer, has a dividend yield of 1% while AngloGold Ashanti (NYSE:AU) has a paltry yield of 0.40%. DRDGOLD (DROOY), the old Durban Deep, has the massive yield of 1.4%. In the list of gold stock provided by Richard Russell, only 3 stocks sported no dividend. None of the publicly traded South African gold producers have dividend yields that provide a margin of safety.
In an earlier posting, I scoffed at the notion of gold stocks paying a dividend just to get investors into the market. Despite that concern, it doesn't stop me from believing that if we are really in a long term bull market in commodities (inflationary period) then it would certainly be nice to get compensate for the wait.
Keep your mind open to the prospect that even if some gold stocks are paying a dividend just to get speculators in, there might be a chance that the current run up in gold is a repeat of the early stages of a genuine gold bull market. If you happen to find gold stocks with such outrageous yields then let me know, I'm always interested (only those with earnings please.)
*See my note on commodities in the comment section of my September 12, 2009 posting.
Disclosure: No positions