Sprouts Farmers Market (NASDAQ:SFM) is a specialty retailer of natural and organic foods, operating 163 small-format stores across the Southwestern United States. With the motto "Healthy Living for Less!", SFM aims to offer a complete shopping experience for consumers looking for natural, organic products at reasonable and affordable price points. After going public last Friday, SFM saw its share price spike to a close of $40.11, a whopping 123% premium over the initial offering price of $18.
At its current share price, SFM has a total market capitalization of nearly $6 billion. While the company is a growing player in a growing industry, the current valuation leaves limited additional upside.
Company Overview
The first Sprouts Farmers Market store was opened in 2002 in Chandler, AZ as a family business aiming to make healthy-yet-affordable groceries available to everyone. After a decade of successful operations, Sprouts now has 163 stores across 8 states in the Southwest U.S. While the company has grown its store base largely through strategic acquisitions, it has also achieved strong organic growth (no pun intended), posting an increase in same-store-sales for 25 consecutive quarters, including through the recent financial downturn.
As their name suggests, SFM attempts to create a "farmers market" experience, with a bright open-air atmosphere and low-profile displays that allow the customer to easily see the entire store. Their stores are typically small-footprint (27,500 sq.ft. vs. Whole Foods' 38,000 sq.ft), and they generally shun nationally branded products in favor of those considered natural or organic.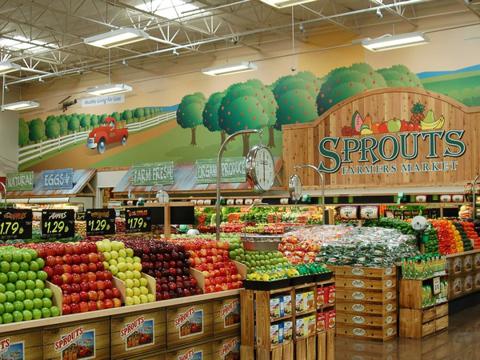 By positioning themselves as a key player in the $600 billion U.S. supermarket industry, and riding the trend of increasingly health-conscious consumers, SFM's management believes they have the long-term potential for 1,200 stores across the country. In the near-term, the company believes they can achieve at least 12% annual growth in store count over the next five years, with 19 openings planned for 2013 and 20 planned for 2014.
Attaching a Valuation to Growth
SFM has seen massive success over the past decade, growing their revenues to nearly $2 billion per year and achieving consistent profitability. Given the macro trends surrounding healthy-lifestyle consumers, it's hard to imagine a reasonable scenario where SFM doesn't continue to grow in a financially successful manner. For investors, however, the million dollar question comes down to quantifying that future growth and determining how much it is worth today.
While forecasting long-term growth is complex and consists of countless moving parts, below I attempt to illustrate a basic upside, downside, and "base" case. The below is not intended to give an exact price target, but rather to help put SFM's current share price in context with regards to its potential growth. Because of this, I attempted to limit my input variables to those that I believe are the most important for the company in terms of near-term growth. Investors should always conduct their own research and analysis prior to making an investment decision.
Historical Data & Future Projections
Before diving into various valuation cases it's necessary to look at SFM's recent operating history as well as that of its peers, in order to get an idea of what reasonable assumptions would be under various scenarios. While Whole Foods (NASDAQ:WFM) is the obvious competitor in the industry, other major companies include Natural Grocers (NYSE:NGVC), The Fresh Market (NASDAQ:TFM), and Fairway Group (NASDAQ:FWM).

(Source: Company Filings)
Key takeaways:
SFM's stores tend to generate approximately $12 million in revenue per year. Note that the downtick in 2011 revenue per store was due to acquisitions that boosted store count without contributing a full years' revenue.
SFM's bottom-line profit margin has hovered around 1% over the past 5 years. While low single-digits appears normal for the industry, this is still significantly lower than its peers (see below), and is likely due to the company's focus on affordability and attractive price points.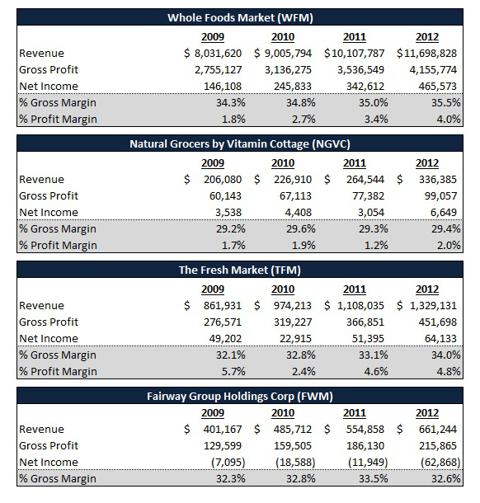 (Source: Company Filings)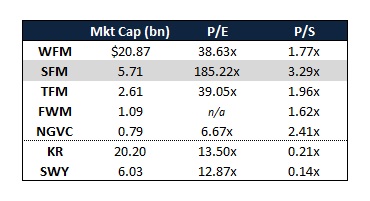 (Source: Google Finance)
Key takeaways:
SFM's margins tend to be significantly lower than its peers, likely driven by its attempt to position itself as a lower-cost competitor.
The market tends to value large-cap specialty grocery retailers at just under 40 times earnings, and between 1 and 2-times sales.
With those points in mind, let's look at SFM's potential growth over the near term:

Assumptions behind the above case are based on management expectations as well as relatively conservative estimates based on historical values. SFM currently has 19 stores planned to open in 2013, 20 planned to open in 2014, and management expects to grow the store count at an annual rate of at least 12% over the next five years. This case assumes that revenue per store and net profit margins will remain in-line with SFM's recent historical results. Under these assumptions, SFM currently appears to be fairly-valued in terms of its revenue.
Note that there's a massive discrepancy in the above case between the fair value implied by the P/E multiple vs. that of the P/S multiple. This is a product of SFM's razor-thin margins, and suggests that simple expansion won't be enough: management must also find a way to manage costs and widen their margins.

In this scenario, SFM encounters trouble opening new stores. As more and more competitors enter the organic retail industry, Sprouts opens fewer stores than planned over the next two years and is only able to grow their store count at an annual rate of 8%. Revenue per store remains in-line with its historical average as loyal customers continue to shop there, however they're unable to attract new customers or gain significant traction in new markets. This is not meant to be a worst-case scenario, but rather a reasonable downside case.

This case assumes that SFM will be able to open a handful of additional stores over the next two years, and then grow their store count by an annual rate of 20% as opposed to 12%. This puts SFM's total store count at 337 by 2017, approximately the same amount of stores that WFM currently has. SFM finds success in new markets, and is able to successfully steal market share from competitors. Average revenue per store climbs by 10%, while management finds a way to improve profit margins to be more in-line with their peers. This is not meant to be a best-case scenario, but rather a reasonable upside case.
A Look at the Longer-Term Valuation
SFM's management has said they believe there is the potential to open 1,200 stores across the country. While they won't achieve this number any time in the near future, if at all, it makes for an interesting "what-if" case to consider in conjunction with the above.

While the company would see significant growth in revenue and net income in this situation, it's likely that the market would stop valuing them as a growth-story, and start valuing them as more of an established supermarket chain. Because of this, the valuation multiples in the above case were lowered to be closer to that of Safeway and Kroger.
Conclusion
While Sprouts has a successful business model and is primed to continue its growth, its shares are currently valued at a level that leaves limited potential upside. As an additional note, investors who take a long position in SFM may want to pay as much attention to bottom line profit margins as they do to overall store count & revenue growth.
Disclosure: I have no positions in any stocks mentioned, and no plans to initiate any positions within the next 72 hours. I wrote this article myself, and it expresses my own opinions. I am not receiving compensation for it (other than from Seeking Alpha). I have no business relationship with any company whose stock is mentioned in this article.