Tellabs (NASDAQ:TLAB)
Executive Summary
Tellabs, Inc. ("Tellabs" or the "Company") is a leading telecommunications networking equipment provider, which offers an attractive opportunity at current prices. Tellabs trades on NASDAQ under the ticker TLAB and has a market cap of $782.0MM and $572.0MM in net cash. In 2012, the Company derived 41% of revenues from its Optical segment, 25.2% from the Data/Router segment, 14.8% from the Access segment and 18.8% from services. The Company is geographically diversified with a ~50/50 mix between North America and International.
The Company in essence is a "Ben Graham" asset play attached with an event-driven opportunity as the Company is at an inflection point in profitability. Tellabs has recently suffered from poor performance in terms of operations and share price. The drivers stemmed from losing their largest customer, AT&T (NYSE:T), in 2010 (discussed further in the "Customers" section) and have been amplified by poor capital allocation. Since these past events, Tellabs has been left for dead by most investors. Within the last year, events have been set into motion, which makes Tellabs highly attractive:
M&A Activity Likely: The new board has been active weighing options such as selling the business or certain segments, "smart" purchases of complementary product lines and the continued return of capital
EBITDA normalization (estimated between 4%-6%, and below the historic average of 6.7%) is on the horizon and supported by 1) operating expense reduction to $300.0MM per annum and 2) new customer wins across product lines. When completed, normalized EBITDA of ~$40 to $45 will cause Tellabs to trade significantly above the current share price of $2.20.
Activists Third Avenue Management and Dialetic Capital have emerged and are assisting Tellabs' management team with the appropriate measures (described below) in turning around the business in order to rebuild shareholder value.
New board members selected by the activists have experience monetizing assets (such as patents) and experience within private equity and the communications equipment industry. Both support the thesis that Tellabs will be either an acquirer or more likely acquired as the industry consolidates.
Management has taken steps to right size the business by reining in costs, undertaking appropriate headcount reductions as necessary (12% cut of the workforce in Q1/2013), and eliminating non-core products (9200 router series).
Intelligent capital allocation -Tellabs' balance sheet is significantly overcapitalized inclusive of share repurchases ($27MM in Q1 2013) will continue to increase the intrinsic value of the business.
From a balance sheet perspective, Tellabs has a very strong financial position along with $193.0MM in NOL as of 12/31/12. Financial strength gives the firm flexibility and optionality going forward.
Industry consolidation has emerged within the communications equipment realm, as participants have declined at a 6.3% annualized rate from 2008-2013 according to IBISWorld (please see the "Industry Overview" and "Valuation" sections for further details).
Going forward, Tellabs' business will be a beneficiary from the industry tailwinds, primarily driven by rapidly growing data consumption.
All in, Tellabs is an attractive opportunity as it currently trades at a discount (~10%) to tangible NAV and private market comps (~50%), which offers investors a large margin of safety in midst of a turnaround in operations.
Company Overview
Introduction
Founded in 1974 by six engineer entrepreneurs, Tellabs is a leading designer and developer of telecommunication networking equipment. Tellabs' products enable its customers (including 40 out of the top 50 global telecom providers) to deliver wireless and wireline voice, data and video services to customers and facilities. Tellabs operates under four main segments:

Optical ($420.7MM Revenues / $87.6MM Operating Profit FY 3/31/13)
Tellabs' optical product line up enables service providers to manage network bandwidth by adding capacity when and where needed. Service providers use these solutions to support metro networks, mobile services, business services for enterprises, and triple-play voice, video, and data services for residential consumers. Optical products provide the physical medium used to connect distant locations at very high speeds (think of optical as a highway).
Tellabs Optical segment serves both wireless and wireline functions, and is well positioned to take advantage of the growth in data consumption, both within wireless and enterprise/broadband. The primary products in this segment include the Tellabs 5000 Series of Digital Cross-Connect systems, the Tellabs 6300 Managed Transport System, the Tellabs 7100 Optical Transport System (OTS), and the Tellabs 7300 Metro Ethernet Switching Series.
Additionally, Tellabs is a top five player in the optical products space, and #1 provider in metro regional packet optical transport systems ($2.5B market) according to Industry Analyst Infonetics. Tellabs competitors include Ciena (NASDAQ:CIEN), Alcatel-Lucent (ALU), Fujitsu (OTCPK:FJTSY), Juniper (NYSE:JNPR), and Huawei (among others).
Data ($229MM Revenues / -$16.6MM Operating Loss FY 3/31/13)
Tellabs' data products include next-generation packet-switched products that enable wireless and wireline carriers to deliver mobile voice, Internet services, and wireline business services to their customers. The data segment is a purely mobile focused with over 140 customers as of 3/31/13. The Data segment's products include the Tellabs 8100 Managed Access System and the Tellabs 8600 and 8800 Smart Routers. These routers and products allow for wireless companies to migrate from 2G to 3G on to LTE while utilizing the existing network. The data segment has faced headwinds as the segment lost AT&T as a major customer in 2010 and discontinued their 9200 router series. This segment competes against Cisco and other major providers and is estimated as a $2B market.
Access ($159.6MM Revenues / $33.7MM Operating Profit FY 3/31/13)
This segment's products enable service providers to deliver bundled voice, video, and high-speed Internet/data services through the 'last mile' of copper or fiber networks. This segment's products also enable optical local area networking (LAN) using gigabit passive optical network (GPON) technology. Access offerings include the Tellabs 1000 Multiservice Access Series, the Tellabs 1100 Multiservice Access Series, and the Tellabs 1600 Optical Network Terminal (ONT) Series.
Tellabs' has enjoyed success with this segment as margins and operating profit has steadily increased over the past years. Historically, Access was primarily wireline customer focus, however Tellabs' new optical LAN product has gained popularity with enterprises/corporate customers as they migrate away from capex-heavy, restrictive copper networks to fiber networks. The fiber product further diversifies the Company's customer base beyond telecommunication providers, targeting primarily government and corporate clients (such as Sandia Labs).
The overall market for the Optical LAN product is $1 billion dollar plus opportunity. Currently, Tellabs and Motorola are the only large players in the market. Ironically, additional competition will benefit Tellabs' Optical LAN offering as it validates the technology and conversion. Further, given the sales focus historically on telecom players, Tellabs is currently utilizing enterprise/government focused distributors for their optical LAN product, such as Wesco and others in order to reach the market.
Services ($194.8MM Revenues / $69.4MM Operating Profit FY 3/31/13)
This segment delivers deployment, training, support, and professional services to the company's customers. Through these offerings, the company serves its customers through the phases of planning, deploying, and operating a network. Deployment services include project management, engineering, material furnishing, installation, testing, and acceptance to ensure timely implementation of network projects. Training services are designed to equip customers with the hands-on skills needed to deploy provision, operate, and maintain the company's products. Support includes services that the company delivers to help customers address network issues. Professional services include primarily consulting and network design services that enable the company's customers to operate their network facilities.
Differentiation
Tellabs differentiates itself from its competitors primarily through:
Utilizing and collaborative approach - evidenced by Tellabs' service over 160 networks worldwide.
The Company is a specific niche provider (packet optical, optical LAN and edge routers as examples) versus larger competitors such as Cisco, who compete across a wide range of product categories.
Partnering with and augmenting larger telecom equipment providers' product line ups such as Ericson and Nokia Siemens.
Deployment flexibility and network resiliency.
Versatile equipment- for instance CenturyLink and Verizon have bought Tellabs equipment for deployment of mass technology and for specialized packages in order to serve enterprise customers.
Smaller customers prefer Tellabs' equipment primarily for its integration of optical and packet technologies, which decreases deployment times and reduces CapEx.
Ease of use - according to Vodacom, Tellabs' networking management systems allow for faster provisioning, up to 5x compared with competitors.
Customers
Tellabs has relationships with over 80% of the top global telecommunication providers, including 40 out of the top 50 providers, spanning from North America to Asia. As of 2012, Verizon (NYSE:VZ) was the Company's largest customer, consisting of 24% of revenues for 2012, 22% for 2011 and 20% for 2010. Although customer concentration to Verizon is fairly high, we believe it is sticky given the Company's long history with Verizon (over ten years) and Tellabs' installed base of products within the Verizon network, which would make it costly to switch the system over to a competitor and the appointment of Verizon Communication's former CEO to the board solidifies the relationship.
The loss of AT&T as a major customer in 2010 had a material effect on the Company's financial performance as AT&T at the time totaled 35% of Tellabs' sales. AT&T rapidly became a material portion of Tellabs' business as AT&T system rolled up multiple Tellabs' historical customers (such as BellSouth) who heavily relied on Tellabs' equipment. In 2010, AT&T announced it would focus on specific vendors going forward for its backhaul needs switching to Cisco (NASDAQ:CSCO) and Alcatel Lucent (ALU) for Ethernet only solutions.
After the loss of AT&T, the Company has worked on reducing customer concentration by expanding overseas, where it now derives over 50% of its revenues. Further, the new management team and board are aware of the past failures around customer concentration and have taken the appropriate steps to avoid a repeat situation. Such steps include:
Use of distributors and larger manufacturers to further diversify the customer base and to reach smaller customers (i.e. partnering with larger telecom equipment providers such as Ericsson (NASDAQ:ERIC)/Nokia Siemens (NYSE:NOK) and the use of Wesco (NYSE:WCC) and other distributors for its fiber LAN product).
Expansion outside of North America.
Solidifying the decade plus relationship with Verizon.
Further penetration of corporate enterprise accounts for fiber and other networking needs.
Suppliers
Tellabs outsources the manufacturing for their products to contract manufacturers. Tellabs' strategy is to use two primary contract manufacturers. Tellabs currently utilizes Jabil (NYSE:JBL) and Flextronics (NASDAQ:FLEX) both of which have manufacturing facilities located across the globe. The current concentration of contract manufacturers is not dependent upon a limited number of suppliers capable of producing their products, but rather the result of a strategic initiative. As a mitigant for potential issues, the Company has written agreements with other contract manufacturers. Consolidating contract manufacturers is a common business model followed in the industry in order to improve production efficiency and innovation resulting from close working relationships with a few key suppliers. Importantly, Tellabs can shift production between contract manufacturers without significant impact on production.
Acquisitions
Tellabs has demonstrated mixed to poor results in respect to their acquisition track record under the previous Board and Management. In 2009, the Company paid $164.7MM for WiChorus, a provider of wireless core/platforms for 4G networks (WiMax and LTE). The acquisition allowed Tellabs to penetrate the fast growing wireless IP core market and further diversify the business from the dependence on its wireline business. Two key factors occurred, which ultimately led to the write-down of WiChorus: 1) heavy focus on a WiMax product for Clearwire, which in the end lost the 4G battle to LTE and 2) heavy competition from Cisco/Starent, the incumbents in the field. These two events among others, led to a $20.0MM impairment in 2011 specifically to WiChorus and the discontinuation of their 9200 router series.
Additional acquisitions, which did not pan out include Netcore, Salix and Steinbrecher (due to various reasons), which cost Tellabs $951.0MM, collectively. However, the Company has had some success with acquisitions, with Vivace Networks and Coherent Communications among select others contributing to Tellabs' business. Going forward with the new Board (discussed below), we believe money losing acquisitions are an object of the past.
Executive Management
Mr. Dan Kelly has been the Chief Executive Officer and President of Tellabs, Inc. since June 27th, 2012. Mr. Kelly joined Tellabs in 1985, were he served in a wide variety of roles.
Mr. Lawrence A. Rieger, currently serves as Chief Financial Officer of Tellabs, Inc. Mr. Rieger has more than worked with Tellabs' finance team since 2003 during his tenure as a partner of Crowe Horwath LLP.
Activist Involvement
After over a decade of poor capital allocation, which included acquisitions which resulted in massive write downs, Dialetic Capital and Third Avenue Management took an active approach on the Company. This approach successfully resulted in five new directors since 2012 (four chosen by both Activists). The new board members have industry experience within private equity and the telecommunications industry and are highly beneficial for a company at its inflection point. Additionally, management has been welcoming of both investors, versus wasting time and money fighting them off. A profile of the new directors is provided below:
Alex Machinsky: Mr. Machinsky was nominated by Third Avenue and is managing director of Governing Dynamics. Mr. Machinsky has significant experience with both patents and venture capital/private equity within the space. He has raised over $250MM in capital and was a investor/was involved with the sale of Arbinet in 2011, which netted a 10x return to investors along with other wins such as Agate Technologies and Groundlink.
Dennis Strigl: Mr. Strigl was previously the CEO of Verizon Communications (Tellabs largest customer), after serving over 30 years in the telecommunications industry. We believe Mr. Strigl's presence will help continue to solidify Tellabs' relationship with Verizon and work on inroads with other carriers.
Vincent Kelly: Mr. Kelly was nominated by Dialetic Capital in 2012 and is currently CEO of USA Mobility, Inc. (USMO).
Gregory Rossman: Mr. Rossman is currently a Managing Director of GJR Capital Management, previously with Carlyle and currently a director at Netgear, Inc. Mr. Rossman is a positive for the Company given his background in private equity and ability to potentially assist with the monetization of Tellabs' assets.
Mikel Williams: Mr. Williams is a former president and chief executive officer of DDi Corp. He brings more than 15 years of executive and financial experience in electronics manufacturing and telecommunications in roles at DDi Corp., LNG Holdings and Lambdanet, and Global Telesystems Inc. He serves as a director of Interis Inc., Lightbridge Communications Corporation and also serves on the board of the IPC, an association representing the electronic industry.
An active investment approach and new board has led to the return of smart capital allocation. The Company has also made positive operational strides, achieving positive EBITDA and free cash flow since 12/31/12. I would not be surprised if the Company is preparing for a sale or significant resource conversion activity given the directors' backgrounds in monetizing various assets within the space and knowledge of patents (please see the "Valuation" section for further details.
Historical Financials

Revenue Trends:
Tellabs revenues have faced significant headwinds over the last five years. The steep decline in revenues can primarily be attributed to the loss of AT&T as a major customer (35% of revenues FY2010), the previous downturn, which heavily affected telecom provider's CapEx budgets along with intensified competition. However, Tellabs' revenues will potentially stabilize past FY2013 as the Company has successfully added new customer accounts across product lines, has aggressively expanded internationally and will benefit from a rebound in CapEx budgets (Tellabs is engrained in over 160 networks).
Gross Profit Trends:
Gross profit margins have fluctuated dramatically since 2008, reaching a high of $48.1% pre-loss of AT&T. Margins have since normalized between 38% - 39%, declining due to pricing pressure. Going forward, we have forecasted stabilized gross margins in line with FY 2012 & FY 2011.
SG&A & R&D:

In response to revenue headwinds and a bloated cost structure, Tellabs management team has right sized the business, with operating expenses (SG&A and R&D) declining at a 5.3% CAGR since 2008. Management has stated their goal to reach $75.0MM per quarter in operating expenses and expect to reach this hurdle by year end 2013 (~98.0MM for Q1 2013).
EBITDA:
EBITDA has declined significantly due to the high fixed cost nature of the business as the decline in OpEx did not effectively offset the erosion of gross margins and revenues. Going forward, we expect the Company to revert to EBITDA margins between 4% - 6%, driven by 1) continued decrease in operating expenses as the Company has laid off an additional 12% of its workforce in Q1 2013, 2) the discontinuation of non-core products and 3) stabilization and slight recovery in revenues. Importantly, EBITDA has turned the corner since 2011, with Tellabs reaching positive EBITDA in FY2012, and has continued to grow into the TTM 2013 period.
Free Cash Flow Trends:

Tellabs historically has been a prolific generator of free cash flow: generating over $200.0MM in free cash in years with 14% margins. With the loss of AT&T, Tellabs turned free cash flow negative, however this situation has also turned as the Company has generated ~47.0MM in free cash flow in TTM 2013 period (primarily through a working capital release). Going forward, we believe the Company will generate at least $40.0MM in free cash flow (4.6% margins) in FY 2013, primarily fueled by an uptick in EBITDA and rationalized CapEx of $20.0MM.
Industry
Tellabs competes primarily against Cisco (the industry's 800 lb. gorilla), Alcatel-Lucent, Juniper Networks, Huawei and other niche players. Competition among companies in this industry can be intense. Most products are technologically advanced, and require significant research and development spend in order for the company to maintain its "moat." This, along with the need for great economy-of-scale and international distribution facilities creates a high barrier to entry.
As previously mentioned, consolidation within the telecom industry has resulted in fewer customers that have greater buying power. Competition among equipment manufacturers is fairly high and pricing power has suffered. Offsetting pricing pressure is the emergence of new technologies, focus on specific niches and a global increase in data consumption. Additionally, telecommunication providers and MSO/cable operators are building out broadband networks and providing "triple-play" products, which require many integral "back office" products, which communication equipment manufacturers provide.
According to IBISWorld, the United States market alone is estimated at ~$9.7B as of 12/31/12. Cisco is the dominant player with a 26.7% market share, followed by Alcatel-Lucent at 10.6%. Tellabs has an estimated ~5.3% share. Overall, the United States market is estimated to grow at ~3% CAGR through 2018 as telecommunications networks are upgraded and the number of domestic broadband connections increases.
Globally, the market is fairly fragmented, as Tellabs faces competition from Huawei and other Chinese/foreign competition. Foreign manufacturers (primarily Chinese) tend to not match up on quality versus US Companies. Recently, the WSJ posted a piece focusing on the steep barriers to entry Huawei faces with attempting to penetrate the United States market, both on a national security side and in reliability.
Industry Consolidation:
Telecommunication companies and other data providers have consolidated at a fast rate over the past ten years, both within and outside of the United States. Consolidation for telecom companies has been primarily driven by the economies of scale that a system can achieve and spectrum acquired. For instance, AT&T managed to roll up numerous companies such as BellSouth, SBC, Cingular and recently Leap Wireless (LEAP). Other recently announced deals include T-Mobile (NASDAQ:TMUS)/MetroPCS (PCS) and Sprint (NYSE:S)/Clearwire (CLWR).
This has left a marketplace in which customer concentration has gradually increased for telecom equipment manufacturers. The repercussions of increased customer concentration have led to weakened negotiations and pricing. Since the last downturn, many in the telecom networking equipment industry felt the squeeze from: 1) sharp decline in corporate spending 2) larger telecom providers (AT&T) partnering with larger telecom equipment vendors (think Cisco, etc.) and 3) leveraged balance sheets which leaves room for only a small margin of error (#2 player Alcatel-Lucent is an example of this).
The telecom networking equipment industry has started to do what is logical and consolidate. From 2008-2013, industry participants declined at an annualized rate of 6.3% (mix of participants exiting and M&A) according to IBISWorld. Given the scale realized and ability to cut redundant SG&A costs and focus R&D spend; we believe this trend will/needs to continue. Tellabs will be a beneficiary of this tailwind both as a potential acquirer or target as 1) the Company is trading at an attractive valuation that ascribes no value whatsoever to its R&D capabilities and patents and 2) its attractive balance sheet strength allows for the Company the ability to make attractive acquisitions in the space.
Growth in Worldwide Data Demand:
The proliferation of smartphones, cloud computing, and increased data consumption from enterprises has created unprecedented growth for more bandwidth at faster speeds. According to TeleGeography, international internet bandwidth grew 40% year-over-year for 2012 combined with every continent's data demands growing at a high double digit 5-year CAGR. Further, mobile traffic alone grew 70% YoY for 2012, and is forecasted to grow at a 66% CAGR to 2017; while increasing speeds seven fold according to industry research conducted by Cisco.

Growth in data demand is not exclusive to only mobile traffic. In order to handle increasing data needs, enterprises have started to invest in new infrastructure (i.e. networking equipment, etc.). One example of this upgrade can be seen through the migration from copper based LAN, which are capex heavy and expensive to maintain/upgrade, to fiber based LANs, which have the capacity to handle significant bandwidth growth. Tellabs and other industry players will benefit from this upgrade cycle/pent up demand. As of 3/31/13, optical LAN generated $159.6MM of revenues (15.8%) and $33.7MM in operating profits (21.1%).
Comparable Firm Analysis

Porter's Five Forces Analysis
Risk

Severity

Mitigant

Threat of New Entrants

Low

Given the importance of customer relationships, brand name and high R&D spend; the threat of new entrants is low.
Trend is supported by a net decline in new firms entering the communication equipment space.

Threat of Substitute Products

High

The threat of substitute products is high, as the Company faces stiff competition from Cisco, Juniper, as well as many other smaller niche players.

Bargaining Power of Suppliers

Low

Bargaining power of suppliers is low, as Tellabs primarily utilizes overseas contract manufacturing.

Bargaining Power of Customers

High

Bargaining power of customers is high, as Tellabs end markets continue to consolidate.

Rivalry

High

Tellabs competes against a wide variety of companies, with Cisco as the industry "gorilla."
Scale and product innovation is crucial.
Scenario Valuation Analysis
Base Case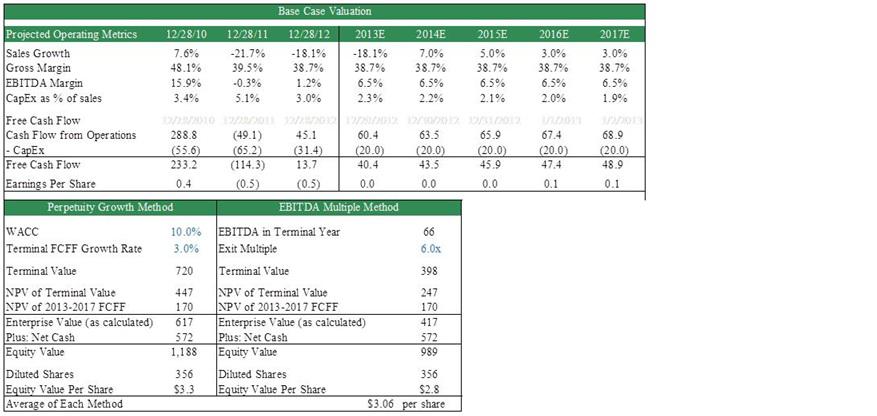 The base case portrays a conservative estimate of Tellabs' cash flow generation abilities taking into account the Company's restructure and improving financial performance. Below are the assumptions used in the base case scenario:
Sales are expected to grow at a conservative 3.6% CAGR for 5-year projected period.
Gross margin forecast to stay flat at 38.7%, 290 bps lower than the 5-year historic average of 41.6%.
Adj. EBITDA margin is expected to improve from 1.9% YTD 2013 to 6.5% for the projected period. Margin expansion can be attributed to Tellabs' restructuring plan and other SG&A cost savings. Of note, projected EBITDA margins are 190 bps below the 5-year historic margin of 8.4%.
Capital expenditures forecasted at $20.0MM annually.
The Company is expected to buy back $27.0MM in shares annually over the period. For conservatism, we do not reflect the decreased share count in the shares outstanding calculation.
Upside Case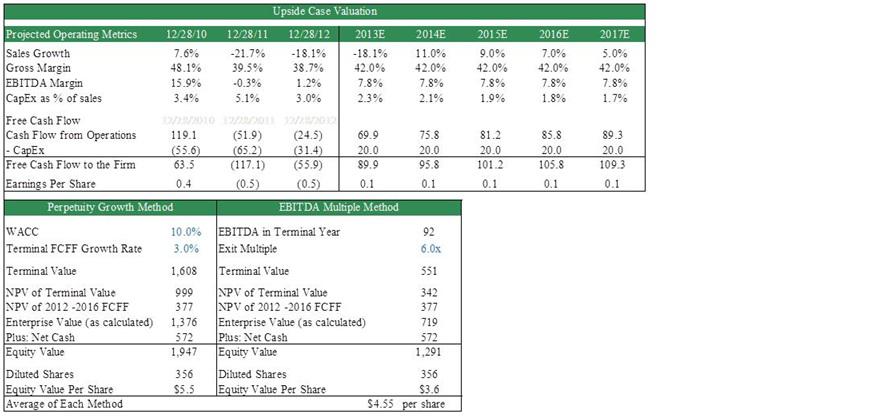 The upside case portrays a strong five-year forecast for the Company, when compared with our base case management's plan forecasts. Below are the assumptions used in the upside case scenario:
Sales are expected to grow at a 6.3% CAGR for 5-year projected period.
Gross margin forecasted at 42%, 40 bps above the historic 5-year average.
EBITDA margin expected at 7.8% compared to 6.5% for the base case.
Capital expenditures forecast at $20.0MM annually.
The Company is expected to buy back $27.0MM in shares annually over the period. For conservatism, we do not reflect the decreased share count in the shares outstanding calculation.
Stress Case

The stress case portrays a ultra-conservative scenario in which the Company does not benefit from evident cost savings . Below are the assumptions used in the stress case scenario:
Sales are expected to grow at a 1.6% CAGR for 5-year projected period.
Gross margin forecasted to decline to 38%.
Depressed Adj. EBITDA margins of 1.5%.
Capital expenditures forecast at $20.0MM annually.
The Company is expected to buy back $27.00MM in shares annually over the period. For conservatism, we do not reflect the decreased share count in the shares outstanding calculation.
Intrinsic Valuation

Free Cash Flow to the Firm ("FCFF") is one method used to determine the intrinsic value for all three cases. The Company's terminal value was calculating using both the perpetuity growth and EBITDA exit multiple methods, 3.0% and 6.0x, respectively, for the base case, 3.0% and 6.0x for the upside case, and 1.0% and 4.0x for the stress case.
Additionally, the company has multiple separable assets, which make a resource conversion activity highly probable and attractive (i.e. excess cash and real estate, NOLs, patents and product lines).
As of 3/31/13, Tellabs' unadjusted tangible book value and book value totaled $2.48 and $2.83 per share, respectively. Tellabs' GAAP asset value is the most conservative method for estimating the Company's value, as it ascribes no additional value or "kicker" for upside if the Company sells non-essential assets, distributes cash through buybacks, or improves operations and generates excess cash flow. Further, GAAP book value dramatically understates reproduction cost of Tellabs, as the R&D, infrastructure and customer relationships are costly and difficult to replicate (cumulative R&D since 2008 alone is $1.4Bn). Lastly, Tellabs maintains $193.0MM NOLs at 12/31/12.
As the communications equipment industry is undergoing consolidation, the private marketplace can roughly pinpoint Tellabs value. Historical transactions over the past five years in the space have taken place at an EV/Revenue multiple between 1x-2x. Companies tend to pay a multiple of revenue as they can strip out SG&A/back office expenses and grow sales through their larger sales teams once they integrate the target's products into their platform (think of the Dell & Valeant Pharmaceutical business model). Using 1.0x revenues and net cash, Tellabs' value is estimated at $4.43, which equates our upside estimate and would represent more than a double from the current market price of ~$2.20.
Catalysts to Value Realization
Catalyst

Description

Return of Intelligent Capital Allocation

Starting in 2012, Tellabs agreed to return excess capital with a $367.6MM special dividend and announced a $225MM share repurchase program which would represent ~30% of the current market capitalization. During Q1 2013, management and the board continued to execute on the share repurchase plan by repurchasing $27MM of common stock, which represented 3.4% of beginning shares outstanding. (We believe a share repurchase/tender offer would have been better yet the dividend was a step in the right direction).

The Board and new Management are weighing various strategic options, such as the potential sale of the business or select business units to a larger player, smart acquisitions of complementary businesses, the potential monetization of their "defensive" patent portfolio and the continued return of excess capital
Capex has rationalized in line with the Company's cost cuts, declining from $15.0MM for Q412 to $3.0MM for Q113.

Strong Financial Position Allows Opportunistic M&A

In light of declining revenues over the past years, Tellabs continues to maintain a strong financial position, with no debt and $572MM in net cash. The late Walter Schloss mentioned in a 1989 OID interview that earnings can drastically change from quarter to quarter while fluctuations in balance sheets are less drastic. Tellabs fits this model.

In addition to the $572MM in cash, Tellabs also has over $193MM in NOLs as of 12/31/12. The cash and NOLs add optionality, which could potentially allow for Tellabs to opportunistically purchase assets (i.e. assets from Alcatel-Lucent or other cash generating assets within Tellabs' circle of competence). Further, the strong financial position allowed Tellabs to weather the last downturn and continue operating until the Company regained positive EBITDA margins (achieved in 2012).

Not only does the Company have a strong balance sheet, the Company's revenues are diversified, with 51% of revenues coming from outside the United States. Being geographically diversified, Tellabs should benefit from above mentioned trends of data growth outside of North America.

Attractive Valuation

Tellabs common shares trades at a highly attractive valuation relative to its current price. Tangible book value currently stands at $2.48 as of 3/31/13, versus a quoted price of ~$2.20 (~10% discount to tangible NAV). TBV is highly liquid as net cash alone totals $1.61 per share and net cash plus A/R plus inventory less all total liabilities excluding unearned revenue totals $1.75 per share.

Further, TBV includes high quality real estate (office building near Chicago off I-94), which is potentially worth more than its carrying value. Importantly, tangible book value does not include Tellabs' R&D spend, engineering know-how or the value of its patents, which have an active market (Google's acquisition of Motorola among others were partially fueled by patents).

In a base case scenario, Tellabs can produce over $230MM in free cash flow with 13%-14% FCF margins. If Tellabs were to revert to 10% FCF margins on TTM revenue of $1B, that would total $100MM equating to a 70% FCF yield. Of note, TTM FCF totaled $47.7MM (defined as cash flow from operations less capex). However, a vast majority was derived from a working capital release. Nonetheless, Tellabs' high quality asset rich balance sheet gives investors a large margin of safety at current prices.

Right Sizing the Business

Since the activist intervention, Management and the Board have started to "right size" the business, by cutting back non-productive R&D spend and restructuring the business cost structure.

In January 2013, the Company announced the discontinuation of their 9200 series large capacity routers (which we believe was in order to channel R&D spend towards profitable segments such as optical LAN) and eliminating 300 workers/12% of the work force. Cost reduction combined with product focus should allow for Tellabs to maintain and grow profitability.

Going forward, Management is focused on pruning the business and producing positive free cash flow.
Risks & Mitigants
Risk

Impact

Mitigant

History of weak capital allocation

Will the management effectively utilize the balance sheet?

Over the past ten years, Tellabs' management team poorly allocated capital towards acquisitions, which did not pay off and cost shareholders in excess of $950MM (the acquisition of WiChorus among others). Management chased growth versus generating the best returns for shareholders.

The management team and board have been shaken up as investors intervened. Since 2012, the Company has a new CEO and five new board members.

Smart capital allocation has returned as the Company has returned excess cash to shareholders in the form of a $225MM share buyback program (purchasing $27MM in Q1/2013). The Company has roughly $600MM in buyback authorization.

New acquisitions (if any) will be vetted by a board and investor base with a private equity and investing background.

Recent Loss of their CFO

Continuity?

Tellabs' CFO, Andrew Szafran, who was recently hired in 2012, left the Company after a short tenure. We believe this was due to the board change and investor intervention; further pointing to the sale of the Company or a large resource conversion event in the near term (historically in change in control, the management team is ransacked).

Recently, Tellabs' Director of Accounting and former interim CFO also left the Company for Westell Technologies, also located in Naperville, IL. We believe the move was partially driven by that individual's desire to be in a CEO role.

Customer Concentration

Revenue is highly "chunky"

Without a doubt customer concentration is a concern for the industry and has caused Tellabs significant financial woes in the past. As of 12/31/12, Verizon was the largest customer consisting totaling 24% of revenues, with no other customer totaling more than 10% of revenues.
The relationship with Verizon is solidified by the inclusion of Verizon Communication's former CEO on the board, Verizon's large install base of Tellabs' equipment and long-term relationship (over ten years).

Tellabs has expanded aggressively beyond the United States, with over 50% of revenues generated from outside the States. Tellabs should also benefit from the growth in bandwidth overseas and from any rebound in Europe.
Further penetration of corporate accounts for their fiber and access needs, along with the utilization of distributors.

Continued Poor Financial Performance

Declining enterprise value via losses

Tellabs' profitability has been challenged since 2010 as it lost AT&T as a major customer combined with a global cut in capex spend in 2011.

Tellabs has a strong balance sheet and managed to stay EBITDA positive and actually grew EBITDA from the 2008 downturn to 2010. Since the loss of AT&T, the Company has made the difficult decision to right size their operations and returned to positive EBITDA in 2012.

Competition from Chinese companies such as Huawei and ZTE tend to be of lower quality compared with Tellabs and other US manufacturers. On a side note, Tellabs could be an attractive acquisition for Huawei.
Once installed, Tellabs products are engrained in its customers systems, which often make switching costs uneconomical to switch.
Conclusion
At current prices, Tellabs is an attractively priced asset play, which includes significant optionality in hidden assets such as M&A activity, real estate, patents and a turnaround in operations. The Company is currently at an inflection point in its life as a new board and management take steps in running the Company intelligently. At current prices, Tellabs is priced at a ~10% discount to Tangible NAV - which should serve as a floor for valuation.
At current prices, one is essentially purchasing a collection of fairly liquid assets at a large discount along with receiving a free lottery ticket on the turnaround and operations.
Appendix 1 - Charts / Additional Figures or Exhibits

Sources:
http://www.cisco.com/en/US/solutions/collateral/ns341/ns525/ns537/ns705/ns827/white_paper_c11-520862.html
http://www.ptc.org/ptc13/images/papers/upload/PTC13_TeleGeo_PPS.pdf
http://www.tellabs.com/news/reprints/insight_2q13_sandia-optical-lan.pdf
http://www.telecompragmatics.com/images/WirelessNSM-11_09.pdf
EBITDA Bridge

Explanation of Cisco Share Obligation - Tellabs Annual Meeting May 2012
Why does Tellabs continue to hold Cisco stock on its balance sheet? How does this benefit shareholders? Please see the following excerpt below:
"Mike's right. There's a tax issue there. It's kind of a unique and somewhat complicated transaction but the first answer is we really don't hold shares. We have a corresponding loan for the exact equal amount of shares and they net each other out so net-net. We really don't own the shares. You got to look at both sides of the balance sheet to see the offsetting numbers. But the overall -- it remains on the balance sheet because we've got somewhat of a complex sort of tax rolling where as long as we continue to hold on to it, the cost of holding on to it is less than the return that we get on the amount. So as that continues and as the tax regulators continue to sort of bless the transaction, we continue to hold it. We do look at it on a regular basis and there may be some opportunity to wind off that transaction, incrementally, over time. But for the moment, it's actually beneficial for us to keep it."
"Thank you. I would just add that this is an artifact of an earlier acquisition. We didn't buy the stock in Cisco. We bought a company whose -- one of whose investments was in a company that was later acquired by Cisco. It's a way to fend off the IRS. That's basically what we're talking about."
Disclosure: I am long TLAB. I wrote this article myself, and it expresses my own opinions. I am not receiving compensation for it (other than from Seeking Alpha). I have no business relationship with any company whose stock is mentioned in this article.