Editor's Note: This article covers a micro-cap stock. Please be aware of the risks associated with these stocks.
On August 1st, Genetic Technologies Limited (NASDAQ:GENE) announced a private placement of ordinary shares to domestic and overseas institutional and sophisticated investors to raise AUD 2.2M. The Company also plans to raise up to an additional AUD 3M via a share purchase plan ("SPP") to eligible shareholders, and will issue USD $5M Redeemable Convertible Notes (convertible at $3/share) to an institutional investor, Ironridge Global IV, Ltd. ("Ironridge"). Ironridge will have an option to subscribe for an additional USD $5M of Notes on the same terms, but convertible into ADRs at a fixed issue price of USD $4 per ADR, at any time within a six-month period of the date of the definitive documents being executed.
In total, GENE raised nearly $10M through the combined fund raising. Institutional investors are betting big on the future fast growth of GENE, or even the potential buy-out. In this article, I'll explain why GENE is poised for fast growth and why it's a prime buy-out target. First let's take a look at the company's flagship product, BREVAGen.
What is BREVAGen test
BREVAGen is a new test that looks for the presence (or absence) of genetic variations in your DNA known as Single Nucleotide Polymorphisms, or SNPs. Certain SNPs are associated with breast cancer, so by identifying these, it is possible to predict if you are more, or less, likely to develop breast cancer. BREVAGen combines this information with clinical risk factors to create an integrated risk score. This information is clinically useful in determining the preventative measures a woman should take to avoid the disease or catch it early.
Unlike Myriad (NASDAQ:MYGN) Genetics' BRACAnalysis test, which looks at two specific, rare, extremely high-risk genes, BREVAGen is focused on defining breast cancer risk for the vast majority of the females, who have either been shown not to carry these high-risk genes or do not have a family or personal history that suggests they might carry either of those genes.
For a test to be valuable, it needs to provide the physician with actionable information. That is, it needs to provide the doctor with information that allows them to better care for their patient. BREVAGen provides a percentage score for the risk of developing breast cancer over the next five years and over her lifetime, the result can be used to create a personalized Breast Health Plan. It can be used to justify the prophylactic (preventative) use of a drug called tamoxifen and/or the use of a more expensive, but more sensitive, breast cancer screening tool, termed magnetic resonance imaging. On the other side, it may provide information that leads to a patient being screened less intensively. Therefore, BREVAGen provides actionable information to physicians.
The breast health plan component of the BREVAGen report is a "roadmap" for the patient and forms a vital part of the outcome of the test. One of the principal attributes of the test lies in the practicality of the advice the physician can provide. It's both personalized and actionable.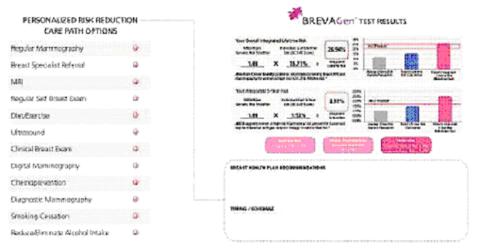 BREVAGen is poised for fast growth
BREVAGen has been introduced to the US market for less than 2 years. BREVAGen sales have been growing rapidly. Recently the company reported a record number of BREVAGen™ test samples were received during the quarter ended June 30, 2013. Total patient samples received during the quarter was 599, representing growth of more than 48% over the preceding March quarter, demonstrating a significantly increasing trend in market traction. Total BREVAGen test samples received during the 2013 financial year was 1,547, representing growth of more than 272% over the preceding 2012 financial year.
Marc Sinatra, analyst from Lodge Partners that covers the company, believes that, this kind of growth rate, is sustainable or probably can be even higher for many years going forward. This is because:
1) the commercial utility of the test has now been demonstrated,
2) the number of PPOs offering the test continues to increase (coverage by PPOs sends a positive signal to the market regarding the utility of BREVAGen),
3) the company still has relatively few sales representatives (approximately 10-12) on the ground in the US and can easily increase its sales force when it is justified,
4) a further study validating BREVAGen has been recently published (Breast Cancer Res Treat. 2013 Jun 18), which will convince more physicians to prescribe BREVAGen,
5) further peer-reviewed scientific publications supporting BREVAGen are likely to be produced which will enable greater penetration into existing markets, expand the overall market for BREVAGen, while also aiding the company in negotiations with payers, and
6) scope exists to sell other tests, such as analysis of the BRCA1 and BRCA2 genes, through the US-based sales team Genetic Technologies has created. Myriad states that it performs approximately 250K BRACAnalysis® tests each year.
Based on the Genetic Technologies' company announcements and Lodge Partner's estimate, below chart shows the actual and projected quarterly BREVAGen unit sales.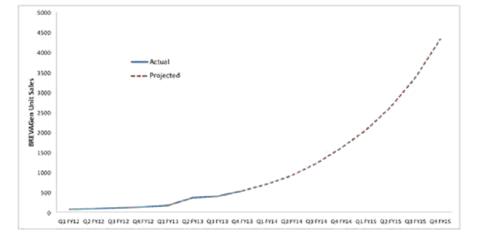 Given such unit sale projection and around $800 per test, the company could become profitable in 2014 based on BREVAGen US sales alone. And the sale could reach $15M per year eventually in 2005. That's quite a significant sale number for a company with $35M market cap. BREVAGen is CE Marked and can also be sold in the European Union. The EU sales haven't been factored in yet.
Myriad Could Seek to Acquire Genetic Technologies
Almost every small biotech claims they are the target for buy-out. But BREVAGen is truly in a unique situation and is a highly compelling product for Myriad to acquire to protect and grow their existing products.
Myriad Genetics is a molecular diagnostic company with a $2.5B market cap that offer testing for two key high risk breast cancer genes, BRCA1 and BRCA2. Recently, the Supreme Court ruled unanimously that companies cannot patent human genes. This ruling invalidated key claims in certain patents held by Myriad covering the high risk genes mentioned above. This has opened up the market for testing for two genes (BRCA1 & BRCA2) that are associated with dramatically increased risk of breast and ovarian cancer among women who carry a mutated form of one of the genes.
Genetic Technologies has the expertise in testing for mutant forms of BRCA1 and BRCA2, given it has been conducting such testing for over 10 years under license from Myriad. As a result, Genetic Technologies appears to be one of the few companies in a position to offer BRCA testing to American women, as the ruling significantly weakened Myriad's intellectual property protection. Adding BRCA Testing to GENE's product offering through its existing sales force would add very little extra marketing cost.
"It makes great sense for Myriad to do so for a variety of reasons", according to Marc Sinatra, "most of all because those patients who test negative for the BRCA genes will have a heightened awareness of breast cancer risk and likely be keen to know as much as they can about their breast cancer risk. This makes the combination offering of BRCA testing and BREVAGen quite a compelling commercial prospect."
Conclusion
The commercialization of BREVAGen is moving forward very well and revenue is growing. With the strengthened balance sheet, the company is poised for even faster growth. Currently the company is trading near 52-week low at $2.26. The market cap is only $35M.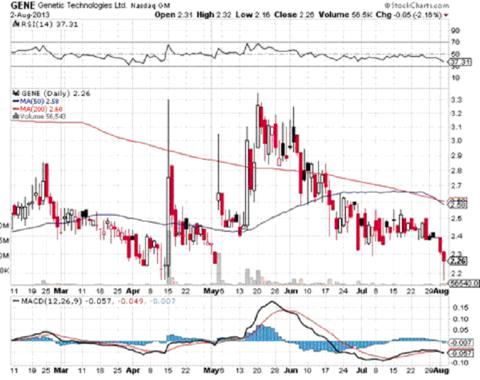 GENE is currently under-speculated and I believe investors have yet to recognize the sales potential and the compelling buy-out case. GENE has been known as a runner. History shows that if it runs, it will run in a fast and furious way.
Risk
Genetic Technologies is an illiquid biotech company with small market cap. The trading could be highly volatile. The company hasn't been profitable yet. It's been trading near 52-week low. Be cautious when you invest in GENE.
Disclosure: I am long GENE. I wrote this article myself, and it expresses my own opinions. I am not receiving compensation for it (other than from Seeking Alpha). I have no business relationship with any company whose stock is mentioned in this article.