Following the fire sale of the Boston Globe at less than 7 cents on the dollar to Red Sox owner John Henry (that's less than he paid for his second baseman Dustin Pedroia) and the sale of the Washington Post to Jeff Bezos, it might be a good time to feature the chart below illustrating the "free fall" in newspaper advertising revenue in recent years that is behind both of those sales.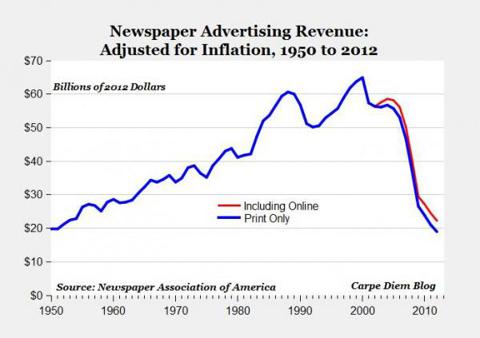 Let's start with this report from the Washington Post:
For much of the past decade, The Post has been unable to escape the financial turmoil that has engulfed newspapers and other 'legacy' media organizations. The rise of the Internet and the epochal change from print to digital technology have created a massive wave of competition for traditional news companies, scattering readers and advertisers across a radically altered news and information landscape and triggering mergers, bankruptcies and consolidation among the owners of print and broadcasting properties.
The chart above clearly illustrates how the "scattering of advertisers" has adversely affected America's newspaper industry. The blue line represents total annual print newspaper advertising revenue based on annual data from the Newspaper Association of America (NAA) for the years 1950-2012. Annual advertising revenues have been adjusted for inflation using the CPI, and appear in the chart as billions of constant 2012 dollars. Newspaper print advertising revenues of $18.9 billion in 2012 fell to the lowest annual level of print advertising since the NAA started tracking industry data in 1950. In constant dollars, advertising revenues last year were below the $19.75 billion spent in 1950, 62 years ago.
The decline in print newspaper advertising to a 62-year low is pretty amazing by itself, but the sharp decline in recent years is stunning. Newspaper print advertising revenues fell by almost 50% in just the last four years, from $37 billion in 2008 to less than $19 billion last year, and by 66% over the last decade, from $56.3 billion in 2002. Here's another perspective: It took a half century for annual newspaper print ad revenue to gradually increase from $20 billion in 1950 (adjusted for inflation in 2012 dollars) to $65 billion in 2000, and then it took only 12 years to go from $65 billion in ad revenues back to less than $19 billion in 2012.
Even when online advertising is added to print ad revenue (see red line in chart), the combined total spending for print and online advertising last year was still only about $22.3 billion, which is the lowest amount of annual ad revenue since 1953, when $22.5 billion was spent on print advertising. The introduction of online advertising in 2003 has helped to slightly increase total ad revenues (print plus online), but online advertising has remained flat at about $3 billion per year for the last six years, and was actually almost 4% lower last year ($3.37 billion) than in 2007 ($3.5 billion in 2012 dollars).
Economic Lesson
The dramatic decline in newspaper ad revenues has to be one of the most significant Schumpeterian gales of creative destruction in the last decade. And it's not even close to being over. A recent IBISWorld report on "Dying Industries" identified newspaper publishing as one of 10 industries that may be on the verge of extinction in the United States. In that case, and if the precipitous decline in newspaper advertising revenue continues, it's possible that both John Henry and Jeff Bezos may have actually overpaid for their recent newspaper acquisitions.