On my recent quest to find income opportunities in southern European countries, I have recently recommended Energias de Portugal (OTCPK:EDPFY) for its 7% yield and Red Electrica de Espana (OTCPK:RDEIY) with a 5.5% yield, as good dividend investments. Another company that is also a good opportunity for income-investors is Enagas (OTCPK:ENGGY), which currently yields over 6%.
Enagas is the technical manager of the Spanish Gas System and the main carrier of natural gas in Spain. The company was founded in 1972, and is traded on the Spanish stock exchange since 2002. Its market capitalization is about $5.7 billion. The company has three major institutional shareholders: the Spanish Kingdom through the public-enterprise Sepi, Kutxabank, and Oman Oil Holdings Spain, each with a 5% share. Under the company's by-laws, no individual or body corporate may hold a direct or indirect stake of more than 5% in the equity capital of the company, nor exercise voting rights of over 3%. Under no circumstances may such shareholdings be syndicated. Therefore, a takeover approach is very unlikely unless the company changes its by-laws. Enagas is one of the Spanish companies with highest free-float, currently at about 85% of its capital.
The company's main mission is to ensure competition and security of the gas system in Spain. It has nearly 10,000 km of pipelines throughout the Spanish territory, three underground storage facilities and four regasification plants. Enagas began its international activity in 2011. Since then, it is a shareholder of TLA Altamira regasification plant in Mexico, and acquired a liquefied natural gas [LNG] terminal in Quintero, Chile, in 2012.
Despite a severe economic crisis in Spain since the burst of its housing bubble in 2007, Enagas has achieved strong growth over the past few years, surpassing its own targets. From 2007 to 2012, its net profit compounded annual growth rate was 10% despite the challenging economic backdrop in Spain during this period.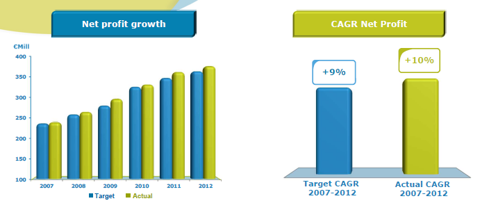 This strong growth is justified by its efficiency plan implemented since 2008, with strict control over operating expenses leading to higher efficiency than peers in Europe. Moreover, during this period Enagas has continued to invest in its future, doubling its size in terms of assets and increased its workforce considerably. It should continue to reap the benefits of this policy over the next few years, being very well positioned to profit if the Spanish economy rebounds in the short-term.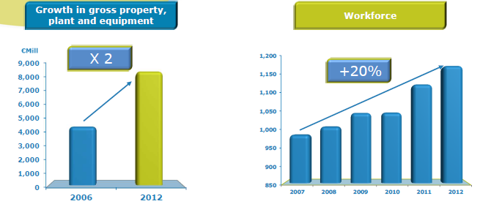 Furthermore, Enagas' business model is very resilient because about 95% of its annual revenue comes from regulated activities. The remuneration is updated annually by the Spanish government. In 2012, the company achieved more than $1.5 billion in revenues, an increase of 4% from the previous year driven by the addition of new assets bought on stream. Its EBITDA stood at more than $1.2 billion, which means Enagas is extremely profitable with an EBITDA margin above 80%. Net profit totaled $500 million in 2012, 4.1% higher than 2011 and surpassing the annual target of flat growth.
Dividends
Contrary to most European companies that pay only one dividend per year, Enagas pays two dividends during the year. An interim dividend is usually paid in December, and a complementary dividend once the dividend for the fiscal year has been approved. For the past few years, this supplementary dividend has been paid at the beginning of July.
Enagas' dividend track record is quite good, given that its dividend is growing every year since its IPO. Related to the fiscal year 2012, the company paid an annual dividend of €1.11 ($1.45) per share, representing an increase of 12% from the previous year. Over the past five years, the average annual dividend growth rate was 14.4%, which is quite impressive. This historical strong dividend growth should continue for the coming years, although it may slow a little bit as the company target is to achieve at least a 8% annual dividend growth.
Additionally, the dividend payout ratio was stable at 60% its earnings during 2007 to 2010, but the company has a commitment to improve shareholder returns through higher payout ratios. In 2011, the dividend payout ratio was increased to 65%, followed by another increase last year to 70%. In 2013, the company aims to increase the payout to 75% of its earnings, increasing the dividend per share by 13%. Therefore, the company's dividends should continue to increase from both organic growth and higher payouts, making Enagas' dividend very attractive.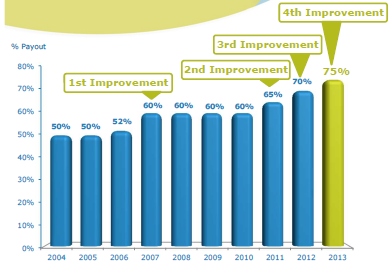 Regarding the company's indebtedness, Enagas' net debt at the end of 2012 was almost $4.8 billion, representing a net-debt-to-EBITDA ratio of 3.8x. Given Enagas' high-profitability levels, this ratio is acceptable and its average life of debt is long at 6.5 years, so barring a credit crisis in Europe the company's debt levels should not be a threat to Enagas' dividend.
Conclusion
Enagas is a very good dividend investment, offering a very attractive and safe dividend yield above 6% with good growth prospects. The company is growing and improving its profitability levels, benefiting from its improved efficiency and investments in new assets. Its very high profitability and relatively adequate debt levels make it a safe long-term bet for dividend-oriented investors.
Disclosure: I have no positions in any stocks mentioned, but may initiate a long position in OTCPK:ENGGY over the next 72 hours. I wrote this article myself, and it expresses my own opinions. I am not receiving compensation for it (other than from Seeking Alpha). I have no business relationship with any company whose stock is mentioned in this article.