I have been following Spherix (NASDAQ:SPEX) for some time now, and it appears to have a powerful patent monetization strategy that could result in steady growth for the stock in the coming months. After a spectacular rally from the $6 level in July to over $20 in recent trading sessions, the stock is beginning to stabilize. Today, I will examine the past performance, current valuation, and future prospects of this company.
History
Spherix is an innovator in biotechnology for therapy in diabetes as well as an "up and comer" in the biotech research patents field. Spherix has a similar strategy to Acacia Research (NASDAQ:ACTG), which was once where Spherix was and has grown to a billion-dollar market cap. The company has stated that its strategy is identical to that of Acacia Research -- in other words, it hopes to monetize its acquired patents by defense and licensing deals.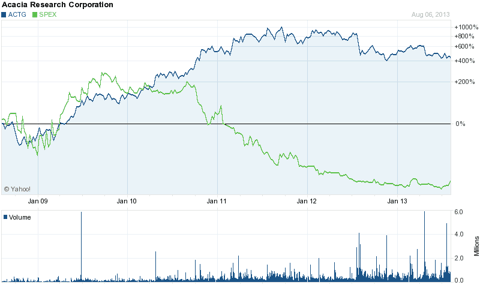 Spherix isn't just taking a page out of the Acacia playbook. It is in the same position Acacia was several years ago at its beginning. Both started as reverse splits with floats under one million shares. Both have expanded their portfolio of patents into several growth industries. Spherix has recently announced an agreement to acquire 222 patents from North South Holdings, that covers telecommunications among other sectors. The Harris portfolio also has applicability in law enforcement communications, military, and homeland security -- all areas where government spending is at an all-time high. The purchase price for the portfolio is just over $82 million based on the $6.87 closing price of Spherix the day prior to the transaction letter.
This move sets Spherix up to be the holder of several key patents in several key industries. However, patents are no good unless they can be converted into cash flow. To answer this, Spherix has an ace up its sleeve for monetizing patents -- Anthony Hayes.
Current Position
Anthony Hayes is set to become the CEO of Spherix once the merger finalizes, replacing the interim CEO, Harvey Kesner, at the end of August 2013. Hayes has several years experience in leading "buy and flip" patent deals that generated triple-digit returns. His past deals have seen gross returns between 200% and 400%. Whatever the patents are that Spherix is getting, Hayes will ensure maximum profitability.
In addition to strong leadership, the company has good numbers on which to base growth potential. Certain valuation metrics should give you a sense of reasonable prices, but, of course, one must always seek to understand why a valuation is changing over time. The price-to-book value tells you how much you are paying for one dollar of net assets. Spherix has a P/B ratio of 8.104, similar to its competitor Genomic Health (NASDAQ:GHDX) at 7.50. However, its price-to-sales ratio is 692.13, compared to Genomic Health at 4.24.
These numbers must be looked at over time to spot the trends. While Acacia began in similar fashion, other companies have seen these same valuations, moved on to monetize their patents and grown to large market caps. Vringo (VRNG) currently has a market cap of $253 million, and Parkervision (NASDAQ:PRKR) has a market cap of $424 million. If Spherix was to be valued with the same market cap as these, shares would be worth between $19.46 and $32.60.
What's Next?
We've already discussed Spherix's movement on monetizing patents. Recently, it announced the signing of a memorandum of understanding with ChromaDex (NASDAQ:CDXC) set to extend the commercial market for a product called D-tagatose. D-tagatose is a natural sweetener that can be commercially produced through an enzymatic process.
For another comparison, look at Stevia First (OTCQB:STVF). Stevia is billed as a "miracle plant" -- it is sweeter than sugar but has no caloric value or effect on blood sugar levels. The product is being pipelined into several mainstream food sources with big results to the company. The stock itself has seen a gain of almost 391% since 2012. The first quarter of 2013 saw this hot penny stock still up 114%. Likewise, the market for D-tagatose has begun to grow. Expanding the structure function claims for D-tagatose make it more valuable than a simple artificial sweetener, and one can anticipate similar positive numbers for this patent -- and the company as well.
This is just one of the possible movements for Spherix. As mentioned previously, it has its hands in several profitable pies now. If even a small percentage of these 200-plus patents see growth, the company will be in a strong position. This combined with the ability of Hayes to fruitfully monetize (and ruthlessly protect) its patent interests, and Spherix could be headed for stable long-term growth.
Risks
There are several pitfalls investors should be mindful of with regard to Spherix. While Hayes has a good track record, monetizing patents -- and the amount of the monetization -- is not guaranteed. There is also the risk that patents could be found invalid or protection for them insufficient.
Specific to Spherix, the biggest problem with widespread adoption of tagatose to date has been the cost of production and, thus far, limited supplies. While Spherix intends to expand its activities in wireless communications and telecommunication sectors -- including antenna technology, Wi-Fi, base station functionality, and cellular -- with its recent patent purchases, competition is fierce. Big names aside, there are several companies that have already established a foothold in wireless and cellular expansion. Two of them are Shenandoah Telecommunications (NASDAQ:SHEN) and SBA Communications (NASDAQ:SBAC), both of which own and operate wireless communications towers in the United States, Canada, and areas of South and Central America.
Summary
As with all investments, Spherix has its risks. I do not rely completely on a comparison to other companies that have succeeded from similar positions. I do think its current financials, strategic plan, and solid leadership to accomplish this plan will translate into stable long-term growth in the next 12 months.
Disclosure: I have no positions in any stocks mentioned, and no plans to initiate any positions within the next 72 hours. I wrote this article myself, and it expresses my own opinions. I am not receiving compensation for it (other than from Seeking Alpha). I have no business relationship with any company whose stock is mentioned in this article.