Going into the second half of 2013, there are significantly different expectations from one play to the next. Sometimes investors buy into the hot names of the most talked about plays and miss the underlying story of newer basins. The Bakken and Eagle Ford are more media friendly, but also have less upside as expectations are closer to correct. Other plays are able to downspace and increase EURs faster. Well costs will decrease less in more mature plays as pad drilling and other synergies have already began.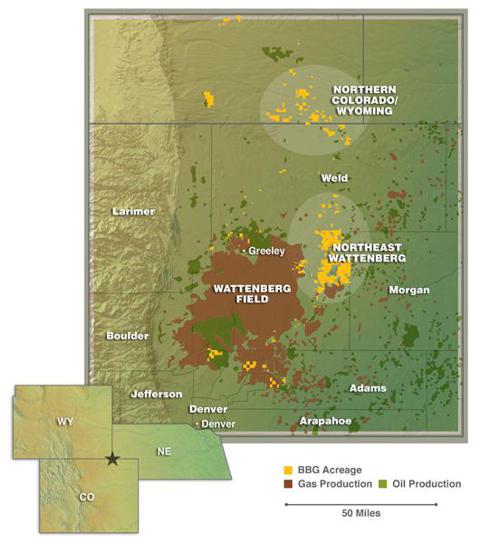 The Niobrara may be the top play of 2013. Operators in the DJ Basin have already had a very good start. Bonanza Creek (NYSE:BCEI) and Synergy (SYRG), which I own, look to have reasonable growth targets. Pad development is just beginning, and laterals continue to get longer. We are seeing increased stages and downspacing is going very well. PDC Energy (NASDAQ:PDCE) also has good acreage in the Niobrara and upside going forward. It had a good quarter. Adjusted diluted net income was $.23/share. Net income was $.64/share. Production was up 34% from Q2 of 2012. It has improved liquids production to 54%. PDC Energy is now running 3 rigs in Wattenberg. Wattenberg production is up 40% from Q2 of last year. All of this was accomplished even with midstream issues. The average realized sales price was $47.10/Boe. This compares to $41.73/Boe from the second quarter of last year. Production costs decreased to $9.83/Boe from $10.06/Boe in Q2 of 2012. Lease operating expenses decreased 11% year over year. Adjusted cash flow from operations was up 57% from Q2 of 2012. PDC Energy has everything I look for in small cap oil and gas. It's increasing liquids production. PDC Energy is mainly working a basin that is misunderstood. It is just finishing it largest pad in the Niobrara and it hasn't even come close to optimizing its well design.
Although it has acreage in the Marcellus and Utica, Wattenberg will drive revenues. Crude production increased 37.7% in the DJ Basin. Natural gas volumes increased 37.8%, and price realizations were up 84.9% compared to Q2 of 2012. In Q2 of 2013, NGL production increased 43.6%. NGL price realizations were down 11.6%. PDC Energy continues to downspace the Niobrara. It is targeting 16 wells per 640 acres. 6 wells are Niobrara B, 4 in the Niobrara C and 6 in the Codell. PDC Energy is currently drilling the 12 wells of this pad. It has 3 horizontal rigs in the play. 16 is just the start as 20 well pads are not out of the question. It is very possible this area can support up to 32 wells per 640 acre spacing.
The Marcellus increased production nicely, and the Utica looks to add significantly to production in the third and fourth quarter. It just completed its eighth well in the Utica. PDC Energy has one horizontal rig in the Marcellus and one in the Utica. In the Marcellus, its 4-well D'Annunzio pad is scheduled for its first sales this week. PDC Energy is currently completing the Goff 3-well pad in Harrison County and should have first sales in September. It is currently drilling on the O.E.S pad in Taylor County; this is a 3-well delineation test. In the Utica, the Detweiler 42-3H well, which had an IP rate of 2,200 barrels of oil equivalent per day, was turned to sales for the majority of the second quarter. This well had a 7 day IP rate of 1,700 barrels of oil equivalent per day. It had a 90-IP rate of 700 barrels of oil equivalent per day. The liquids mix of 75% is very good. EURs for this well fall into 500 MBoe to 750 MBoe. Not bad for a 3,800 foot lateral with just 13 stages and intermittent type flow. PDC Energy is now moving to laterals of 5,000 to 6,000 feet with 20 to 30 stages.
PDC Energy's recent sale of non-core properties in Colorado produced $200 million. This provides capital to grow liquids production. Current production was right in line with guidance. The production mix is 37% oil, 17% NGLs and 46% natural gas. DCP's LaSalle plant is on schedule for start up on October 1st, and should ease some short term bottlenecks. The Wattenberg Field has interesting geology. It has very different production rates and resource cuts depending on where it is drilled.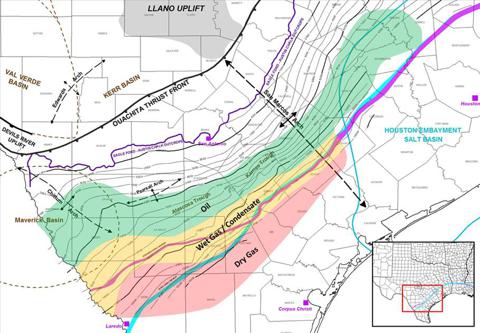 It is not like the Utica (below) or Eagle Ford (above) where there are separate windows of production. The Eagle Ford is very oily and shallow to the northwest. As the formation moves to the south and east, it gets deeper and gassier. The Utica is oily to the west and gassier to the east. These formations are somewhat different, as no two are the same, but both have a window like resource mix.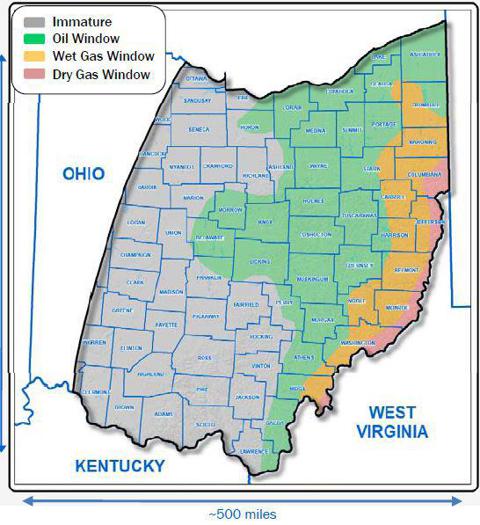 Wattenberg's geology is more like a core or sphere in the center with two rings surrounding this core. The core is circled in red in the picture below. As the field moves further away from the core, the play gets more oily and produces less natural gas. The outermost border of Wattenberg is circled in green.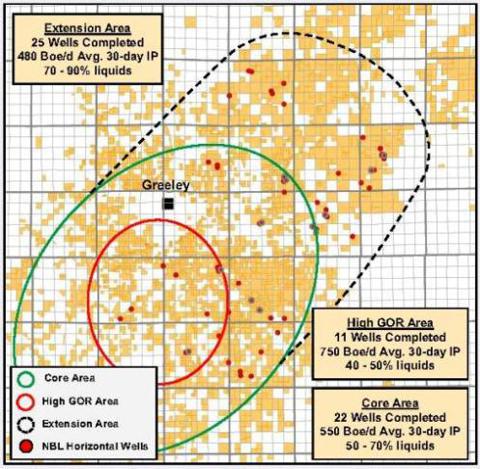 The table below breaks down the differences in production and gives average well economics.
| | | | | |
| --- | --- | --- | --- | --- |
| Area | EUR | Cap Ex | %Liquids | IRR% |
| Inner Core | 500 | $4.2 | 56 | 140 |
| Middle Core | 365 | $4.2 | 69 | 81 |
| Outer Core | 265 | $4.2 | 77 | 50 |
| Codell | 345 | $4.2 | 75 | 77 |
There are very attractive economics in all areas of this field and the northeast extension. The table above was created through 300 well results. I would caution these results are to the low end of current completions. Well results are improving quickly through better well design. Noble (NYSE:NBL) recently announced it had a handful of wells modeled to EURs of over 1000 MBoe. Keep in mind, these are long laterals (9000 ft.), with increased stages and greater well costs. The fourth row I added is for the Codell. This is very important to the value of PDC Energy's acreage in the DJ Basin. There have been less horizontals targeting this source rock than the Niobrara B and C benches. The Codell is a deeper formation, and some operators like Whiting (NYSE:WLL) are not as sure about its economics. PDC Energy's results show this is viable target in this stacked play. It has drilled 57 wells so far this year and have planned 74 more by year end.
In summary, PDC Energy had a good quarter and looks to have significant upside rolling into the second half of the year. Its Wattenberg acreage is excellent and should continue to improve through year-end. I believe the DJ Basin will see significant downspacing in the last 6 months of the year. This is a guess on my part, but PDC Energy's acreage could provide 32 wells per 640 acre spacing. I am unsure if we will get there this year, but if this happens, the undiscounted value per acre will be better than any other area in the country. The Niobrara B and C have equal value with the Codell is still discounted, but looks to be on par with the other source rock. The Codell could be better as well pressures increase with depth. The Permian and Niobrara look to have the most upside when considering the number of locations. I like the Niobrara better as it is less levered to NGL pricing. We continue to see downward pricing pressure, and I have no reason to believe this will change in 2013. The Niobrara is less levered to NGLs than the Permian, which I believe provides less downside risk. PDC Energy still has a significant exposure to this in the Utica and Marcellus, but I currently think its Niobrara acreage is protection enough if this happens. Other names of interest are Bonanza Creek and Synergy. These are more levered to the Niobrara and are why I own these stocks. I still believe PDC Energy will have a great second half of the year. Downspacing and EUR improvements have further to go than other plays. PDC Energy remains a good play through 2013.
Disclosure: I am long BCEI, SYRG. I wrote this article myself, and it expresses my own opinions. I am not receiving compensation for it (other than from Seeking Alpha). I have no business relationship with any company whose stock is mentioned in this article.
Additional disclosure: This is not a buy recommendation. The projections or other information regarding the likelihood of various investment outcomes are hypothetical in nature, are not guaranteed for accuracy or completeness, do not reflect actual investment results, do not take in consideration commissions, margin interest and other costs, and are not guarantees of future results. All investments involve risk, losses may exceed the principal invested, and the past performance of a security, industry, sector, market or financial product does not guarantee future results or returns. For more articles like this check out our website at shaleexperts.com. Fracwater Solutions L.L.C. engages in industrial water solutions for oil and gas companies in North Dakota. This includes constructing water depots, pipelines and disposal wells. It also provides contracting services for all types of construction at well sites. Other services include soil remediation. Please contact me via email if you are interested in working with us. More of my articles and other pertinent information on the oil and gas sector, go to shaleexperts.com.