I've long been bullish on Chile. It not only has the highest growth rate in Latin America, it also has the most solid national balance sheet.
| Country | 2013 GDP Growth | Budget Balance (% GDP) |
| --- | --- | --- |
| Argentina | 3.9% | -2.6% |
| Brazil | 2.0% | -3.1% |
| Chile | 4.5% | +0.6% |
| Columbia | 4.2% | -0.6% |
| Mexico | 2.9% | -1.8% |
Chile ranks 7th on the Economic Freedom Index, just below Canada, two places above the U.S., and a whopping 93 places above Brazil. There's a reason for that. Thirty years ago, as a University of Chicago student, I joined an Economics department that was swamped with Chilean students. These students, later became known as the "Chicago Boys" (though a number of them were actually girls). Over the next three decades they would transform the country's economy, from a lethargic, centrally controlled slug, to a blooming free market dynamo that would outpace all other Latin American economies for decades. To this day, old Chicago Boys occupy key economic positions in the Chilean government.
Despite its strengths, the Chilean market has suffered over the last three years, pushed down by general Emerging Market weakness, as well as lower copper prices.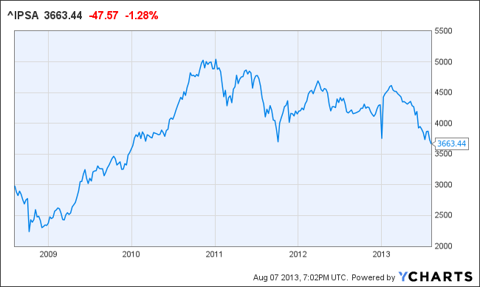 With one of the strongest growth rates in the world, a responsible government, and a free market, Chile represents an excellent value at these levels.
The Long and Short of Investing in Chile
There are two principle ways to invest in the broad Chilean market: the Ishares Chile ETF (NYSEARCA:ECH) and the Aberdeen Chile closed-end fund (NYSEMKT:CH). A little over a year ago, I wrote an article comparing the two. Their holdings are almost identical. However, CH pays a "dividend," which has typically been a very small amount of income packaged together with some capital gains. In the last quarter, this biggest part of the dividend was return of capital. That's right, a lot of the "dividend" is your own money coming back to you.
When I wrote about CH previously, it had spiked to a 13% premium to its NAV. After my Seeking Alpha article called attention to it, the premium quickly dropped.
In the last week, CH's premium has surpassed its previous irrational highs hitting its highest level ever. If you buy CH today, you are paying $1.28 on the dollar for its assets! On top of that, you get to pay 1.7% in expenses each year.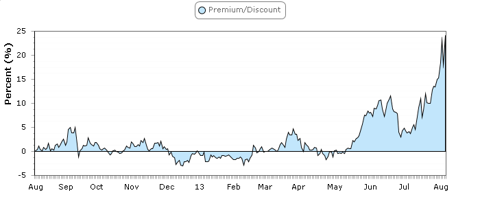 Although I'm bullish on Chile over the long run, buying CH is certainly not the way to make the trade. On the contrary, I'm buying ECH and shorting CH. Even if ECH fails to move upward in the short-term, we can be assured that CH's premium will converge to its historical average (-1.8%) over time.
Disclosure: I am short CH. I wrote this article myself, and it expresses my own opinions. I am not receiving compensation for it (other than from Seeking Alpha). I have no business relationship with any company whose stock is mentioned in this article.
Additional disclosure: I am also long ECH