The purpose of this series is to highlight stocks that are undervalued, profitable, underperformed the market, and have a favorable technical outlook. The stock that I will be covering for my undervalued series this week is Textainer Group Holdings (NYSE:TGH). TGH stock has risen only 0.44% in the last month compared to the S&P 500 (NYSEARCA:SPY), which has risen 3.55% in the last month. The real underperformance of TGH has been in the last year, the SPY is up 27% in the last year while TGH is down 2.41%, which is a large underperformance with the market reaching all-time highs. I believe TGH is a solid undervalued long-term choice to gain exposure to the container leasing market, which is at the center of global trade. Textainer purchases shipping containers and then leases them to shipping companies. It is more cost effective for a shipping company to lease a container than to outright purchase it, and that is where Textainer comes in by having the largest amount of containers to lease. According to a recent Textainer investor presentation, Textainer controls 18% of the container leasing market, so it is highly levered to the global economy. I believe if China is near a bottom, and growth in the United States continues, I believe Textainer is in a good position to benefit from the increase in global trade.
Value
To value TGH I will be using a DCF calculator, with data for earnings and growth coming from Zacks.com, benchmark data from longrundata.com, and CPI data from the BLS. The DCF table below shows shares of TGH undervalued by 76.25%, which represents a potentially significant price appreciation opportunity for shares of TGH.
EPS [ttm]: $3.61
Long-term Growth Rate: 10.10%
Earnings grow for next: 5 years
Level off: to 1% after
Benchmark return: 10-year annualized SPY return of 7.89%+1.8% inflation= 9.69% benchmark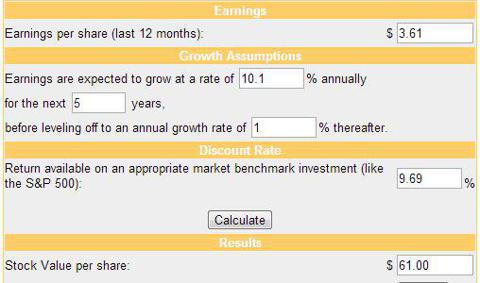 Technical Outlook
The chart below shows that shares of TGH have been steadily rising over the last 5 years [Red Line], but have been in a steady downtrend for most of 2013. Shares are trending towards the level of $34 [Blue Line] where shares gapped down in 2012, and stayed below that level for the last quarter of 2012, so that represents a key level. This is a key level because once the stock gapped down and broke the $34 level the selling intensified. Based on the chart I believe shares of TGH are poised to hold the $34 level because the company recently reported earnings, therefore with no major company specific events upcoming, I see no reason for the stock to fall significantly, other than regular market action, or if there is a correction in the broad market.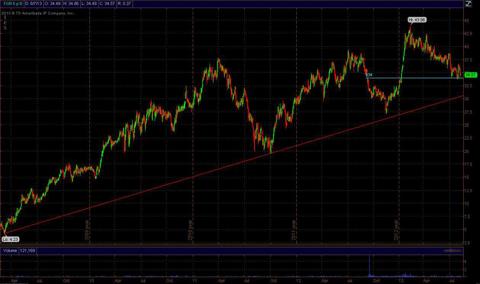 Catalyst
The biggest long-term catalyst for Textainer is increasing global growth. China could be in the process of currently bottoming out, and the United States has continued growth - even though it is slow, it is still growth. Even in this low-growth environment, Textainer in its most recent earnings report for the last quarter had a utilization rate of 94.3%, which shows there still is plenty of demand for leasing of its container ships. The chart below from the investor presentation shows utilization is still near records highs that were set in 2011, but have been declining, which I don't believe is a coincidence when growth in China has also slowed over that same period. That is why China is the key for Textainer, the more China is growing the more demand there will be for shipping containers.

Risks
The biggest risk for Textainer is the opposite of the catalyst above, and that is decreasing global growth. There is the risk that China has not found a bottom yet and growth will continue to decline below the 7-7.5% range. In addition, another BRIC nation Brazil is having troubles with declining GDP coupled with rising unemployment, which could potentially hinder trade demand. Finally, with the implementation of the Affordable Care Act [ACA] coming this fall, and the rise in healthcare costs associated with the law, it could lead to less disposable income for consumers, which would lead to a drop in demand for goods that need to be shipped.
Closing thought
I believe shares of TGH are poised to move higher from current levels, because the stock is undervalued, growth in China may have finally bottomed, the stock is near a key level of support, and Textainer is a dividend growth candidate. Textainer has raised or maintained its quarterly dividend for the last six years, according to dividendchannel.com. TGH's quarterly dividend has gone from $0.20 in 2007 to currently $0.47, a 135% increase in the dividend over a six-year period, which is impressive. Textainer recently reported earnings, and the stock fell because of the outlook, which was not what analysts expected. I believe the quarter was good, according to the earnings report Textainer revenues increased from the prior year and net income increased from the prior year, even with a decline in China GDP. Based on everything I have found, I believe shares in the long term will move higher to my fair value estimate of $61.00.
Disclosure: I have no positions in any stocks mentioned, and no plans to initiate any positions within the next 72 hours. I wrote this article myself, and it expresses my own opinions. I am not receiving compensation for it (other than from Seeking Alpha). I have no business relationship with any company whose stock is mentioned in this article.