I have learned to follow "smart money" investors with a long track record of success for new ideas. Doing so has allowed me to get in on the ground floor of a few investments alongside some big money players at or near their same cost basis. I like my odds when I am able to do this, as these investors I am referring to all have a history of taking active roles to build real companies, and build wealth for early investors in the process.
"Wealthy people know how to make money, while rich people only have money" is a quote I tend to find accurate. With my investment portfolio I am looking to build real wealth, something that often takes following the right people with the right vision. So I follow several of the wealthiest investors who are the wealthiest for a reason: consistent demonstration of making money, not just having money. Over and over again a select few have generated real wealth for investors who believed in them along the way. These investors have not built their massive fortunes through garnering average returns on their portfolios. They are looking to invest early and help build significant companies, generating massive multiples on their initial investments.
A primary example of one such billionaire investor I closely follow is Dr. Phillip Frost. Investors who have managed to get in early alongside Frost in his various investment endeavors have been able to generate large multiples of return on their portfolios. Frost has recently been quietly adding to one of his positions that is his second largest holding on a percentage basis.
The particular company I am referencing is listed on the NYSE, but is most likely not a company whose name would currently ring a bell. This type of under the radar investment that has an insider with Frost's track record buying near the current price level is exactly the type of opportunity that being a prudent observer can allow you to spot before the market spots it.
Prime Example of Billionaire Investor to Closely Follow
One investment of Frost's that was covered somewhat extensively here on Seeking Alpha early on when his investment was announced is Musclepharm (OTCQB:MSLP). Musclepharm has since gone from $4 at the time of Frost's initial investment to $11.28 today for a potential gain of 180%.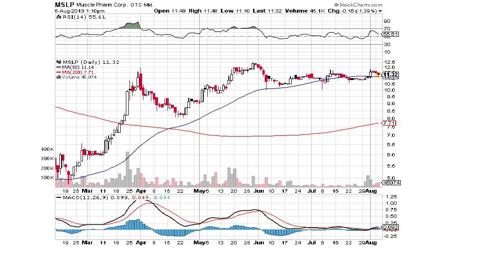 These are the types of outsized gains that are possible when you are able to spot an opportunity to invest early alongside the smart money.
Dr. Frost specifically has built a reputation for wholeheartedly backing the select few companies in which he chooses to involve himself. Opko Health (NYSEMKT:OPK) , which he founded and serves as Chairman and CEO, is the epitome for insider buying in the open market on Wall Street. A quick scan of Frost's insider buys here shows just what having his support behind a company means. With Opko in particular, this has helped create quite the currency for the company to continue to build value for shareholders through acquisitions. Opko is up 55% thus far in 2013 alone.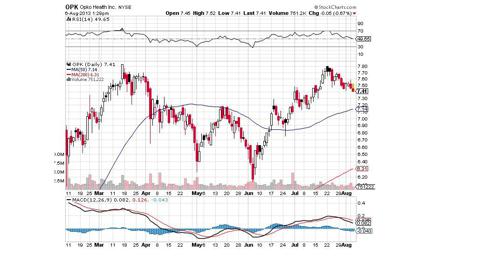 Common Themes Among the Smart Money
Another theme I have picked up on from smart money investors is that they try to get in early before others have the opportunity to pick on something. They also tend to move in when the market hates something, "when there's blood in the streets" as they say. It has been no secret that China's economy has been slowing faster than forecast and many analysts had downgraded their projections for investments of any form in China. Just recently I have started noticing a quiet shift towards more optimism for one sector of investment into China in particular. Running through this will allow me to connect the dots for what I now consider to be my most intriguing investment opportunity.
Smart Money Flowing Back into Media and Advertising Market in China
In June, Time Warner Inc. (NYSE:TWX) announced that it forged a partnership with a Chinese investment fund to pursue opportunities in the country's growing media and entertainment sector. Time Warner announced it will invest $50 million in China, and the company's Chairman and CEO Jeff Bewkes commented, "Increasing our global presence is one of Time Warner's strategic priorities and China is one of the most attractive territories in which we operate." Since this announcement, TWX is up 12% showing that the market echoes this sentiment.
Here was another recent headline from Bloomberg on July 17th: China's Richest Man Considers IPO for Department Store Business. Zong Qinghou, China's richest man with an estimated net worth of $11.3 billion, said "the global economy is declining" and predicted that China will recover faster than other countries. Part of his plan to capitalize on this is to add more shopping malls across Chinese cities while he mulls an IPO for this operation. Hangzhou Wahaha Group Co., of which Zong serves as Chairman, plans to have about 100 malls in China in the next three to five years.
There is no question that the market for media and advertising in China has been huge and only continues to grow. For comparison's sake, this table shows a good depiction: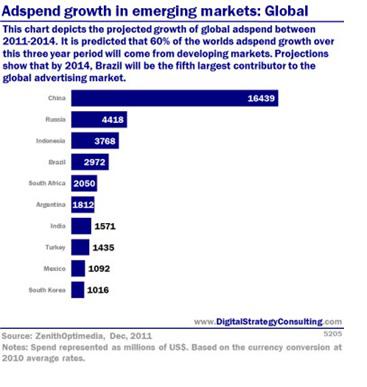 Focus Media Group Bought Out for $3.8 Billion in May 2013
A good example of the recent appetite for this particular market in China is the recent Focus Media Group buyout. It was just three months ago that the $3.8 billion management-led buyout of Focus Media Group (NASDAQ:FMCN) occurred. At the time, here was the description that Focus Media Holdings gave its business operations:
Focus Media Holding Limited (Nasdaq: FMCN) operates China's largest lifestyle targeted interactive digital media network. The Company offers one of the most comprehensive targeted interactive digital media platforms aimed at Chinese consumers at various urban locations. The increasingly fragmented and mobile lifestyle of Chinese urban consumers has created the need for more efficient media means to capture consumer attention. Focus Media's mission is to build an increasingly comprehensive and measurable interactive urban media network that reaches consumers at various out-of-home locations.
Connecting the Dots
Tying everything here together happens to be the easy part for what I currently have labeled as my most intriguing investment idea. Dr. Frost has quietly accumulated a large stake in Tiger Media (IDI). In his Tiger Media 13D filed three weeks ago on July 10th, it showed that on July 10th his Frost Gamma Investment Trust acquired 299,800 shares. This 13D also shows that Frost Gamma Investments Trust "acquired 32,200 Ordinary Shares for investment purposes, in a transaction on May 15, 2013, at a price of $1.03 per share." So Frost bought shares for investment purposes in a private transaction above the current market price.
Not only did Frost buy shares privately above the current market price, but he now beneficially owns 10,666,790 shares of Tiger Media, equating to 31.48% of the company. This makes Tiger Media Frost's second largest holding on a percentage basis, trailing only Opko. Considering Frost is Chairman and CEO of Opko, and holds no official title at Tiger Media, I believe this speaks volumes in terms of the potential Frost sees in this particular company as an investment.
Based on Frost's past history, when he takes a big stake in a company like he has in Tiger Media, things tend to work out in the way large multiple returns for both himself and fellow investors. Having the opportunity to invest alongside a billionaire investor like Frost, at the same price point, which he just recently purchased stock himself, poses a tremendous opportunity for observant investors. Hence why I try to follow investors like him so closely.
Background on Tiger Media, Inc.
Here is a brief description of Tiger Media's business directly from their website:
Tiger Media, Inc., formerly known as SearchMedia Holdings Limited, was formed in 2005, and with a nationwide coverage in many cities throughout China and Hong Kong, Tiger Media operates one of the largest outdoor advertising networks in China. Tiger Media's goal is to own and operate the leading integrated out-of-home media network in China with a focus on existing and emerging media platforms with low capital requirements and high returns.
Sounds quite similar to the business as laid out previously by Focus Media. The reason to invest alongside investors such as Frost is because you can feel comfortable that their big picture is as big as it gets, such as a $3.8 billion acquisition for a company in the same market. Relative to Tiger Media's current ~$30 million market cap, that is a lot of upside compared to what I see as limited downside.
The news about China's richest man expanding and potentially IPO'ing his growing mall business, along with Time Warner investing $50 million into media and advertising in China, shows that the exact arena where Tiger Media operates and plans to expand also continues to rapidly expand. With the experienced management team in place and the sophisticated group of investors that are backing the company, I feel confident that Tiger Media will continue to aggressively grab more of this already large and continually expanding market. I believe the news release on June 19th announcing the acquisition of 8 key leases from Tiger Media luxury mall partner is just the start of what is in store for this company.
Risks
The most obvious risk here is that Tiger Media does not execute on its business plan of continuing to grow and increase its market share for advertising revenue in the Chinese market. Another clear risk is that the company will need to raise more capital to continue its aggressive growth plan. I believe this risk is mitigated by the fact that its largest financial backer has recently bought shares in the open market around the current price level. It is still a risk worth noting, though. For a complete list of risk factors, see page 4 of the company's annual report for the fiscal year ended December 31, 2012 here.
Disclosure: I am long IDI. I wrote this article myself, and it expresses my own opinions. I am not receiving compensation for it (other than from Seeking Alpha). I have no business relationship with any company whose stock is mentioned in this article.