By Sumit Roy
The Department of Energy reported this morning that in the week ending Aug. 2, U.S. crude oil inventories decreased by 1.3 million barrels, gasoline inventories increased by 0.1 million barrels, distillate inventories increased by 0.5 million barrels and total petroleum inventories increased by 0.8 million barrels.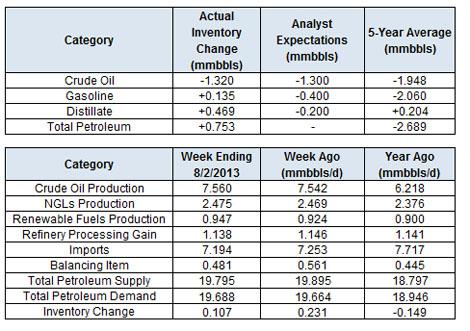 Crude oil prices retreated after the release of the latest inventory figures amid macro concerns related to the potential tapering of the Federal Reserve's bond-buying program. Brent has had trouble breaking through the $110 level in recent sessions. On the one hand, demand remains strong in the U.S.; on the other, the fear is that growth may slow once the Fed pulls back on its monetary stimulus. At the same time, the slowdown in China's economy and its demand growth is a familiar theme that continues to weigh on sentiment.

Brent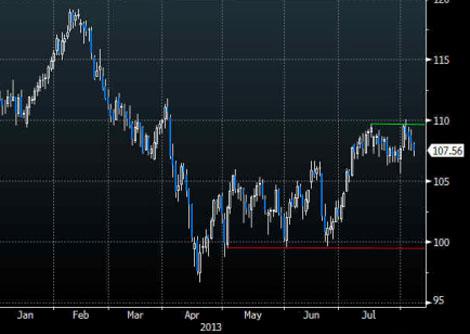 WTI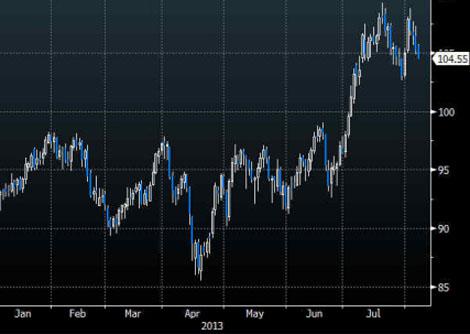 On the supply side, the fact that U.S. output hit another multi-decade high last week is a bearish factor. However, supply disruptions in the volatile Middle East-North Africa region have served to offset the U.S. gains. Output in Libya dropped to 800 Kbbl/d last month, nearly half of the peak levels reached last year due to strikes and protests.

Libya Oil Production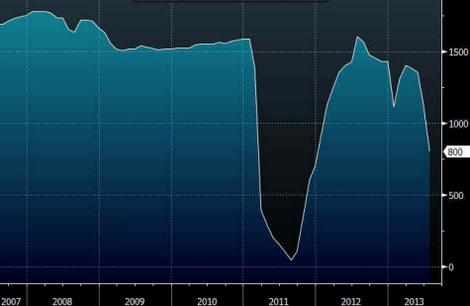 There have also been issues with supplies in Iraq, South Sudan, and of course, Iran.Saudi Arabia has boosted its output about 650 Kbbl/d in recent months to offset the disruptions of other producers. But the Kingdom has never produced more than 10 million barrels per day, and as output nears that level, it leaves the oil market particularly susceptible to further disruptions in supply.

Saudi Oil Production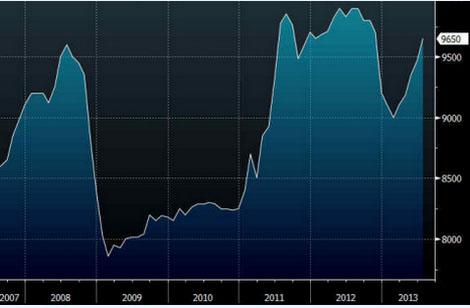 The effective spare capacity within OPEC is less than 500 Kbbl/d if one believes that the Saudis cannot produce meaningful output above 10 mmbbl/d. On the other hand, the International Energy Agency estimates that the country can produce close to 12.5 mmbbl/d, putting spare capacity close to 3 mmbbl/d. Should another supply disruption occur, Saudi Arabia's ability to deliver is certain to be tested.
Turning to this week's EIA inventory figures, total petroleum inventories in the U.S. rose by 0.8 mmbbl, against the five-year average of a 2.7 mmbbl decrease. In turn, the inventory surplus rose to 39.4 mmbbl, or 3.6%.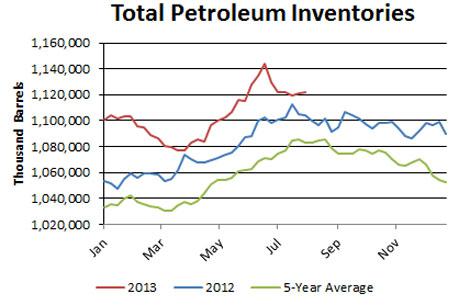 Crude oil inventories fell by 1.3 mmbbl, against the five-year average of a 1.9 mmbbl decrease. In turn, the surplus in the crude category rose to 18.7 mmbbl, or 5.4%. Regionally, inventories inside and outside the Midwest fell.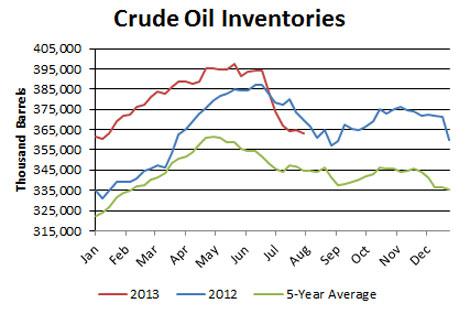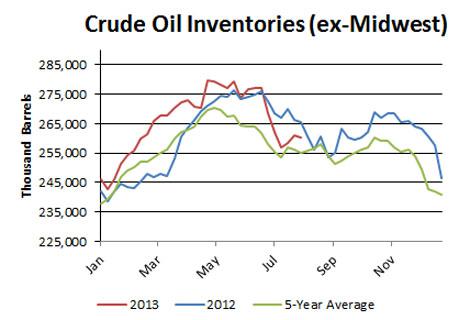 Gasoline inventories rose by 0.1 mmbbl against the five-year average of a 2.1 mmbbl decrease. The gasoline surplus now stands at 12 mmbbl, or 5.7%. Distillate inventories rose by 0.5 mmbbl against the five-year average of a 0.2 mmbbl increase. In turn, the distillate deficit narrowed to 22 mmbbl, or 14.8%.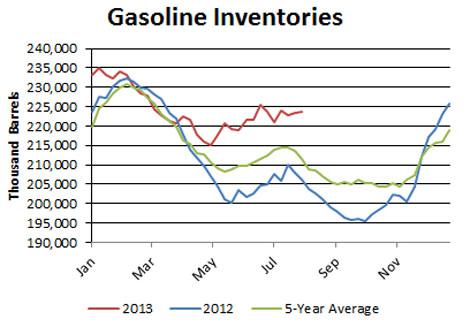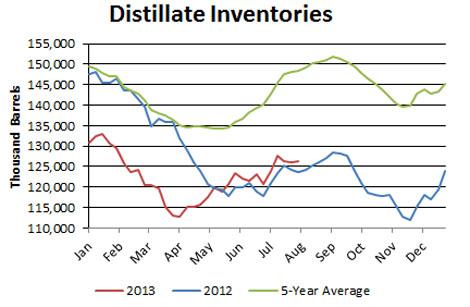 Demand
Total petroleum demand in the U.S. was unchanged at 19.7 mmbbl/d. Gasoline demand rose to 9.2 mmbbl/d and distillate demand fell to 3.9 mmbbl/d. On a four-week rolling basis, total demand was up by 3.7% from last year. On that same basis, gasoline demand was up by 3.3% and distillate demand was up by 11.1%.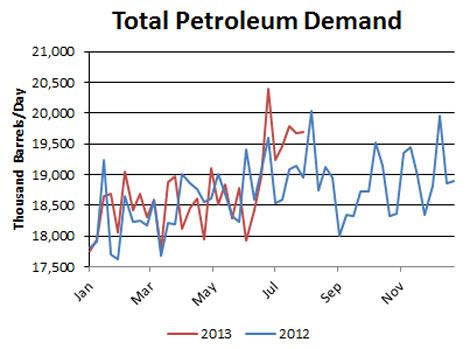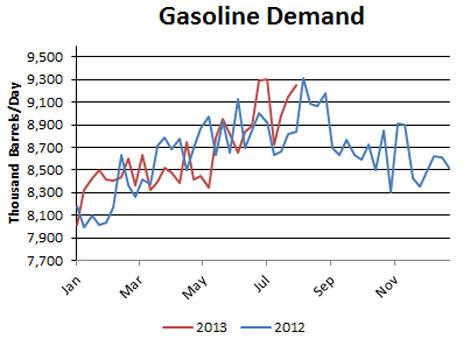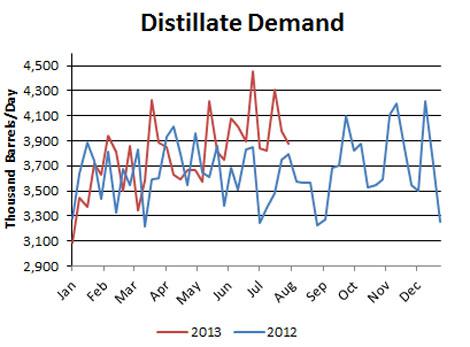 Imports
Crude oil imports fell by 0.3 mmbbl/d to 7.9 mmbbl/d. On a four-week rolling basis, imports have been 0.9 mmbbl/d below the year-ago level.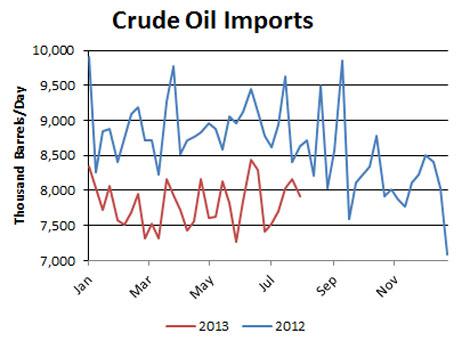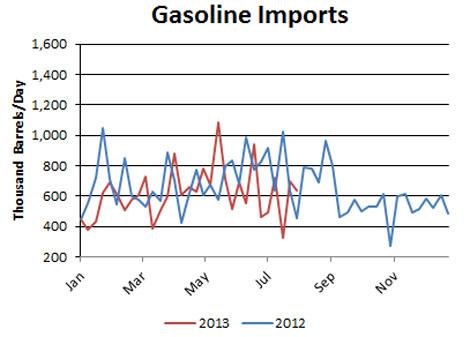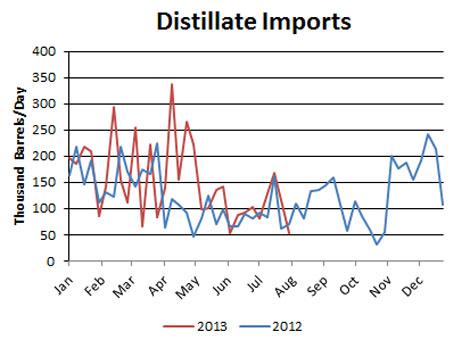 Refinery Activity
Refinery utilization ticked down from 91.3% to 90.9%. Utilization is below the year-ago level, but above the five-year average. Gasoline production rose to 9.6 mmbbl/d, while distillate production rose to 4.9 mmbbl/d.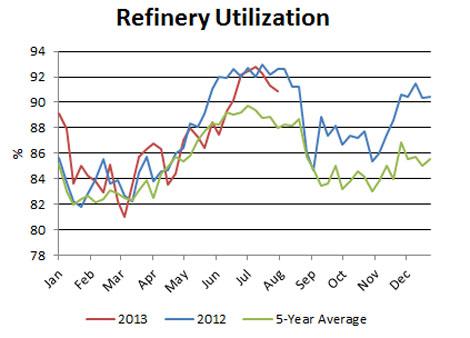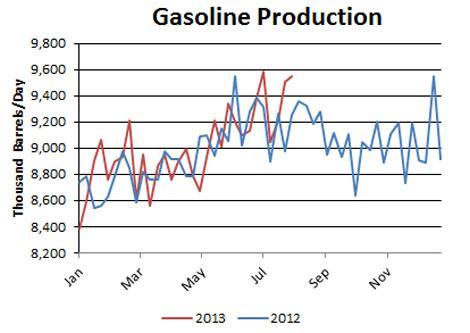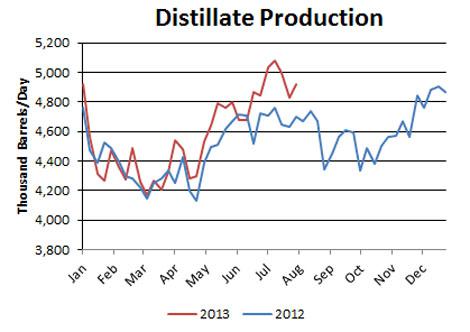 Miscellaneous
U.S. crude oil production edged up to 7.6 mmbbl/d, a fresh 23-and-a-half-year high. Output has been rising swiftly this year thanks to surging production in unconventional oil plays. Since the start of the year, output has averaged 1.2 mmbbl/d, or 20%, above the same period a year ago.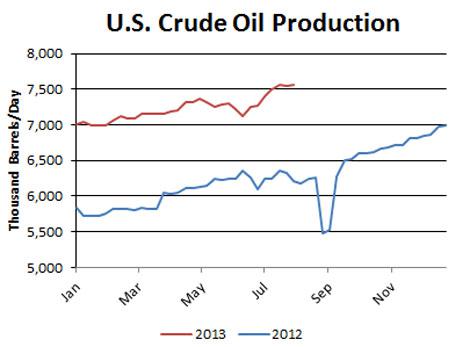 Inventories at the Nymex delivery point in Cushing, Okla., fell by 2.2 million barrels to 39.9 million barrels, or 50% of the EIA's estimate of capacity. Overall, Midwest inventories fell by 0.6 million barrels to 102.9 million barrels, or 67.1% of estimated storage capacity. Front-month WTI calendar spreads shifted into backwardation at -$0.54. Front-month Brent calendar spreads remained in backwardation at -$1.08. West Texas Intermediate's discount to Brent rose week over week from -$2.67 to -$2.91. WTI's discount to Louisiana Light fell from -$5.75 to -$5.45.