National Oilwell Varco (NYSE:NOV) is an oil and gas equipment services company, which provides equipment, components, and supply chain services for the upstream E&P oil and gas industry. NOV focuses on providing mechanical components for both onshore and offshore drilling rigs. The Company has a worldwide footprint, sports a market capitalization of $30.9 billion, and was founded in 1841. National Oilwell Varco operates within the oil and gas services segment, and is the third largest servicing company, following Schlumberger Ltd. (NYSE:SLB) ($109.7 billion) and Halliburton (NYSE:HAL).
However, the Company is nearly branded as the redheaded stepchild of the services industry, with the majority of the media focused on the "Big Three," or Schlumberger, Halliburton, and Baker-Hughes International (BHI), respectively. Part of this is well warranted, for the stock has been relatively volatile compared to its peers, trading within the $60-$90 range for the past two years.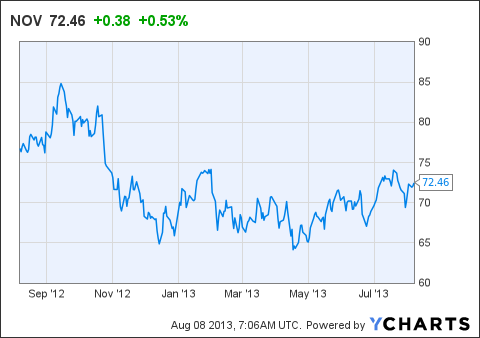 Investors have feared that competition from the Big Three, in addition to decreased demand for onshore drilling solutions with the U.S. onshore shale revolution has strained sales generation and contracted margins for NOV. Nevertheless, despite tepid sentiment from the media, National Oilwell Varco presents a solid GARP play within the sector, and the security is currently priced at a discount. Additionally, unlike Schlumberger, Halliburton, and Baker-Hughes, NOV is beginning to show signs of an exceptional growth story. NOV continues to successfully acquire additional companies and grow revenues through acquisitions and organic growth, and a successful turnaround of its depressed operating margins within the rig tech segment will prove to be an explosive catalyst for the company's stock price. NOV's ability to successfully navigate its malaise in rig tech segment operating margins, combined with its impressive revenue growth and current discount, provide a compelling reason to invest in this upcoming "silent giant" at current security prices.
Revenue Growth
Revenue growth within the services sector has experienced a boon throughout the early part of the decade. The "Big Three" of the services sector have clearly benefited from rising oil prices, expanding CapEx budgets from E&P firms, and the Natural Gas renaissance. NOV, however, is projected to grow its revenue at a faster clip than the titans of the industry.

(Source: S&P Capital IQ Consensus Estimates & Yahoo Finance)
But, management continues to be conservative in its estimates of revenue growth, and this has weighed down the stock price. NOV is not a pure play on any segment within the oil and gas services industry, allowing the company to capitalize on each operational stage in the typical lifecycle of a well. In the past, NOV has focused the majority of its energy on rig technology, both onshore and offshore, and this trend is evident in a percentage breakdown of its revenue segments. Rig Technology, which includes the design; manufacture; and sales of systems for drilling; completion; and servicing of wells, accounts for approximately 48% of revenue generation. This segment produces NOV's all important "floating production, storage and offloading vessels" (FPSO's) along with necessary components for well construction. Petroleum Services accounts for 33% of revenue, and provides services to existing wells for overhaul, optimization, and inspection. The remaining 19% of revenue is provided by Distribution and Transmission services, which provides maintenance, repair and operating supplies throughout the supply chain of the oil and gas industry. This segment also provides supply chain management and logistics services to customers worldwide.
Each of NOV's segments have only grown year-over-year on a CAGR basis.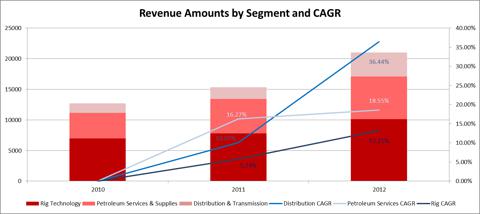 (Source: Company 10-K Filings)
In this chart it is important to note NOV's ability to differentiate its revenue streams. Additionally, the explosive growth rates within NOV's smaller revenue segments signify a shift in its business model. NOV is determined to prove that it is not a one trick pony, focusing not only on the creation of rigs, but the servicing of existing rigs by undergoing several strategic acquisitions in the petroleum services and distribution segments. This is not without reason, for the North American market for onshore drilling has been a mixed bag. In a recent study, the EIA has reported that active oil directed drilling rigs increased by 54% as of the end of 2011. This oversupply of new rigs has left the company sitting on its hands, with U.S. revenues from pressure pumping equipment down 46.0% from the fourth quarter, according to recent earnings discussions. NOV has also guided down its revenue growth within the rig tech segment as a whole, citing lack of demand for intervention and stimulation equipment. In the face of slackening rig demand, NOV has recently acquired several new assets to build out its services and distribution segments. Most recently, the company acquired Robbins & Myers, Inc. The newly acquired company allows NOV to capitalize on upgrades to existing fleets by providing downhole drilling motors to directional and horizontal drilling rigs both on and offshore, which is clearly where the industry is headed.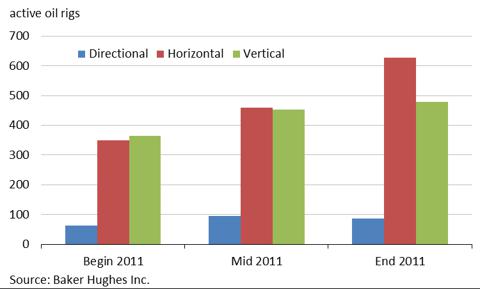 (Source: US EIA Crude Oil & Natural Gas Proved Reserves Report)
Thus, by increasing its footprint within the crucial supply and transmission sectors of the services industry, NOV has hedged against a possible decline in future demand for new oil rigs. This is already beginning to pay dividends for the Company, with second quarter aftermarket operations boasting 16% growth in revenues quarter-over-quarter. By building out their services and distribution segments, management has deftly set itself on a long-term course for success in the oversaturated onshore services market within the United States. The more intriguing story, however, comes from its key segment: rig technology, which has produced a far more organic and sustainable CAGR of 13.2% over the past three years. NOV's primary focus within rig technology is clearly its FPSO line, which focuses on deep-water offshore drilling. The company's backlog of orders is comprised of 91% of offshore orders, which is indicative of their strategic focus on offshore drilling. Offshore drilling in the U.S., especially within the Gulf of Mexico witnessed steady declines in production due to the lingering effects of Macondo and the moratorium (a 23% drop in 2011 total production according to the EIA). Despite this decrease in production, the GOM added 441 MmBOE of 1P reserves in 2011.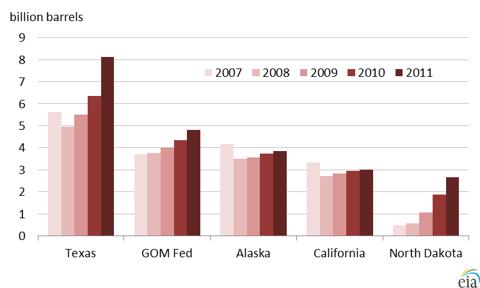 (Source: US EIA Crude Oil & Natural Gas Proved Reserves Report)
Although management has forecasted declines in growth within the rig tech sector through the remainder of the year, in 2014 and 2015, the company should be able to build on the minor victories of 1H 2013, allowing for the company to continue its organic growth in rig tech revenues.
Solid performance during the past quarter, coupled with positive forward-looking statements by management, corroborate National Oilwell's growth potential. In the company's second quarter conference call, a key highlight of NOV's growth was its 1.5 book-to-billings ratio. Book-to-billings, for those unfamiliar with the term, is a ratio that measures the amount of orders received by the company compared to the amount of orders billed over a specified time period. A ratio of one or greater indicates an industry with significant demand for its products. NOV's 1.5 ratio is a clear positive for the stock, indicating that the company should have little difficulty in continuing to grow revenue streams through the year. NOV continues to book significant orders this year, and management has indicated that 2013 orders should exceed last year's $9.4 billion in orders. This pent up demand is driven by increasing growth within its FPSO line. During the quarter, NOV reported $3.1 billion in quarterly orders for its FPSO line, driving its rig tech segment order backlog to $13.9 billion, a new company record. Management has guided for continued strong order activity in the third quarter, which bodes well for sustainable revenue growth in the future within the rig tech segment. With approximately $10.9 billion in revenues year-to-date, and management guidance for increased revenues in nearly all segments (with small portions of the rig tech segment being the exception), NOV is poised to significantly grow revenues from last year's figures.
The Catalyst: Margins in Rig Tech
Steadily eroding margins within the rig tech segment have been a significant anchor to the stock price. Margins for the Rig Tech business segment have slumped this year, from approximately 23% to 20%, primarily from poor pricing within its offshore orders. Investors must remain keenly vigilant of these margins, for they represent significant earnings potential to the bottom-line. Management attributes these disappointing margins to congestion in the compressed construction, installation, and commissioning cycles along with a misalignment of orders within the onshore and offshore factories. Keep in mind, however, that NOV's 20.8% operating margin still outshines the industry median of 18.0%. But, here is where NOV's superior management comes into play. Clay Williams, COO and President, has acknowledged NOV's failure to deliver satisfactory margin results, and he outlines a transparent and candid five step plan to improve upon the declining margin. Quoted from the second quarter earnings call, Mr. Williams states,
"First, we are being more assertive on commercial terms for offshore equipment, disciplined around realistic delivery schedules, more conservative project costing and better terms have renewed focus. We are beginning to reload backlog with higher margin work over the coming quarters. Second, we are continuing to ramp resources on existing projects to get them out on time or with minimal delays. We know our customers are counting on us. Third, we are resetting our supply chain, both internal and external and have trimmed costs wherever possible at under-absorbed plants. Expansion efforts are proceeding rapidly. Fourth, we continue to train personnel both internal, as well as our customers' teams. We opened our fifth training facility near the shipyards in Korea. And actually, we will be opening that in a few weeks. Number five. We continue to expand our aftermarket infrastructure and have seen steady growth in this business, including 16% sequential growth this quarter, which is positive for the mix."
This level of competence within a management team is refreshing, and the most important step within this plan is the first. Higher margin work translates to higher prices from pent up demand, and, industry trends have dictated that future demand for offshore rigs is likely to grow, driving increased prices for rigs. When, not if, these higher margins are realized by the market, NOV's share price will finally be lifted of this deadweight, allowing for considerable capital appreciation.
Current Valuation
As mentioned previously, NOV is currently priced at a significant discount to its peers, making it a great GARP play for investors. Using a comparable companies' universe comprising ten companies, NOV is currently trading at a discount to the median multiple for peers on a P/BV, P/E, EV/EBITDA, and EV/Revenue basis.

During 2012, the company struggled to develop unlevered free cash flow, producing a calculated unlevered FCF of -$636.2 million. This represents an anomaly to past performance for NOV and is primarily the result of significant CapEx from acquisitions and poor working capital management during the year. Nevertheless, forward projections remain positive, with FCF set to rebound and grow through subsequent years. A base case DCF analysis, with a conservative 5% growth in revenue and a 7.0x exit multiple, yields a share price of $85.74.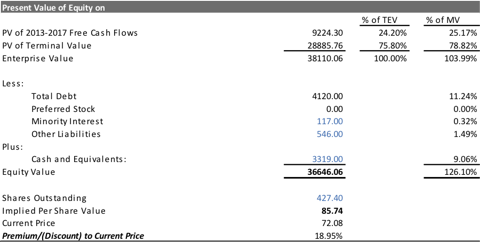 In the upside case, with revenue growth set at 10%, a DCF produces an implied share price of $101.83, or a 41.3% premium to the current share price. Keep in mind that this revenue case actually undercuts the consensus revenue projection by 2.0%. In a downside case, with flat revenue, a DCF implies a share price of $72.27. NOV's undervalued status is easily illustrated through a valuation football field.

On nearly all metrics, NOV is priced at a discount, implying that shares are cheap at current prices and that the stock has considerable room to run.
Conclusion
NOV has clearly been hit by declining demand for new rigs within the U.S. onshore market and recent operating margin disappointments. This double whammy has weighed down the stock price this year. However, the company continues to implement a successful long-term growth strategy, and its current discount by the market provides for an excellent opportunity for a GARP play within the oil and gas services sector.
Disclosure: I have no positions in any stocks mentioned, but may initiate a long position in NOV over the next 72 hours. I wrote this article myself, and it expresses my own opinions. I am not receiving compensation for it (other than from Seeking Alpha). I have no business relationship with any company whose stock is mentioned in this article.