It's been a rough ride for investors in solar stocks but now may be the time to get back in and the Claymore/MAC Global Solar Energy Index ETF (NYSEARCA:TAN) looks like a great way to go.
From its high of over $30 in May 2008, TAN plunged to less than $5 in March of this year. Excess capacity and oversupply in the solar panel business was compounded by the global financial crisis leaving solar companies feeling the pinch of negative leverage. Add to that (1) a dramatic drop in energy prices, (2) reduced subsidies for new solar installations in Spain and Germany, and (3) a failure of the U.S. government to develop an energy policy in 2008 and there was a total meltdown in solar stocks with many falling by as much as 90% from their peaks.
Now many of these conditions have seen dramatic improvement. Solar panel manufacturers have written down and worked off much of their excess inventories, liquidity has returned to capital markets, and energy prices have found some stability. More recently, China announced plans to build the world's largest solar farm with First Solar (NASDAQ:FSLR) and natural gas futures finally look as if they have turned up.
Green energy solutions, and solar in particular, will be natural beneficiaries as the world's economies return to growth from the recent recessionary period and combined with increasing pressure to restrict greenhouse gases growth in green energy solutions is simply inevitable and to increase equity exposure here is a no-brainer.
The photovoltaic space is crowded and with so many players and competing technologies picking winners will not be easy. TAN shares provide a nice basket of broad solar exposure to several of the leaders and help shelter investors from some of the extreme volatility common to solar stocks. FSLR is the largest holding at nearly 11%. FSLR is the low cost leader and earlier this year became the first volume producer under $1/watt reaching $0.87/watt in the second quarter. With the announcement of the Chinese plan to build the world's largest solar farm and First Solar's cost advantage they are clearly in the catbird's seat. I should note here that FSLR is a recommended stock holding in The Green Investor newsletter, where I am a contributing editor.
The other attractive aspect of TAN shares are the geographic coverage they provide: the holdings are roughly evenly divided between companies in the U.S., in Asia, and in Europe providing both geographic diversification and an inherent currency hedge.
Looking at the price history for TAN since inception you can see that for most of mid-November 2008 through mid-March 2009 TAN shares were trading below the $8 range and subsequently that price now appears to formed a reasonable support level with TAN shares bouncing off that support on significantly higher volume last week.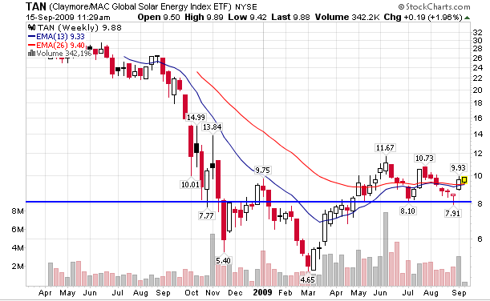 While current stock market rally may be getting long in the tooth and I would expect TAN shares to pull back along with any broader market weakness, I clearly would see a pullback as an opportunity to increase my TAN exposure.
Disclosure: Long TAN